Overview
The Bissell SpotClean Pro™ Portable Carpet Cleaner is a full-size portable carpet cleaner, meaning that it is capable of cleaning upholstery, stair, stain, pet messes, auto interior… like a professional service. The 3624 model is featured by a strong motor (5.7 amps) to give more scrubbing and suction power.
Actually, Bissell SpotClean Professional 3624 motor is among the strongest ones available for spot cleaners. Here is a quick comparison of some popular portable carpet cleaner motors.
This portable carpet cleaner is ideal for users who are constantly facing many types of stains on a daily basis such as pet urine, food spillage, stains on sofa…It has a long stretched hose ( 5 ft.), 2 additional tools (stain and stair tool), long cord (22 ft.) and a large water tank (0.75 Gal). However, if you have several pets, or heavy pet stains, you may want to consider the SpotClean Pet Pro™ Portable Carpet Cleaner 2458 (see our review).
Another useful benefit is that you can combine this unit with Bissell dog grooming tool to remove your pet's hair before it falls on the floor.
The downside of this model is that it is a bit weighty (as it is a portable unit, some users prefer to have a lighter machine) and the body is circular so it is a bit tricky to bring into the car for detailing jobs.
Bissell SpotClean Professional 3624 is our first recommendation for anyone who needs a strong, reliable portable unit for daily use.
---
Recommendation – Should you buy Bissell Spotclean 3624
If you are looking for a portable carpet cleaner for general use, you can take Bissell Spotclean 3624 with confidence. It is one of the most common choice, it has a lot of additional tools, long hose, long cord, flexible for any cleaning need. The only feature it does not have is hands-free cleaning, which can only found on Bissell Spotbot models.
---
Coupon for Bissell SpotClean Professional 3624
The last time we looked the Bissell SpotClean Professional 3624 did not have a discount or coupon. However you can see the latest price on Amazon below. Additionally, you can enjoy free shipping as well as $50 off instantly via Amazon Visa Program.
---
Specifications
| | |
| --- | --- |
| Model name | SpotClean Professional Portable Carpet Cleaner | 3624 |
| General specifications | |
| Dimension | 10 x 14 x 14 inches |
| Weight | 13.2 lbs |
| Cleaning surface | Carpet, Upholstery, Auto, Stairs |
| Cleaning performance | |
| Motor power | 5.7 amps |
| Brush type | Rotating, DirtLifter PowerBrush |
| Cleaning path width | 10.5'' |
| Heater | No |
| Heatwave technology | No |
| Edge cleaning | No |
| Hose length | 5' |
| Cord length | 22' |
| Water tank size | 0.75 Gal |
| Ease of use | |
| Brush on/off | No |
| 2 Cleaning mode | No |
| Carry handle | Yes |
| Special tools | 6″ Stair Tool, 3″ Tough Stain Tool |
| Color | Black |
| Similar models | 36241, 36248, 3624P |
| Warranty | 2 Year Limited |
---
Pros and cons of bissell 3624
What We Like…
Full-size, professional cleaning results.
Long hose, additional tools are included.
Very simple, easy to use and have high ratings from consumers.
What Could Be Better…
The weight (13.2 lbs.) and the body design (circular shape).
No auto-fluxing hose feature.
---
Performance of Bissell SpotClean Professional 3624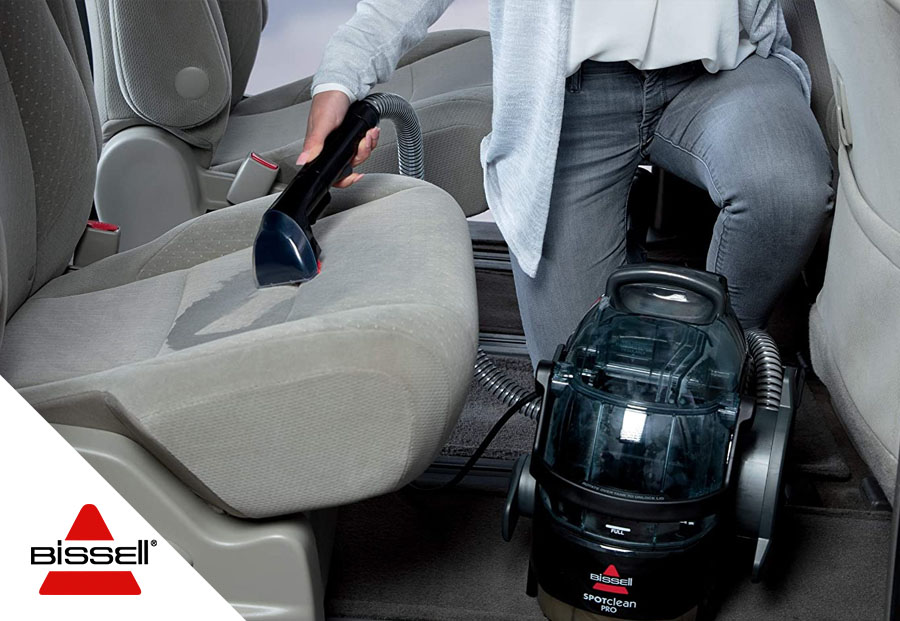 ---
Bissell SpotClean Professional 3624 replacement parts
Bark Bath Portable Dog Bath Tool Part: 1842A
Sliding Crevice Tool with Brush for Carpet Cleaners Part: 2030116
Tank Cover Assembly for Lift-Off Carpet Cleaners Part: 2037895
---
FAQs and troubleshooting of the unit
Coming Soon
---
Useful links
bissell 3624 hose replacement
bissell 3624 vs 2458
bissell 3624 manual
bissell 3624 spot-clean professional portable carpet
bissell 3624 vs 5207
bissell 3624 vs 2458
bissell 3624 vs 5207
bissell 3624 vs 7786a
bissell 3624 vs 14259
bissell 3624 vs rug doctor portable
bissell 3624 vs 2505
bissell 3624 vs little green
bissell 3624 vs hoover fh11300pc
bissell 3624 vs spotbot 33N8