Overview
The Bissell SpotBot® Pet Portable Carpet Cleaner is one of the most common choices when talking about portable carpet cleaners for pet owners because the machine has a unique feature: hands-free cleaning. Now, don't let model numbers confuse you for this spot cleaner — 33N8 is the base number but you may also see 33N8A which is the number assigned for Amazon.
With Bissell Spotbot Pet portable spot cleaner, you can clean pet stains on carpets, rugs automatically with 2 pre-set cleaning cycles. The spot bot uses a motor of 3 amps delivering adequate suction for surface stains.
If you want to clean upholstery, carpeted stair, you can use the stretched hose (5' long). Overall it is a nice machine for pet owners who love automatic cleaning.
The downside of Bissell Spotbot Pet portable 33N8 is that it is not as powerful as Bissell Spotclean professional 3624 and it is not as lightweight as Bissell Little Green Proheat 14259. However, it is a rare model with an automatic feature on the market that is reliable.
---
Recommendation – Should you buy Bissell Spotbot 33N8/33N8A?
Bissell Spotbot 33N8 is one of the most popular choice with thousands buyers over years, this model has a high rating therefore you can confidently pick it. It is a good choice for cleaning stains on carpets, pet messes hands-free. If you need a more powerful model, you can check Bissell Spotclean Professional 3624. If you need a cheaper option (no automatic feature), Hoover Spotless FH11300PC and Bissell 5207N can be great alternative.
---
Coupon
When we last checked you could get the Spotbot 33N8A on Amazon with free shipping and $50 off instantly via Amazon Rewards Visa program. We have also seen frequent sales, especially around Black Friday and over the holidays. Many times you can also find a bundle with trial-size Pet Stain & Odor formula + Pet Oxy Boost formula included.
---
Specifications
| | |
| --- | --- |
| Model name | BISSELL SpotBot Pet Portable Carpet Cleaner 33N8A |
| General specifications | |
| Dimension | 16.9 x 9.1 x 12.5 inches |
| Weight | 12.5 lbs |
| Cleaning surface | Carpet, Upholstery, Auto, Stairs, Low Pile Carpet |
| Cleaning performance | |
| Motor power | 3 amp |
| Brush type | |
| Cleaning path width | |
| Heater | No |
| Heatwave technology | Yes |
| Edge cleaning | Yes |
| Hose length | 45' |
| Cord length | 16' |
| Water tank size | 32 oz |
| Ease of use | |
| Brush on/off | Yes |
| 2 Cleaning mode | No |
| Carry handle | Yes |
| Special tools | 3'' Tough Stain Tool |
| Color | Silver |
| Similar models | 33N8, 33N82, 33N83, 33N84, 33N88, 33N8K, 33N8M, 33N8Q, 33N8R, 33N8V |
| Warranty | 2 Year Limited |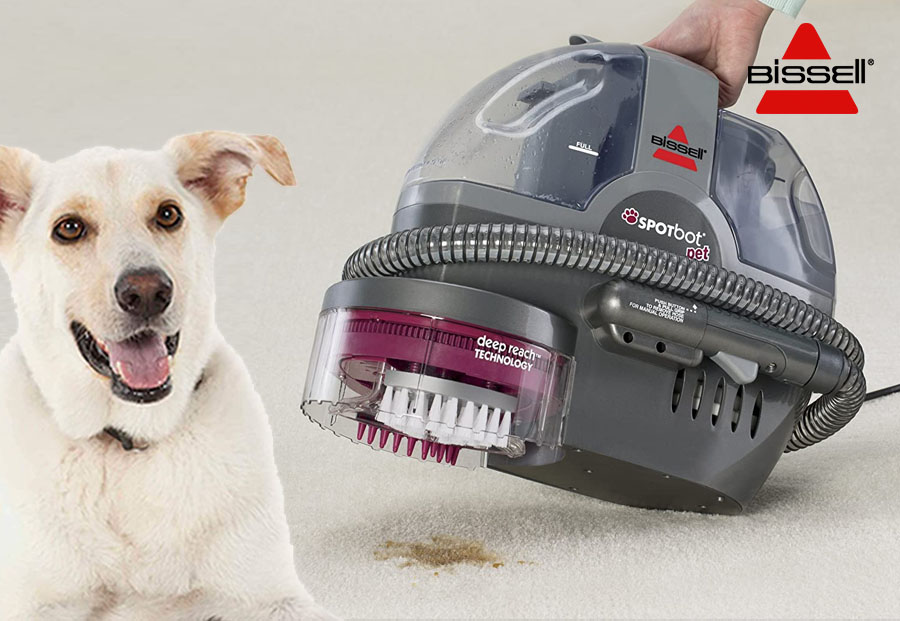 ---
Pros and cons
What We Like…
Hands-free cleaning, efficient for pet stains on carpets.
Reliable, high ratings from thousands of users.
Easy to use.
What Could Be Better…
Moderate motor power.
Short power cord, short hose.
Performance of Bissell Spotbot Pet portable 33N8.
---
Performance of Bissell Spotbot 33N8
Running Bissell Spotbot 33N8 is quite simple. Let's have a look at how this spotbot cleans the carpet in live test.
---
What is the Difference between 33n8 and 2117a models?
Aside from the color, the 2117a has a new control panel on the top to control the cleaner. In addition, the owner's manual for the 2117 models states that some models include a "3-N-1" tool, which is for use with the hose, and is designed specifically to work better on carpeted stairs. The 33N8 model does not include that stairs tool.
---
Replacement parts
SpotBot Collection Tank Duckbill Gasket Part: 2036646
Clean Water Tank for SpotBot Portable Carpet Cleaners Part: 1606552
Cap & Insert Assembly for SpotBot Carpet Cleaners Part: 2037477
Cord Wrap (upper and lower) for SpotBot Carpet Cleaners Part: 2037488
---
FAQs and troubleshooting of Bissell Spotbot 33N8
Coming Soon