Overview
The Bissell Zing® Bagless Canister Vacuum is a phenomenal canister vacuum cleaner at the cheap price, first appeared on the market in 2013 and has been a best seller ever since.
The 2156A model has a strong sale record and it is one the most popular bagless canister vacuum unit, chosen by over three thousands consumers over the years. Zing canister vacuums also come in bagged styles, if that is your preference.
The best part of this Bissell Zing bagless model is that it is very cheap (at lower than 70 bucks), lightweight (under 8 lbs.), strong motor (9 amps rating) and perform well from top to the bottom. Especially, this model is very durable.
Sometimes called the Bissell Zing Rewind, this lightweight vacuum has a 15 foot cord that automatically retracts (or rewinds) with a touch of a button. The model is recommended for small apartments where kids and seniors can join to the cleaning activities for more fun.
Related: Buying Guide — How to Choose a Good Vacuum For Your home
Let's take a closer look at the Bissell Zing Bagless canister vacuum.
---
Technologies and benefits of this Bissell Zing Bagless canister
Construction
This is a corded, bagless canister vacuum cleaner at lightweight with 2 big wheels and low price.
Similar models include:
Technologies for performance
This model uses a 9 amps rating motor with the cyclonic air system for giving a decent suction power.
Multiple floor cleaning – you can switch from hard floor cleaning to carpet cleaning by a switch button.
Filtration – three-stage filtration system. This unit applies pre-motor filters and post-motor filter layers to capture dust and dirt. These filter layers are washable. This model does not have HEPA filter.
Tools
Combination Crevice Tool/Dusting Brush
---
Specifications of Bissell Zing Canister 2156A

Vacuum
Dimensions: 16.2 x 10.8 x 11.9''
Weight: 10 lbs
Recommended surfaces Carpet, Upholstery, Bare Floors, Stairs, Low Pile Carpet
Power Rating: 9 amps
Filtration: 3 Stage
Cleaning Path Width: 10.1″
Cleaning System: Cyclonic
Variable Suction Control: Yes
Power Cord Length: 15′
Automatic Cord Rewind: Yes
Hose Length: 4'8″
Dual Edge Cleaning: No
Bag Type: Bagless
Dirt Cup Capacity: 2 L
Multi-Use Tools: Combination Crevice Tool/Dusting Brush
Reach Extension Tools: Extension Wand
Warranty: 1 year
Carry handle included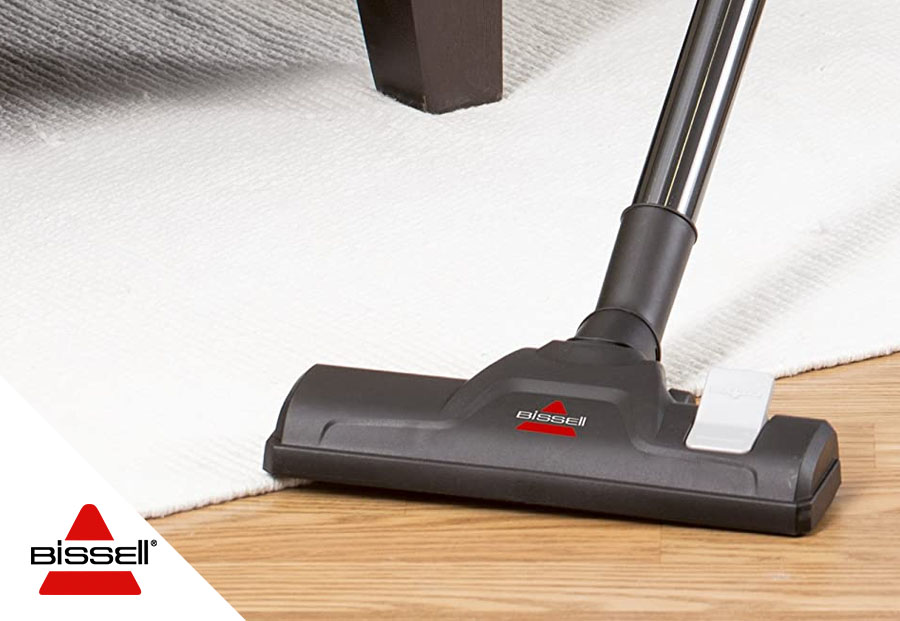 ---
Pros and cons of Bissell Zing Rewind Canister Vacuum
What We Like…
This is a ready-to-use canister vacuum cleaner suitable for whole-home cleaning.
The model is cheap, reliable with all of the basic features such as multiple floor cleaning, above floor cleaning, variable suction control, big dust bin (2L), bagless, decent suction power and nice filtration layers.
Its dust cup is transparent so you can observe the dirt and the cord is automatically rewind which is a great design of the Bissell canister vacuum cleaner.
If you need nothing more than a vacuum cleaner for the money that really work, Bissell Zing can be a good option.
What Could Be Better…
As mentioned, it is very basic therefore you can't expect this model to have HEPA filter or premium brush roll.
---
Recommendation of Bissell Zing Bagless Canister Vacuum
Recommended for the home with medium footage covered by bare floors and low pile carpets, home with kids and seniors, for users who are looking for a low price canister unit for home uses.
Against for home with pets, allergy sufferers, home with high pile carpets.
---
FAQs Bissell Zing Rewind Bagless Canister Vacuum
Coming Soon