Overview
The SHARK ION WiFi-Connected Robot Vacuum R85 with Powerful Suction is one of Shark's newer models, which is a refresh unit from Shark ION R75. This model has 3 suction settings, a bigger dust bin and it uses the second sensor navigation.
This model uses a motor of 1400 Pa, which is among the most powerful motor unit on the market. The 726 mL dust bin keeps the allergen and dust inside with a filter (non HEPA).
Like other wifi-connected robot vacs, you can also use Shark clean app to control, schedule the robot. Besides, it is voice controlled via Alexa or Google Assistant. You just only need to add the app into the Shark clean app.
To block an area, Shark robot vacuum uses Botboundary strips (which are included in the package). A good tip for using Shark robot is that you should use the strip to block high pile carpets, doorsteps, areas with a lot of cords and wires to prevent clogging in advance.
When shopping for this robotic vacuum, you may come across other model numbers such as RV871, RV850, RV850BRN, RV850C and RV871C — these are simply notations related to where they are sold and/or slight variations. At the price of around 250 bucks, Shark ION robot RV85 is a good option for if you are looking for a robot at entry level with affordable price.
Related Reviews
---
Shark ION robot vacuum RV85 coupon
When we last looked, there was a sale on the Shark ION RV85 robot, but you need to make sure you look closely when you make the purchase. Sometimes the discount is on new models, others it is on used or Amazon renewed.
We also recommend comparing this model with newer Shark Robot Vacuums because if they are on sale, you may actually get better features for about the same price.
To use Alexa voice control, you need to get the Echo Dot smart speaker too.
Let's now review the benefits and shortcomings of Shark ION robot vacuum RV85 below.
---
Technologies and benefits of Shark ION robot vacuum RV85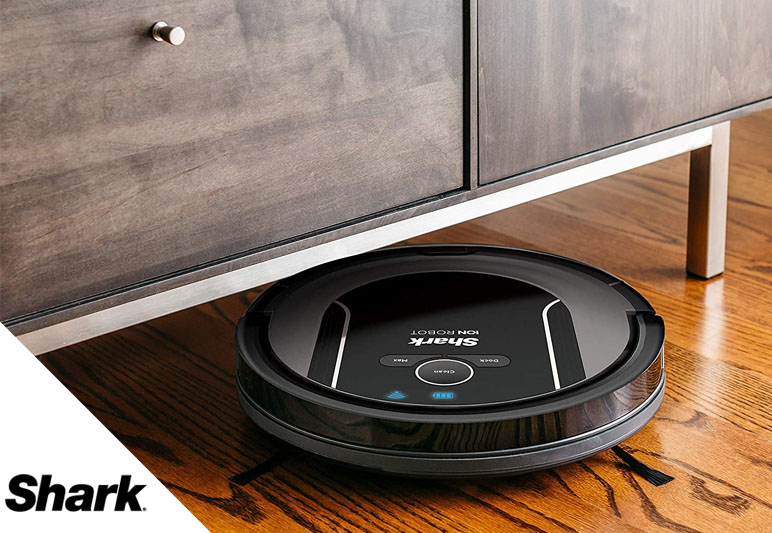 Construction
This robot vacuum cleaner is a circular shaped unit, measured by 12.8 x 12.5 x 3.4 inches.
You might notice this model has a higher height compared to Shark ION R75 (3.4 inches vs 2.6 inches). This is because Shark ION robot vacuum RV85 has bigger wheels allowing it to move easier from hard floors to carpets.
The dust bin is very large which is about 2-fold when compared with a standard unit from other brands. Shark ION robot vacuum RV85 dust bin size is up to 726 mL.
Controlling Shark ION robot vacuum RV85 is very simple. There are 3 buttons on the top of the robot includes Clean, Dock and Max (for maximal suction power). The unit uses 1400 Pa motor which is much stronger than other rivals (often uses 1000 Pa or 1200 Pa motor unit).
2nd sensor generation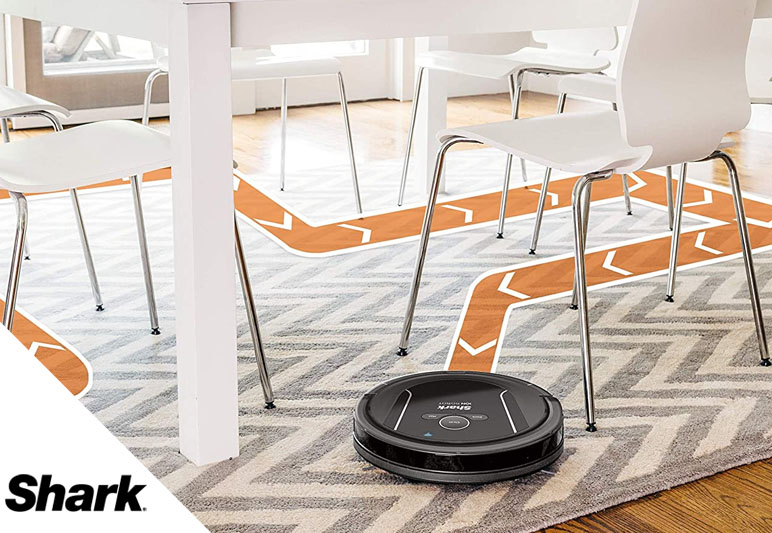 Shark ION robot vacuum RV85 uses the next generation of sensor technology which improves the sensibility of obstacles. Shark sensor technologies do not use a camera or microphone to collect information, therefore for those who are extremely aware of the privacy, it may be a good thing because your personal information is never collected.
Wifi connection
This model has wifi connected feature, you can control the robot via Shark clean app, or using Alexa Voice/ Google Assistant to order cleaning or scheduling up to 7 days.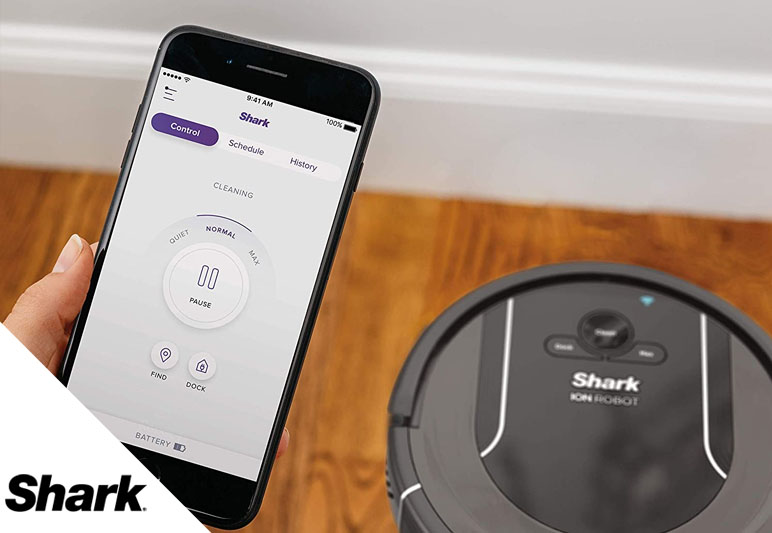 The package includes:
(1)Shark ION Robot
(2) side brushes,
(1) filter,
(1) lithium-ion battery,
(1) charging dock,
(1) 8-foot BotBoundary strip
---
Downsides of Shark ION robot vacuum RV85
Despite there are a lot of good points, Shark ION robot vacuum RV85 still has some shortcomings that you have to consider.
The running time of Shark ION robot vacuum RV85 is relatively short, especially when comparing with robot vacuum models in 2021. This unit is capable of running for 60 minutes before recharging. And, the worst thing is that it is unable to automatically recharge like Roomba model. For users who have a small size apartment, this can be an irrelevant issue but it can be a big downside to a bigger home.
Secondly, Shark ION robot vacuum RV85 does not have intelligent mapping technology, meaning that it is unable to learn and adapt to the house floor plan to be more efficient after times.
---
Pros and cons
What We Like…
3 power levels.
Remote access & voice control.
Double side brushes.
Huge capacity and easy to dump.
Goes straight rather than circles.
What Could Be Better…
Noisier than Roomba…
Can't control it like a remote control car from the app.
---
Rating
Easy to clean: 8.5/10
Easy to use 8.5/10
Battery life: 8/10
Value for money: 7.8/10
Durability: 7/10
---
Compare Shark ION Robot R85 vs 750
| | Shark ION Robot Vacuum R85 with Wi-Fi (RV850) | Shark ION Robot Vacuum R75 with Wi-Fi (RV750) |
| --- | --- | --- |
| General specifications | | |
| Dimensions | 12.8 x 12.5 x 3.4 inches | 12.6 x 12.6 x 2.6 inches |
| Weight | 5.6 lbs | 5.1 lbs |
| Motor power (estimated) | 1400 Pa | 1000 Pa |
| Battery | Li-ion | Li-ion |
| Capacity | 2550 mAh | 2600 mAh |
| Charge time | 180 minutes | 180 minutes |
| Run time | 60 minutes | 60 minutes |
| Noise level | under 65 dB | under 65 dB |
| Navigation | Smart Sensor Navigation 2.0 | Smart Sensor Navigation |
| 3X Suction Power in Max Mode vs. Shark ION R75 | yes | - |
| XL Dust Cup | yes | - |
| Dusct cup size | 726 ml | 380 ml |
| Wi-Fi app & Voice Control | yes | yes |
| Dual-Brush Edge & Corner Cleaning | yes | yes |
| Carpet & Bare Floor Cleaning | yes | yes |
| Cleaning System with Handheld Vacuum | - | - |
| Additional Features | Max Mode, Quiet Mode, Multi-Axis Bumper, 7-day scheduling | Max Mode, Quiet Mode, 7-day scheduling |
| | | |
---
FAQs of and troubleshooting of Shark ION robot vacuum RV85
Coming Soon