Quick recap
Overall rating: 80/100
BISSELL Little Green ProHeat 14259 is a portable carpet cleaner designed for spot cleaning and upholstery cleaning.
The best thing of this model is that it has a built-in heater which will heat up the cool tap water to reach optimal temperature for cleaning (this is similar with Bissell Proheat Spotclean 5207F).
Besides, the model has the on-board spraying crevice tool which is small but mighty for removing old stains and urine.
Moreover, this model uses a motor of 9 amps rating while Bissell Professional 3624 portable unit uses a motor of 6 amps rating, therefore you might expect that this model will have a powerful suction power when compared with the most popular portable carpet cleaner.
Coupon
Currently, this model does not have the discount but you can get free shipping and $50 off instantly via Amazon Reward visa card program.
Technology and benefits of BISSELL Little Green ProHeat 14259
Construction: a portable carpet cleaner with built-in heater and on-board tools which delivers great cleaning performance on stain and upholstery.
Powerful suction level
This model applies a motor of 9 amps rating which is highest when compated with other Bissell portable units. This motor delivers a mighty suction power.
Built-in heater
This is the rare model that has a built-in heater to heat the cool water for maximal cleaning results.
Easy to use
The model require minimal assembly only therefore it is very handy to use suitable for any age.
On board tools
The model has a crevice spraying tool which is quite useful, a tough stain tool for multiple surfaces cleaning
The model comes with one year limited warranty
Specifications
| | |
| --- | --- |
| Model name | Little Green ProHeat Portable Carpet Cleaner 14259 |
| General specifications | |
| Dimension | 8.2 x 17.2 x 12.5 inches |
| Weight | 13 lbs |
| Cleaning surface | Carpet, Upholstery, Auto, Stairs |
| Cleaning performance | |
| Motor power | 9 amp |
| Brush type | |
| Cleaning path width | |
| Heater | yes |
| Heatwave technology | no |
| Edge cleaning | yes |
| Hose length | 4.0' |
| Cord length | 15' |
| Water tank size | 48 oz |
| Ease of use | |
| Brush on/off | yes |
| 2 Cleaning mode | no |
| Carry handle | yes |
| Special tools | 3'' tough Stain tool, 2-in-1 Crevice Tool |
| Color | White/Green |
| Similar models | |
| Warranty | 1 year limited |
Pros and cons 
Pros
This BISSELL Little Green ProHeat 14259 is ready to use, easy to use, powerful suction for removing stains and suitable for multiple cleaning demands.
Cons
This model uses a tough stain tool and a crevice tool therefore it is very efficient when dealing with spot and stain. When you have to clean bigger areas, there is no attachment with big cleaning path width for speeding up the cleaning.
Notice
The is another portable unit which is very resemble to BISSELL Little Green ProHeat 14259, called Bissell Little Green portable 1400B. The later model is cheaper but it does not have the on-board spraying tool and the motor power is just 3 amps. Therefore you should look for the exact name to avoid possible incorrect order.
Replacement parts
Little Green Solution Tank Part: 2035008
Cap & Insert Assembly for Little Green Carpet Cleaners Part: 2035014
Collection Tank Duck Bill Gasket for Little Greens Part: 2035045
Collection Tank – Little Green Portable Carpet Cleaner Part: 2037144
Performance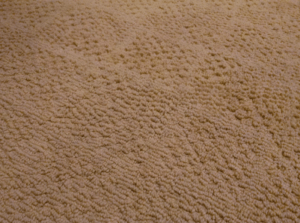 Compare bissell little green vs spotclean proheat
Bissell Little Green and Bissell spotclean proheat are two popular models from Bissell. However, Bissell Little Green is designed for multiple cleaning tasks while the later model is designed for auto-detailing and upholstery cleaning mostly.
Bissell Little Green has a stronger motor (9 amps vs 3 amps), circular body, a bit more expensive while Bissell Spotclean Proheat has a slim profil and cheaper.
Compare bissell little green vs spotbot
The spotbot is the only portable carpet cleaner that has automatic cleaning feature. This model is recommended for users who deal with spot, stains and pet messes on daily basis without the time to clean by hand. The Bissell Little Green is recommended for multiple cleaning tasks which has a stronger motor power ( 9 amps vs 3 amps) and it has the built-in heater therefore it is a bit more convenient.
Compare bissell little green vs pet stain eraser
Bissell pet stain eraser is a new design appeared since 2017, which is a handheld carpet cleaner which is designed for pet stain cleaning. This model also uses a motor 3 amps rating therefore you might expect this model does not has the power as the Bissell Little Green.
FAQs of BISSELL Little Green ProHeat 14259
Will this vaccum up dog hair as well?
Answer: Technically yes, but I would personally recommend vacuuming before using this to steam clean. The hair will get stuck in the bigger brush handle and can be a little tricky to get back out.
Question: Will this work on cleaning furniture?
Answer: Only for spot cleaning. Brush and tools are not big enough to clean entire pieces.
Question: does this work on micro fiber couches ?
Answer: I'm not sure… I don't have micro fiber couches… so sorry!
Question: does it work on micro fiber couch ?
Answer: Likely. The thing about that fabric is that you usually cant soot clean as there will be a color difference. So likely you would have to go over the rest, at least lightly.
Question: Does this work well on pet hair ground into the carpet?
Answer: no; only for stains. It's not a vacuum in the sense it will remove hair or other small debris.
Question: Does this work well on steps?
Answer: Yes
Question: Does this work well on steps?
Answer: This is my second little green machine. Yes it would work great on steps. I do recommend getting the turbo brush which came with my first machine. That scrubs out stains and also picks up water at a push of a button.
Question: How much horsepower does it have?
Answer: No idea
Question: Does this work well or can it be used to remove stains from a bed? If not any reccomendations?
Answer: Our cat peed on the bed and it removed the urine really well. We used it right after the accident so not sure how well it would remove a set in stain.
Whats the max tempature of this machime?
Answer: Not hot, it lasted a year and lost its suction. It also started to stink no matter how much i cleaned it. Cheap junk.
Question: can you used this to clean and deodorize a mattress?
Answer: Yes it would work well on a mattress. If you would like to buy this, you can find Mr. Sweeper in the list of sellers. Fast Shipping, Full Warranty, 30 Day Satisfaction Guaranteed. Buy with confidence, We are an Authorized Dealer. Mr. Sweeper,
Question: Can you get a long tube so you don't have to bend down
Answer: unknown
Question: Can it be used on velvet upholstery?
Answer: Hi Turbo – Velvet may need to be dry cleaned, check the manufacturers tag on the upholstery. If it has a S or X, we would not recommend using this to clean.
Question: Does the dog washing attachment work with this model?
Answer: I'm sorry, I don't know the answer.
If I don't use all of the cleaning solution in one use, should I empty it before putting it away or can I use the same solution next time?
Answer: The instructions say you can leave it. I leave mine in and only use it once or twice a month for spills. Everything seems fine.
Question: What is the best auto upholstery cleaner
Answer: This is a SPOT cleaner and will not work for large areas or stubborn dirt
Question: can I steam vacuum my car
Answer: Absolutely, the little green mean machine is great for everything.
Question: will it work on shag carpet?
Answer: Yes it will work on shag rugs.
Question: Is this safe to use on hardwood floors?
Answer: I would not think so as this is going to be spraying hot water and not sure you would want that on wood or laminate
Question: Will it clean shag carpet?
Answer: yes….it works great!
Question: Does it work on shag carpet?
Answer: Do not know. Do not have shag carpet.
Question: Is it safe to use for dry cleaning sofa only?on
Answer: I would think not. The cleaner uses a water solution and leaves some wetness behind. It does not extract 100%. Dry cleaning involves chemicals that do not leave the fabric damp when done.
Question: What is the difference between 1400B and 14259?
Answer: the motor power (3 amps vs 9 amps rating), the on-board tools. The Bissell Little Green 14259 is a much better choice.
Does it use just water or have to get the blue liquid cleaner
Answer: You'll want to use a combination of Bissell solution and water.
Question: The spray doesn't work. What do you suggest?
Answer: Hi Do you mean the actual sprayer or the Bissell spray ? if its just the spray.. then buy BUBBAS CARPET CLEANER. I have a sick pet and it works like a charm.
Question: How do i clean brush head?
Answer: I have no idea. Not happy with this product.
Question: Will this work with the bark bath?
Answer: Not sure what a bark bath is, sorry I can't help.
Question: Would this be stong enough to get wet kitty litter ( now dry) out of carpet?
Answer: Yes , I'd wet it with the spray and let it set for ten minutes and it should work fine
Question: Can this be used on microfiber?
Answer: Yes
Question: Will brush accessories from the other compact Bissell machines work on this ?
Answer: Do not know. Have not tried.
Question: Has anyone used an Oxyclean solution with this on upholstery? I know the results will depend on the fabric you clean, but was curious.
Answer: Yes. This unit cleans incredible. I used it on a 'clean' looking car seat and the tank filled with brown water. Truly, deep cleaned. The trick is to find the right angle when sucking the liquid back out of the fabric. You will see the difference in the amount of fluid drawn out and the cloth will be drier.
Question: I can't tell if the heater works – no red light & used hot water to begin with. Also nothing was in the dirty water tank afterwards. Help?
Answer:  if the red light is not on, it may not be heating. You'll want to make sure the heater button is in the on position.
Question: We have kids and dogs that are lounging on are couches will this clean and take care of the odor. And smell fresh again.
Answer: Yes there are different types of Bissell rug shampoo u can use with special attention to pet odors
vacuumcleanerbydyson.com
Tag clouds: bissell little green vs little green proheat, bissell little green vs autocare, bissell little green vs spotbot pet, bissell little green 1400m vs 1400b, bissell little green proheat 14259 manual