Overview
The Bissell Little Green® ProHeat® Portable Carpet Cleaner is a portable carpet cleaner designed for spot cleaning and upholstery cleaning. Consider it the brother to the Bissell Little Green Multi-Purpose portable carpet cleaner (with no heat) and the son of the Bissell Big Green heavy duty professional carpet cleaner (which we also reviewed).
The best thing of this model is that it has a built-in heater which will heat up the cool tap water to reach optimal temperature for cleaning (this is similar with the Bissell Proheat Spotclean 5207F which costs a little more, but has advanced features).
Besides, the model has the on-board spraying crevice tool which is small but mighty for removing old stains and urine.
Moreover, this model uses a motor of 9 amps rating while Bissell Professional 3624 portable unit uses a motor of 6 amps rating, therefore you might expect that this model will have a powerful suction power when compared with the most popular portable carpet cleaner.
This is one of Bissell's older models and is no longer being made, but you can still find it on sites like Amazon both new as overstock and renewed.
Or you may want to check out Bissell's newer SpotClean or SpotBot portable carpet cleaners. We'll discuss some of the differences between these models further down.
---
Technology and benefits of Bissell

Little Green ProHeat 14259
Construction
This is a portable carpet cleaner with built-in heater and on-board tools which delivers great cleaning performance on stain and upholstery.
Powerful suction level
This model applies a motor of 9 amps rating which is highest when compated with other Bissell portable units. This motor delivers a mighty suction power.
Built-in heater
This is the rare model that has a built-in heater to heat the cool water for maximal cleaning results.
Easy to use
The model require minimal assembly only therefore it is very handy to use suitable for any age.
On board tools
The model has a crevice spraying tool which is quite useful, a tough stain tool for multiple surfaces cleaning
The model comes with one year limited warranty
NOTE: There is another portable LittleGreen unit which is very similar to to the BISSELL ProHeat 14259, called the Bissell Little Green portable 1400B. The latter model is cheaper but it does not have the on-board spraying tool or the heat technology and the motor power is just 3 amps. Therefore you should look for the exact name to avoid possible incorrect order if you want these technologies.
Related: Bissell Little Green Vs Little Green Proheat Portable Carpet Cleaner – What Is The Difference?
---
Specifications

of bissell little green proheat 14259
| | |
| --- | --- |
| Model name | Little Green ProHeat Portable Carpet Cleaner 14259 |
| General specifications | |
| Dimension | 8.2 x 17.2 x 12.5 inches |
| Weight | 13 lbs |
| Cleaning surface | Carpet, Upholstery, Auto, Stairs |
| Cleaning performance | |
| Motor power | 9 amp |
| Brush type | |
| Cleaning path width | |
| Heater | yes |
| Heatwave technology | no |
| Edge cleaning | yes |
| Hose length | 4.0' |
| Cord length | 15' |
| Water tank size | 48 oz |
| Ease of use | |
| Brush on/off | yes |
| 2 Cleaning mode | no |
| Carry handle | yes |
| Special tools | 3'' tough Stain tool, 2-in-1 Crevice Tool |
| Color | White/Green |
| Similar models | |
| Warranty | 1 year limited |
---
Pros and cons of bissell 14259
PROS
This BISSELL Little Green ProHeat 14259 is ready to use, easy to use, powerful suction for removing stains and suitable for multiple cleaning demands.
CONS
This model uses a tough stain tool and a crevice tool therefore it is very efficient when dealing with spot and stain. When you have to clean bigger areas, there is no attachment with big cleaning path width for speeding up the cleaning.
---
Replacement parts
Little Green Solution Tank Part: 2035008
Cap & Insert Assembly for Little Green Carpet Cleaners Part: 2035014
Collection Tank Duck Bill Gasket for Little Greens Part: 2035045
Collection Tank – Little Green Portable Carpet Cleaner Part: 2037144
---
Performance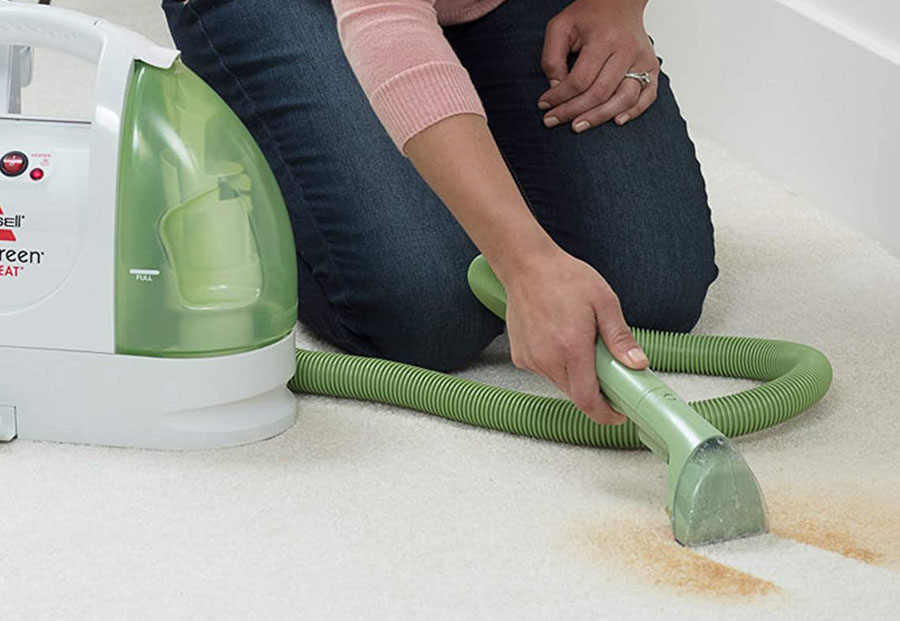 ---
Compare Bissell Little Green vs SpotClean Proheat
Bissell Little Green and Bissell Spotclean Proheat are two popular models from Bissell. However, Bissell Little Green is designed for multiple cleaning tasks while the later model is designed for auto-detailing and upholstery cleaning mostly.
Bissell Little Green has a stronger motor (9 amps vs 3 amps), circular body, a bit more expensive while Bissell Spotclean Proheat has a slim profil and cheaper.
---
Compare Bissell Little Breen vs SpotBot
The SpotBot is the only portable carpet cleaner from Bissel that has automatic cleaning feature. This model is recommended for users who deal with spot, stains and pet messes on daily basis without the time to clean by hand.
The Bissell Little Green is recommended for multiple cleaning tasks which has a stronger motor power ( 9 amps vs 3 amps) and it has the built-in heater therefore it is a bit more convenient.
---
Compare Bissell Little Green vs Pet Stain Eraser
The Bissell Pet Stain Eraser is a design that has been around since 2017, which is a handheld carpet cleaner which is designed for pet stain cleaning. This model also uses a motor 3 amps rating therefore as you might expect this model does not have as much power as the Bissell Little Green. However, because it is handheld, it is a little bit more convenient than the Little Green.
---
FAQs of BISSELL Little Green ProHeat 14259
Coming Soon