Last update: 18th June 2019
Quick recap
Overall rating: 8.2/100
Bissell Proheat Essential 1887 is a low price carpet cleaner designed for whole-home cleaning. This unit has a bunch of tools (crevice tool, stain tool and stair tool) and a long hose ( 7 ft.) for you to clean all the places. The water tank of this unit is 1 Gallon (bigger than Bissell Powerbrush 1622 and Bissell Powersteamer 1623), meaning you do not need to change the water frequently.
Bissell Proheat Essential 1887 has a high-rating from consumers and it is backed by Bissell for 2 years. You can put this unit into your consideration list if you are looking for a full-feature machine with affordable price.
The downside of Bissell Proheat Essential 1887 is the weight (around 20 lbs.) and it does not have new features (2-mode cleaning).
Recommendation – Should you buy Bissell Proheat 1887
This model is suitable for users who are looking for a low price upright carpet cleaner with efficient cleaning without the need of new features. Apart from this model, you can also consider Hoover Powerscrub model, the most popular choice with similar features.
Coupon of Bissell Proheat Essential 1887
Currently, this model has a discount, a $50 off via amazon Visa program and free shipping. You can enjoy free Amazon tech support at the same time.
Technologies and benefits of Bissell Proheat Essential 1887 model
The best part of this model is that it performs well on carpeted surfaces and it has a long warranty time (3 years) compared to rivals (normally 1-2 years).
It features a decent motor power (6 amps rating), an intense brushroll of 6 rows for maximal scrubbing activities with 2 edge sweepers, a dual water tank (1 Gallon) that store dirty water and clean water in the same tank and separate them with a bladder.
It comes as a nearly complete unit with minimal assembly therefore if you are looking for a carpet cleaner for seniors at the low-to-mid price range, it might be one of the best matches.

Construction: a full-size upright carpet cleaners with strong brushing activities and durable, suitable for medium size apartments, home with seniors.
Decent cleaning capacity
This unit uses a 6 amps rating motor which is quite similar to other Bissell upright units such as Bissell Proheat series, Bissell Powerbrush series.
The combination of this motor power with an intensive brush head activities (6 brush rows) and 2 edge sweepers allows you to scrub, lift and remove the dirt out of carpet effortlessly.
Designed to deal with tough stains
This model has a spraying crevice tool plus on board tough stain tool which is very handy for you to deal with set-on stains while cleaning the floor carpets and upholstery.
Medium size water tank
The model has 1 Gallon water tank which is quite similar to many others, but this water tank type is a dual water tank which stores both dirty and clean water in the same tank with a bladder to separate them.
This water tank is a classic design (it is a bit messy if you do not know how to clean it at the first time. If you need a model with 2 water tanks design, let's check for Bissell Proheat 2X models such as 1948, 1986)
Heatwave technology
This model is capable of using hot water and it will keep the water warm for cleaning better
Tool: tough stain tool, crevice tool, spraying tool and stair tool.
Specifications
| | |
| --- | --- |
| Model name | ProHeat Essential Upright Carpet Cleaner 1887 |
| General specifications | |
| Dimension | 11.5 x 12 x 43 inches |
| Weight | 20 lbs |
| Cleaning surface | Carpet, Upholstery, Stairs, Low Pile Carpet |
| Cleaning performance | |
| Motor power | 6.0 amps |
| Brush type | 6 Row Dual DirtLifter PowerBrush |
| Cleaning path width | 11'' |
| Heater | no |
| Heatwave technology | no |
| Edge cleaning | no |
| Hose length | 7' |
| Cord length | 22' |
| Water tank size | 1.0 Gal |
| Ease of use | |
| Brush on/off | no |
| 2 Cleaning mode | no |
| Carry handle | yes |
| Special tools | Spraying Crevice Tool, 3″ Tough Stain Tool, 6″ Stair Tool |
| Color | Black and Red |
| Similar models | 18872, 1887L, 1887T |
| Warranty | 2 year limited |
Pros and cons
Pros
Reliable, affordable price and full feature
Easy to use, easy to assemble and give a good cleaning result.
Quieter than many upright units
Cons
The brush keep spinning when you use the hose for upholstery, therefore it can wear the carpet unintentionally.You may have to put the unit on a small tray to prevent this.
Performance of the unit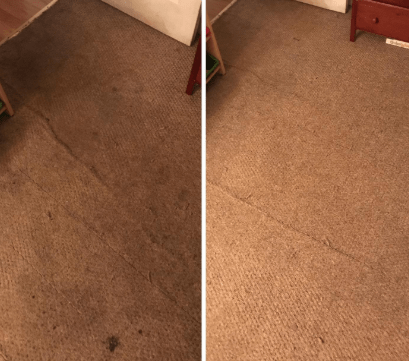 Replacement parts of Bissell 1887
Upper Handle Assembly – Black for Essential Series 1601518
Hose and Upper Cord Wrap Deep Clean Essential 1601519
Hose & Cord Wrap – Upper for Essential Cleaners 1601520
Brush Roll Assembly w/ Pivot Arms for Essential Cleaners | 1601537
Recommendation
Recommendation for residential use. This model is suitable for medium footage home with low pile carpet, seniors who do not care about machine maintenance and advanced features. It is suitable for users who are looking for a durable machine at the good price.
Against for home with stairs, corners and a lot of pets because it is quite heavy to maneuver around and the high profile will limit your cleaning under furniture.
FAQs and troubleshooting of Bissell 1887
Is this also a steamvac?
Answer: this is an extraction cleaner that uses warm water to clean carpets and upholstery. It does not create steam.
Question: How long does it take the carpet to dry after using this cleaner?
Answer: It takes about 40-50 mins
Question: I need belt accessory pack for upright carpet cleaners
Answer: I called Bissell for you all you have to do is provide the model number and they can help you further # 1800-237 -7691.
Question: Can i clean floor tiles
Answer: there is an optional bare floor tool available direct from BISSELL to allow this machine to be used on hard floors. You can find it online "tool kit for Bissell 1623"
Question: How long does it take the carpet to dry afterwards?
Answer: The vacuum actually does an amazing job of collecting excess water. My carpet doesn't typically feel wet after going over it a few times.
Question: What other cleaning solutions can you use in the machine besides the woolite?
Answer: no bleach, but various cleaning agent will work.
Question: Does anyone remember if the screws were attached to something? I can't find them in the box or packaging.
Answer: the screws should be attached to the handle or the User Guide. If they're missing, give us a call and we'd be happy to send them. 1-800-237-7691.
Question: does anyone own this machine over a year and its still working?
Answer: Yes, very well, as long as it is cleaned properly, dried, empty after each use….no problems!!!! Love this machine!
Question: What is the cfm …the method of measuring the volume of air moving through, aka "cubic feet per minute"…suction power?
Answer: You may be looking for a truck mounted unit. This one sucks well.
Question: How do I go about using the warranty? I found a few broken plastic pieces
Answer: They come with a default warranty of 2 years and you simple contact them through Amazon and they respond you accordingly.
Question: Can you use the easy fill antibacterial cleaner with this?
Answer: I have not tried that.
Question: I am in a wheelchair. Is this machine one that I could operate without too much trouble? Would it be too heavy for me to use?
Answer: It is no more difficult for me to use than our upright vacuum. It rolls easily and doesn't require too much effort to move. It also helps that it is most effective if you move it slowly.
Question: Can this be used to clean the seats in your car?
Answer: Yes, it would be ideal for that.
Question: where do i locate specific parts for this cleaner
Answer: I would contact bissell
Question: How tall is the water container?
Answer: It's about 32 Oz.
Question: Is the cleaner safe for dogs?
Answer: I purchased the machine and the cleaner BECAUSE of by dogs 🙂 The have a pet cleaning product that not only did a great job of deep cleaning my carpets but also took away the dog odor. My dogs have had no problems with the cleaning product. In fact my dogs kept trying to get in and lay on the newly cleaned carpet.
Question: Is this cleaner clean area rugs?
Answer: It would definitely be able to clean out an area rug, I have only done small rugs but it's worked well, just be sure to think about what materials under it, if it's carpet the cleaner may soak through the rug. If that's the case I'd just let the machine pull the liquid up under the rug as well!
Question: what temp does the water get heated too?
Answer: I have not checked that by measuring. You are supposed to add hot water to begin with, I think the heater just helps keep it hot while you are cleaning
Question: Can this work on a bed?
Answer: I would say it should using the attachment feature.
Useful links:
bissell 1887 vs 1846
bissell 1887 vs 1846
bissell 1548 vs 1887