Overview
The Bissell PowerGlide® Pet Vacuum With SuctionChannel Technology® is an upright vacuum from Bissell brand released in 2018. This model is designed for users with pets by optimizing the pet hair cleaning performance and pet odor removal. It is less expensive than other Bissell upright vacuum cleaners such as the Bissell PowerGlide Lift-Off Pet Plus, Pet Hair Eraser Lift-Off, Pet Hair Eraser Turbo Plus, and Pet Hair Eraser Turbo Rewind.
When you see the Bissell PowerGlide® Pet Hair 2215 vacuum cleaner on Amazon, the model number will have the letter "A" on the end. Other than that, the Bissell Powerglide Pet 2215A is exactly the same wherever you buy it.
This model has several latest technologies to bring more convenience for users such as the swivel steering head, the brush roll on/off feature, the sealed air system and a Pet TurboEraser Tool designed with tangle-free technology to seamlessly pick up pet hairs.
To remove the pet odor, this unit has a Febreze pet odor Eliminator filter placed in the filtration system. Bissell Powerglide Pet 2215A has a super long warranty time (5 years limited) and the price is much more affordable than Bissell Pet Hair Eraser model 1650A, which is Bissell exclusive design unit for home with 4 feet buddies.
Recommendation: Bissell Powerglide Pet 2215A is a nice option for users with limited budgets who need a home vac to clean a variety of surfaces and pet hair on daily basis.
---
What Are the best benefits of Powerglide Pet 2215?
Sweet price. It is just a half price of Bissell Pet Hair Eraser
Ergonomic value. This model has a swivel steering head, a brush on/off feature so it allows you to clean from bare floors to high pile carpets with less labor.
Long warranty time up to 5 years. Bissell machine are very durable, and a model with 5 year warranty is expected to be used without minor defects.
Refund if you do not like it. When buying this unit on Amazon website, you can have 30 day to try the unit and you can get refund within 30 days.
New, specialized tool for pet hair pick up. TurboEraser Tool designed with tangle-free technology will reduce the hair wrapping issue.
---
How Well Does the

Powerglide Pet 2215A work?
Construction
Bissell Powerglide Pet 2215A has a classic contruction of an upright home vac. It features a low profile brush head with brush on/off feature, a long hose for tool attachment and a fingertips control. The unit differs with other models by using updating technologies presented below.
Technology and features of the unit
Suction Channel Technology & No Loss of Suction
This model was tested per IEC 60312-1 (measurements of the performance of vacuum cleaners for household use, you can reach the testing procedure here ) with multiple dust loading times and the result shows a no loss suction, especially the edge cleaning is also very efficient.
SmartSeal Allergen System
This air sealed system allows the vacuum to capture the allergen and dust inside the machine without releasing them back to the air. This system is better than a casual air system especially for users with breathing issue. Although this is not a true HEPA filter, Bissell's SmartSeal Allergen System™ comes close!
On/Off Brush Roll
On/Off brush roll is a great advantage. An upright unit with brush roll on/off feature can clean almost all floor surfaces from bare floors to the high pile carpets. Especially if you have hardwood floors, a brushroll on/off is a must because the rotating brush will possibly damage the wood surface.
The triple action brush allows for easy transitions from hardwood floor to carpet.
9X Multi-Cyclonic Separation
Dirt particles are prevented from escaping back to vacuum post-motor filter. This feature protect the motor and the filter to operate for longer time
Swivel Steering
The brushhead can move from left side to right side better so it helps when cleaning under furniture, corners like table and under beds
Pet TurboEraser Tool
New designed pet tool with less tangling technology will pick up pet hair but it is not entangled even dealing with long hair. If you're looking for a completely tangle free brush roll, check out the Bissell Pet Hair Eraser vacuum or the Shark Navigator with Zero-M technology.
If you are still undecided, you may want to check out some of our reviews for other vacuums for pet owners.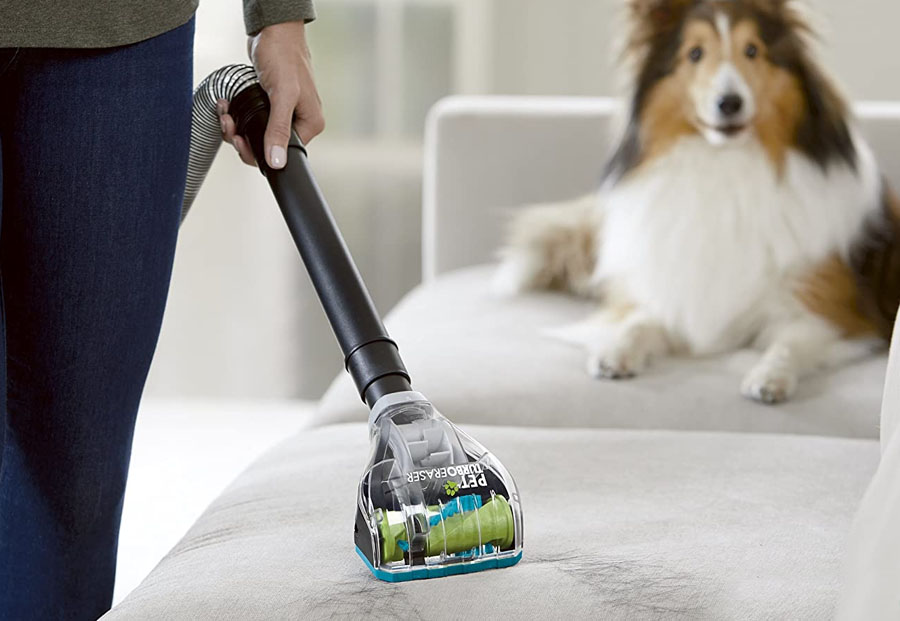 ---
Bissell Powerglide Pet 2215 Compared with Other Pet Owner Models
Let's compare this Bissell 2215A with some other Bissell upright units designed for homes with cats and dogs. While Bissell has many upright vacuums for pet owners, we will be comparing some of the most popular choices in the "budget friendly" category.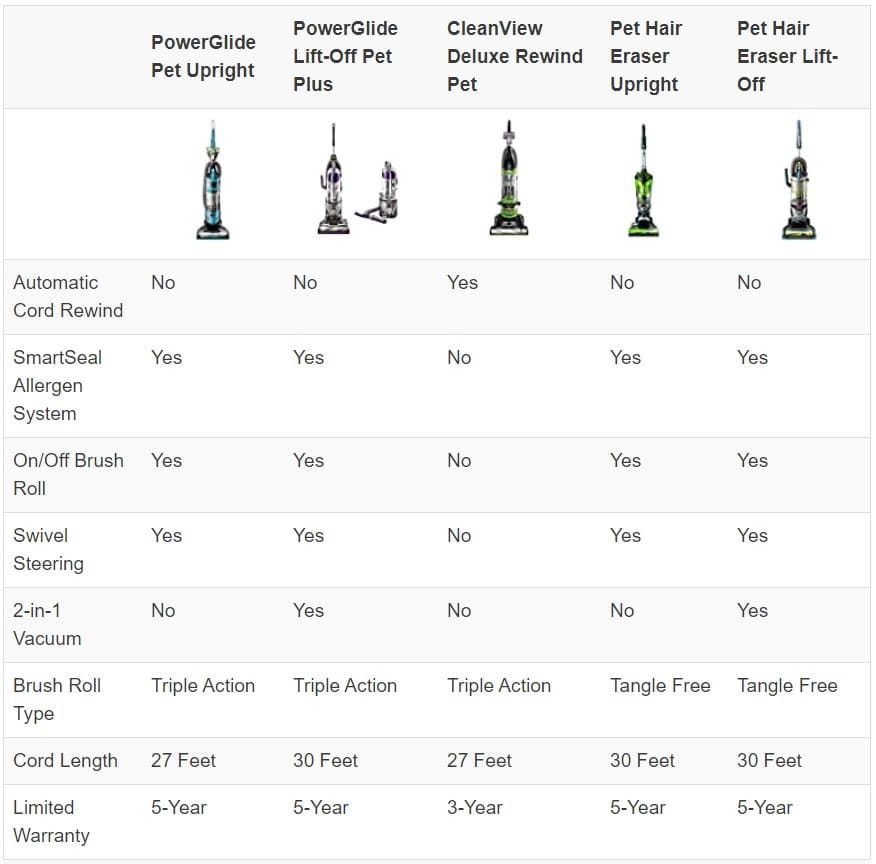 Bissell PowerGlide® Pet Hair 2215/2215A FAQs
Coming soon