Overview
The Roborock E20 Robot Vacuum Cleaner is good recommendation if your home is covered by carpets mostly. This robot vacuum incorporated advanced benefits similar to Roomba 960, but the price of Roborock E20 is very affordable (retail price under 300 dollar range but you can get it for much less on Amazon).
It is important to note that this is one of Roborock's older model, so you may want to check out their latest robot vacuums before making a decision.
Massive power
Using an 1800 Pa motor, Roborock E20 Robot delivers powerful suction capability to pick up from fine dust to larger debris. The strong airflow lets the robot to clean bare floors, thin pile and thick pile carpets without difficulty.
Roborock E20 Robot Vacuum is optimized for navigation by using 13 types of sensors. Instead of moving randomly like other low price robots (Roomba 690, Deebot N79s, Robovac 11S), Roborock E20 moves in a predictable path. The unit starts cleaning from around the edge, then moving in between. This path cleaning is more efficient and saves a lot of battery.
Key value
Other advanced benefits of Roborock E20 Robot Vacuum Cleaner are quite similar to Roomba 960. It has auto-recharge and auto-resume feature, App control (Mi-Home app), spot cleaning, area blocking ( with a magnetic strip), HEPA filter. Especially, Roborock E20 has wet mopping feature too.
The downside of Roborock E20 Robot Vacuum Cleaner is that sometimes it can get stuck under low profile furniture (TV stand or couch) (its height is 3.6 in). Besides, this model does not support the map saving feature.
On the overall, this robot vacuum is an excellent model for the price.
---
Should you buy Roborock E20 in 2021?
Roborock E20 is highly recommended if you need a robot vacuum cleaner for everyday cleaning. It is powerful and can clean multiple surfaces with ease (the robot can easily transverse from bare floors to high pile carpets, up to 0.8 in).
There are a lot of cleaning modes for difficult cleaning areas, HEPA filter and large size dust bin of Roborock E20 can be an advantage for bigger apartments.
At the price of around 300 dollars, Roborock E20 is the greatest finding you may consider.
Another model you can have a look is Eufy Robovac 30C, which is somehow comparable to Roborock E20 but this unit has the map saving technology for personal customization.
---
Coupon for Roborock E20
When we last looked, Roborock E20 did not have a specific coupon, mostly because it is an older model. But depending upon the seller, you may be able to find it or the similar Roborock E2 for a good price.
---
Technologies and benefits of Roborock E20
Construction of Roborock E20
Roborock E20 has a circular shaped designed similar to most of robot vacuum cleaners. However, the dimensions of Roborock E20 is bigger than other brands.
Roborock E20 is measured by 13.8 x 13.9 x 3.6 inches, featuring a generous dust bin (about 640 mL) and high wheels to transverse from bare floors to high pile carpets easier.
The Roborock E20 uses an 1800 Pa motor to generate suction. This motor power is 3 times more than the Roomba 600s series (Roomba 614, Roomba 650, and Roomba 690 use 600 Pa motor). Comparing with Ecovacs Deebot or Eufy Robovac, this motor power is also stronger than these direct competitors.
For example,
Deebot N79S (the most popular robot vacuum choice at a low price) uses 1000 Pa motor
Eufy Robovac 11S uses 1300 Pa motor
This implies Roborock E20 can deliver more suction power than most of the entry-level robot vacuum on the market.
The use of such a powerful motor allows the Roborock E20 to have 6 cleaning modes from basic suction to high-level suction to adapt to different surfaces and dirt level.
Intelligent sensors – 13 types of sensors for optimal cleaning path
The first great benefits of Roborock E20 is the use of intelligent sensors. Under the bottom of Roborock E20, there are a series of dual-gyro system and motion tracking sensors to create path cleaning patterns. The path cleaning mode is 30% more efficient and faster than random cleaning mode, which is mainly used by the entry-level robot.
Apart from these sensors, Roborock E20 has other onboard sensors for preventing falls, traps, collision and let the robot to automatically recharge and resume working.
Perhaps, Roborock E20 is the only low price model having such impressive sensor system comparable to high-level robots (Roomba 960).
Mopping benefits
Roborock E20 is capable of hard floor mopping. You can attach a microfiber pad underneath to let the vacuum cleaner and mop at the same time. This feature is very useful if you have hardwood floors at home.
Wifi connection – Alexa skills
You can control, start, schedule, check the robot location, accessory status and so on on the Mi-home app. This app is compatible with Alexa Voice too. (2.4GHz Wi-Fi only)
2600 mAh battery – long run time
Roborock E20 can run for 100 minutes on the hard floors and 50 minutes on carpets. This run time is enough for cleaning an area of 1000 sq ft to 2000 sq ft before recharging. The robot has a long recharging time up to 4 hours. However, because Roborock E20 can recharge automatically, this will not be an issue.
Washable Filter
This robot uses a HEPA filter (E11 type) for capturing debris, dust, and allergen. The filter is washable to extends its life and reduces replacement frequency.
Auto carpet boost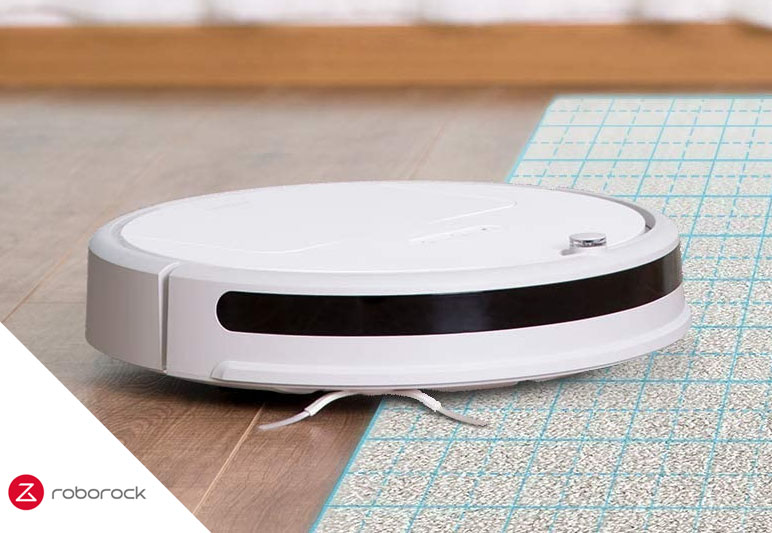 Roborock E20 can realize the carpets and increase the suction power automatically. When running on carpets, Roborock E20 delivers maximum suction power, which will last for about 50 minutes. If the robot battery is depleted, it will come back to the dock for recharging and the resume cleaning where it leaves.
Variation – Roborock E25
Roborock E20 has a sibling model called Roborock E25. Both models are using the same system and accessories. The difference between Roborock E20 and E25 is the color, the battery and the motor. Roborock E20 is white and Roborock E25 is black. E25 battery is 5200mAh and suction is 1800 Pa while E20 is 2600mAh and 1800Pa.
---
Specifications of Roborock E20
Model
Roborock E20
Mapping / Path planning 
yes  
Mapping Sensor Type 
gyroscope
Recharge & Resume 
yes
Automatically Docks and Recharges 
yes  
Noise Level 
60  db  
LCD Display 
no
Side Brushes (one or two) 
1  pcs
Voice Prompts 
yes  
Suction Power 
1800  Pa  
Сleaning Area 
2153  ft2  / 200  m2
Home Size 
small, medium
Cleaning Modes 
silent, standard, strong, max
Dustbin Capacity 
640  ml
Wet Mopping 
yes  
Water Tank Capacity 
150  ml
Barrier-cross Height 
0.79  in  / 20  mm
HEPA Filter 
yes  
Washable Filter
yes
Сarpet Floor Types 
low-pile, medium-pile
Bare Floor Types 
ceramic tile, marble tile, vynil, laminate, linoleum, wood
Battery Capacity 
2600  mAh
Runtime 
100  min  
Charging Time 
240  min
Rated Power (Watts)
50  W
Scheduling 
yes  
IR Remote Control 
no
Wi-Fi / Smartphone App 
yes  
Amazon Alexa Support 
yes  
Google Assistant Support 
yes  
Virtual Wall 
no
Digital Blocked Area 
no
Zoned cleaning 
no
Multi-floor maps 
no
Manual movement control 
yes
Selected Room Cleaning
no
Carpet Boost 
yes  
Anti-drop / Cliff Sensor 
yes  
Dirt Detect 
no
Full Bin Indicator 
no
Robot Weight 
6.61  lbs  
Robot Width 
13.78  in  
Robot Height 
3.54  in  
In the box 
charging dock
power cable
cleaning brush.
Warranty 
12  months
---
Pros and cons of Roborock E20
What We Like…
Strong suction – strongest suction power compared to robots at a similar price range.
Cleans very well carpets and high pile carpets.
Transitions nicely from floor to carpet.
Useful phone app.
Large dust bin, easy to clean, HEPA filter.
What Could Be Better…
Gets stuck under some furniture (TV stand) (3.6 in height).
---
Performance of Roborock E20
Watch the video below to see how Roborock E20 runs on hardwood floors. It navigates smoothly and cleans under the sofa too.
---
FAQs and troubleshooting Roborock E20
Coming Soon
what is the difference between the three series E, S, and C?
Further reading