Overview
The Hoover® WindTunnel® 2 Whole House™ Rewind is a low price upright vacuum cleaner, it is designed for tackling pet hairs and whole-home cleaning. While it is not self-propelled, it is easy to push. It features a carpet height adjustment setting which allows you to adjust the suction depending on what carpet height you are cleaning. It also works on hard floors.
Despite the fact that Hoover has since released newer technologies such as WindTunnel® 3 and ONEPWR, this full size upright vacuum continues to be a best seller with positive consumer ratings.
The best part of this unit is that it is a relatively cheap vacuum but it has all of the standard features of a high-quality upright vacuum such as
strong motor power
multiple floor cleaning capacities
sealed allergen system
HEPA filter
the cord is automatically retracted
The downside of this model is the weight (a bit heavy about 16.1 lbs) and it is a bit bulky. It also does not have swivel head, LEDs light or detachable canister feature like more advanced models.
Do note that we are reviewing the UH71250 model, but don't let the numbers confuse you. Sometimes manufacturers assign different identification numbers for the same base model — either based upon where a product is sold, color variations, or if there are additional attachments — but the vacuum itself is the same.
Additionally, there is a newer model, the Hoover WindTunnel 3 Max Performance Upright Vacuum Cleaner, which you may want to check out. It only costs a little more than version 2 but replacement parts are easier to find.
But if you are a pet owner, then either the Bissell Pet Hair Eraser or Shark Navigator with Zero M may be better options because they both offer their version of anti hair tangling technology.
Related
---
Should you get Hoover WindTunnel 2 UH71250 in 2021?
Hoover WindTunnel 2 UH71250 is an OK upright vacuum cleaner at low price. At the price under 100 dollars, this unit still has all of the benefits of a good vacuum for whole home cleaning. Although it has shortcomings (short cord, heavy, no swivel head), it is a reliable option for general use.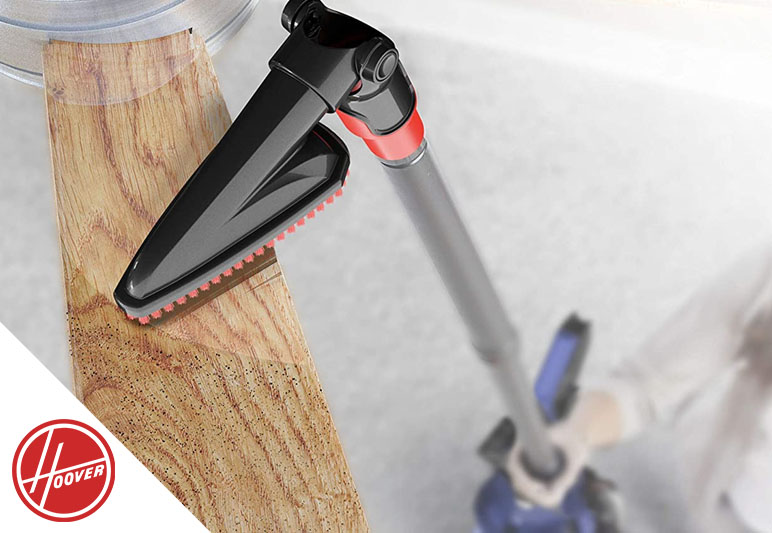 This is an affordable vacuum for people who don't need one with all the bells and whistles or don't have large spaces to vacuum. If you are on a budget, there are a few other quality upright vacuums priced at under $100 (when we last checked) you can also consider
---
Coupon for Hoover WindTunnel 2 UH71250
---
Technologies and benefits of Hoover WindTunnel 2 UH71250
Construction
This model is a corded, upright full-size vacuum cleaner designed for multiple floor cleaning and pet hair cleaning.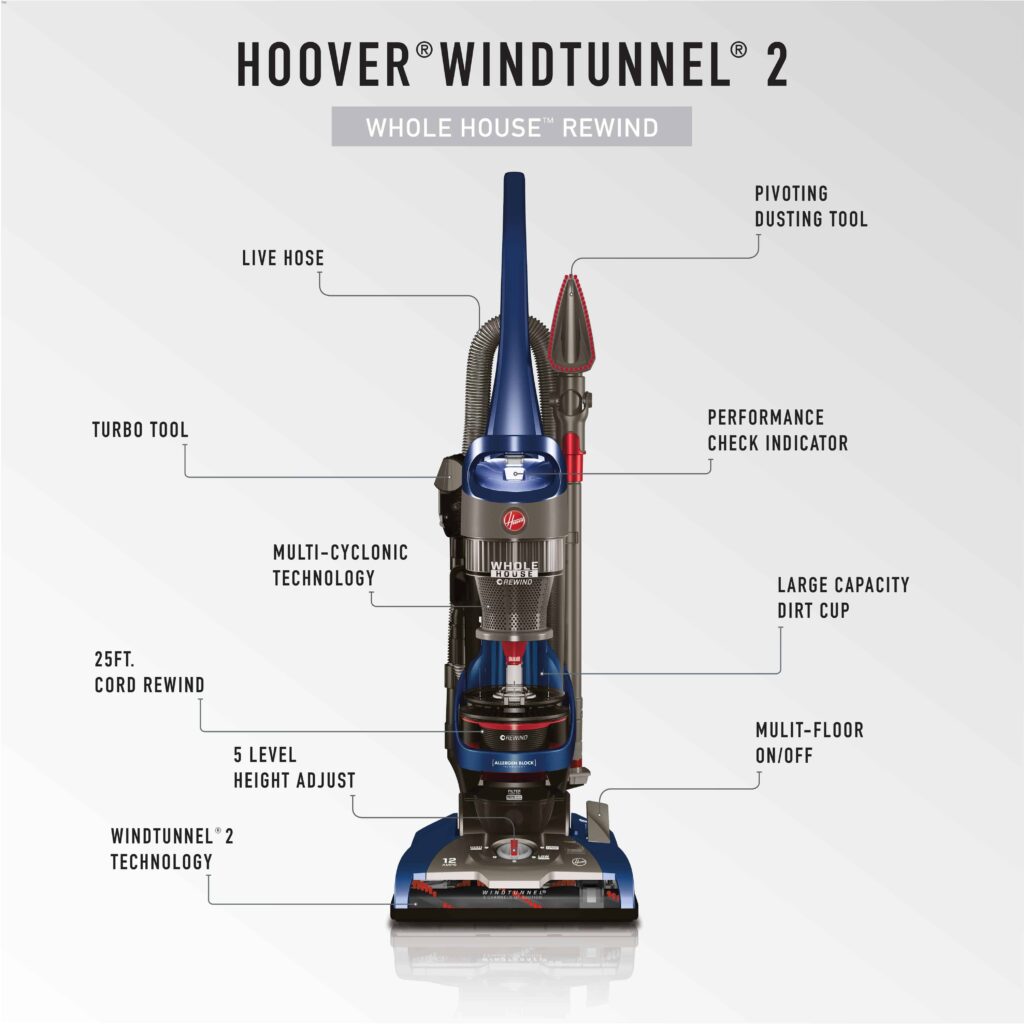 Brushroll on/off feature – you can clean both carpets and hard floor surfaces
Deep cleaning by wind tunnel technology – Hoover uses 2 channels of suction on this unit to give a strong power to lift up the dirt and embedded dust. Windtunnel technology is one of Hoover best features which is applied in many vacuum series such as Hoover Air steerable, Hoover REACT, Hoover Linx and more.
Cord rewind feature– the cord (25 ft.) will retract automatically. You do not need to rewind the cord manually after cleaning the floors.
Advanced allergen block technology, HEPA media filter, odor-absorbing carbon – capture pet hairs, allergens, and dust inside the machine.
---
Specifications
Dimensions: 13 x 13.5 x 44.5 in
Bagless design
Brush speed -single speed
Brush on/off feature
Dust cup capacity: 1.29 Liters
Fingertips control: no
Motor power – 12 amps
Nozzle width – 13.5 in
Sealed allergen system plus HEPA and odor filter
Weight – 16.1 lbs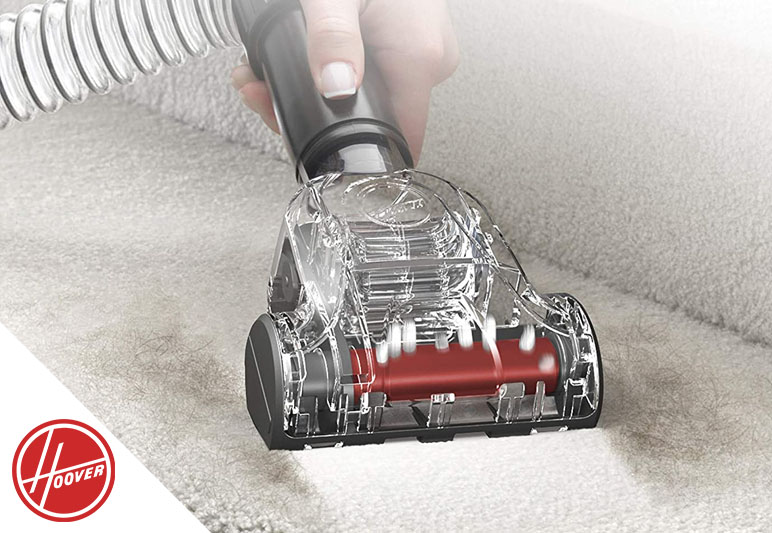 ---
Pros and cons of Hoover WindTunnel 2 UH71250 
Pros
The Hoover WindTunnel 2 UH71250 has all of the fundamental features for optimal cleaning.
It has a strong motor power (12 amps rating), multiple floor cleaning capacity, sealed allergen system plus HEPA and pet turbo tool which is a nice package for the home with a lot of pet hairs.
Most importantly, it is very cheap when compare with other units from the brand and other brands (such as Shark or Bissell units)
Cons
As expected, it does not have ergonomic features like other mid-price models such as LED lights on the nozzle, adjustable height handle, fingertips control or variable speed control.
The Hoover WindTunnel 2 UH71250 has one brush roll speed, therefore it might be unsuitable if you have to clean high pile carpets or dedicate area rugs.
---
Recommendation of Hoover WindTunnel 2 UH71250 
Recommendation for users who are finding a low price upright vacuum cleaner for whole home cleaning without the need of fancy features. The model is pet-friendly and asthma sufferers friendly
Against for home with a lot of high pile carpets or area rugs.
Not sure? Take a look at Hoover's current line of upright vacuums on Amazon.
---
FAQs & troubleshooting of Hoover WindTunnel 2 UH71250
Coming soon