Overview
The Hoover REACT™ Professional Pet Plus is a budget friendly yet high grade upright vacuum cleaner. This model uses a series of new technologies that first appears on Hoover vacuum.
The Hoover React Professional Pet Plus Bagless Upright Vacuum Cleaner is equipped with a suction control valve that allows you to reduce the suction, making it easier to push on carpets. The Hoover App allows you to adjust the FloorSense® settings for your particular floor type, including higher and thicker carpets
The best part of Hoover REACT UH73220PC is that it delivers professional cleaning performance, large dust cup size, lightweight, long hose length and picking pet hair very well. This model has 5 year limited warranty
The downside of this model is that it does not have the Lift-up canister like other Hoover REACT units therefore if you have a lot of furniture at home, you might choose the similar version (Hoover React UH73550 PC) which have the lift-up canister to be able to clean under furniture easier.
---
Should you get Hoover REACT UH73220PC in 2021?
If you are about to choose a vacuum cleaner in the low-to-mid price range, this model can be in your consideration list. It has many features, a large dirt cup, and great performance on many surfaces. However, you should also expect it does not have many features like Shark vacuum cleaners.
To use the tools included with the Hoover® REACT™ Professional Pet Plus you can attach them to either the end of the wand for above floor cleaning or to the end of the handle. To attach the tools to the end of the wand press the "Wand Release" button on the back on the vacuum behind the hose.
In June 2020, Hoover released a new concept of vacuum cleaner called ONEPWR. The vacuum cleaner will use a similar battery pack with the hard floor cleaner, carpet cleaner, spot cleaner, wet and dry cleaner.
You can our read reviews of the cordless vac with ONEPWR.
---
Coupon of Hoover REACT
---
Technologies and benefits of Hoover REACT UH73220PC
Similar to other Hoover corded REACT upright vacuum, this unit has all of the advanced technologies such as Floorsense, Windtunnel, Multi-cyclonic air system, swivel steering and sealed allergen system plus HEPA.
The REACT UH73220PC has two exhaust filters made with HEPA and odor absorbing carbon. It also includes a Sealed Allergen System™ that captures 99% of dust and allergens** (down to .5 microns) and prevents them from being released back into your home.
---
Specifications of Hoover REACT UH73220PC
Bagless unit
Motor power: 11 amps
Dimensions: 15 x 13 x 44 in
Weight: 17.6 lbs.
Dust cup size: 1.5 L
Cord length: 30 ft
Cleaning path: 13 in
Hose length: 10.5 ft
Quick released cord
Variable suction control feature
Carbon HEPA filter plus secondary filter for odor management
5 cyclones
Warranty: 5 years
Tools: Deluxe Crevice Tool, Dusting Brush, Pet Upholstery Tool, Pet Turbo Tool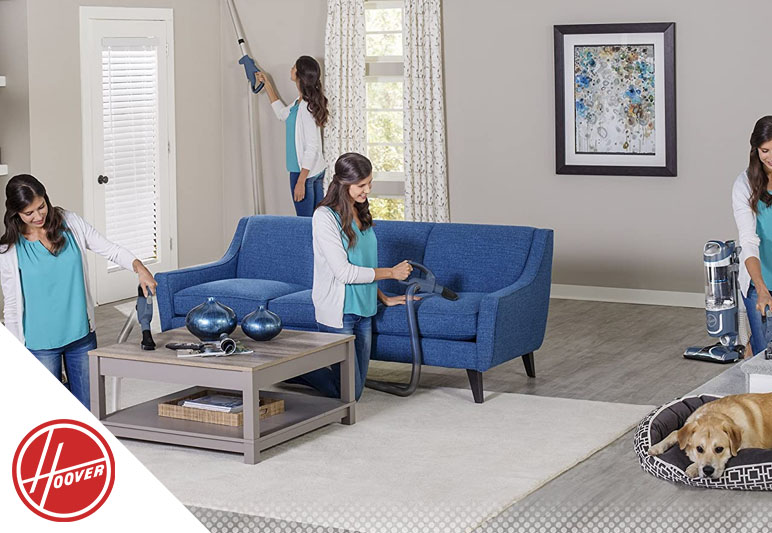 ---
Pros and cons of Hoover REACT UH73220PC
What We Like…
Powerful suction and cleaning performance on different surface types.
This unit cleans very well from hard floors to carpets and high pile carpets.
The unit picks up pet hair and the sealed air system plus HEPA filter is very great for users with allergy.
Besides, this unit has high-quality accessories especially the pet turbo tool. It has a long cord (30 ft), big dust bin (1.5 liters) and a long hose (10.5 ft. which is the longest in Hoover REACT series).
What Could Be Better…
This model is a bit heavy and users feel it is a bit harder to maneuver when compared with Dyson or Shark models (Shark APEX and Dyson cinnetic for example).
---
Recommendation of Hoover REACT UH73220PC
Recommendation for the home with pets and with many floor types. The Hoover REACT has sealed allergen system plus HEPA therefore it is very friendly to users with asthma.
Against for home with a lot of edges, corners and under furniture areas need to be cleaned frequently. Because Hoover REACT UH73220PC is a bit heavy and the swivel head is a bit stiff, you might find it is not as handy when you have to deal with small areas. One of the best alternatives will be the Hoover REACT QuickLift Deluxe model or Shark Navigator NV356E.
---
FAQs & troubleshooting of Hoover REACT UH73220PC
Coming Soon