Overview
In 2019, Hoover released the Hoover ONEPWR™ Blade™ stick vacuum which is available in two different versions: ONEPWR Blade+ (model BH5331) and the ONEPWR™ Blade MAX™ (model BH53350).
Hoover has put a lot of effort to keep pace with Dyson and Shark in the cordless vacuum industry. Hoover cordless vacuums are now not only affordable, but also have advanced features comparable to Dyson models such as:
Cleans from floor to ceiling
Convert into a handvac easily
Ultra-lightweight, large dust cup
Powerful suction and long run time
The Blade MAX™ is Hovers's most powerful cordless vacuum, but with that comes a premium price tag of about $350 the last time we checked (although we did find it on sale at Amazon for less). Is the investment worth it? Absolutely if you need that type of cleaning power.
However, since many people are looking for a stick vacuum with a more affordable price, for this review we are going to be looking at the Blade+ which costs about half as much.
Hoover Onepwr Blade BH5331 is a cordless vacuum cleaner which can work as an upright stick vacuum or can be converted into a hand vac.
This unit applies 2 new technologies
Onepwr 3.0 Ah battery – the cordless vac run longer and charge faster, and you can also use the machine together with other units belong to Hoover Onepwr system. In the vacuum industry, Hoover is the first brand ever to use a single battery pack for all home cleaning appliances.
DustVault – a dual cyclonic filtration system to capture up to 99% of dust and fine particles
Apart from the above features, this model has a better design to help cleaning easily and effortlessly.
It has a completely removable cup which can be emptied by a button push.
The handle is appropriately configured in the position to reduce hand wrist
The helix brush roller has LED lights to reveal dirt in darker floors
The unit is only 5.8 lbs, but it can store up to 0.6 L dirt
Hoover Onepwr Blade BH5331 is expected to give similar performance to the Dyson V8 model but at a half-price only.
Related: How to Choose the Best Vacuum for Cleaning Stairs
---
Highlighting features and specifications
Cordless floor vac that can convert into a handvac
Easy to use, clean from ceiling, sofa, under furniture, carpets, and floors
Ultra-lightweight and long run time (up to 35 minutes)
2 running mode
3-year warranty on the motor
---
SpecificationS
Model name
Hoover Onepwr Blade BH5331
Dimension
Battery type
3.0 Ah Li-Ion
Battery run time
35 minutes
Battery charge time
3.5 hours
Brush type
Helix
Brush speed
2 speeds
Hand vac feature
yes
Filter
Replaceable (6 month lifetime), rinsable
Dust cup
0.6 L
Weight
5.8 lbs
Accessories
ONEPWR™ 3.0 Ah Lithium-Ion Battery
ONEPWR™ Charger
Wall Mount
Dusting Brush
Crevice Tool
Upholstery Tool
Warranty
3 years (motor)
---
Performance
Hoover Onepwr Blade BH5331 can run for about 35 minutes with 3.5 hours charging (low speed). You can also run the vacuum with high speed (shorter run time) to tackle dusty places.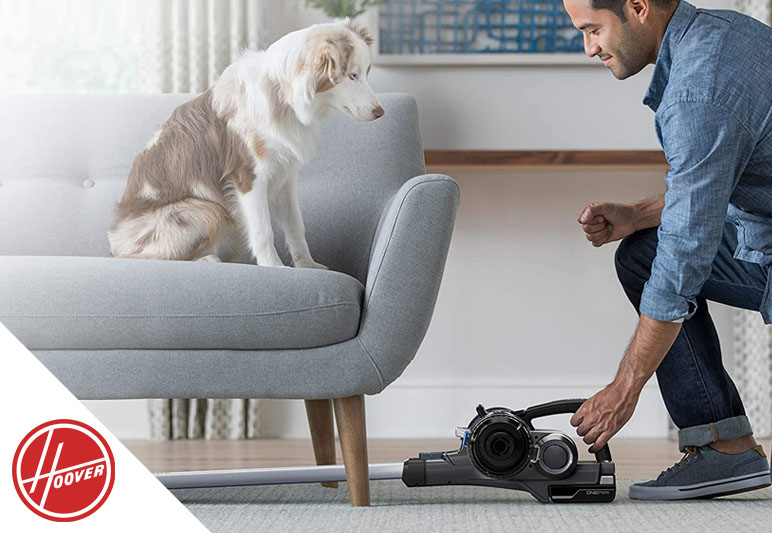 Efficient filtration
This unit uses a replaceable, rinseable filter, combined with a dual cyclonic system to keep 99% of the dust and allergen inside the machine without losing it suction.
The primary filter lifetime is about 6 months.
Hoover does not mention the filter type but it may be not HEPA filter.
The Li-ion battery pack that can interchange for other cleaning products
Hoover uses the same battery pack for its newest cleaning machines called ONEPWR. This is a removable Li-ion battery pack which can be inserted into any model belongs to this system.
Currently, Hoover ONEPWR has 9 models including a spot cleaner, an upright vac, a sweeper, a blower, a cordless stick vac and so on.
Full set of accessories
Hoover Onepwr Blade BH5331 has a wall mounting dock, a crevice tool, a dusting brush, an upholstery tool and a battery kit ( battery and charger).
Price – good for the money
The full set of Hoover Onepwr Blade+ is just about under $200 retail, cheaper than a lot of rivals (for example the Dyson v8 or V10 and the Shark IONflex). Besides, this unit has a 3-year warranty which ensures that you can use it for a long time with sufficient supports from Hoover.