Overview
The Dyson V7 Trigger Cord-Free Handheld Vacuum Cleaner is a cordless portable vacuum at a low price that is often underestimated.
While Dyson has released a lot of newer series vacuums such as Dyson V11, Dyson Cyclone V10, Dyson V8, etc, the Dyson V7 Trigger is still a great buy in 2021 for thousand consumers thanks to its effectiveness and affordable price.
However, because it is an older model, it can sometimes be difficult to find.
The Dyson V7 trigger delivers a powerful suction airflow even stronger than many competitors in the field like Bissell, Hoover brand. The unit design is ultra-lightweight, no top-heavy like Shark cordless vacuum and its 30 minute running time is quite enough for quick cleaning tasks.
The Dyson V7 trigger is recommended if you need a lightweight cordless vacuum for cleaning sofa, mattress, bedding, floors, curtains, and tight corners. However, you should not consider this model as a main vacuum for the entire house. If you need an all-in-one cordless vacuum for the entire house, the Dyson V8 absolute cordless stick will be a better choice.
Should you buy Dyson V7 trigger in 2021
With the introduction of many newer series from Dyson brand like the Dyson V11, V10 and the competition of Shark brand, with models such as the Shark IONflex Duoclean, we feel that Dyson V7 trigger is still a nice option for those who are looking for a cordless vacuum under 200 dollars thanks to its performance and durability.
You should also notice the Dyson V7 trigger is great for quick cleaning-up tasks, it should not be considered as the main vacuum for your home.
Related Articles
Coupon for Dyson V7 trigger
When we last checked Amazon, we did find a discount for the Dyson V7 Trigger handheld vacuum. Check below for the latest price.
Additionally, when buying the Dyson V7 on Amazon website, you can get free shipping plus $50 off via Amazon Visa Reward Program. Condition applies so please check the price before buying.
Benefits of Dyson V7 triggers
Very affordable. With less than 200 dollars, you can get Dyson V7 trigger, or you may upgrade the Dyson V7 unit with car and boat accessories with about 40 bucks. At the moment, it is one of the best deal from the Dyson brand.
Strong suction power. Dyson V7 has a standard suction power of 21 Air watts and can boost up to 100 Air watts on max suction power. This suction power is quite powerful for its size (under 5.45 lbs).
Longer run time than Dyson V6. Dyson V7 series can run for 30 minutes (standard mode). However, with the max mode, it can run only for under 10 minutes.
A lot of attachments. You will get a mini motorized tool, combination tool, crevice tool, and wall-mounting possibility.
Washable lifetime filter. Dyson V7 can capture dust and allergen size down to 0.5 microns. Although it is not the best filter yet, it is still sufficient for keeping all of the allergens, bed bugs inside the machine. Highly recommended if you have allergies.
Technologies of Dyson V7 trigger
Construction
The Dyson V7 trigger is a handheld vac with impressive design. Apart from the strong suction ability, the most important thing to mention is about its ultra-lightweight and large cleaning capacity features (under 5.45 lbs and can hold 0.14 Gallon of dust).
The unit uses a digital motor (V7) combined with 15 cyclones to capture tiny dust and particles. That is why Dyson V7 trigger is highly recommended if you have a breathing issue.
Great for various surfaces
Dyson V7 trigger works amazingly on small areas. It cleans the stairs, upholstery, floor, carpet, rugs and bare floors. You should notice Dyson V7 trigger is just a motorhead unit, so if you need to clean the entire floor, you have to choose Dyson V7 full set instead.
30 minute cleaning time
Although the latest Dyson cordless V11 can run for 60 minutes, we still find that Dyson V7 running time is quite enough for small-to-medium size apartment.
Hygienic dirt ejector – clean dustbin easily
You can empty the dust bin from the bottom with a single press. It is a handy and effective design to keep your hands clean.
Performance of Dyson V7 trigger in real life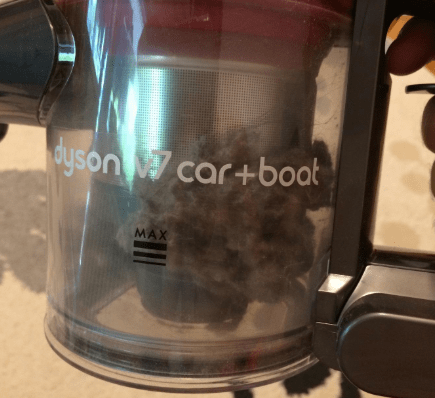 Specifications of Dyson V7 trigger
Charge time: 3.5 hrs
Run time (Powerful mode) 30 mins
Cyclone technology: 2 Tier Radial™ cyclone
Filtration: Washable lifetime filter
Suction power (Powerful mode): 28 AW
Suction power (MAX mode): 100 AW
Weight: 3.77 lbs
Tools: Cleaner head, Mini Motorised Tool, crevice tool, combination tool
Warranty: 2 years
Pros and cons
Pros
Great price value for the size
Ultra-lightweight, efficient for small apartments
Low noise level
Work greats on many surfaces
Cons
When using on Max mode, it eats up the power.
Struggles when cleaning larger floors and larger debris because it is just a motorhead
Dyson V7 trigger overall rating
Easy to use: 95/100 – the model is easy to assemble, you can use the vacuum as easy as a pie
Suction power: 90/100 – it delivers 21 air watts which is efficient for a small size unit
Easy to clean: 90/100 – the hygienic bin can be emptied with a press button
Versatility: 85/100 – suitable for various surfaces and fabrics, lightweight and not top heavy
Durability: 85/100 – very durable, the battery is not removable is a minus point
Battery run time: 75/100 – can run for 30 minutes on normal mode, however it can only run under 10 minutes on max mode
---
FAQs of Dyson V7 trigger
Coming Soon