What is the main difference between Shark APEX AX952 vs AZ1002?
Shark APEX is Shark most advanced upright vacuum series. Shark APEX AX952 belongs to the original design and AZ1002 model belongs to the successor series.
The main difference between them is that Shark APEX AZ1002 cleaner head has Zero-M technology. This new technology eliminates the hair during cleaning so that you do not need to remove wrapped hairs by hand.
What is Zero-M technology
Zero-M technology refers to the new construction of the hard bristle roller, where the brush units are tighter, shorter and a few helical, raised threads are added along with the brushes.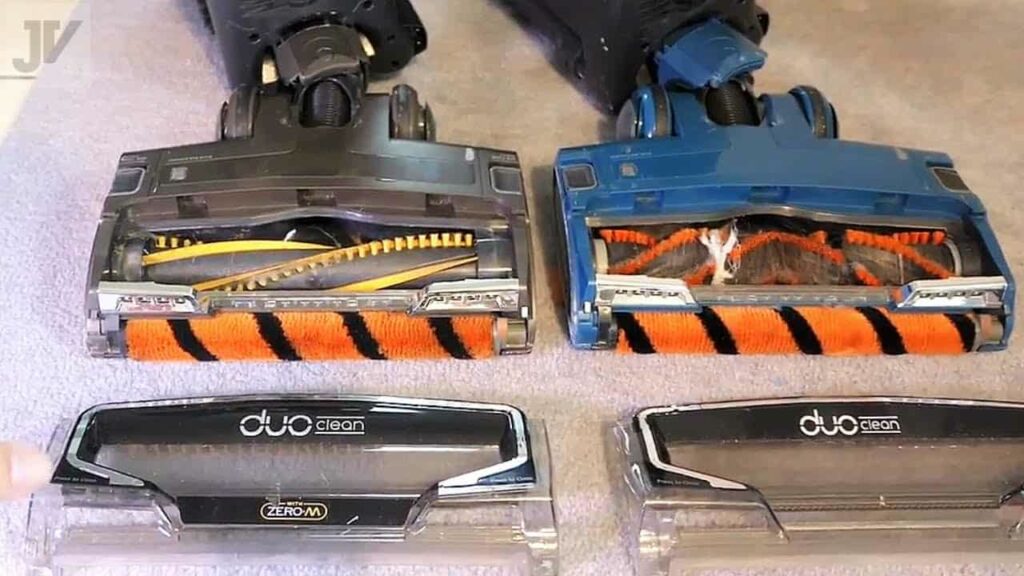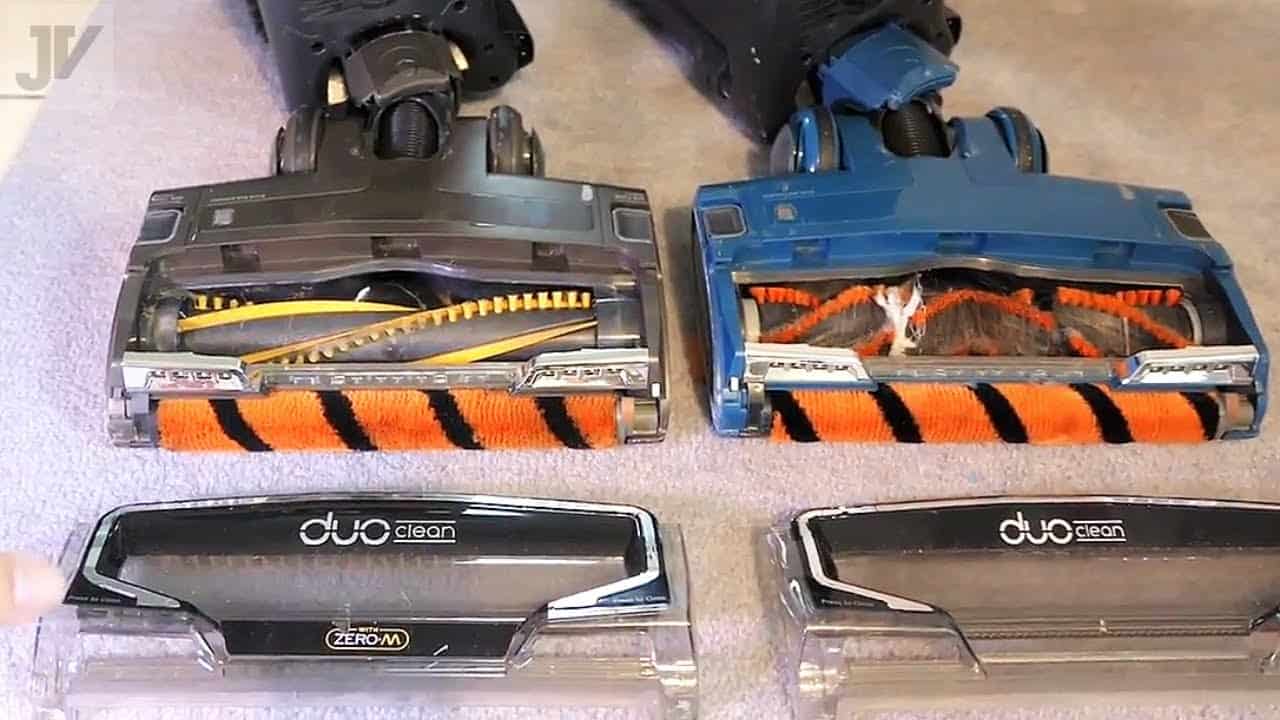 Zero-M cleaner head will save your time from cleaning the brush roller manually. In the real test, this cleaner head can reduce a large number of pet bunnies, short hairs…but it still picks up long hairs (Golden Retriever, human hair) and wraps around the roller.
Apart from this technology, there is another slight difference on the hose design. Shark APEX AZ1002 has a tighter, more reflective hose than AX952 model.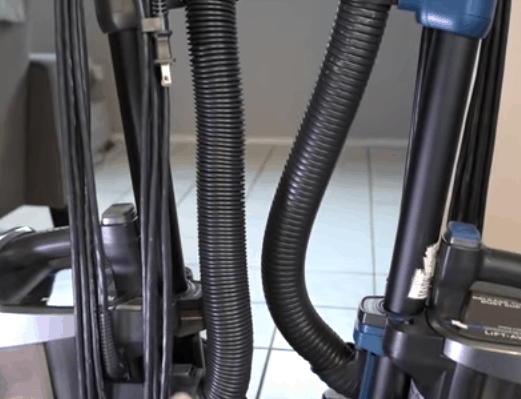 FAQs about Shark APEX AZ1002
Why my brush doesn't work on my shark apex lift away?
Answer: Shark APEX Duoclean AZ1002 has a new brush design with a few adjustments, therefore, it may not fit the one series.
Question: Is this vacuum dual voltage?
Answer: No, it is designed to work in North America at 120 Volts.
Question: Will it scratch hardwood floors?
Answer: nope
Question: Does az1002 have any attachments?
Answer: Yes. Shark APEX Duoclean AZ1002 has a full set of accessories: 12″ Crevice Tool, Pet Multi-Tool, and Deep-Cleaning Motorized Pet Tool
Question: Is this better than a cordless version of Shark Duo Clean?
Answer: Depending on your cleaning needs that one model can be more suitable for another. In general, Shark APEX AZ1002 gives higher performance results than a cordless Duoclean unit but you have to compromise for the weight and price.
Question: Is it easy to clean the brushes from hair?
Answer: Yes
Question: I do carpet hardwood and resilient floors, can this vac do all without damage to floors?
Answer: I believe it would do the jobs you have described.
Question: does this model have swivel steering?
Answer: No it does not.
Question: What kind of lights does it have? I need a light on the wand.
Answer: This great vacuum has LED headlights on the floor nozzle, as well as the handle.
What type of warranty is included with the Shark Apex Duoclean?
Answer: 5-year limited warranty.
Question: What length is the cord?
Answer: 30-foot power cord
Question: Does this vacuum need bags
Answer: NO
Question: Does the AZ1002 have edge cleaning?
Answer: Nope
Question: Does this work with Dyson attachments? I want to change my Dyson for this but I spent money on other attachments already. Or is there an adapter?
Answer: I just bought mine (also switched from a Dyson) and it doesn't look like the Dyson attachments fit on the Shark.
Question: How does it work on lightweight area rugs? I've had issues with vacuum cleaners sucking my rugs into the roller.
Answer: The vacuum itself has too much suction, but the motorized attachment works great!
Question: How does this vacuum perform on the newer "soft carpets"? I just got new soft carpet installed and can hardly push my vacuum through the carpet.
Answer: I'm not sure what a soft carpet is, but we have a fairly new thicker pile area carpet and when I set the vacuum for the "thick" setting, it moves pretty freely for me.
Question: what is the size of the packaging it comes in?
Answer: A box 3×3
What is the difference between model number az1002 and az1002brn?
Answer: One comes with more pieces to allow you to do more things.
Question: Does the bare floor setting turn the back brush off?
Answer: No.
Question: Does this shark apex fit under a bed for vacuuming and maybe even under a sofa? how low can it go?
Answer: You can detach cylinder which allows you to vacuum under beds or anything with 5 inches clearance.
Question: hardwood/laminate floor users: anyone experience dirt or particles "kicking out" from underneath while you are vacuuming?
Answer: No. I have not noticed dirt kicking back at me while vacuuming my hardwood floors. The Shark APEX works very well for fine dirt tracked into my kitchen by our three huskies.
Question: Does this really come with the motorized pet tool? When you order directly from the Shark website, the one that costs this much doesn't come with it.
Answer: Mine did come with it.
Question: does this model have active glide and noise reduction?
Answer: yes
Question: Do the attachments for the NV800 (Speed) work for this new model?
Answer: Nope.
Useful articles