Looking to automate some of your cleaning, but not sure how to choose a robot vacuum cleaner? Well you are in luck! The Clean Freaks team has been researching vacuum cleaners for years and we're here to help.
As technology is advancing, life has become much comfortable. Gone are the days when you would spend a lot of time vacuuming your house with an inefficient vacuum cleaner. Today's vacuums are designed to make light of the task that many people put at the top of their "most hated chores" list. In fact, you can even sit back, relax and let a robot vacuum do all the work for you.
When robotic vacuum cleaner first came out, they were extremely expensive. However, as time as gone by, manufacturers have been able to create some budget friendly robot vacuums that cost about the same as a quality upright vacuum. But for the more advanced models that do just about everything but vacuum stairs, you are going to invest quite a bit more.
Investing in a robot vacuum is a great way to nix tedious chores; however, it is crucial to choose a good brand. So, without further ado, we'll start with a list of the most popular robot vacuum brands (in no particular order). Then we will move on to what you need to know before you buy a robotic vacuum.
You May Also Like: Best Vacuum Cleaner Buying Guide
---
Best Robot Vacuum Brands in 2021
With so many people interested in the convenience of robot vacuums, there are lots of new brands popping up. Ultimately you will need to choose the model that has the features you need at a price that meets your budget. However, there is an important word of caution we need to give you. Be wary of unknown brands without a long standing reputation for quality.
For example, you are likely to come across many cheap robot vacuums that look good by their description. But upon closer inspection you may learn that they are being sold by companies that don't have a strong history in the industry. To save you time, these are the top, Clean Freaks Approved robot vacuum cleaner brands.
1. Neato Robot Vacuums
While Neato may seem snappy at first, compared to the more advanced brands like iRobot. It is a handy little machine that lives up to its expectation. This brand has a reputation for deep-cleaning. It is D-Shaped with reliable bots for spectacular cleaning and long battery life. This relative newcomer in the robotic vacuum industry is quickly making a name for itself (learn more about the company).
Visit the Neato Robot Vacuum Store on Amazon
2. iRobot Roomba Robot Vacuums
When it comes to price, iRobot is one of the expensive brands in the market. However, it is one of the bestselling among its counterparts. The latest iRobot model in the market is the Roomba S9+, which has incredible features such as the 3D sensor. Luckily, iRobot has introduced robot vacuums within all price points. From budget to premium, there is always something for everyone.
Visit the iRobot Store on Amazon
3. Shark Robot Vacuums
Shark makes well-rounded vacuums. They use a lot of technology, which makes them handy and long lasting. If you want a robotic vacuum that does just about everything, the latest Shark IQ Robot vacuums not only clean by themselves, they also automatically empty out the dirt after each vacuuming session. The flip side is that they tend to be costly.
Visit the Shark Robotic Vacuum store on Amazon
4. Evovacs Robot Vacuums
It's no secret that Evovacs are exceptionally sophisticated. The advanced models come with a WIFI empowered camera, a vacuum with a mop, and complex virtual maps of the rooms in your home.
Visit the Ecovacs Store on Amazon
5. Eufy RoboVac Robotic Vacuums
Eufy (also known as BoostIQ) robot vacuums are budget-friendly. Although they have fewer fancy features, they have strong suction power. The newer model has a user-friendly map. Additionally, these machines are compact, making them perfect for cleaning hard to reach areas.
Visit the Eufy RoboVac store on Amazon
6. iLife Robot Vacuums
Compared to the other brands, iLife robot vacuums are quite affordable. They have impressive features, such as room mapping and voice control. They also have a variety of cleaning modes. Additionally, iLife has robot vacuums that can mop hard floors.
Visit the iLife Robotic Vacuum store on Amazon
7. Roborock Robot Vacuums
What we like about Roborock is the range of options they have to offer in terms of price range and features. While they don't offer the cheapest robot vacuum cleaners, their moderately priced models (in the $500 range) offer intelligent mapping and some can also mop hard floors.
Visit the Roborock Robotic Vacuum store on Amazon
Robot Vacuum Reviews
If you already know what you want in a robot vacuum, you may want to check out some of our robotic vacuum cleaner reviews to help you decide. Here's a few to get you started.
---
How to Choose a Robot Vacuum: Top Factors to Consider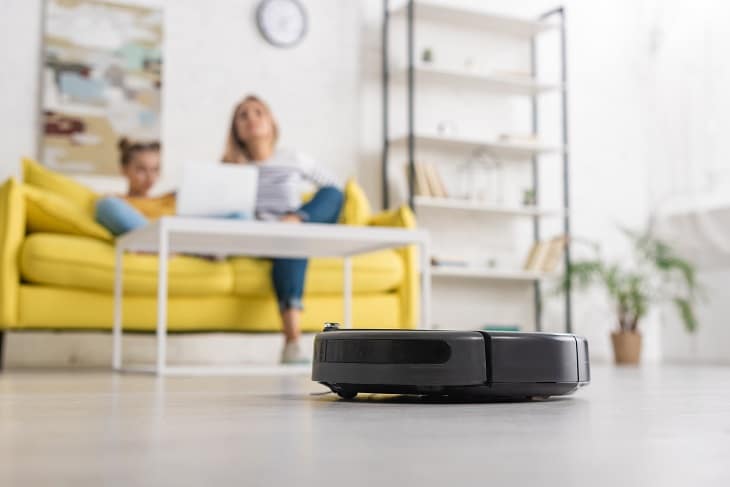 Not sure what to look out for when buying a robot vacuum cleaner? Worry not. Luckily, there are numerous robot vacuums with diverse prices that can assist you with the tiresome chore of cleaning your floor. This buying guide will help you find the right one for you.
Regardless of your floor type, there is a robot vacuum that will suit your needs. The beauty of robot cleaners is that they come with numerous added features. Surprisingly, these features are nearly as efficient at cleaning as their competing counterparts. What not to love about coming back to a clean home? Choose a robot vacuum that features WI-FI connectivity and let it do wonders.
Since we care about your shopping experience, we have compiled a buying guide on choosing a robot vacuum. For your reading pleasure and ours, here are the top factors to consider.
First, know the size of your house.
How big is my house? This is a fundamental question that you need to ask yourself. By this, we are inferring to the floor surface that a vacuum robot needs to cover when cleaning. Considering that not all robot cleaners are the same, you need to think this through.
If your home is small, then an agile robot vacuum would be perfect for you. However, if your home is more extensive, a robot vacuum with a large dustbin with a prolonged battery life of up to 90 minutes will come in handy. So, if you would like to clean your multiple rooms in one go, consider investing in a robot vacuum like Evovacs Deebot N79S.
What is your floor type?
Even though robot vacuums work perfectly on hard and smooth floors, some brands may not work well on high-pole carpets. You may find a robot vacuum cleaner that is best suited for both carpet and hardwood floors in rare situations.
If your home has a wall to wall carpet, worry not; all you need to do is look for an intensive cleaning robot vacuum that features a HEPA filter. However, if your floor is not carpeted, you can opt for a brand like Roborock S6, which has a mop feature.
What is your pet situation?
If you robot vacuum that will suction hair effectively. It is prudent to avoid a robot vacuum with a smaller suction and settle for rotating central brushes. This kind of brush is perfect for picking pet hair from the carpet as well as hard floors.
The Neato Robotics D7 is an ideal robot vacuum that cleans pet hair and dander perfectly, you know that having pet hairs all over the floor is inevitable. Therefore, you need to invest in it. This particular model features special brushes as well as powerful suction.
Do you have kids at home?
It's no secret that kids are incredibly messy. Therefore, if you want to invest in a robot vacuum cleaner, you need to look for one with deep-cleaning abilities. On top of that, you should be able to map no-go zones. A no–go zone is a place you would like the robot vacuum cleaner to avoid, for instance, a playroom or a baby's bedroom.
Most basic robot vacuums do not have this kind of navigation method; therefore, they take random routes in the house. However, advanced robot vacuums can create a 3D map and use laser technology to scan the room. The more advanced a robot vacuums, the higher systematic the navigation. An excellent example of a robot vacuum with a navigation system is the iRobot Roomba i7+ (as well as the top end Roomba s9+, but that one is quite expensive).
What's your budget?
How much you are willing to spend will automatically depend on your pocket. When purchasing a robot vacuum, you can spend as little as $100 and as much as $1500. However, if your budget is on the lower side, be prepared to forego some critical features.
Additionally, if you expect a lot from your robot vacuum, you will need an advanced model such as iRobot Roomba i7+ and s9+ or the Shark IQ which is highly rated by users who made the investment. The more advanced vacuum cleaners have more choices when it comes to cleaning modes.
Is battery life a factor to consider?
Battery life is a significant factor to consider. The bigger the battery, the better the cleaning quality the robot vacuum will do. And this applies to big houses. A good battery will cover over 90 minutes of uninterrupted cleaning.
While basic models will need to be plugged in when the battery is empty, luxurious ones have automatic dock stations to recharge when the battery is depleted. An excellent example of a robot vacuum that will charge itself is Evovacs Deebot OZMO (which also mops hard floors).
What is the robot vacuum's dust capacity?
Forget about the fancy features often advertised on robot vacuum cleaners. You will need a robot vacuum with a reasonable dust capacity. Robot Vacs usually gather less grime than an upright vacuum cleaner. Therefore, you need to look for a decent capacity if you do not want to keep emptying the canister.
Do you need the "smart" feature?
A robot vacuum is called "smart" if it has a WIFI connectivity. This means you can control the robot vacuum via a phone app. You can actually operate one even if you are away from home. In this case, the more advanced the robot, the more extensive the app.
Some smart robot vacuums even have cameras that allow them to map the areas they have cleaned. iRobot Roomba is an excellent example of a robot cleaner with a smart function.
Do you have dust allergies?
This is a significant factor to consider before settling on a robot vac. If you have a dust, pollen, or pet hair allergy, you need to choose a robot vacuum cleaner with a unique dust filter. A HEPA 13 or 14 filter is ideal for people with allergies. The filter does a great job in stopping fine dust, allergens, and pollens from spreading into the air via exhaust air.
It's no secret that some robot vacuum models clean better than others.
Not all robot vacuums clean the same, and the brush type greatly determines this. The brush bars that feature brush beaters can bring the dust to the surface and suck it up. Additionally, the most luxurious brands like iRobot and Shark have full-width turbo brush bars that provide advanced floor coverage. While sweeper brushes at the border of the robot vacuum may look pointless, they do a great job directing the dust in the direction of the vacuum.
---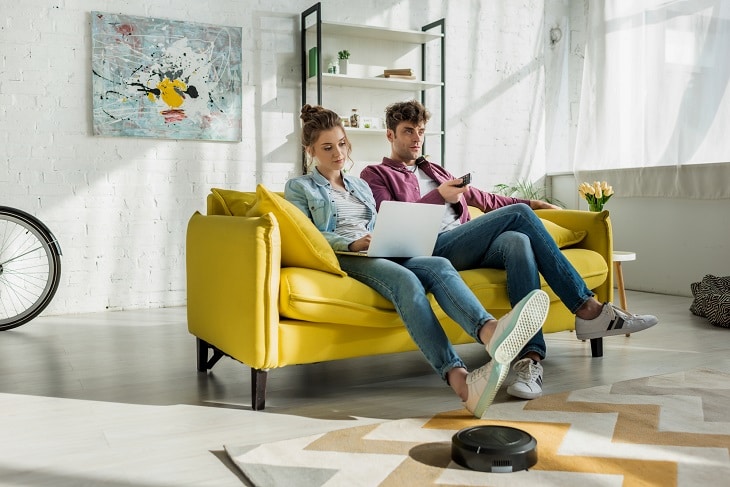 It is everyone's dream to own a robot vacuum that does all the work for you. With many brands out there with remarkable capabilities and price ranges, this dream can become a reality in your house.
In this article, we have discussed the factors to consider when buying a robot vacuum. We hope that you will have a seamless shopping experience.