Last update 18th June 2019
Summary
Overall rating: 7.2/10
Housmile Robotic Vacuum Cleaner 3071C is one of the cheapest robot vacuum cleaner. The robot vacuum 3071C is developed by Housmile. Although the brand is not very popular in robot industry, Housmile has been famous with great vacuum with UV lights.
Watch the live test of Housmile robot in the video below
Back to Housmile robot vacuum 3071C, it has a similar construction with Deeobot N79 (the most popular robot on the market).
The unit is featured by long run time (up to 90 minutes), 2 working modes for the small room and big room, low noise, advanced infrared sensors for detecting obstacles and HEPA style filter. The unit is backed by Housmile for 12 months warranty.
On the downside, as expected, this unit does not have the wifi connection and other advanced features like scheduled cleaning, auto recharge feature. These features are only found in robotic vacuum cleaners at higher price range (about 250 bucks above).
Should you buy Housmile robot vacuum in 2019?
Housmile robot vacuum is efficient for general cleaning tasks. If your home is covered by bare floors only, and you just want a robot vacuum for quick cleaning pet litter, dust… without the need of smart features, then you may choose Housmile robot vacuum to save a huge budget.
You should notice, this model is not suitable for home with carpets and the dust bin is very small. If you need a low price yet more powerful model, we highly recommend you to check for Deebot N79S or Eufy RoboVac 35c models.
Technologies and benefits of Housmile Robotic Vacuum Cleaner 3071C
Construction
The Housmile Robotic Vacuum Cleaner 3071C has a circular shape which is 8.9 x 8.9 x 2.4 in. If you notice this unit is more compact than Ecovacs (13 x 13 x 3.1 in – Deebot N79 model) or ILIFE (11.8 x 11.8 x 3 in – V3S model) and it is also lighter than these units (only 2.6 lbs). However, it still has throughout performance by using similar motor power (1000 Pa power) and long run time (up to 130 minutes runtime).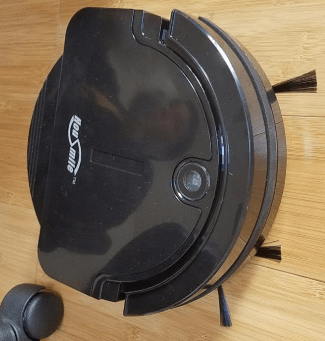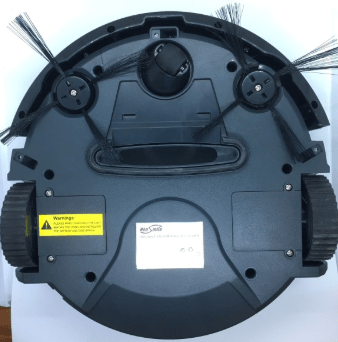 Efficient motor power
As mentioned, this unit uses a motor 1000 Pa which is similar to many robot vacuums from other brands.
3 stage cleaning
The Housmile Robotic Vacuum Cleaner 3071C sweep, vacuum and filter the dust and keep it inside the machine. You should also notice the fact that this robot vacuum does not have the brush at the bottom, therefore, it is recommended for cleaning hard floors and low pile carpet only
Transverse from one floor to another easily
The unit can climb with an angle of 15 degrees without losing suction
Powerful battery
This unit has a 2600 mAh battery for working up to 1.5 hours
Advanced infrared sensors
The improved sensors allow this unit it identify the obstacles when working
User-friendly
The unit can be controlled by a single press button, therefore, it can be a nice gift to seniors
HEPA style filter
HEPA filter will trap up to 99% of dust and allergens inside
30-day refund and 1-year warranty
30 days' refund unconditionally for every purchase from Housmile and 12 months of warranty from the brand
Specifications of Housmile Robotic Vacuum Cleaner 3071C
Side Brush: 2 Brushes
Model: 3071C
Frequency: AC 50/60Hz
Power Rating: 10W
Charging Time: 3-5hours
Filter: Advanced HEPA Filtration
The box includes: Housmile Robotic Vacuum Cleaner, User Manual, Adapter, Side Brush, Screw, Screwdriver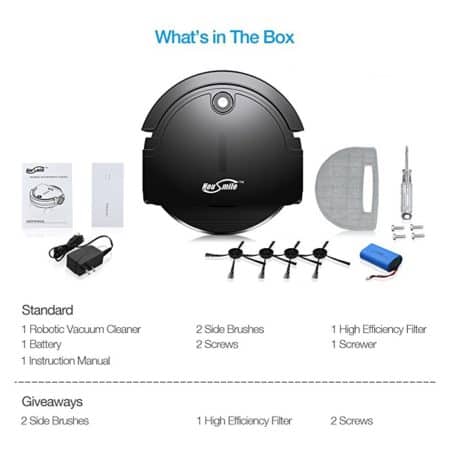 Pros and cons of Housmile Robotic Vacuum Cleaner 3071C
Pros
a low price robot vacuum cleaner that works.
It is easy to use, incredibly cheap, strong suction power and long run time.
It is a basic unit at entry level but has a cheaper price than many brands
Cons
This robot vacuum cleaner does not have wifi, it does not have brushroll at the bottom, therefore, it can't clean medium pile carpets
the unit is a bit small therefore you can expect the dustbin is smaller than rivals, therefore, it is suitable for small apartments mostly.
Performance of Housmile 3071C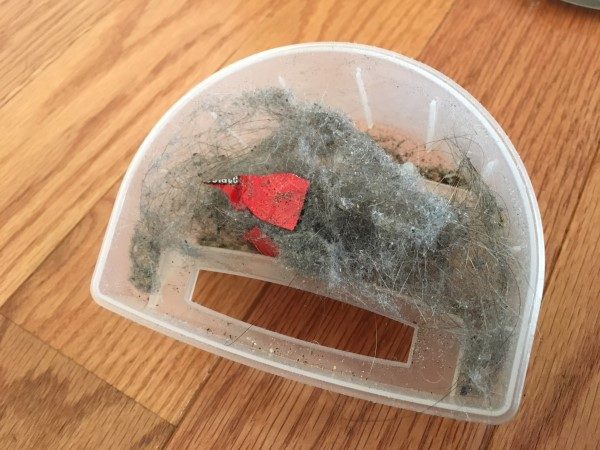 Recommendation
The Housmile Robotic Vacuum Cleaner 3071C can be a nice gift for parents, seniors as it is very easy to use and does not have complex features that may confuse some old persons. The unit is cheap and reliable for cleaning the hard floor and thin carpets. It has low noise level and convenient for cleaning after use.
Against for users who need to clean medium pile carpets or the big house. If you are looking for an upline model, you then Deebot N79 or Roomba 690 can be a good replacement.
FAQs and troubleshooting of Housmile Robotic Vacuum Cleaner 3071C
How do you empty the canister?

Answer: the top of the robot comes off and you remove the canister, which also has a filter on it.
Question: Does it work on tile

Answer: I suppose it would, but I was so disappointed with its cleaning ability and the very hard to open cleaning tray that I sent it back for a refund. I cannot recommend this particular product.
Question: Is it compatible with Alexa?

Answer: No, and it is not self charging either. You have to place manually on floor push the button once or twice for size of room. The drop off sensor doesn't work well mine fell off and broke on first use.
Question: Does this seriously need to charge for 4-6 hours every time you use it? Are they all like this?

Answer: Mine charges about a hour and half
Question: How do you get it open to put the batteries in??

Answer: Just under housmile name there's a half moon serrated part that pulls out. Put your thumb on it, push down, and pullout.
Question: What is the width/ length of this? I can't seem to find it anywhere

Answer: I don't know but it is so small. I returned mine.
Question: Will it fall off of a stairway?

Answer: No it has drop sense technology
Question: Had this three weeks and the brushes keep not spinning until I mess with them and then it happens again?

Answer: Send it back must be something wrong with it . We bought ours a month ago and love it .
Question: Does it work with 220 volt?

Answer: Works from 220. It is loaded the adapter is necessary.
Does this go onto area rugs? I'm choosing between this or vbot or pyle?

Answer: Yep. Goes into area rugs just fine. Keep in mind it's not super effective at cleaning carpets/rugs though. It will definitely spruce them up, but is far more effective on hard surfaces.
Question: What does it do to extension cords and power cord? Will it pull a lamp off the table?

Answer: I have no confidence on this product. It looked very fragile, and has no weight.
Question: Does it work on carpt and Ceramic?

Answer: Ceramic, yes. Carpet, no. It does my bathroom tile great, but I have low-pile carpet in my utility room and kitchen and I was not impressed with the performance. It does pick stuff up, but it definitely doesn't get everything.
Question: I have charged my new robot, and cannot figure out how to turn it on. i have pressed the led, held it down, nothing. no response. help?

Answer: We just got one and set it up to charge. After 12 hours of flashing blue & red lights, we realized that the Battery was not actually installed? Could that be your problem? It is very well disguised in the packaging within its own cardboard box.
Question: Do you need wifi or a smart phone?

Answer: No
Question: Is it loud? And does it beep? If yes, can the beep be turned off?

Answer: You can hear it but I do not consider it loud, maybe if it is under your feet. There is no beep. I am thrilled with it, did not want one that had a dock. I bought this for one for myself & my daughter & she loves hers also. It will stop when it needs to be cleaned out. For the price it is great!
Question: Can I rinse the filter screen?

Answer: yes
Question: Should it randomly shut off after some time when not needing a charge?

Answer: Does it shut off while you are running it or when it is just sitting there? I typically leave mine plugged in, so I do not know if it shuts off when just sitting. However, it will shut off if it gets stuck on something while running or if it has completed the room.
Question: Should it randomly shut off after some time when not needing a charge?

Answer: I've only had mine 2 weeks but it's never done that for me.
Question: How does it perform differently on small room mode vs large room mode?

Answer: I haven't noticed a difference in cleaning, as it does well in both modes.
Does the charging device come with it

Answer: You have to use the wall adapter and manually plug it in to the vacuum.
Question: How do dogs respond to it? Is it to loud?

Answer: I have two cats and they're cautious with it, but are getting used to it. It's definitely not as loud as a typical vacuum.
Question: How does it move over thresholds?I have a higher threshold between the hallway and bathroom. Will the censor think that it's furniture or a wall?

Answer: Pretty much depends on the height of the threshold. You really only have approx a half inch of leeway. Anything higher will be detected as an obstruction and cause it to turn away
Question: how does it preform with pet hair?

Answer: Great! I have two cats and it picks up their hair very well.
Question: If I set this to big room mode will it do multiple rooms? Ex. Kitchen, small dining area, living room, and hallway?

Answer: Yes. My sitting room, living room, and dining room are all connected/open. It does all three of them in one run.
Question: Does this get stuck in corners,had another brand that would in 5 min

Answer: Only have had it a short time and so far it's worked its way out of the corners.
Question: Is the battery pack included?

Answer: Yes there is a battery included that you have to plug in.
Question: Does this vacuum work well along the edges of furniture and walls?

Answer: Seems to work well on edges and walls, The long brushes get in close. I only have Hardwood floors, can't say how it would do with carpet.
Question: does this work well on carpet?

Answer: Not really. It's great on my hardwood floors, but I wasn't impressed with the performance on my carpet.
Question: Our old roomba will not clean any dark rugs – thinks it's a cliff. Does this one clean dark rugs?

Answer: Sorry I have not used it as it is a gift for someone.
i live in Florida how is this vacuum on picking up sand?

Answer: The answer my friend is blowing in the wind, or sand….
Question: Is there anyway that it self charges ?

Answer: No anyway charge, this product charges need to do youselft, like your phone, it can't automatically recharge!
Question: how would i buy replacement filters and brushes?

Answer: The vacuum comes with 2 filters and 2 sets of brushes. When I got mine there was a buy together and save offer for replacement filters and brushes.
Question: How high is this vacuum?

Answer: I bought mine for a Christmas present so cannot answer this question
Question: Can the light be turned off completely?

Answer: Yes it can easily. You can also have no light but the mister still runnng.
Question: Is this diffuser BPA free?

Answer: Yes, its BPA free