Spread the love and share this post, please.
Overview
The Eufy Homevac is a cordless vacuum cleaner with an upright design brings you the benefits of an ultra-lightweight unit and portability of a cordless model. The latest models are the HomeVac S11 Infinity and the HomeVac S11 Go.
This unit is featured by a great battery for 50 minutes continuous cleaning time (2200 mAh, 28.8 V), big dust cup size up to 0.9 Liter (similar to a compact full-size upright unit) and weights only about 5.82 lbs.
It is a cheap and convenient tool for home cleaning if you do not require much about advanced features. You may also want check out our review for the older model Eufy HomeVac Duo 2-in-1 Cordless Vacuum Cleaner.
Related: Best Vacuum Cleaners for Stairs
---
Technologies and benefits
Lets check for the technologies and benefits of Eufy HomeVac.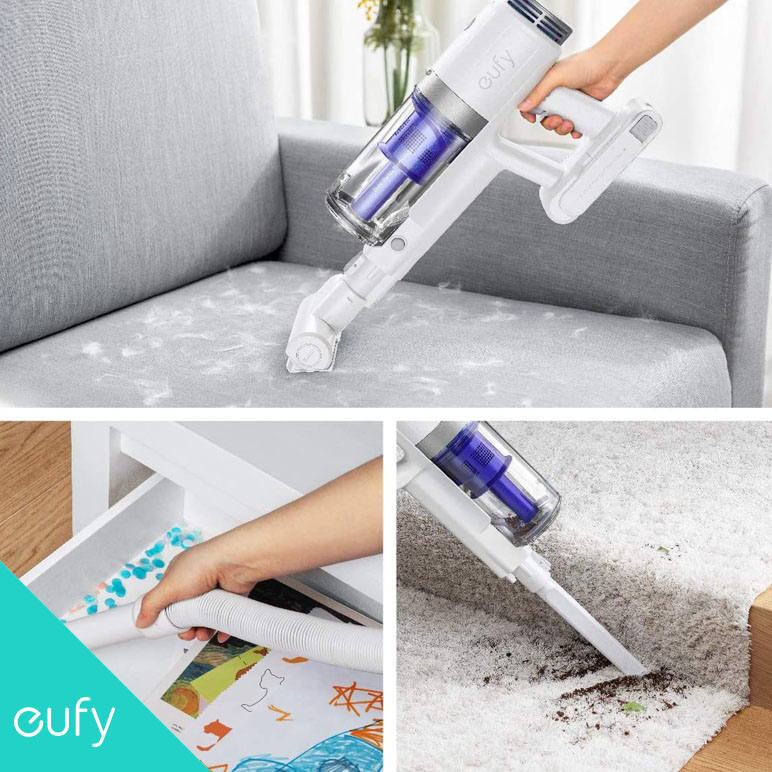 Great Li-ion battery (28.8 V and 2200 mAh) for using time up to 50 minutes (eco mode)
cordless design, big dust cup and lightweight
Easy cleaning dust cup
double filtration system
LED lights on the vacuum head
15 month warranty
Wall-mountable
Accessories: 

HomeVac, AC power adapter, wall mount and mounting accessories
---
Specifications
Dimensions: 10.3 x 8.7 x 43 inches
Weight: 5.82 pounds
---
FAQs & troubleshooting of Eufy HomeVac Lightweight Cordless Upright-Style Vacuum Cleaner
Coming Soon
Spread the love and share this post, please.