Whether you run a hotel, restaurant, or business of any nature, keeping your place of operation clean is crucial in attracting and retaining customers. Or, if you have a large home with a lot of carpeted space, you may want to invest in a vacuum that's more powerful than a traditional home vacuum.
Thanks to the commercial vacuum, we get to achieve great results in only a fraction of the time.
These best commercial vacuum cleaners are in a class of their own. They are specially engineered to deliver high-level suction that gets rid of all the dirt in a jiffy. Unlike your ordinary vacuum, the best commercial vacuums can cover larger spaces, are more durable, and are therefore able to withstand long periods of use.
But as with any other appliance, there are models out there fail to deliver on the promise. To help you make a wiser choice, we've rounded up the best commercial vacuums in the market today.
You May Also Like: Best Vacuums for Small Businesses, Homes and Apartments
---
Why Choose a Commercial Grade Vacuum Cleaner?
Ideally, the first question that most potential buyers ask themselves is, why not just go for an ordinary residential home cleaner, and save the extra bucks? While a standard vacuum cleaner is usually much cheaper and capable of doing the job, it is not designed to handle regular, continuous use. Commercial vacuum cleaners are designed and built to be used often and to clean large areas quickly.
Although some professional home vacuums can handle heavy-duty cleaning. The new Shark Vertex DuoClean PowerFins Upright Vacuum with a lift-away canister comes to mind.
On the other hand, commercial vacuum cleaners are specially crafted to be strong and powerful and will easily handle more demanding jobs. They don't wear out quickly and are generally more capable of sucking up large areas covered by dust. Additionally, you get the benefit of a commercial power cord that will help ensure that all the safety standards are met.
If you're new to commercial vacuum cleaners, check out the buying guide that follows our reviews to learn more about what to look for.
---
Top 5 Commercial Vacuums for Businesses, Professional, or Home Use in 2021
There are many types available for choosing a vacuum for commercial, homes use, professional, or heavy-duty use. We did our research and presented you with our top picks for five different kinds of commercial vacuum cleaners to help you decide. The list is in no particular order. Ultimately the one that is "best" for you will depend upon how you will be using it and your preferred design style.
Before we get to our featured reviews, we need to give you a few honorable mentions.
First, we want to give a special shout-out to a brand you may not have heard of before. If our chosen models don't suit your needs, we encourage you to check out a company called Sanitaire (which is owned by Bissell Homecare, Inc.). For over 40 years, they have been providing commercial vacuums for cleaning professionals in the healthcare, education, hospitality, and office space industries.
Additionally, you may want to check out the Bissell BigGreen Commercial line of professional and industrial cleaning products, including heavy-duty upright vacuum cleaners and carpet cleaners. They are not on our top 5 list because we already have two commercial uprights vacuums. By the way, we have a review for the Bissell Big Green Professional Carpet Cleaning Machine if you are in the market for a heavy-duty carpet cleaner too.
Finally, we decided to stay in the moderate range in terms of price, with the most expensive models on our top 5 list costing about $400. If you have a higher budget and need an industrial-grade vacuum cleaner, we strongly recommend checking out what Windsor has to offer. The Windsor Sensor S15 Commercial Vacuum, the Windsor Sensor XP12 Commercial Vacuum, and the Windsor Sensor XP15 Commercial Vacuum are good places to start.
NOTE: Right after the reviews we have a comparison chart that includes these other recommendations.
Okay, now it's time to check out the featured products!
#1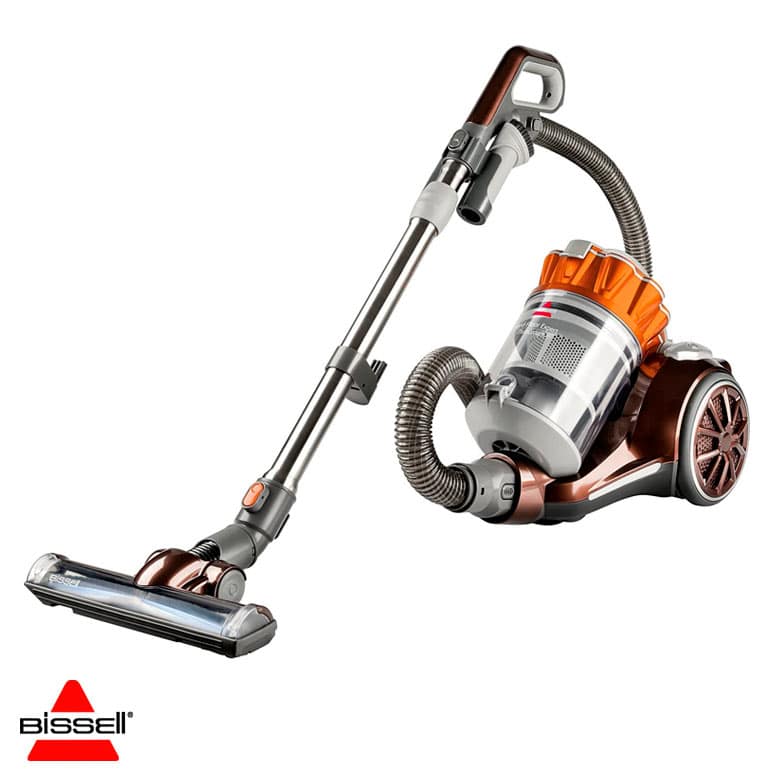 Bissell Hard Floor Expert Multi-Cyclonic Bagless Canister Vacuum
If ever there was a pageant for best looks in the best commercial vacuums, our number one, the Bissell Multi-Cyclonic Canister Vacuum, would easily take the crown. With its sleek aesthetics and shiny finishes, the machine looks like something sent from the future to save us from dirt. But with great beauty comes even greater responsibility. The Bissel proves itself worthy with some of the best features and functionality out there. Using multi-cyclonic technology, the vacuum can effortlessly pick up any dirt without damaging the floor. It features a 9.2 amps power rating, with a cleaning path of 11 inches in width.
One of the things we love most about this vacuum is that it works equally well on both hard floors and pile carpets. This means you can get your work done in less time without having to switch machines.
You might expect the machine to be a little difficult to use in a corded vacuum, but this is not the case. The power cord stretches out to a whopping 18 feet, which is more than enough for your standard-sized floors. It works efficiently for different surfaces as well, including carpeted floors and area rugs. On top of that, its dirt tank is easy to empty. It opens from the bottom, thereby reducing any messes during disposal. For a canister vacuum, it is pretty compact as well, thereby allowing easy storage and transportation.
What We Like…
Quiet operation
Cord extends up to 18 feet and retracts
Lightweight hard floor and carpet vacuum
It comes with 2 vacuum heads and 2 accessories
Easy emptying of the canister
What Could Be Better…
Not as compact for storage
#2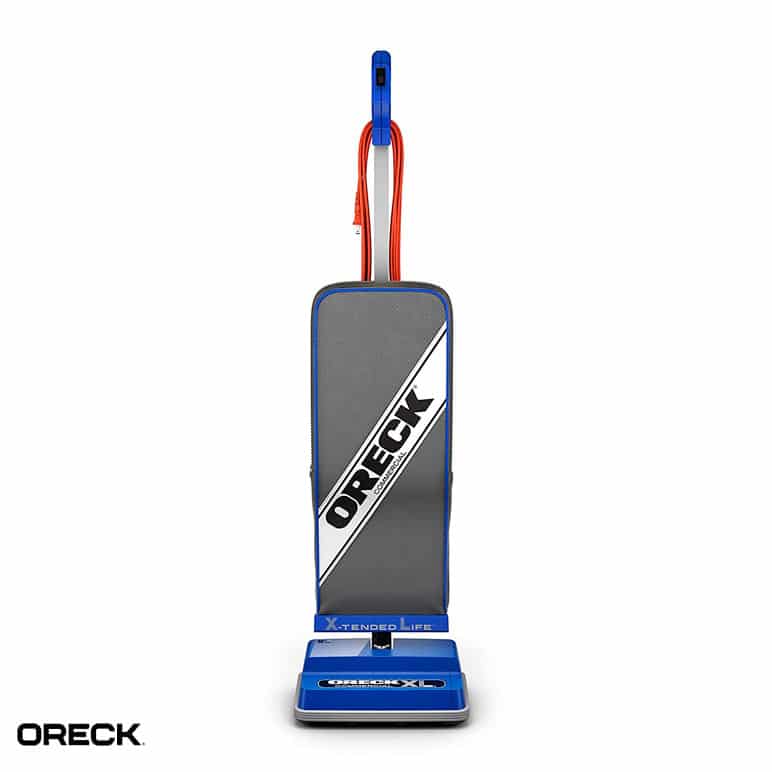 Oreck Commercial Commercial Upright Vacuum Cleaner (Model XL2100RHS)
If you are looking for something a little more compact and lightweight for your office or hotel rooms, then the Oreck Commercial XL2100RHS Commercial Upright Vacuum Cleaner is just what you need. Sure, it might not be as easy on the eyes as the more popular models like Bissel or Dyson, but users everywhere attest that it easily outperforms all of them. Everything about this baby is geared towards efficiency. This upright vacuum cleaner has a 12-inch cleaning path that is best poised to clean low pile carpets and take up less space for storage.
It is a bagged vacuum, for starters, so you don't have to worry about dust circulating back to the air as you empty it. Pull out the old bag, put it in the trash, set up a new bag, and you're ready to go.
This upright vacuum works well on both carpets and hard floors. It also has a low profile design which allows it to lay flat to reach under beds and furniture. This is not something you find with most upright vacuum cleaners.
The Oreck commercial cleaner is versatile too. It does an amazing job at cleaning hard surfaces. And when called upon, it just as easily transitions to softer material like carpet. The other thing you'll love about the Oreck commercial is its extra-long 35-foot cord. This way, you won't have to keep checking for new outlets while vacuuming. At only 9 lbs, it is extra light. Users claim that it practically propels itself during use. It also boasts of a low profile design that lets it get to the hard-to-reach areas under beds and furniture. Overall, judging by all the thousands of positive reviews on Amazon, you can't go wrong with this machine.
What We Like…
Compact for easy storage
Easy to move around
Long retractable cord
What Could Be Better…
Aesthetics could be better
#3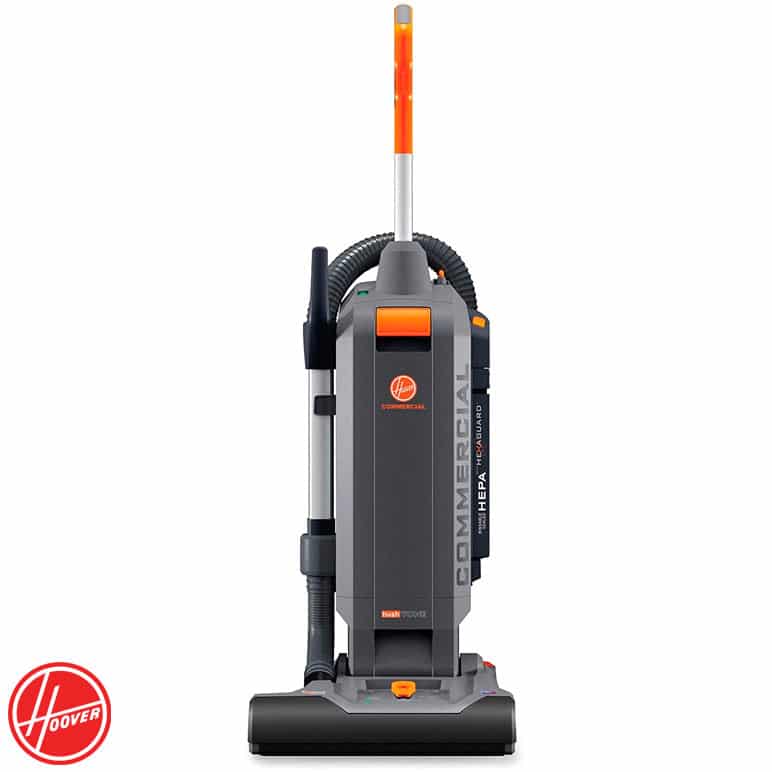 Hoover Commercial HushTone Upright Vacuum Cleaner
With its sleek design and trendy color combination, the Hoover Commercial HushTone Upright Vacuum Cleaner is like a good-looking version of the Oreck commercial model you just saw above. But at about $350 it also happens to cost twice as much. As you may expect from such a high-priced machine, the Hushtone comes packed with a handful of intuitive features. This includes a super long cord, a wide 15-inch brush, and its unique never-break band. The bagged vacuum offers a HEPA filtration system. Its washable filtration system traps the debris and enhances the overall air quality and airflow.
Using its sealed allergen system and Hexaguard technology, the machine can trap up to 99% of dust, pollen, and dirt for cleaner air. This is further backed by a washable HEPA media filter, which traps particles as small as 0.3 microns. But that's not all; the HushTone is called as it is for a reason. Despite having a 2-speed motor, it produces less than 69 dB of sound. This makes it one of the quieter vacuum cleaners out there. Its cord is also easily changeable. This way, in case anything happens, you can always replace it.
What We Like…
Good aesthetics
Has HEPA filter
Has a quick change cord
What Could Be Better…
Leans more on the expensive side
Weighs 19 pounds
Awkward turning mechanism
#4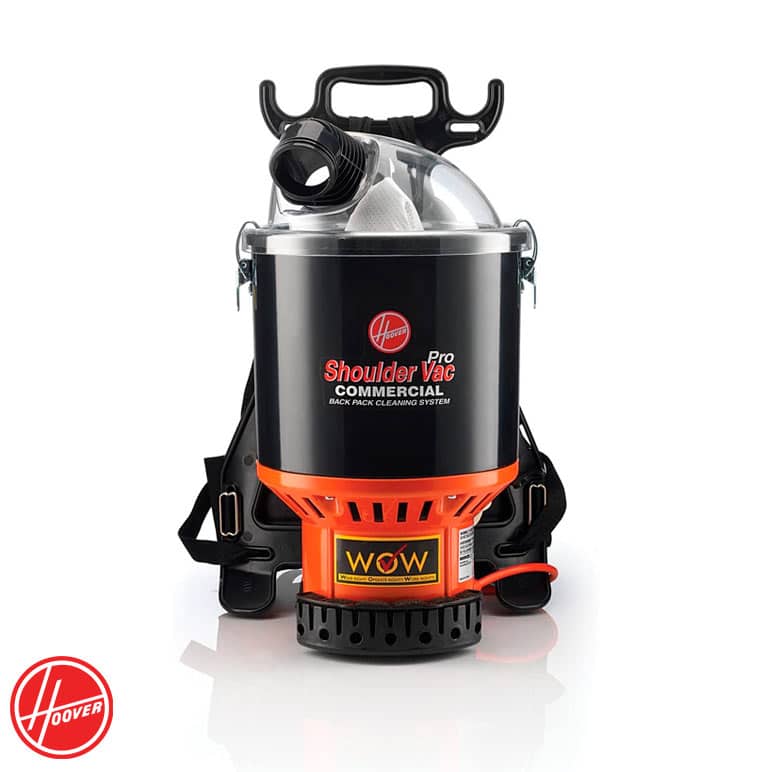 Hoover Commercial Shoulder Vac Pro Lightweight Backpack Vacuum (Model C2401)
With a lightweight model design, this backpack vacuum weighs 9 pounds and gives room for supreme mobility. Yet another candidate from the esteemed Hoover Commercial is the Hoover Commercial Shoulder Vac Pro. However, what makes this machine stand out from its compadres is that it features a unique backpack-design. You get to wear it on your back as you do your cleaning, thereby significantly enhancing your mobility. With its mean design, the Hoover C2401 almost looks like a jetpack sitting on your back. It is lightweight; therefore, easy to handle, and since the harness is specially chiropractor-made, you won't ever strain your back. The Hoover Backpack Vacuum cleans without interrupting the environment around you.
Like the Hushtone, the C2401 is quiet in operation so that you can do your operations in silence. It is key to note that this vacuum may take some getting used to. If you are not accustomed to using backpack vacuums, it can take you some time to learn how to circumnavigate smaller areas differently. Also, it's not designed to clean carpets but is good at cleaning low pile carpets.
It comes with an extra-long 48-foot quick change power cord, which is by far the longest we've seen so far. Also included in the package is an accessory pack consisting of a 6'' crevice tool, 4'' upholstery tool, and a 2'' dusting brush. This makes it extremely versatile, applicable in hard-to-reach areas like stairs, ceilings, vents, and hard floor cleaning.
What We Like…
Powerful
Easy to carry around
Comes with handy accessories
Comfortable to use
What Could Be Better…
Might feel hot on your back after lengthy use
Isn't designed to pick up liquids
#5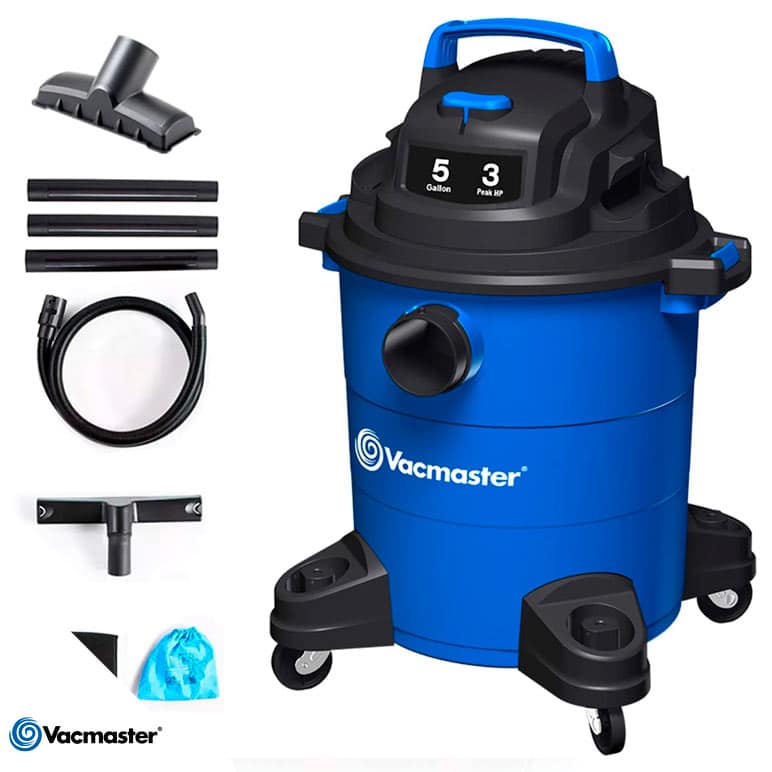 Vacmaster 3 Peak HP 5 Gallon Wet Dry Vacuum Cleaner with 3-in-1 Operation
When it comes to versatility and functionality, nothing quite does it like the Vacmaster Wet Dry Vacuum Cleaner. The beast of a machine does it all. You see, being primarily a wet-dry vacuum cleaner, the Vacmaster can handle any dust, sand, and liquid spills. It even converts into a blower to blow out dust from hard to reach areas. This makes it especially convenient for commercial level cleaning and large areas. 
We do want to note that while this is a powerful wet and dry vacuum, we wouldn't call it industrial grade — meaning it's not going to stand up to continual, daily, and on-going use as well as some other models. However, we chose to add it to our list because of its affordable price tag.
If you need something that can handle higher demands, check out the Vacmaster Beast Professional Series 14 Gallon 6.5 HP Steel Tank Wet/Dry Vac with Cart.
At a glance, the Vacmaster appears notably large. This has everything to do with the 5-gallon capacity canister on its back, which lets you store vast amounts of trash and dust at a time. But not to worry, the swiveling wheels make it so that you can easily roll it over to anywhere you want. As you may expect from such a heavy machine, the device features 3- peak HP-power suction. This is powerful enough to suck in all kinds of stubborn debris, water spills, and garbage. Despite this, users claim it still has low noise levels. Its split floor nozzle is also an added advantage, as it lets it meet different cleaning needs.
What We Like…
Large canister capacity
Handles both wet and dry messes
Split floor nozzle for more cleaning needs
3 in 1 wet, dry, and blower operation
What Could Be Better…
Cord is a little shorter than most
The container is light, thus topples easily
---
Best Commercial Vacuum Cleaner 2021 – Price Comparison Chart
Now that you've read the reviews let's take a quick peek at how they compare in terms of cost. As mentioned earlier, this list includes some commercial vacuums from our honorable mentions list too. Since Amazon is a good indicator of average price across the internet (plus they often have great sales), we used their current prices for our comparison.
When we put together this list, the products were in order from high to low. However, because prices often change, especially if a discount or promotion is running, this may vary from day-to-day.
---
Best Commercial Vacuum Buying Guide 2021
Choosing a reliable commercial vacuum is not as easy as picking the first machine that sucks in air. To get a machine that will satisfy your particular need, there are a couple of factors you'll need to consider. We shall look at some of them below.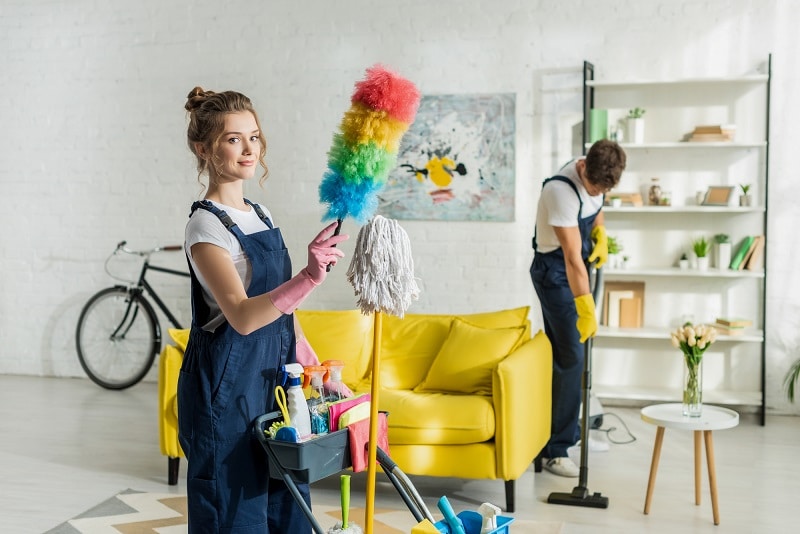 Types Of Commercial Vacuum Cleaners
We have many different commercial vacuum cleaner designs out there today. Each one is uniquely designed to handle specific tasks. Before you purchase a commercial vacuum, you need to decide what kind is best for your needs.
Upright Commercial vacuum
Commercial upright vacuum cleaners usually take the form of one unit consisting of all the parts. This includes the bag, cleaning head, and a power cord. Because of this, they are great for any cleaning that will require long periods of standing. You can use them for cleaning in offices, hotel rooms, or hallways as well as restaurants.
Because of its special, all-in-one design, the upright vacuum makes it convenient to switch from room to room. This way, you only need to roll it to the next room and connect it to a socket. It is also less bulky since there is no lengthy hose or canister you have to drag along with you. Upright vacuums can easily fit on housekeeping carts, which makes transportation a breeze.
Commercial Canister Vacuum
As the name suggests, commercial canister vacuum cleaners have separate a canister attached to them. Often, the cleaning head will be linked to the canister vacuum through a long, flexible hose. This makes it lighter and easier to maneuver through small spaces when compared to an upright vacuum. Their heads are made smaller, so they can easily clean under furniture or staircases.
Although the canister vacuum comes with a set of wheels for easy movement, you won't need to move it with every pass in most cases. The hose is long enough to cover a wide perimeter. Another great thing about a canister vacuum is that it generates less sound than most other vacuums.
The downside is that the canister vacuum might be a little bulky and therefore takes up more storage space. However, most folks argue that the convenience you get when cleaning under restaurant tables and chairs outweigh any storage concerns.
Commercial Backpack Vacuum
As you may expect, a commercial backpack vacuum cleaner is that vacuum that you carry on your back. Thus, this model is made to be lightweight and has ergonomic straps so employees can wear them comfortably for longer periods. Also included in most are back support and ergonomic pads, meant to enhance safety without compromising your body stature.
Since you wear it on your back, your hands are free to do other things like managing the wand or move furniture around. Some units even let the user switch to a blower mode if needed. With this combination of lightness, maneuverability, convenience, and versatility, backpack vacuums are ideal for any janitorial services and industrial cleaning applications.
Commercial Wet and dry vacuum
Commercial wet and dry vacuum cleaners are a bit more special than the other models in terms of application and versatility. The machines can take care of nearly all kinds of messes, from debris to dust in construction sites to liquids from accidental spills or a small flood. This makes the wet and dry vacuum arguably the best industrial vacuum cleaner out there. If you are dealing with professional cleaning services, the wet and dry vacuum is simply a must-have. They are also good for cleaning up after natural disasters or storm busts, eliminating any need for a mop and bucket.
Because of their intense work, wet and dry vacuums are generally louder than most other models. For this reason, you might need to equip your employees with ear protection mechanisms. Wet and dry vacuums are also really efficient at emptying. For the best experience, you want to check for a model with a draining hose or drain valve, more so when cleaning wet areas. Two extremely popular brands are VacMaster Professional and Rigid Wet/Dry Vacs.
Handheld Commercial vacuum
For the tasks with minimal cleaning requirements, you would be better off going for a commercial handheld vacuum cleaner. Another option is a multi-functional vacuum cleaner which has the ability to separate into a portable, handheld vacuum. These are just right for cleaning stairs, drapes, upholstery in office and hotel settings, and molding. These models are small, lightweight, and easy to carry around from task to task.
Although not recommended for large areas, handheld vacuums are perfect for quick cleanups between regular vacuuming. They are easy to store and can be grabbed equally as quickly when the need arises.
---
Factors To Consider When Choosing A Commercial Vacuum Cleaner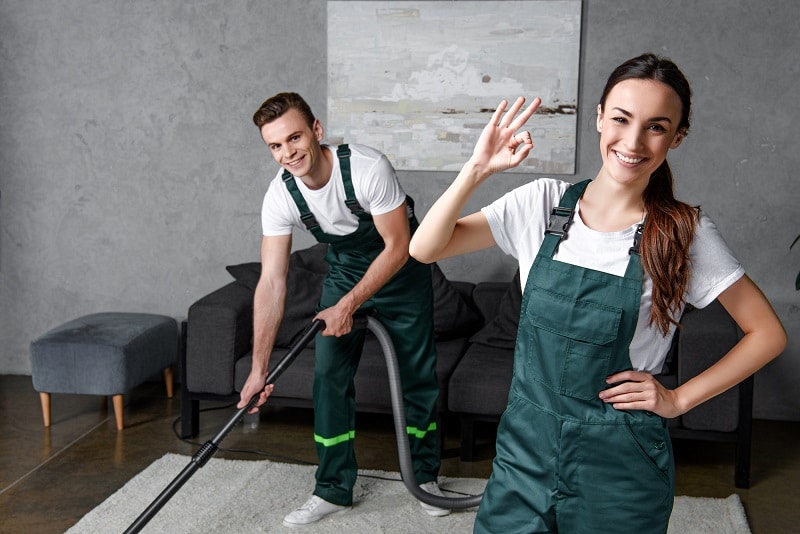 When choosing any type of vacuum, you need to consider features that will make your particular experience as efficient as possible. For this, vacuums will often have additional features. These can go a long way in increasing worker productivity, ultimately resulting in a better outcome. Let's take a look!
HEPA filter
HEPA, or High-Efficiency Particulate Air, refers to filters that have gone through rigorous tests and have been certified to remove high levels of microscopic particulates, thereby meeting most industry standards.
Other than just vacuum cleaners, HEPA filters are applied in many other industries, such as in automotive air parts and home AC systems. With a HEPA media filter, you get to contain any dust, pollen, or any other triggers of asthma and allergy that might otherwise be pushed up into the air during cleaning.
It is important to keep in mind that all vacuum cleaners will have a filter of sorts, but not all of them are HEPA filters. Therefore, for best results, confirm that your machine of choice incorporates the TRUE HEPA filters.
Check for CRI certifications
The Carpet and Rug Institute (CRI) is one of the most renowned organizations checking for the vacuum machine industry standards. Machines with the CRI seal of approval have gone through tests and proven to be environmentally safe and effective in their job. CRI evaluates these products based on their ability to remove and contain dust and the observable changes in the surface after cleaning is done.
For a high-performance, environmentally safe machine, ensure that it bears the CRI seal of approval.
Sound Level: Don't Wake The Neighbors!
The sound level of your vacuum greatly influences the work's ability without causing any sound pollution in the workplace. This especially applies in areas like offices or hotel rooms, where neighboring rooms can feel the noise's impact.
Sound level is usually measured in decibels or DB. For the best experience, we recommend you look for any decibel falling between 55 to 65 dBA. This should be low enough to operate without greatly affecting other occupants.
Power Source: Corded vs. Cordless
Vacuum machines can either have a power cord or battery powered. Each of them has its own benefits and has a role to play in the ease of use. Because of the higher usage time, most commercial vacuum cleaners are corded (and have longer power cords than residential vacuums).
Battery-operated or cordless machines are the more convenient of the two. With this, you get an extensive level of maneuverability and efficiency, in that you don't need to drag along a lengthy power cord or have to look for a power source every time you want to vacuum. They also reduce the risk of trips or falls. The downside to cordless vacuums is that they depend on batteries and can run out of juice midway through the cleaning. They are also more expensive than their corded counterparts.
On the other hand, we have corded models. In this case, you have to plug them into a power source for them to function. Because of this, you get to enjoy longer, uninterrupted cleaning times, and relatively more power, when compared to the cordless versions.
When using a corded vacuum, you are advised to always start by identifying the best cleaning path for vacuuming. By clearing a cleaning path, you get to optimize efficiency, reducing the number of times you have to switch the power cord to a nearer outlet.
Bagged Or Bagless Vacuum?
The question of whether to buy a bagged or bagless vacuum really depends on personal preferences. The good thing about bagless units is that they reduce the expenses that come with vacuum bags. However, they still have filters that may need replacement every so often.
Also, the process of emptying a bagless vacuum might let out some dust, which may affect any employees with allergies. With bagged vacuum cleaners, you don't have to worry about this. The bag keeps all the debris from escaping back into the air.
Related: 8 Vacuuming Tips To Keep Floors Clean
---
Commercial Vacuum FAQS
Whether you are simply cleaning dirt and spills from your restaurant floor or handling bigger industrial spaces like hallways and offices, commercial vacuums can go a long way in easing the process. However, you need to understand which model is best for the location or mess you are dealing with.
Hopefully, now with the help of our buying guide and top recommendations, you are a step closer to making a worthy choice.
Before we finish up, here are some of the most frequently asked questions about commercial vacuum cleaners.
What's the difference between a home and a commercial vacuum?
Unlike a home vacuum, commercial vacuums are usually designed to handle commercial-scale operations. For this reason, they are made more durable and will often have higher suction power. On the other hand, home vacuums are cheaper, have less durability, and generally not as powerful. They can only handle short periods of use in small office spaces and homes.
What is the best commercial vacuum?
There are quite a number of good commercial vacuums out there today. But some models coming from renowned brands like Bissell, Hoover Commercial, and Oreck really stand out. These models have a nice combination of practicality, functionality and are proven durable enough to handle long periods of use in large floor spaces. For more information, check out our product review below.
Where to buy commercial vacuum cleaners?
You can purchase commercial vacuum cleaners in basically any major outlet out there or janitorial product store. But for more variety, you can check out online platforms like Amazon. Here you not only get different models to choose from but a wider range of prices. They also have a reliable delivery system and return policies, in case you are dissatisfied with your machines.