Spread the love and share this post, please.
Overview
The Bissell CleanView® Bagless Vacuum Cleaner is a low priced vacuum unit from a famous brand. This model belongs to the budget friendly CleanView series of Bissell affordable vacuum cleaners. It is a step above it's lower priced sibling, the model 2488 CleanView® Vacuum Cleaner.
It has all of the fundamental features of an upright vacuum unit such as big cleaning path, picking up the debris with only one stroke (Onepass technology), standard dust bin size (2.0 Liters) and standard weight (15.4 lbs).
There are 4 main tools that goes along with Bissell Cleanview 1831 including TurboBrush Tool, Dusting Brush, Crevice Tool and Extension Wand. It has 2 years warranty from Bissell.
Recommendation: people who are looking for an affordable, reliable vacuum with limited budget, home with carpeted surfaces and pets.
---
What is the best benefits of Bissell Cleanview Upright 1831?
Great price. It is super cheap actually.
Very popular & high rating from consumers. This is one of the most important factor why we highly recommend the model 1831 when someone is looking for a home-vac under $100 range.
It cleans amazingly the carpets from low pile to high pile. This is the best value of Bissell 1831. There are a switch dial on the brush head for you to adjust the brush height to fit from bare floors to high pile carpets
Removing the dirt is easy
When dealing with hair, it does a great job too.
---
How Bissell Cleanview Upright 1831 work?
Construction
The Bissell Cleanview Upright 1831 is constructed as a classic upright home vac. It has a low profile brush head, an upright canister for dust storage), fingertips control and a long hose for attaching the tools.
Technology and features of the model
OnePass Technology 
OnePass Technology is the core technology of Bissell Cleanview series. It is named Onepass to indicate that the vacuum can be able to pick up debris with only a single stroke, while others need to move back and forth for a few times to pick up the whole debris on the surface.
Powerful, Multi Cyclonic Suction System
Bissell Cleanview uses a cyclonic air system to give more suction power. Today, most of the upright vac units on the market use this technology when designing the air system.
Multi-Level Filtration
This unit is a bagless upright vac and it uses foam, washable filters at pre and post motor position to capture the dirt and debris. It does not have HEPA.
Powerful motor
Bissell Cleanview 1831 model use a motor of 8 amps rating.
Large-Capacity Dirt Bin
The dust bin size of the 1831 model is 2.0 liters. For your rough estimation, a casual upright vac will generally have the dust bin size of 1.5 liters to efficiently clean the whole home with 1800 sq ft at once without the need to empty.
Versatile, Multi-Surface
The switch dial on brush head allows you to clean carpets and area rugs easily, no matter what pile height they are
TurboBrush Tool for picking up pet hairs
This is a useful tool for picking up hair on stairs, upholstery and car. It use rotating brush to agitate and lift up the hair.
Performance (Demo)
Here you can view the performance of Bissell Cleanview series. Video credited to Bissell brand
Performance (real results)
When vacuuming the carpets and area rugs, this unit remove a lot of hairs and debris. It also has a separate pet hair attachment, although if you have pets who shed a lot, you would be better off with either the Bissell Pet Hair Eraser Turbo Plus, Cleanview Rewind Pet Deluxe, or the Cleanview Swivel Pet (listed in price order of high to low, based upon when we last checked).
Although it is not specifically designed for hard floors, it does have a setting on it's dial for floors. It's not going to do as great a job as some other models, but it's good for quick clean ups. Some users do report that it's a bit loud on tile and hard wood floors.
---
Bissell Cleanview 1831 compared with other models 
Lets' compare most popular, highly rating models in the Cleanview series : Cleanview vs Cleanview Plus vs Cleanview Plus Rewind vs Deluxe Rewind ( model 1831 vs 1822 vs 1825 vs 1819, respectively). Generally, they are differed by motor use, triple action cleaning, automatic cord rewind and dust bin size.
Comparison table
---
Rating and customer feedback 
You can read hundreds of customer reviews and feedback of this model from amazon.com site here.
---
Conclusion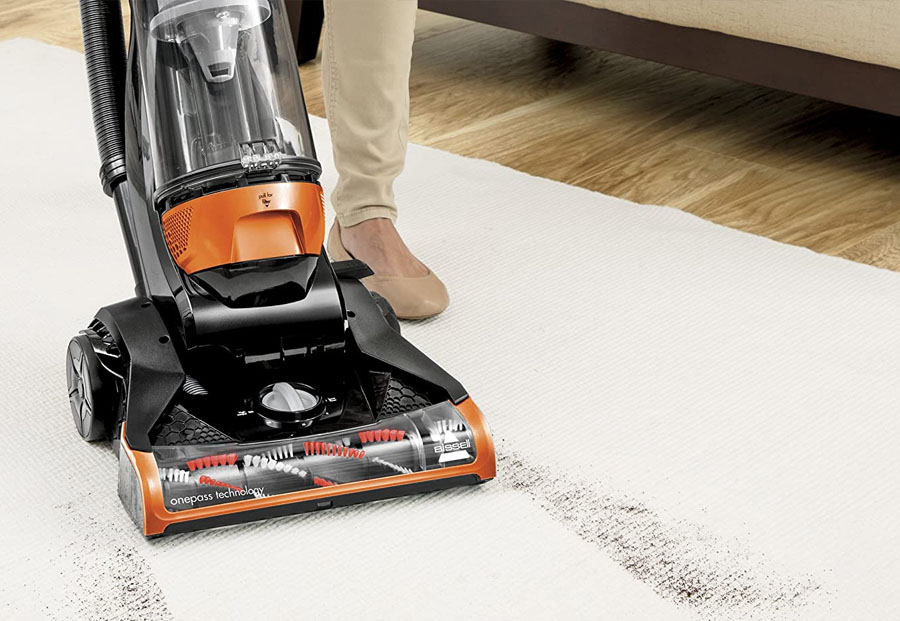 Bissell Cleanview 1831 is a cheap home vac that has a lot of benefits such as reliable, multi-floor cleaning capacity, and does a decent job for pet owners. It also have some limitations such as no fancy features (HEPA, swivel steering, auto retractable cord).
If you want to compare this with other vacuums in the CleanView, we have other reviews you can check out.
---
Bissell Cleanview 1831 troubleshooting and FAQs
Coming Soon
Spread the love and share this post, please.