Overview
When it first came out,the BoostIQ RoboVac 35C Robot Vacuum Cleaner, was one of the most advanced robot vacuum cleaners from Eufy, a popular brand owned by Anker.
This entry-level robot unit has many advanced features when compared with competitors in the same price range as Roomba 690, Deebot N79S.
What is the Difference Between RoboVac 35C and RoboVac 30C?
Eufy Robovac 35C is the refresh of the Eufy Robovac 30C, a top-rated robot vacuum. It remains all of the benefits of Robovac 30C such as:
Stronger motor – 1500 Pa
Slimmest body – only 2.85 in
The most silent unit when working – 55 dB
Long run time – 100 minutes
IQboost technology – 2nd generation
Boundary strips – create no-go zones
Advanced filtration system

WIFI and ALEXA compatibility
Besides these benefits, Robovac 35C has 2 more features that the 30C version does not have
It has the touch control panel on the top, which makes it a bit more convenient when you do not have the remote/ smartphone by your side.
Second, you can add personal commands on the App. This feature allows users to customize the robot in their way.
Apart from that, both models are pretty similar.
Both the 35C and 30C support WiFi and boundary strip. The two models have a similar functionality. The main difference is that the 35C uses the Touch-Control Plastic Panel with three control buttons on the RoboVac, while the 30C uses the Glass Panel with one start button on the RoboVac.
On the downside, Robovac 35C still has similar shortcomings like the 30C version. It can miss certain spots and sometimes it gets lost when finding its way back to the dock. This 35C model has a shorter boundary strip than the 30C (6.6 ft. vs 13.2 ft). You can consider about these differences before choosing either Robovac 35C or 30C.
On the overall, Robovac 35C is a great option for the performance, advanced features, and the unbeatable price. If you need a low price robot vacuum for the home with pets, allergic person or users with back pain, this model is highly recommended.
---
Should you buy RoboVac 35C in 2020?
Robovac 35C from Eufy which holds all of the features that you can find in an entry-level robot vacuum. This model is a good choice especially when you consider between the benefits and the price value.
Apart from Robovac 35C, Robovac 30C is another variation with a longer boundary strip. It is more beneficial if you have a lot of doorsteps, toilet doors, wires, and cables areas.
However, since Eufy has come out with several newer model robot vacuums, such as the RoboVac 11+ (which we reviewed) RoboVac 11S as well as the RoboVac L70 Hybrid which also mops hard floors, you may want to compare
Deebot 901, one of the more advanced robots unit from Ecovacs is another great suggestion. All of them are in the same price range and have similar benefits.
---
Coupon for RoboVac 35C
Currently, this model does not have a discount yet, but the last time we looked you can get $50 off via Amazon Reward Visa Card. Check for the latest deal of Robovac 35C below. Remember to check the price and promotion carefully before buying because the seller or manufacturer can change the price without notice.
---
Technologies and benefits of Robovac 35C
As mentioned above, Robovac 35C has a similar configuration with Robovac 30C. It has a very slim profile only 0.85 in to fit under most of the furniture. The dust bin is quite generous (600 mL) and it uses triple filters (2 foam filters and 1 advanced filters). Eufy Robovac filtration system is efficient for allergy sufferers.
Robovac 35C applies the same technologies with the 30C model. It features the strongest motor of 1500 Pa to generate suction, IQboost technology to increase suction within 1.5 seconds, App and remote control for convenient monitoring.
You can read more about the benefits of Robovac 30C here to get a comprehensive understanding of this model.
---
Specifications of Robovac 35C
| Mapping / Path planning  | no |
| --- | --- |
| Automatically Docks and Recharges  | yes   |
| Noise Level  | 55  db   |
| LCD Display  | no |
| Side Brushes (one or two)  | 2  pcs |
| Voice Prompts  | yes   |
| Suction Power  | 1500  Pa   |
| Сleaning Area  | 1292  ft2  / 120  m2 |
| Home Size  | small, medium |
| Cleaning Modes  | auto, edge, spot, zig-zag |
| Dustbin Capacity  | 600  ml |
| Wet Mopping  | no |
| Barrier-cross Height  | 0.63  in  / 16  mm |
| HEPA Filter  | no |
| Washable Filter | no |
| Сarpet Floor Types  | low-pile, medium pile |
| Bare Floor Types  | ceramic tile, marble tile, vynil, laminate, linoleum, wood |
| Battery Capacity  | 2600  mAh |
| Runtime  | 100  min   |
| Charging Time  | 300  min |
| Rated Power (Watts) | 25  W |
| Scheduling  | yes   |
| IR Remote Control  | yes |
| Wi-Fi / Smartphone App  | yes   |
| Amazon Alexa Support  | yes   |
| Google Assistant Support  | yes   |
| Virtual Wall  | yes   |
|   App Features | |
| Digital Blocked Area  | no |
| Zoned cleaning  | no |
| Multi-floor maps  | no |
| Manual movement control  | no |
| Selected Room Cleaning | no |
| Carpet Boost  | yes   |
| Anti-drop / Cliff Sensor  | yes   |
| Dirt Detect  | no |
| Full Bin Indicator  | no |
| Robot Weight  | 5.73  lbs |
| Robot Width  | 12.80  in   |
| Robot Height  | 2.87  in   |
| In the box  | 6 ft Boundary Strips, remote control (2 AAA batteries included), charging base, AC power adapter, cleaning tool, extra set of high-performance filters, 4 side brushes, 5 cable ties, welcome guide, and our worry-free 12-month warranty |
| Warranty  | 12  months |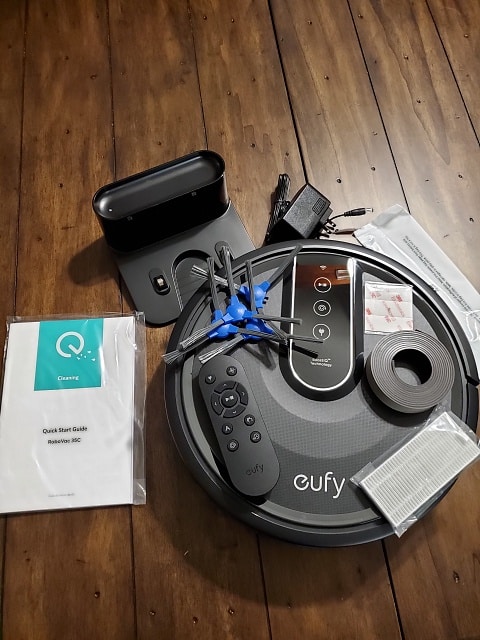 ---
Pros and cons of Robovac 35C
What We Like…
Powerful suction.
Can release itself when getting stuck.
Very quiet.
---
Performance of Robovacs
Watch the sibling models of Robovac 35C (30C model) cleans in tight areas.
---
FAQs and troubleshooting of Robovac 35C
Coming Soon