Spread the love and share this post, please.
Overview
The Eufy BoostIQ RoboVac 15C is a low price robot vacuum cleaner with huge suction power by using 1300 Pa motor. When it first came out, it was one of Eufy's newest robot vacuums, replacing for reputable Robovac 11 series (Robovac 11, Robovac 11+ and Robovac 11S).
In Robovac 15C, Eufy uses a motor of 1300 Pa to deliver suction. This motor is more powerful than most of robot vacuum cleaner at entry level such as Roomba 650, Deebot N79, or ILIFE A4.
Besides, Robovac 15C features a slimmer profile which is just about 2.8 inches. It is possible to say this is one of the slimmest robot vacuums on the market so far. This super slim profile allows the robot to clean under furniture better.
Last but not least, Robovac 15C is now wifi-connected and Alexa compatible. You can control, schedule and customize the cleaning process via smartphone App.
Robovac 15C remains all of the benefits from the previous model including: very quiet (under 55dB), large dust bin (600 mL), high performance filter, BoostIQ technology, and long run time (100 minutes).
Robovac 15C works efficiently on bare floors, low pile carpets and it is a great model for pet hair cleaning. However, it is not recommended if you need a robot vacuum for high pile or plush carpet.
On the downsides, Robovac 15C still has some shortcomings, similar to previous model 11+. It may get stuck with cords and wires, therefore you need to manually remove the wires, cables and small objects on the floor before cleaning.
Sometimes, it takes a long time to find way back to the charging dock (if the dock is hidden by the furniture). Lastly, the brush can get tangled with hairs and you still have to remove the hair with scissors by hands.
On the overall, Robovac 15C is a great option and effective way for freeing yourself from cleaning the floor daily. The unit has been improved in many ways to be smarter and more powerful than the previous robot but the price is still the same.
Should you buy Robovac 15C in 2020?
If you are looking for a low price robot vacuum, Robovac 15C is highly recommended. It is very quiet and has a great performance on bare floors, thin carpets, and decent battery life.
You should realize Robovac 15C is an entry-level robot vacuum, therefore, it does not have advanced features like mapping, selective cleaning area mode, real-time data report or so.
At this price range, Robovac 15C is the model with the strongest suction (1300 Pa), slimmest profile (2.85 in) and lowest noise level (55 dB).
Compare with Other RoboVac Models
If you are looking for a Eufy wet mopping robotic vacuum you will want to take a look at the RoboVac L70 Hybrid robot vac. It is their latest model, as of this writing, and features iPath Laser Navigation with AI. Map Technology™.
Coupon for Robovac 15C
Currently, Robovac 15C has a good discount. Besides, you can also get $50 off instantly via Amazon Rewards Visa Card.
Technologies and benefits of Robovac 15C
Construction
Robovac 15C is a redesigned robot vacuum cleaner from the popular Eufy 11 series. Robovac 15C has a sleek design. It is covered by anti-scratch glass on the top to protect the machine.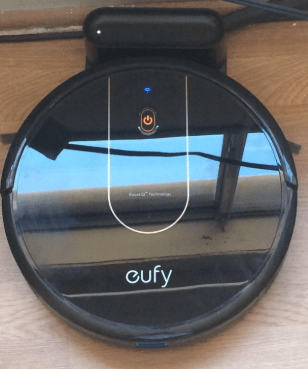 This unit has a very slim profile (2.85 in), which makes it even better to navigate under the table, sofa. The whole dimension of Eury Robovac 15C is 13.8 x 13.8 x 2.85 in.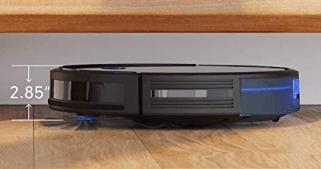 While the robot is compact, the dust bin capacity is even bigger than the old models. This robovac 15C uses a 600 mL dust bin (bigger than Eufy robovac 11+: only 550 mL). To trap the dust, pet hair, etc., it uses a triple filter system which combines a dual-layer filter and one high-performance filter.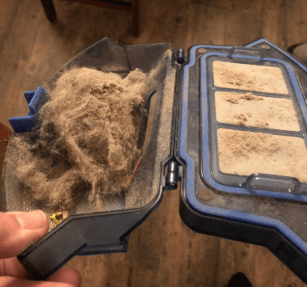 The motor of robovac 15C has been improved. Instead of using a 1000 Pa motor like classic robot vacuum, Eufy uses 1300 Pa motor for this model. As a result, Robovac 15C has more suction power to deal with difficult cleaning areas.
To control, schedule robovac 15C, you can either use a remote or via Ecovacs App on the smartphone (Alexa skill compatible). On the smartphone app, you just only need to say a few simple sentences like "Alexa, ask Robovac to start cleaning". The robot will automatically run afterward.
An important notice is that robovac 15C can only work with 2.4 GHz wifi.
IQ boost technology – the second generation
BoostIQ™ Technology 2nd Gen is Eufy's patented technology to automatically increase suction power when dealing with difficult cleaning areas. The second generation of BoostIQ improves the boosting time. Just only within 1.5 seconds, the robot will be able to deliver the strongest vacuuming power.
Li-ion battery – Long run time and long charge time
Robovac 15C uses a similar battery pack with previous models. It uses 2600 mAh Li-Ion battery for continuous cleaning of 100 minutes or so.
This battery life is better than some basic Roomba models (Roomba 650, Roomba 675) regarding running time. However, its charging time is relatively long which can be up to 300 minutes.
Sensor technology – infrared sensors
Infrared sensors are still applied in Robovac 15C, similar to Robovac 11 series. This first generation of sensor technology is adequate for the robot to navigate on hard floors, thin pile carpets and to detect furniture. However, it is not very efficient like VSLAM or laser sensors.
Robovac 15C still bumps into chair legs and get stuck if there are a lot of cables on the floors. You need to clean up the bigger things like toys and what not off the floor to get better performance.
Low noise level
Eufy Robovac is much quieter than a lot of competitors. Especially with the newer generations like Robovac 15C, Robovac 35C, the typical noise level of them is just like a background hum that you will never notice of. Robovac 15C noise level is just 55 dB.
Inside the package
Robovac 15c
Remote Control
Charging Base
Ac Power Adapter
Cleaning Tool
Extra Set Of High-Performance Filters
Side Brushes
5 Cable Ties
Welcome Guide
Specifications
Mapping / Path planning 
no
Automatically Docks and Recharges 
yes  
Noise Level 
55  db  
LCD Display 
no
Side Brushes (one or two) 
2  pcs
Voice Prompts 
yes  
Suction Power 
1300  Pa  
Сleaning Area 
1292  ft2  / 120  m2
Home Size 
small, medium
Cleaning Modes 
auto, edge, spot, single room
Dustbin Capacity 
600  ml
Wet Mopping 
no
Barrier-cross Height 
0.63  in  / 16  mm
HEPA Filter 
yes  
Washable Filter
N/A
Сarpet Floor Types 
low-pile, medium-pile
Bare Floor Types 
hardwood, marble, tile, laminate, linoleum, vynil
Battery Capacity 
2600  mAh
Runtime 
100  min  
Charging Time 
300  min
Rated Power (Watts)
27  W
Scheduling 
yes  
IR Remote Control 
yes
Wi-Fi / Smartphone App 
yes  
Amazon Alexa Support 
yes  
Google Assistant Support 
yes  
Virtual Wall 
no
Digital Blocked Area 
no
Zoned cleaning 
no
Multi-floor maps 
no
Manual movement control 
yes
Selected Room Cleaning
N/A
Carpet Boost 
yes  
Anti-drop / Cliff Sensor 
yes  
Dirt Detect 
no
Full Bin Indicator 
no
Robot Weight 
12.8 in
Robot Width 
12.8 in
Robot Height 
2.83  in  / 7.2  cm
In the box 
remote control
charging base
AC power adapter
cleaning tool
extra set of high-performance filters
4 side brushes
5 cable ties
welcome guide
Warranty 
12  months
Pros and cons
Pros
Very quiet
Affordable
Big wheels allow it to roll over almost anything
Sensors work great (stops at the stairs every time)
Low profile allows it to get under furniture
Wifi and Alexa integration
Include a remote
Does not usually bump into things
Easy to use the app
Triple filtration system
Cons
Dust and pet hair get tangled on the brushes
Can get stuck on wires or cords
If the docking station is hidden behind the furniture, it will take a long time to find the way back to the station
Does not have true HEPA filtration
Performance of Robovac 15C
Enjoy the performance of Robovac 15C on floor carpets. It navigates in a random patterns and moves nicely under the TV stands. You should notice that because it runs on carpets, the noise is a bit higher than on tiles but still very quiet.
---
FAQs and troubleshooting of Eufy Robovac 15C
Coming Soon
Spread the love and share this post, please.