Overview
Eufy RoboVac 11+ is a low price robot vacuum with thousands of feedback from consumers. This robot vacuum has a sleek design (anti-scratch surface), big dust bin ( 550 mL), strong suction (1300 Pa) with power boost technology, HEPA filter and controlled by a remote.
Great value for the price
The benefits of Robovac 11+, apart from the low price, is the efficient performance. It is very quiet when running. Robovac 11+ works amazingly on low-pile carpet, bare floors, tile, hardwood floors. It is capable of picking pet hair efficiently.
The robot can run for about 100 minutes on bare floors and 60 minutes of carpets. It does not have a wifi connection, therefore, you can only control the unit via the remote.
This model used to be the most popular choice of Eury brand, before the introduction of the eufy BoostIQ Robovac 11S version (stronger suction and super quiet)
On the downside, it can hit the furniture a bit strong (Eufy has resolved this issue with upgraded Bumper and Suction Inlet). Moreover, the hair can be tangled on the brush, you need to cut with scissors.
On overall Robovac 11+ is a great model for users who are looking for a low price robot vacuum.
---
Should you buy Robovac 11+ in 2020?
Robovac 11+ is inexpensive and has great performance. It is an entry-level robot unit that is easy-to-use and gets most of the jobs done. Because it does not have virtual boundaries, you should check for cords, wires on the floors before running the robot to have a better performance.
Despite Robovac 11+ is a great model, we highly recommend you to have a look at eufy BoostIQ Robovac 11S.
This is because both models are at the same price range, but the Robovac 11S has more features.
---
Coupon for Eufy RoboVac 11+
Currently, Eufy Robovac 11+ and 11S all have good discounts. You can check for prices of them above. Please be noticed that the prices and discounts can change any time without noticing from the manufacturers, sellers
---
Technologies and benefits of Eufy RoboVac 11+
Construction – well-built unit
Like any robot vacuum, Eufy RoboVac 11+ has a circular shaped, measured by 2.8 x 12.8 x 3.4 inches. The low profile of this robot makes it fit under a lot of furniture. The robot uses a motor of 1000 Pa to give suction and it features a big dust bin (550 mL) which is greater than most of the competitors in the field (Deebot N79S, Roomba 650, Roomba 690…).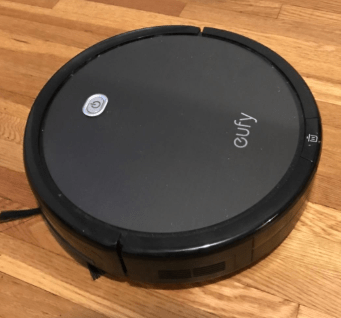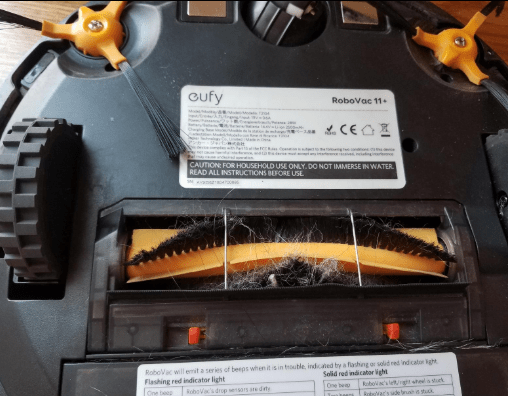 The Eufy RoboVac 11+ features Power Boost technology to deliver more suction power whenever needed. This feature is useful if you need to clean mid-pile carpets, large debris.
This model is controlled by a remote. There is no wifi connection on this model.
Eufy RoboVac 11+ has a decent battery life, it can run up to 2 hours when fully charged ( 5 hours or so). The battery of this unit is a 2600 mAh Li-ion pack, which will last for a long time before replacements.
On the overall, Eufy RoboVac 11+ is very similar to the most popular robot Deebot N79, which is later updated with Deebot N79S (Ecovacs brand).
BoostIQ Technology- more suction when needed
BoostIQ technology is the new feature of Eufy RoboVac, which is similar to Auto-boost feature of advanced Roomba models. The robot will automatically increase the suction power for better cleaning when dealing with large debris, mid-pile carpets. This technology will help the vacuum to clean throughout the floor.
Improved front-bumper and suction inlet – smoother running
The front bumper and the suction inlet is redesigned to let the robot moves smoother and reduce wears when hitting obstacles ( chair legs or so)
Infrared sensors – adequate but not the best
Eufy RoboVac 11+ uses infrared sensors to detect obstacles and drop sensors to avoid falls. The drop sensors work amazingly so you will never worry about the falling problems.
On the other hands, the infrared sensors are not very accurate like VSLAM or laser sensors (used in certain advanced models). Therefore, it can be expected that RoboVac 11+ can get stuck under the furniture and can leave some uncleaned spots on the floors.
Recharges automatically – A must have feature
Like all of robot vacuum cleaner, RoboVac 11+ has automatic recharge feature. This unit has a relatively long recharging time (up to 300 minutes). Consider this if you have to use the robot many times per day.
Large dust box – Similar to most of robot cleaners these days.
A large 0.55L dust box holds more dirt. In later version, Eufy even makes the dust bin bigger, up to 600 mL (Robovac 15, 15C, 30, 30C and 35C version)
HEPA filter – great value
RoboVac 11+ filter is HEPA type. It is suitable for allergy sufferers and home with pets
No wifi, no App – less personal optimization
This robot is controlled, scheduled by using a remote. You do not need wifi or smartphone to control.
Inside the package: eufy RoboVac 11+, remote control (2 AAA batteries included), charging base, AC power adapter, cleaning tool, extra set of high-performance filters, extra set of side brushes, welcome guide, and our worry-free 12-month warranty.
---
Specifications of Eufy RoboVac 11+
Mapping / Path planning 
no
Automatically Docks and Recharges 
yes  
Noise Level 
64  db  
LCD Display 
no
Side Brushes (one or two) 
2  pcs
Suction Power 
1000  Pa  
Сleaning Area 
1292  ft2  / 120  m2
Home Size 
small, medium
Cleaning Modes 
auto, edge, spot, max
Dustbin Capacity 
600  ml
Wet Mopping 
no
Barrier-cross Height 
0.63  in  / 16  mm
HEPA Filter 
yes  
Washable Filter
N/A
Сarpet Floor Types 
low-pile
Bare Floor Types 
hardwood, tiles, laminate, linoleum
Battery Capacity 
2600  mAh
Runtime 
100  min  
Charging Time 
300  min
Rated Power (Watts)
25  W
Scheduling 
yes  
IR Remote Control 
yes
Wi-Fi / Smartphone App 
yes  
Amazon Alexa Support 
no
Google Assistant Support 
no
Virtual Wall 
no
Digital Blocked Area 
no
Zoned cleaning 
no
Multi-floor maps 
no
Manual movement control 
yes
Selected Room Cleaning
no
Carpet Boost 
yes  
Anti-drop / Cliff Sensor 
yes  
Dirt Detect 
no
Full Bin Indicator 
no
Robot Weight 
6.61  lbs  
Robot Width 
12.99  in  
Robot Height 
3.07  in  
In the box 
remote control
charging base
AC power adapter
cleaning tool
high-performance filter
4 side brushes
welcome guide
---
Pros and cons
What We Like…
Cheap.
Good suction power.
Good battery life.
Relatively big bin.
Excellent on pet hair.
Wonderful customer service.
Relatively quiet.
What Could Be Better…
Pet hair tangles in the brush, requires cutting with scissors.
Gets stuck quite often and hard to find way back to the docking station, unless the dock is not hidden by furniture.
---
Performance of Robovac 11+
---
Prepare your house for Robovac 11+
To get the best performance, you should spend a little bit of time to prepare the floor
Notice: Robovac 11+ is not recommended for thick, plush carpet (over 10 mm) or dark surfaces.
Pick up all cables and small objects on floors
Close doors to, or block off areas you dont want it to go
Watch the first runs to see where it gets stuck…then MODIFY that place when you run next cleaning time.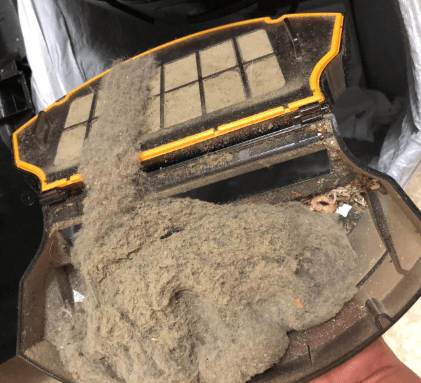 ---
FAQs and Troubleshooting of Robovac 11+
Coming Soon
Further reading
Robovac 15C reviews – another low price robot from Eufy
Robovac 30C reviews – the best robot cleaner from Eufy
Robovac 35C reviews – an variation of the 30C, with a small twist on the design