Overview
The Ecovacs DEEBOT OZMO 930 2-in-1 Mopping and Vacuuming Robot with Advanced Navigation is one pf the most advanced wet mopping robot vacuum of the Ecovacs brand, featuring both vacuum and mopping benefits. As of this writing, the 930 model is the mid-range robotic vacuum in the OZMO Series.
This unit uses the 3rd generation of sensors (laser beams) to detect the floors and furniture, which is identical to the Deebot 901 model. As a result, there are a lot of benefits from this sensor technology such as better navigation, more cleaning modes, floor mapping, virtual boundary compatibility and so on.
Besides the vacuum benefits, this DEEBOT OZMO 930 has an incorporated wet-mopping system (a small water tank and a microfiber pad for polishing the hard floors). This feature is useful to some owners but it can pose a few issues we will go in detail later.
Last but not least, DEEBOT OZMO 930 still have all of the great features such as auto-recharge, auto-resume, HEPA filter, Alexa skills, area cleaning mode, carpet detection, long run time.
The downside of DEEBOT OZMO 930 is the App. Users sometimes encounter bugs that stop the robot vacuum cleaning process. The wet-mopping feature of OZMO 930 is a nice option, however, it requires manual installation of the microfiber pad and it might cover the sensors. As a result, when using as a wet mopping robot, it will limit the robot optimization (on App).
---
Should you buy DEEBOT OZMO 930 in 2020?
DEEBOT OZMO 930 offers both vacuum and wet mopping features, therefore, it is expected to be more flexible for consumers. However, within Ecovacs line of wet mopping vacuums, there are newer models that actually have better ratings such as the OZMO 950, OZMO 937 and OZMO T5.
Within the same price range, you may also want to compare OZMO 2-in-1 Mopping Robot Vacs with ones from other companies such as the Roborock S5 Robot Vacuum and Mop or the Roborock E35 (which is an upgrade to the E25 model which we have reviewed).
If you are on a budget and looking for a robot cleaner with the wet mopping feature, you may want to consider the ILIFE V5s Pro 2-in-1 Mopping Robot Vacuum, a low price wet mopping robot with positive feed back from users. Another newcomer in the robotic vacuum arena with good ratings is the Coredy R580 Robotic Vacuum Cleaner and Mopping Robot. Both of these cost less than Ecovacs OZMO wet mopping robot vacuums.
---
Technologies and benefits of DEEBOT OZMO 930
Construction
DEEBOT OZMO 930 has a circular shape, measured by 13.9 x 13.9 x 4 inches. This robot vacuum has a big dust bin (450 mL) and a water tank (300 mL) to pump the clean water when mopping. The unit has a higher height than most of the Deebot models (4 in vs 3.2 in) due to the use of a microfiber pad underneath. However, it is still low enough to navigate under the table, sofa.
The best part of DEEBOT OZMO 930 is all about 3.0 navigation sensors, allowing the robot to navigate and map the floor in real time. Once the floor is mapped, you can customize the cleaning area for specific duty (selective cleaning mode, wet mopping, set virtual boundary and more)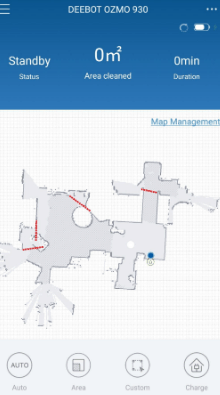 OZMO Mopping Technology
This robot vacuum uses a wet mopping system with an electrically controlled water pump to give a consistent result. Setting up wet mopping is easy and convenient.
Ecovacs app – Smart Home & App Enabled
The robot can be controlled, scheduled via Alexa, Amazon Echo, or Google assistant. You can see real-time data on the app.
Carpet Detection Technology
DEEBOT can automatically identify your floor type and deliver suitable suction power to each floor surface.
Specifications of Deebot OZMO 930
Mapping / Path planning 
yes  
Mapping Sensor Type 
LDS
Recharge & Resume 
yes
Automatically Docks and Recharges 
yes  
Noise Level 
65  db  
LCD Display 
no
Side Brushes (one or two) 
2  pcs
Voice Prompts 
yes  
Suction Power 
1000  Pa  
Сleaning Area 
1615  ft2  / 150  m2
Home Size 
medium, large
Cleaning Modes 
auto, area, custom
Dustbin Capacity 
450  ml
Wet Mopping 
yes  
Water Tank Capacity 
300  ml
Barrier-cross Height 
0.63  in  / 16  mm
HEPA Filter 
yes  
Washable Filter
no
Сarpet Floor Types 
low-pile
Bare Floor Types 
hardwood, tiles, laminate, linoleum
Battery Capacity 
3200  mAh
Runtime 
110  min  
Charging Time 
240  min
Rated Power (Watts)
40  W
Scheduling 
yes  
IR Remote Control 
no
Wi-Fi / Smartphone App 
yes  
Amazon Alexa Support 
yes  
Google Assistant Support 
yes  
Virtual Wall 
no
Digital Blocked Area 
yes
Zoned cleaning 
yes
Multi-floor maps 
yes
Manual movement control 
yes
Selected Room Cleaning
yes
Carpet Boost 
yes  
Anti-drop / Cliff Sensor 
yes  
Dirt Detect 
no
Full Bin Indicator 
no
Robot Weight 
10.14  lbs  / 4.6  kg
Robot Width 
13.94  in  / 35.4  cm
Robot Height 
4.02  in  / 10.2  cm
In the box 
charging dock
adapter
main brush
extra filter
user manual,
water tank
mop attachment
2 extra side brushes
Warranty 
12  months
---
Pros and cons
What We Like…
Vacuum and mopping feature is amazing.
Low noise level.
Can pick up a lot of hairs.
Make your floor shiny.
What Could Be Better…
Can only mop or vacuum (not both at once).
The robot can only store a 1-floor plan.
It cannot be moved, otherwise, it will lose the map.
---
Performance of OZMO 930
In the below video, Deebot OZMO 930 is running its path cleaning mode for wet-mopping the hard floors. Check for the cleaning pattern, noise level of this robot in the video
---
FAQs and troubleshooting of OZMO 930
Coming Soon