Overview
The Hoover® SmartWash™ Automatic Carpet Cleaner is one of our top recommendations if you are looking for an amazing carpet cleaner in 2020. This model is the first and only model that has automatic cleaning features. You just only need to move forward to clean and pull backward to dry the carpet.
There are currently two models in the this line, with the second option being the Hoover FH53000PC SmartWash™ Pet Automatic Carpet Cleaner. The biggest difference between them is that the FH53000PC model comes with Hoover's Spot Chaser Stain Remover Wand. The Pet version is also a different color (purple) so they can be easily distinguished just by looking at them.
Both models have some really powerful features.
One of the best benefits of Hoover Smartwash FH52000 is the dry only feature that just this model has. This feature will apply forced heated air only to the carpets and let it dry faster. It is very useful when you use excessive water.
Besides, Hoover Smartwash FH52000 makes it very easy to clean after use. You can virtually clean all parts of the machine. This is a great advantage compared to other upright vacuum cleaners on the market.
Last but not least, this carpet washer has a great construction with a strong motor, 1 Gal. water tank, lightweight (under 19 lbs.), 2 spinning brush rollers for deep cleaning and a long hose for upholstery and stair cleaning. The brush low profile allows you to clean under furniture easier (similar to Bissell Proheat 2X design).
---
Should you buy Hoover Smartwash FH52000 in 2020?
Hoover Smartwash FH52000 is a big step forward in carpet cleaning. It reduces the amount of cleaning time and carpet drying time thanks to the new automatic technologies.
Despite it does not have 2 cleaning modes like Hoover Powerscrub Elite, the auto dry mode allows you to apply more heated air to the carpet and make it dry faster.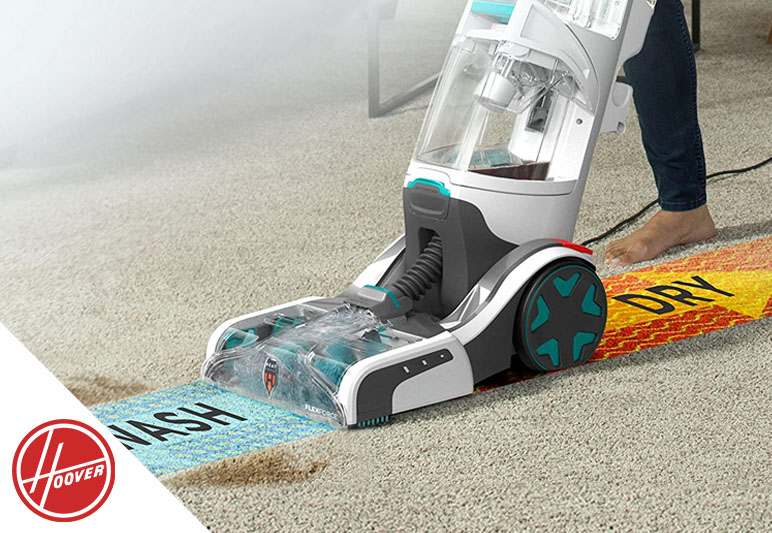 If you are looking for a full-size upright model, Hoover Smartwash FH52000 is a worthy choice to deal with dirt, pet hair, grime, spillages on carpets and upholstery surfaces daily.
---
Coupon for Hoover Smartwash FH52000
When we last checked we found some really great bundle options for the Hoover SmartWash, saving you money when you purchase carpet cleaning solutions at the same time.
---
Technologies and benefits of Hoover Smartwash FH52000
Construction
Hoover Smartwash FH52000 is a full-size upright model with standard construction. This unit uses a motor of 10 amps to generate suction power, a standard water tank size of 1 Gallon and a 8 ft hose for cleaning the sofa, stair and more.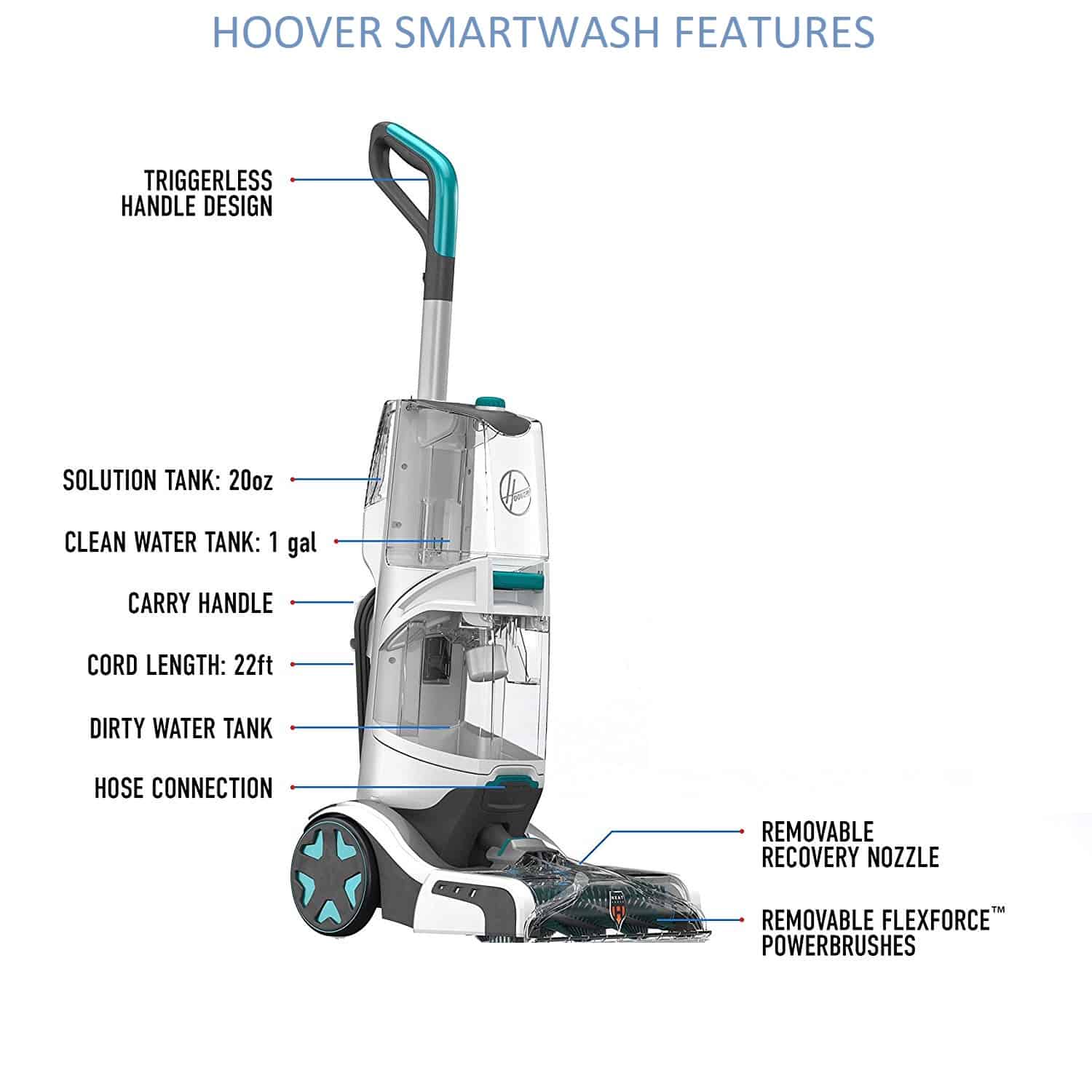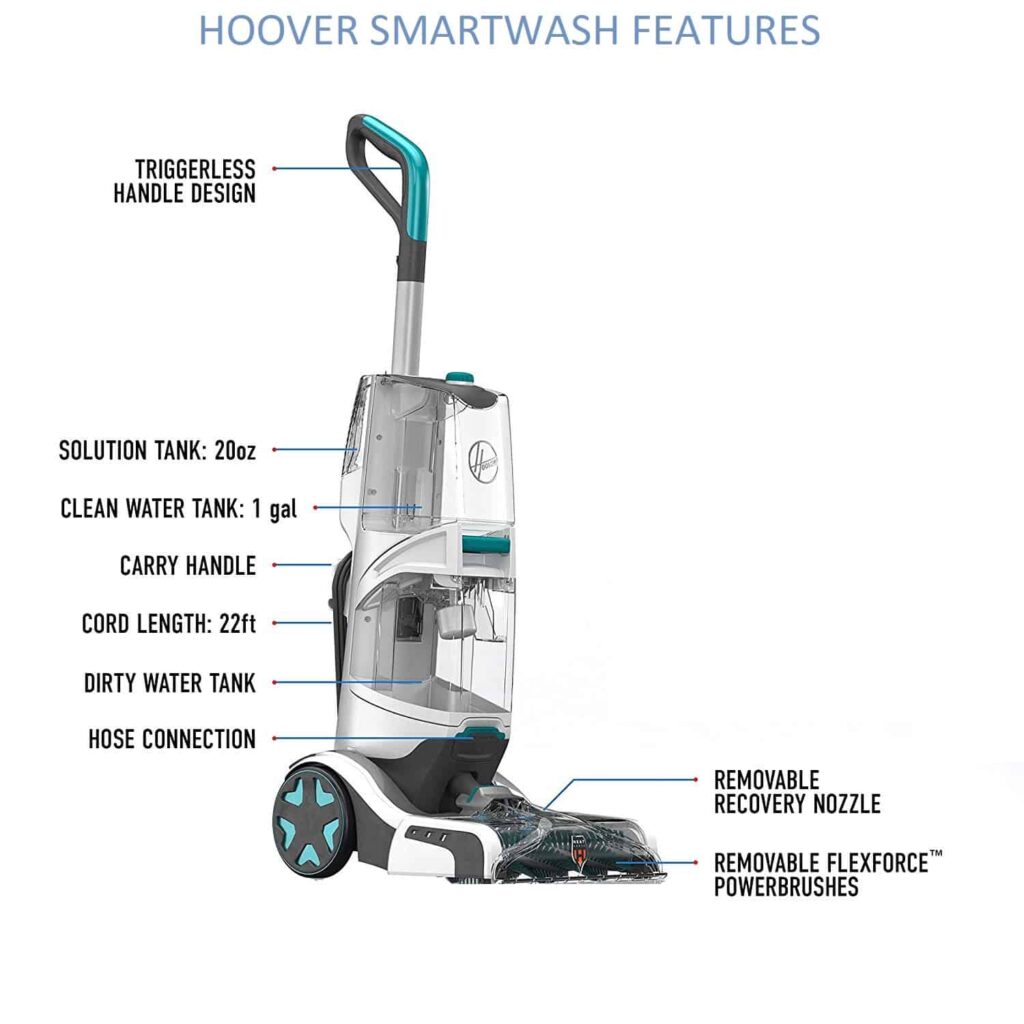 This machine is designed for whole-home cleaning purposes and it is backed by Hoover up to 5 years (limited conditions).
Automatic features
The major change and technology of Hoover Smartwash FH52000 is all about automatic sensing technology. With this model, you just only need to move forward for washing and backward for drying the carpet. The machine will eliminate the guesswork, the detergent mixing step to let you clean the carpet easier.
Besides, this unit has a unique benefit called Auto Dry mode. This mode will deliver more extraction power and apply heated forced air to let your carpet dry in no time.
Better cleaner head
The cleaner head of Hoover Smartwash FH52000 uses double rollers with hard bristles (FlexForce Powerbrushes) to remove the dirt and hair. Both of the rollers are visible from the top of the removable nozzle.
When the rollers get dirty, you can lift the nozzle up and clean the rollers easily.
Besides, 2 rollers lie flat on the floor. This low profile design helps you to clean under the sofa, furniture
Accessories
The accessories that you get depend on which model you choose. If you go for the Hoover® SmartWash™ PET Complete Automatic Carpet Washer (model FH53000 / FH53000PC) you will get the 2-in-1 Antimicrobial Pet Tool along with a sample Bottle of Cleaning Solution, an 8 ft. hose and an accessory storage bag.
The pet tool does not come with the model Hoover FH52000 / FH52000PC Smartwash. So, if you either want to be able to clean upholstery, the SmartWash™ Pet is a better option.
---
Specifications
Tank Size: 1 Gal
Type of Cleaning: Automatic
Cleaning Path: 12″
Weight: 18.9 lbs
Above Floor Cleaning: yes
Quick Clean Mode: no
Automatic Cleaning: yes
Auto Dry Mode: yes
Auto detergent mix: yes
Detergent capacity: 20 oz.
Tank design: separate
Brush: FlexForce & PowerBrushes
Heated cleaning: yes
good for pets: yes
Warranty: 5 years
---
Pros and cons
What We Like…
Wash/dry/extra dry feature.
Removable suction top.
Separate solution/water tanks.
3 head scrub brushes.
Easy to use, feels like it's self-propelled.
Less water on the carpet and use less cleaning solution.
You can completely disassemble it to remove the hair, dirt on single parts.
Moderate noise level.
---
Performance of Hoover Smartwash
---
Compare Hoover Smartwash with Other Models
Hoover Smartwash plus vs Bissell Proheat 2x
Hoover Smartwash and Bissell ProHeat 2X Revolution Max Clean Pet Pro Full-Size Carpet Cleaner (model 1986) are very similar in the machine design. Both of them haave strong suction, the same water tank size and low brush head profile. Both models are among the best upright carpet washers these days.
The main difference of Hoover Smartwash vs Bissell Proheat 2X is about automatic cleaning features. Bissell does not have this technology in proheat models. Besides, Hoover Smartwash has other ergonomic value such as:
No premixing of the shampoo is necessary.
The brushes and their cover snap off for easy cleaning.
There are 2 brushes rather than just one like the Bissell. That makes a huge difference in raising the nap of the carpet.
Bissell Proheat 2X, on the other hand, is lighter (17.5 lbs vs 19 lbs.). It also has more tools and the spraying trigger to add more detergent to the stains. Hoover Smartwash does not have this feature.
Further reading: Bissell Proheat 2X 1986 Review
Hoover Smartwash vs Rug Doctor
Rug doctor carpet cleaners can take a beating and less maintenance than most home carpet cleaners. The nice thing about Hoover Smartwash is that the maintenance also quite simple.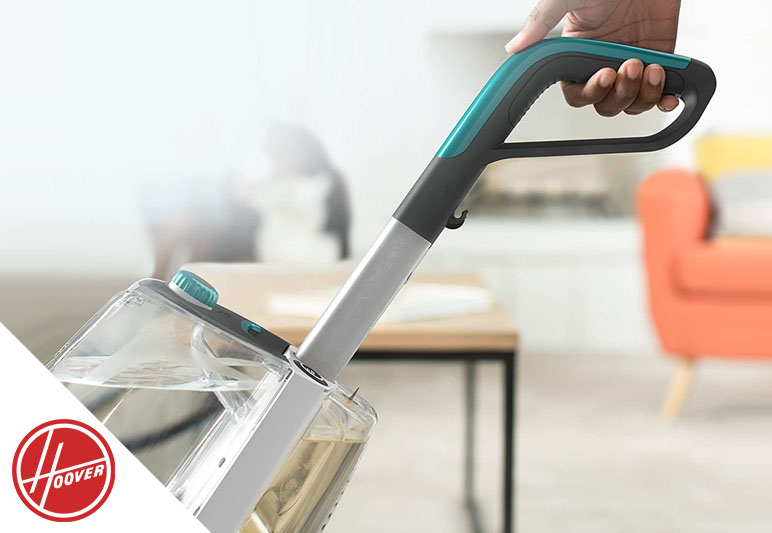 The model that comes closest in terms of price range is the Rug Doctor FlexClean All-in-One Floor Cleaner which will clean carpets and floors (including hardwoods). However, it does not use heat technology. Nor does it have Hoover's automatic cleaning feature which washes as you move forward and dries as you pull the machine backwards.
Hoover Smartwash vs Hoover Power Scrub Elite
Hoover SmartWash and Hoover Powerscrub Elite are two best upright models of the brands. Each of them has difference value.
Hoover Smartwash has automatic features and it is suitable for users who want an easy-to-use machine with great performance.
Hoover Power Scrub Elite has 2 mode cleaning features and spraying nozzle, it is suitable for daily cleaning and deep cleaning too. We have a separate review for this carpet cleaner from Hoover.
---
FAQs and troubleshooting of Hoover SmartWash
Coming Soon