Summary
The Shark® Rocket® Ultra-Light Corded Stick Vacuum is a versatile vacuum cleaner for floor to ceiling cleaner. The Rocket HV302 weighs about pounds and can easily be converted into a hand vac. This model is currently one of the best sellers among hundreds of vacuum cleaner on the market.
The best part of Shark Rocket HV302 is the versatility and continuous cleaning performance. It has the power and suction of a full size upright vacuum cleaner packed into a lightweight stick design. The dust cup is easily detached and it uses electric supply so you can use the vacuum for the whole cleaning time without disruption.
This model uses a motor of 500W to give plenty of suction powers for such a small design. It is capable of pulling of pet hairs, loose fibers from carpets with ease.
However, you should notice it is not a full-size upright vacuum cleaner, therefore, it will not have super strong power like Shark Navigator series, Shark Rotator series or Shark APEX series.
This model does have some short-comings. It is a little bit top heavy (compared with other ultra-lightweight models) therefore it can be a trouble for seniors or users with a weak wrist. Second, the dust cup is just about 0.42 dry quarts. If you have a lot of hair, you have to empty the dust cup more frequently.
---
Should you buy Shark Rocket HV302 in 2021?
This model is a great option if you are living in a small apartment, a studio or you need a second vacuum cleaner to run daily cleaning tasks. It is not a perfect choice if you are considering the main vacuum cleaner for big homes.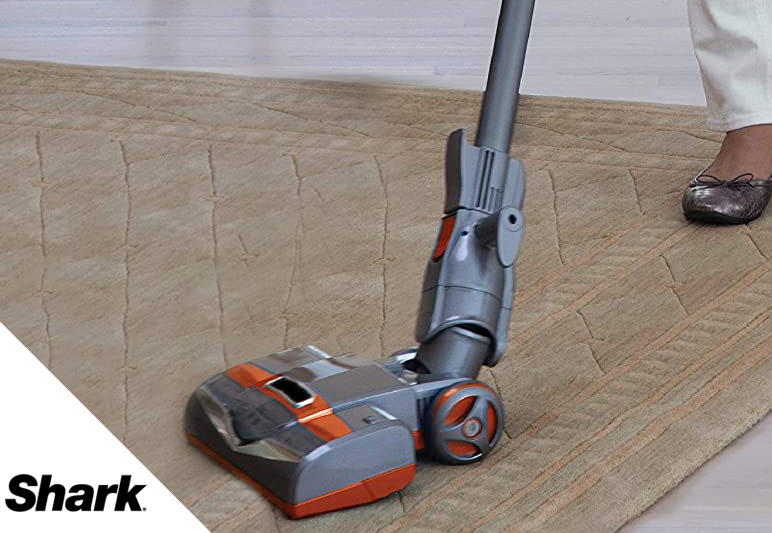 If you are looking for a full-size vacuum cleaner with more advanced features, Shark APEX Duoclean is the newest generation that worth the money.
If you need a lighter vacuum, perhaps cordless vac like Dyson V7, Dyson V8 or Hoover REACT are good alternatives at similar price range.
---
Coupon for Shark Rocket Ultra-Light HV302
Of Shark's current model stick vacuums, the Shark HV302 is the most basic and least expensive model. When we last checked, it was on sale on Amazon for 15% off and was eligible for free shipping. You can view the latest Amazon price below.
---
Technologies and benefits of Shark Rocket Ultra-Light HV302 Stick Vacuum Cleaner
This vacuum is part of the Shark stick vacuum 300 series which includes model numbers such as HV300, CS100, HV300C, HV300W, HV300WC, HV301, HV301C, HV301Q, HV302, HV302Q, HV303, HV305, HV306Q, HV308Q, HV310, UV450, UV450CCO, and UV450CCOFS. These different numbers are used to identify vendors, slight variations and/or accessory bundles.
Let us review the benefits of Shark Rocket HV302 and compare it with other Shark stick vacuums to see the pros and cons.
Construction
Shark Rocket Ultra-Light HV302 is a corded stick vacuum cleaner. This model is measured by 10.5 x 9.8 x 46 inches and its weight is just about 8.2 lbs. It can be regarded as one of the lightest corded design available on the market.
Because this model uses electric power, therefore, its suction capacity is stronger than those using battery power. This is a great advantage if you are looking for a lightweight vacuum cleaner to use for whole-home cleaning (Shark Rocket Ultra-Light HV302 uses a motor of 500 Watts).
Flexibility
You can use Shark Rocket Ultra-Light HV302 as an electric broomstick for floor cleaning. You can detach the vacuum into a canister for the sofa, furniture cleaning.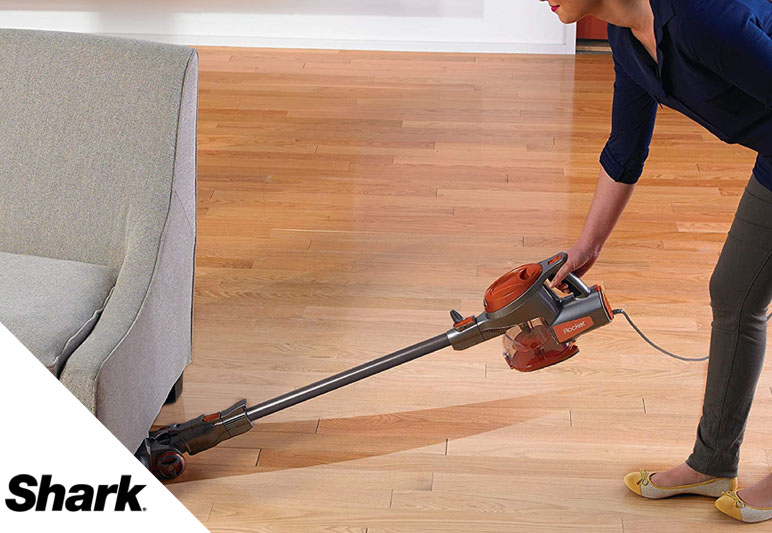 You can also use this model for ceiling cleaning, or curtain cleaning.
And you can even use this unit for carpeted stair cleaning
There is the Home -Car detail kit available with the package. You can use those attachments for car detailing jobs or cleaning tiniest spaces.
Easy to store
This model can be stored an upright stick or you can wall-mount the vacuum on the wall to save spaces.
Accessories
Shark Rocket HV302 come with:
Pet Multi-Tool
5 " Crevice Tool
Under-Appliance Wand
Home & Car Detail Kit
Specifications
Dimensions: 10.5 x 9.8 x 46 inches
Weight: 8.2 lbs
Motor power: 500 W
Dust cup size: 0.42 dry quarts
Cord length: 25 ft.
Warranty: 5 years limited
---
Performance of Shark Rocket Ultra-Light Upright Vacuum HV302 — Versatile 2 in 1 Stick Vacuum and HandVac
Below is the real life performance of Shark Rocket HV302. You can check how this model lift up large debris and food junks easily. The swivel head makes it very versatile for the corner cleaning.
---
Tips when using Shark Rocket HV302
In order to get the optimal performance, you should wash the pre-motor filter, felt filter monthly (or at least quarterly), replace the filter yearly.
If the vacuum stop running, it is due to overheating of the motor mostly. Let the vacuum cool down for about 30 minutes then restart.
If the suction power changes or drops down, check for blockage between the wand and the brush. Also, check for the filter to see any stuck debris.
When using this vacuum on bare floor mode, the brushroll will continue to spin but at a slower speed. With this being said, there is a Dust-Away Hard Floor Attachment available separately for this vacuum.
---
Pros and cons of the Shark Rockete HV302 Stick Vacuum
What We Like…
Compact and very lightweight.
Many attachments, especially the motorized hand tool is very useful for pet hair cleaning.
Never worry about running out of battery power.
Great on carpet.
Bagless, easy to empty.
Nice and maneuverable – turns easily, low profile.
What Could Be Better…
Can be a top heavy – tends to tip forward, you have to let it lean against the wall when storage.
Does not have anti-tangle hair Zero-M technology like newer Navigators.
Not great on the hardwood.
Shark Rocket HV302 is suitable for small apartments rather than big houses because the dust cup is just about 0.42 dry quarts.
---
Compare Shark Rocket HV302, HV322 and HV382
The Shark® Rocket® Ultra-Light Corded Stick Vacuum HV302 and Shark® Rocket® DeluxePro Ultra-Light Vacuum HV322 are very similar in terms of performance and how they operate. As the name suggests, the Rocket HV322 is a upgraded version of the HV302 with a larger dust bin and LED lights. With the addition of these better features comes a slight increase in weight. There are also some differences in accessories.
The Shark® Rocket® DuoClean® Ultra-Light Corded Stick Vacuum HV382 differs from both of those models because it has the addition of the dual cleaning brush roll system (learn more about this technology here). In terms of comparison, this can be considered an upgrade of the Shark DeluxePro HV322 model with the exception of the fact that the cleaning width is slightly smaller, the cord is longer and it weighs a little more.
None of these three Shark Rocket models have a self cleaning brushroll like the Shark ZS362 APEX DuoClean with Zero-M No Hair Wrap or the Shark ZS351 Rocket Corded Ultra-Light Vacuum with Zero-M Anti-Hair Wrap Technology – but they cost less than those models if that technology is not important to you.
Take a look at the comparison chart below to see the exact specifications for each of these lightweight stick vacuums from Shark.
---
Shark Rocket Stick Vacuums HV302 vs HV322 vs HV382
| Models | HV302 | HV322 | HV382 |
| --- | --- | --- | --- |
| Name | Rocket Ultra-Light | Rocket Deluxe Pro | Rocket DuoClean |
| DuoClean Technology | no | no | yes |
| Converts to hand vacuum | yes | yes | yes |
| LED lights | no | yes | yes |
| Removable brushroll with brushroll garage | no | yes | yes |
| Washable foam filters | yes | yes | yes |
| Power | 500 W / 4.2 A | 500 W / 4.2 A | 505 W / 4.2 A |
| Product Weight | 8.2 lbs. | 9.1 lbs. | 9.9 lbs. |
| Cord Length | 25 ft. | 25 ft. | 30 ft. |
| Dust Cup Capacity | .42 dry quarts | .69 dry quarts | .91 dry quarts |
| Cleaning Path Width | 10 in. | 10 in. | 8.5 in. |
| Tools | Dusting Brush, 5″ Crevice Tool, Upholstery Tool, Accessory Bag, Hard Floor Hero & Car Detail Kit | Pet Multi-Tool, Duster Crevice Tool, Hard Floor Hero, Multi-Angle Dusting Brush | Pet Multi-Tool & Duster Crevice T |
For more details about how this Shark Rocket compares to other models, you can also take a look at some other reviews.
Difference between Sharck HV301 vs HV302
These are pretty much the same model. The difference is the attachments included with them.
The HV301 includes the Hard Floor Hero Attachment, Dusting Brush, 5 " Crevice Tool, Upholstery Tool, Accessory Bag, and the Wall Mount Storage Hook.
The HV302 includes the Hard Floor Hero Attachment, Home & Car Detail Kit, Pet Multi-Tool, 5″ Crevice Tool, Accessory Bag, and the Wall Mount Storage Hook.
---
FAQs and troubleshooting of Shark Rocket Ultra-Light HV302
Coming Soon