Spread the love and share this post, please.
Overview
The Shark® Rotator® Powered Lift-Away® TruePet® Upright Vacuum can be considered as Shark best upright vacuum cleaner for whole home cleaning at an affordable price.
With the addition of the Pet Power Brush Mode, the Shark NV752 model is the upgraded big brother to the Shark® Rotator® Powered Lift-Away® Upright Vacuum (NV352) and Shark® Rotator® Powered Lift-Away® Deluxe Upright Vacuum (NV42).
Part of the Rotator NV750 series of vacuums which have been around for years, the Shark Rotator TruePet upright vacuum has earned high ratings from thousands of consumers. It is one of our our top recommendations for anyone who is looking for an upright vacuum with a solid construction, ergonomic value, and amazing performance.
There are many things we appreciate about the vacuums in this series from Shark (which we will discuss in further detail), but one that hits the top of the list is the level of allergen control. For pet owners and homes with allergy or asthma sufferers, the Complete Seal technology is going to be a life saver. There is also a HEPA filter that every home will benefit from.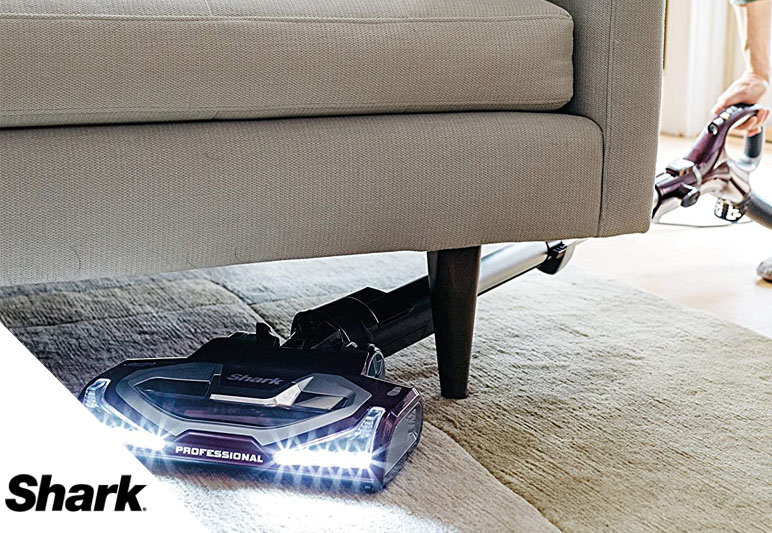 Related
---
Benefits of the Shark Rotator Lift Away NV752
Shark Rotator NV752 is the high-end model belonging to the Rotator series. This model has a strong motor power (1150W), a powered Lift-away canister benefit, a HEPA filtration system and a great dust cup size (1.5 dry quarts). These features allow you to have a great vacuum suction power to extract the dust, pet hair… from various surfaces and a higher cleaning capacity compared to other Shark upright units.
One of the greatest benefits of Shark Rotator NV752 is the Powered Lift-away canister. This feature is completely different from the casual Lift-away design.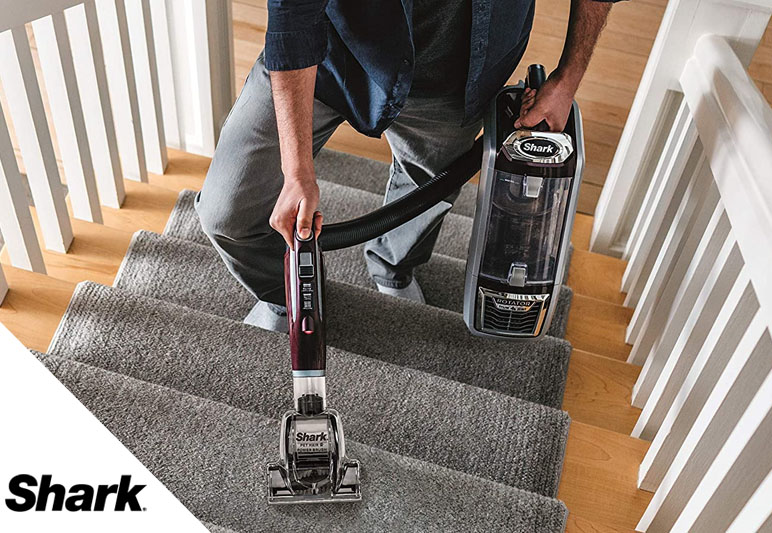 The powered Lift-away canister allows you to detach the canister and the brush roller still works, therefore you can use the vacuum for extended reaching under the table, bed.
A few Shark Rotator models have this feature, such as Shark Duoclean NV803, Shark Rotator NV680, Shark APEX Duoclean AZ1002, Shark APEX Duoclean AX951.
The Lift-away means you can detach the vacuum and use it as a portable unit with the wand for cleaning. Many Shark Navigator and Rotator models have this feature.
Another benefit is the big dust cup capacity which is 1.5 dry quarts. The larger the dust cup, the lesser time you have to empty the dust bin. Shark Rotator NV752 weight is 15.4 lbs. You still find it very light to carry around and use.
Last but not least, Shark Rotator NV752 has a lot of aesthetic value such as LED lights on both nozzle and handle, fingertips control, swivel steering head and a truepet mini motorized tool to extract the hair easily.
Shark Rotator NV752 does have shortcomings. It is a little bit heavy when pushing but it is not big trouble for most users. Besides, it does not have Sharks most advanced features such as Duoclean brushroll, self hair removing zero -M technology or noise reduction technology.
These features are exclusive to Shark newest models such as Shark APEX AZ1002, Shark APEX AX951. However, Shark Rotator NV752 price is very attractive and the truepet mini motorized tool is the best tool for dealing with hairs that other models do not have.
---
Should you buy Shark Rotator NV752 in 2021?
This model is among one of the best designs from Shark. It has an extremely strong suction and very flexible for all of cleaning tasks and all floor types. The LEDs is a bonus value, the pet powered brush is the best tool, and the price is reasonably set.
While it does not feature DuoClean or Zero M technologies, for the price the Shark Rotator NV752 can be one of your best investments.
Shark Rotator NV752 coupon
Currently, Shark Rotator NV752 has a good discount, free shipping and you can get $50 off via Amazon Visa Program upon approval.
---
Features and technologies of Shark Rotator NV752
Let us review the benefits of the technologies of this model in more detail.
Construction
Shark Rotator NV752 is a corded upright unit with similar dimensions to other upright models on the market. Shark Rotator NV752 is 13.2 x 11.9 x 45 inches and 15.4 lbs. This model is designed as a solution for whole home cleaning, where is dealing with various surfaces and pet hairs.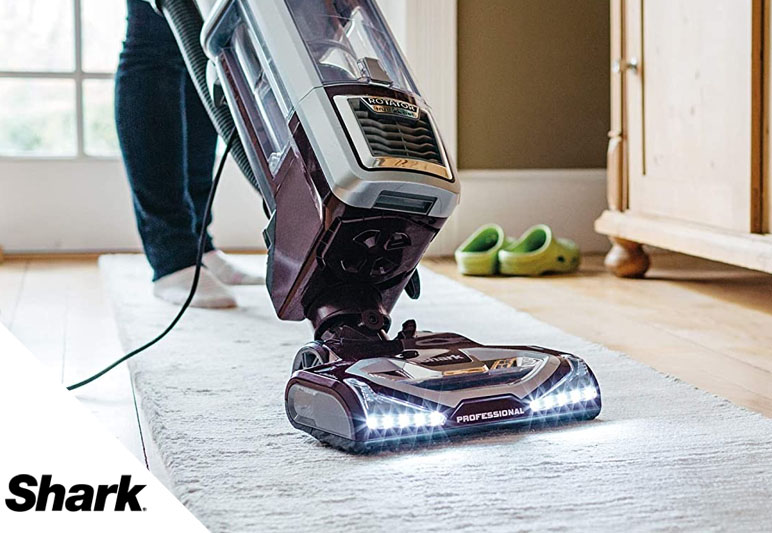 This Shark upright vacuum has an exclusive feature, which is called powered Lift-away canister.
As explained above, this feature is one of its greatest value. You can detach the canister and it still delivers the suction to the brush roll. You can vacuum under tables, bed, or clean the curtain, ceiling…with ease.
Flexibility
Although Shark Rotator NV752 does not have Duoclean brushroll, it has various attachments for specific cleaning tasks.
You can use the hard floor Hero to pick up larger debris, litter, hair… on bare floors.
Or you can also use the main nozzle for cleaning carpets, rugs.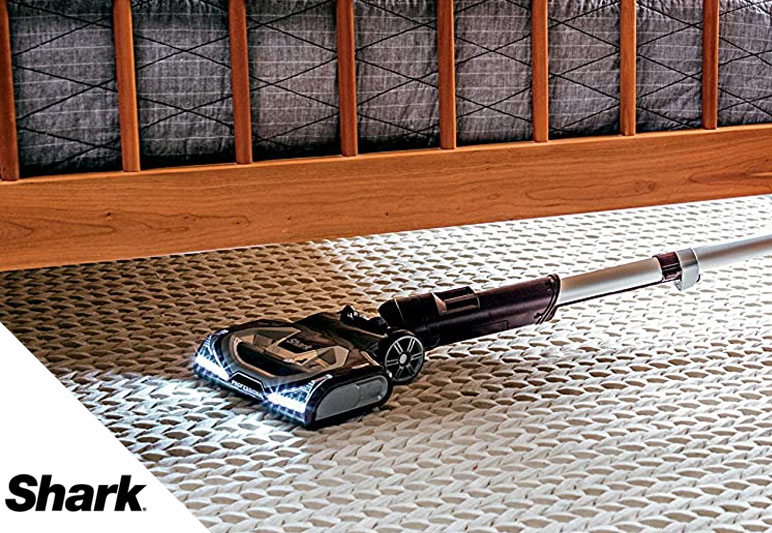 When dealing with stair, curtain,…you can use the 2-in-1 genie (a crevice with hard bristle)
Or you can use the truelpet mini motorized pet tool to pick up long hair on floors, upholstery surfaces.
XL dust bin
Shark Rotator NV752 features a dust bin of 1.5 dry quarts. This dust bin is a little bit smaller than Shark Navigator NV356E.
Great filtration system
Shark upright vacuum is well known for its air filtration system, combining both a sealed air system and HEPA filter. This model applies the same system to keep 99.9% of allergens inside the dust bin.
Recommended Shark Rotator NV752 filter replacement: Kit Includes: 1Pcs HEPA Filter, 2Pcs Foam & Felt Set – very easy to install, very durable and good price.
Fingertips control
You can turn on/ off the vacuum or switch from bare floor cleaning to carpet cleaning at the handle. It is convenient for continuous cleaning.
LED lights
This model has LED lights on both handle and nozzle. It is useful when you are cleaning dark surfaces or in the lack of light.
Standard cord length
Shark Rotator NV752 has 30 ft. cord
Accessories – A bunch of tools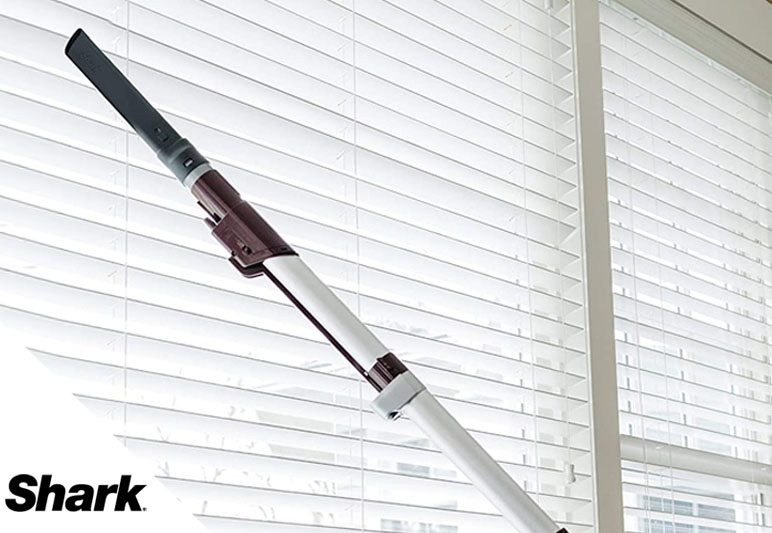 You will get many attachments for Shark Rotator NV752 including:
A hard floor Hero with microfiber pads
A 2-in-1 dusting genie
A truepet mini motorized pet tool
A 11″ crevice took
A dusting brush
A caddy
---
Specifications
Dimensions: 13.2 x 11.9 x 45 inches
Weight: 15.4 pounds
Motor: 1150 W, 9.5 amps
Dust cup size: 1.5 dry quarts
HEPA: yes
Sealed air system: yes
Cord length: 30 ft.
Hose length: 6 ft.
Feature
Floor type: bare floor, low pile carpet, high pile carpet
Pet hair cleaning: yes
Powered Lift-Away: yes
Suitable for asthma person: yes
Fingertip control: yes
LED lights: yes
Self-hair removing: no
Duoclean: no
Warranty: 7 Years
---
Performance of Shark Rotator NV752
In the video below you can check for the performance of Shark NV752 in real life, compared to Dyson model.
---
Pros and cons of SHARK ROTATOR NV752
What We Like…
Powerful suction (up to 25 PKA).
Great for pet hair.
A bunch of tools for various cleaning tasks.
Powered Lift-away benefits.
What Could Be Better…
Does not have Duoclean brushroll.
The unit can tip forward.
---
Shark Rotator NV752 maintenance
One of the typical questions about this model is belt maintenance. Shark Rotator NV752 uses a belt but it is zero maintenance. It will automatically shut off when getting stuck. You just only need to remove the blocking stuff and restart the vacuum.
Second, because Shark Rotator NV752 uses a classic brush roller, it can get wrapped with hairs. When this happens, you just only need to use scissors to cut the hair and remove it manually. If you want a vacuum cleaner with less hair wrapping issue, try Shark APEX Duoclean with Zero-M AZ1002.
Third, it is a bagless unit, you do not have to buy bags but the HEPA filter should be replaced after 6 months or so to have the optimal air filtration.
---
Compare Shark Rotator NV752 with others
Shark Rotator NV752 vs Shark Duoclean NV803
|   | Shark DuoClean Powered Lift-Away Speed Upright Vacuum (NV803) | Shark Rotator Powered Lift-Away TruePet Upright Vacuum (NV752) |
| --- | --- | --- |
| General specification | | |
| Dimensions | 11.8 x 11.9 x 46.1 in | 13.2 x 11.9 x 45 in |
| Weight | 16 lb | 15.4 lb |
| Motor power | 1150 W | 1150 W |
| Features | | |
| DuoClean | - | - |
| Self-Cleaning Brushroll | - | - |
| Powered Lift-Away | yes | yes |
| Lift-Away | - | - |
| Anti-Allergen Complete Seal + a HEPA Filter | yes | yes |
| Cord length (ft.) | 25 | 30 |
| LED lights | - | On floor nozzle & handle |
---
FAQs and troubleshooting of Shark Rotator NV752
Coming Soon
Spread the love and share this post, please.