Overview
The Hoover Spotless Portable Carpet & Upholstery Spot Cleaner is a portable carpet cleaner designed for pet stain cleaning, upholstery cleaning and car detailing.
The best part of Hoover FH11300PC Spotless is that, Hoover added new technologies into this machine (antimicrobial protection, auto-hose fluxing feature) to make it more durable and easier to clean after use.
Hoover FH11300PC Spotless is the only unit that has the self-cleaning hose so the hose will not be attacked by mildew and mold, a major cause of bad smell and leakage after a year.
The model uses a motor of 3.5 amps rating to deliver sufficient suction power which is similar to many units from Bissell such as Bissell Proheat portable, Bissell Spotbot
The multi-purpose tool is made of anti-microbial material so it will not have the bad smell if you do not use frequently.
Last but not least, it is also very cheap for a spot cleaner, cheaper than its direct rivals (for example Bissell Spotclean Pro or SpotBot portable units)
The downside of this unit is that it is not the strongest portable carpet cleaner out there. If you are looking for the strongest portable unit, then Rug Doctor portable carpet cleaner which has a motor power of 10 amps rating will be the best choice.
Related: Best Spot Carpet Cleaners for Pet Stains and Urine
---
Should you buy Hoover Spotless FH11300PC in 2020?
Hoover spotless FH11300PC is definitely a nice option when you need a lightweight, portable unit for cleaning stains, pet messes or food spillages on daily basis.
The unit is very compact and slim, you can use this model to do car detailing jobs without issues.
Hoover spotless FH11300PC is not designed for floor carpet cleaning. If you have to clean carpets, rugs, …you should pick an upright model like Hoover Smartwash, Hoover Powerdash, or Hoover Powerscrub Elite.
---
Coupon for Hoover Spotless FH11300PC
You can check for current price, discount of Hoover Spotless below on Amazon
---
Technologies and benefits of Hoover FH11300PC Spotless
Construction
This machine is a portable carpet cleaner with long hose and a great multi-tool for cleaning pet stains, upholstery, stair and car.
Like other portable devices, Hoover spotless is equipped with a moderate motor of 3.5 amps and a small water tank. The whole unit is less than 9 lbs, you can carry around easily.
Self-cleaning hose
Hoover Spotless FH11300PC is the only unit has this feature. It will flush out all of the dirt and detergent inside the hose so it will not have smell or breakage
Antimicrobial materials
The rubber nub tool of this machine is made by antimicrobial material. It will make the machine more durable and also prevent bad smells.
Specifications
Motor: 3.5 amps
Lightweight only 9 lbs
Dual water tank
14 ft power cord
Accessories: 8 oz bottle expert clean detergent, 4 oz bottle expert clean pretreat gel and a multipurpose tool with antimicrobial materials to protect the tool against bacteria, mold, and mildew
---
Pros and cons of Hoover FH11300PC Spotless
What We Like…
This unit is quite cheap and impressive when cleaning stains, pet stains and car detailing jobs.
It has a slim profile, the long hose that can be automatically cleaned itself.
The motor power is decent, the attachment is made of antimicrobial materials.
What Could Be Better…
It is not the strongest yet. Rug Doctor Portable carpet cleaner uses a motor which is similar to a full-size unit (10 amps rating).
However, the Rug Doctor portable is up to 20 lbs which are nearly similar to a full-size upright unit weight so it might be not suitable for auto detailing jobs.
---
Variations
There are 3 models in Hoover Spotless series, namely Hoover Spotless basic FH11200PC, Spotless FH11300PC and Spotless Deluxe FH11400PC. They use the same machine with different colors and different set of attachments.
The FH11300 includes the antimicrobial rubber nub tool
FH11400 includes the 2-in-1 Antimicrobial Bristle Brush and Rubber Nub Tool.
FH11200 includes an upholstery tool.
---
Recommendation of Hoover FH11300PC Spotless
Recommended for users who need a lightweight unit for cleaning pet stain, upholstery in salon or auto- detailing
Against for users who are constantly dealing with heavy stains
---
Performance of Hoover Spotless FH11300PC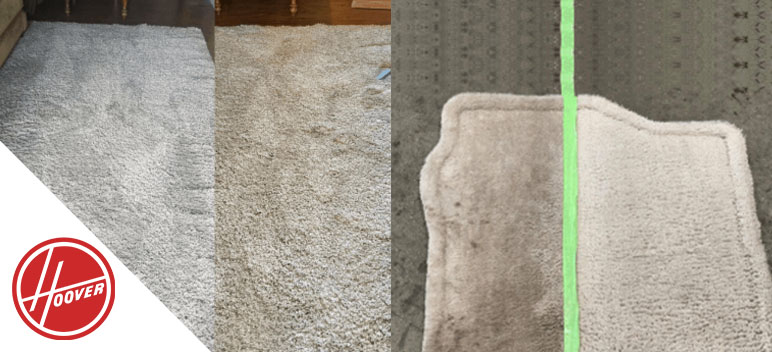 ---
FAQs & troubleshooting of Hoover Spotless FH11300PC
Coming Soon
How does this machine compare to the Bissell Little Green?
How does this compare to the Bissell SpotBot? We have a separate article all about that!
What is the difference between the Spotless FH11300PC and the Spotless Deluxe FH11400PC?
The two units in question are essentially the same, what makes them different are color and accessories tools. The Hoover Spotless Portable Deluxe offers an expanded tool selection with antimicrobial materials, these tools are provided towards homes with children and pets.