Spread the love and share this post, please.
Overview
The Shark Navigator® Lift-Away® Professional Upright Vacuum is a core unit of Shark Navigator series, and this model is among the top-choice when talking about choosing upright vacuum cleaner for many years. This model is an upgrade from the Shark Navigator Lift-Away Deluxe NV360 which we reviewed separately.
Sometimes called the Shark Lift-Away® XL Upright Vacuum or the Shark Navigator® Lift-Away® Pro, the model numbers you will often see associated with this vacuum include NV355, NV355C, NV355CFS, NV355WM1, NV356E, NV356K, NV356Q, NV357, NV358, NV370, NV370_26, NV391, NV391C, UV541CCO and UV550. As always, the different numbers help do identify vendors and variations.
We are going to be talking about the Shark Navigator NV356E, one of Shark's best selling vacuum cleaner models, which has well over ten thousand positive feedback ratings on Amazon the last time we looked.
This upright vacuum holds all of the benefits from the Navigator series, including a powerful suction (1200 Watts motor), a Lift-away canister, HEPA filter, brush on/off features and long cord length.
One of the best benefits of Shark Navigator NV356E is the extra-large capacity, which is up to 2.2 lbs. It is two-fold more than a standard upright vacuum. Shark Navigator NV356E cleaning capacity is the 2nd biggest one, just after Shark APEX Duoclean with Zero-M AZ1002 (2.5 dry quarts).
Although the vacuum has a big dust cup, it's weight is still lighter than many models. Shark Navigator NV356E weighs just 13.7 lbs, making it one of the lightest full-size vacuum cleaners.
With the brush on/off feature, this vacuum can effectively clean bare floors and mid pile carpets. It is recommended if your apartment is covered by a lot of carpeted area.
On the downside, Shark Navigator NV356E does not have fancy features such as Duoclean brushroll, fingertip control or LED lights on the nozzle like newer series (Shark APEX series).
Users also notice this unit is a little bit hard to steer around. The footprint of this unit is also small (just 11 in).
However, its price is more affordable, therefore a lot of consumers still choose this unit as the main vacuum in 2021. With that being said, Shark has come out with many newer models since the NV356E was first released, so even if you are on a budget, we recommend looking to see if there are any sales on current model Shark vacuums. This may mean getting better technologies within a similar price range.
Related
---
As we have mentioned, the Shark Navigator Lift Away Pro is relatively affordable upright vacuum with some great features. The average retail price is about $250, but the last time we checked, it was on sale at Amazon. You can see the latest price as of today's date below.
---
Let' s discover the benefits, technology, the performance of Shark Navigator Pro.
Construction
Shark Navigator NV356E is a corded full-size upright vacuum, designed for those who are looking for the main vacuum cleaner for the whole house at a budget.
This model has a standard dimension of 15 x 11.4 x 45.5 inches and very lightweight (13.7 lbs.). This lightweight feature combines with the Lift-away canister allow you to have better maneuverability. It is a plus point if you search a vacuum for woman, senior or users with weak wrists.
Another good thing of Shark Navigator NV356E is the cord length (30 ft.), which is longer than some other models in Navigator series ( just 25 ft.).
Power suction
This vacuum uses a motor of 1200 Watts to give super strong suction. This motor power is higher than the Rotator series (800 Watts).
XL dust cup
The dust bin of Shark Navigator NV356E is 2.2 dry quarts, which is a lot bigger than any lightweight upright vacuum. Most of the lightweight vacuum cleaner use or dust cup of 0.9 – 1.0 dry quarts or so. The bigger the dust cup is, the better for users who have bigger apartments.
Great flexibility
Shark Navigator NV356E can be used as an upright model or can be transformed into a stick vacuum for the ceiling, curtain cleaning. Whenever needed, you can detach the canister and bring around to clean upholstery, stair…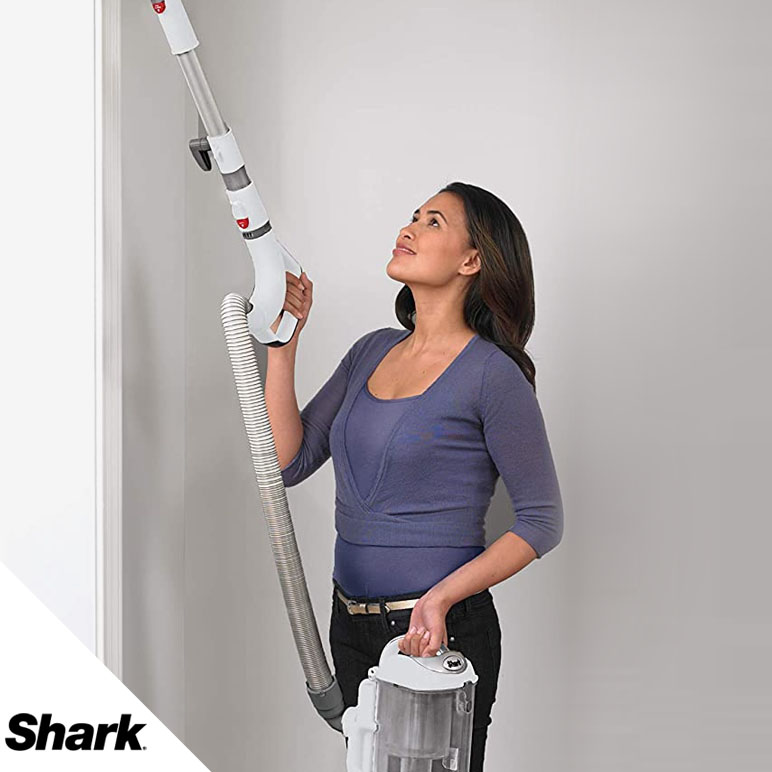 All floor type of performance
This vacuum has a bare floor setting which works great. But to take things even further, you can clean even the tiniest particles on marble, vinyl, linoleum, tile and hardwood floors without scratching the surfaces when using the Shark Dust-Away Reusable Hard Floor Attachment.
You can clean carpet, shag, Berber, mid pile and high pile carpet, and area rugs when using the main brush cleaner.
You can clean hair efficiently with the premium hair attachment Or you can clean corners and edges with the crevice tool.
Suitable for users with asthma
Shark Navigator NV356E uses pre-motor filter (foam, washable), felt filter and post-motor filter (HEPA, rinsable) for keeping dust and allergen. If you have breathing issue, you should only choose a model with a HEPA filter to prevent the dust and allergen released back to the air.
Less maintenance
Because the suction is very strong, all of the dust and hair will go straight to the dust cup and it does not stick in the filter. Therefore, you do not have to clean the filter every using time.
This model uses 3 filters
Pre-motor foam filter – rinsable, replaceable
Felt filter – rinsable, replaceable
HEPA filter – rinsable, replaceable
You should clean, rinse and air dry the foam filter, felt filter once per month to get optimal cleaning results. The HEPA filter should be cleaned or replaced after 1-2 years.
---
Specifications
Cleaner Type: Upright
Dust collection: Bagless
Corded/ Cordless: Corded
Special Features: Dust-Away Attachment with 2 microfiber pads, Swivel Steering, Never Loss Suction Technology, Washable Filter, HEPA Filter, Anti Allergic cyclonic technology
Dimensions: 15 x 11.4 x 45.5 inches
Dust Cup Capacity: 2.2 dry quarts
Motor Power:1200 W
Main Voltage:120 V / 60 Hz
Rated Current:10 A
Frequency: 60Hz
Dust Collection: Bagless
Filter Type: HEPA
Miscellaneous: Extension wand, Motorized floor brush, Tool holder, Crevice tool, Turbo brush, Dusting brush, Dust-Away hard floor attachment and microfiber pad, Accessory storage bag
Cord Length: 30 ft
Hose Length: 8.5 feet
Warranty: 5 years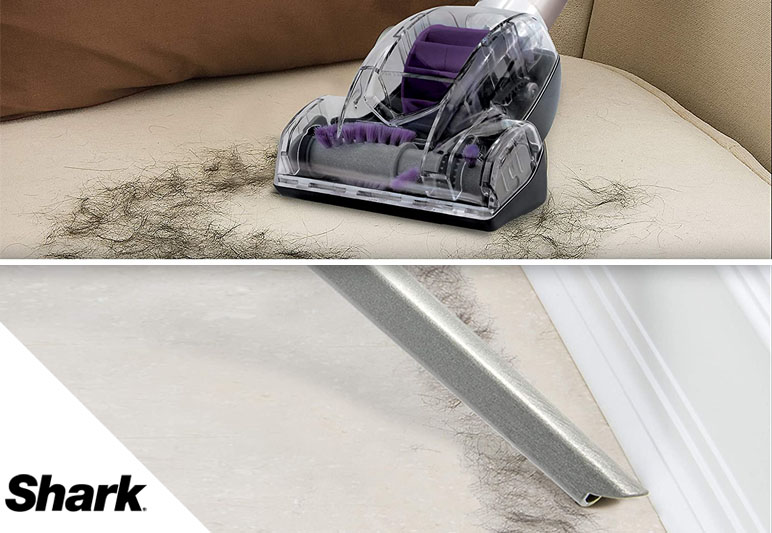 ---
Pros and cons
What We Like…
Powerful suction.\
Easy to use and fewer maintenance jobs.
Portability benefit.
What Could Be Better…
The brush does not have self-hair removal feature.
The cleaning path is a little bit small (around 9.5 in).
The Shark Navigator NV356E is a good option if you are looking for a lightweight, large dust bin model to clean the whole house and all floor types without bothering fancy, advanced features. You can use Shark Navigator NV356E without the need of buying a hand vac for separate tasks (cleaning stairs or upholstery).
This model is not the latest upright unit. If you are into new technologies such as anti-hair wrap, you may try to check out the Shark APEX Upright Vacuum with DuoClean, Powered Lift Away and Zero-M.
Coming Soon
Spread the love and share this post, please.