Spread the love and share this post, please.
There's probably nothing as good as getting into your cool pool waters on a sweltering sunny day. It is because of this reason that above ground pools have become so popular; not only do they give you all the benefits of a typical swimming pool, but they are also easier to install and maintain.
Speaking of maintenance, your pool water will get dirty with each successive use. Leaves from nearby trees are also culpable. Using a skimmer is not enough, you need to get the bottom and sides of your pool clean too. For this reason, you will need a device that will effectively remove debris. You will need an above-ground pool vacuum. 
These cleaners come in different types, each with its own system of cleaning your above-ground swimming pool. Because of their different MOs, they have different cleaning cycle times, power consumption, and degree of human supervision. The model that's best for you is the one whose specs align with the performance you expect from your pool vacuum. 
To say there are a lot of pool vacuums out there is an understatement. They are legion. There are different types of above-ground pool cleaners, different brands that make them, and myriads of models, each with features that differ from the last. The amount of research you will have to do to get the perfect cleaner for you will be a lot. Don't be discouraged, as that's why we're here. Highlighted and described in this article are the best above ground pool vacuums for your home pool.
You May Also Like: Gift Ideas for Clean Freaks, Neat Fanatics, Clutter Haters
---
Top 5 Best Above Ground Pool Vacuums for 2021
Based upon our extensive research, the following pool vacuums are Clean Freaks Approved for above ground pools. Do keep in mind that these reputable brands have many options, and the one that is best for you will depend upon both the size and type of pool you have, as well as how much physical labor you want to put into the job.
Don't forget to use your pool skimming net in between cleanings — it will make vacuuming your pool much easier!
By the way, all above ground pool vacuums will also work in ground pool; but, if you have a large pool, you may want something more powerful. However, the reverse is not always true. For example, many robotic in-ground pool vacuums will scale the sides of the pool. This is great when you have strong, solid walls but many above ground pools (especially the inflatable ones) could be damaged this way. Always make sure you get the right vacuum for your pool type.
Honorable Mentions: When we did our research, we came across two more above ground pool vacuum brands that are definitely worth mentioning — Hayward and Pool Blaster. Both of these are worth your consideration if you don't find one that's right for you among our featured above ground pool cleaners!
Now let's get on to the reviews — in no particular order…
#1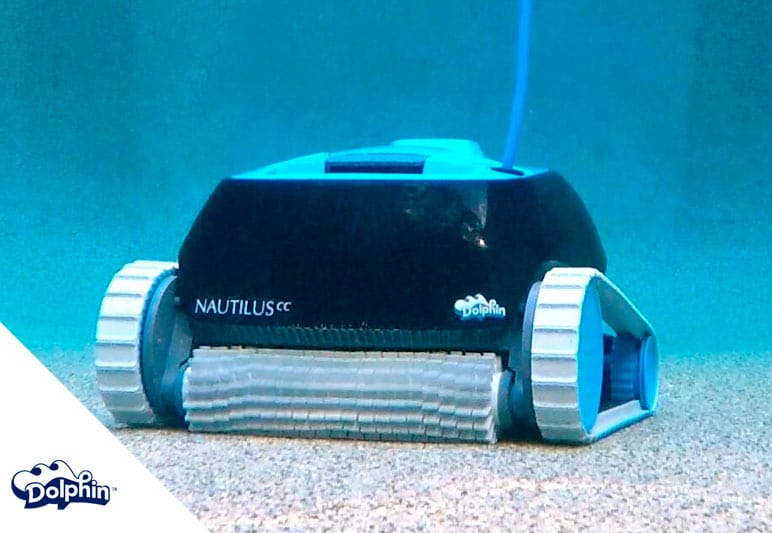 Dolphin Nautilus CC Automatic Robotic Pool Cleaner
Dolphin has been in the business of keeping our pools clean for over 35 years. Knowing all this, we still couldn't get over how sleek and effective the Nautilus CC Automatic Robotic Pool Cleaner is. It works well with smaller pools of up to 33 feet. You will be ready to dip in and enjoy the water after its 2-hour cleaning cycle. Another reason to get the Nautilus is its cleaning efficiency. It is eight times more efficient when compared to suction and pressure vacuums. A big reason for this is because it doesn't use the pool's filter or pump to do its job and therefore saves on electricity.
It is the pool cleaner of the present and future as it does all the work for you. Your pool's walls and the floor will be left squeaky clean as the Nautilus nimbly goes through scrubbing and filtering out dirt. It is a very versatile machine and can go to town on any pool surface; it doesn't matter if it's made of vinyl, plaster, tile, granite, gunite, or any other material.
You will be delighted to hear that this cleaner can be operated as easily as it does its cleaning job. It is just a matter of pressing a button. The frequency in which you will clean your pool can be set thanks to its job settings; that is, every day, every other day, or every 3rd day.
What We Like…
This cleaner is easy to clean after
Its cleaning performance is impressive
It is light enough to be used without too much effort
Frequency adjustment on the control unit is straightforward
Good for both above ground an in ground pools
What Could Be Better…
Moving with its long cord is a bit cumbersome
If the cord gets twisted, you have to untangle it by hand
#2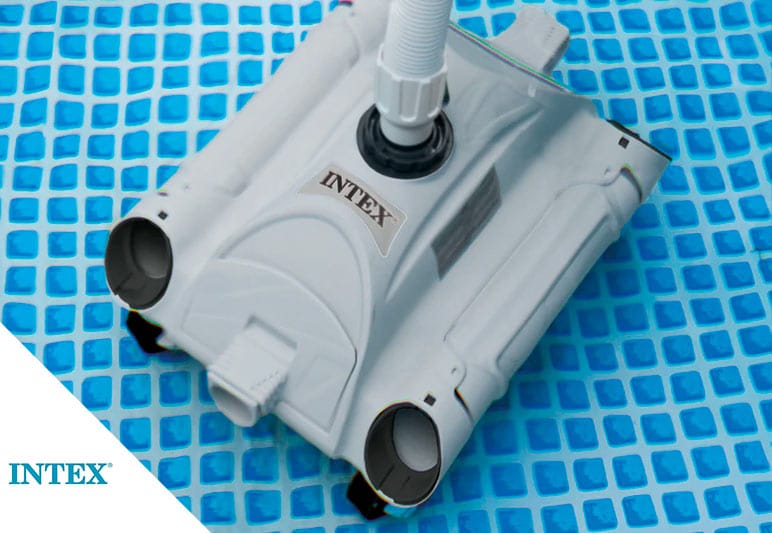 Intex Automatic Pool Cleaner
Get your above-ground pool clean and as light-blue as the skies above with the Intex Auto Pool Cleaner. These cleaners are designed to work specifically with the Intex above-ground swimming pool (can't work with in-ground pools). These pools should be of the 24ft variety or smaller for optimal performance. Furthermore, the pool ought to have a 1.5" (38 mm) inlet connector to go with the cleaner's 1.5" diameter hose fitting.
The Intex Auto Pool Cleaner's hose has a length of 7.5 m (24 ft 7in) that attaches easily to the pool inlet. If you're cleaning the right pool type and size, you can be assured that this hose is more than long enough to ensure you won't have unattended sections dirtying the water. This cleaner works best with a pump with a flow rate of 1600 – 3500 gallons per hour (gph). The user manual should be used for proper operation of the device.
What We Like…
It is affordable
Cleans up algae and debris really effectively
Easy to assemble
This cleaner is time-saving
What Could Be Better…
Their customer care is virtually non-existent
You might need to tighten the nut where the hose attaches
Only good for in ground pools
#3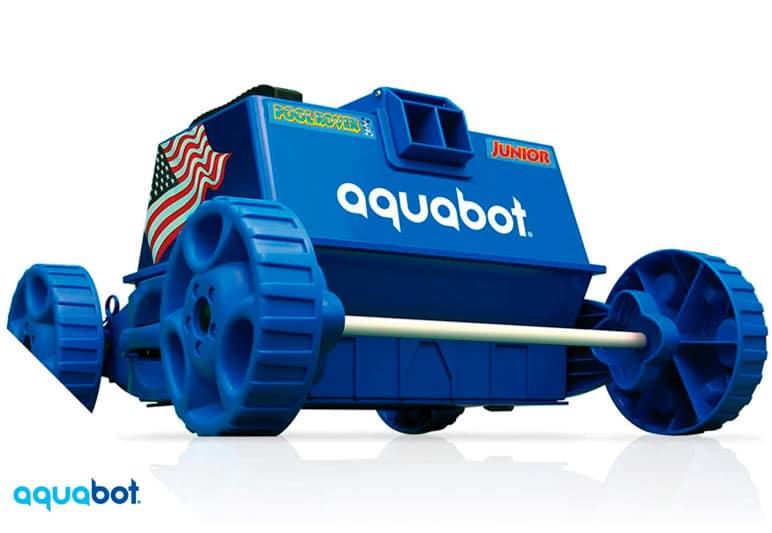 Aquabot Pool Rover Junior Pool Cleaner
The Aquabot Pool Rover Junior Pool Cleaner is an excellent solution to the problem of above-ground pool cleaning. These cleaners have been made with competent micro-filter filtration systems. This system filters contaminants of a nominal size of 2 microns, which, when considering dust particles average 10 microns, is saying something. Its undiscriminating filtration system makes for better water circulation reducing chemical and water usage. It can fully clean any oval, rectangle, or circular above ground pool without needing hoses. 
The Aquabot Rover receives power thanks to its 40-ft floating cable that uses its patented swivel device to ensure tangle-free handling of the cables. How it moves around is due to some exemplary engineering. It uses its 24V pump to provide jet propulsion and debris-collecting vacuum suction.
All this functionality is achieved with the touch of a button. While this cleaner does the dirty work for you, it goes a step further and ensures you get back to the pool as quickly as possible. Its cleaning cycle only lasts for an hour. 
If you are doing comparison shopping, Aquabot also has a more powerful In-Ground Robotic Pool Cleaner that was awarded the "best value robot vacuum" title.
What We Like…
It is easy to clean after
Using it is also a breeze
The device is lightweight
Replacement parts are commonplace
What Could Be Better…
Their customer care needs to step up
After some time, the motor casing starts to corrode
#4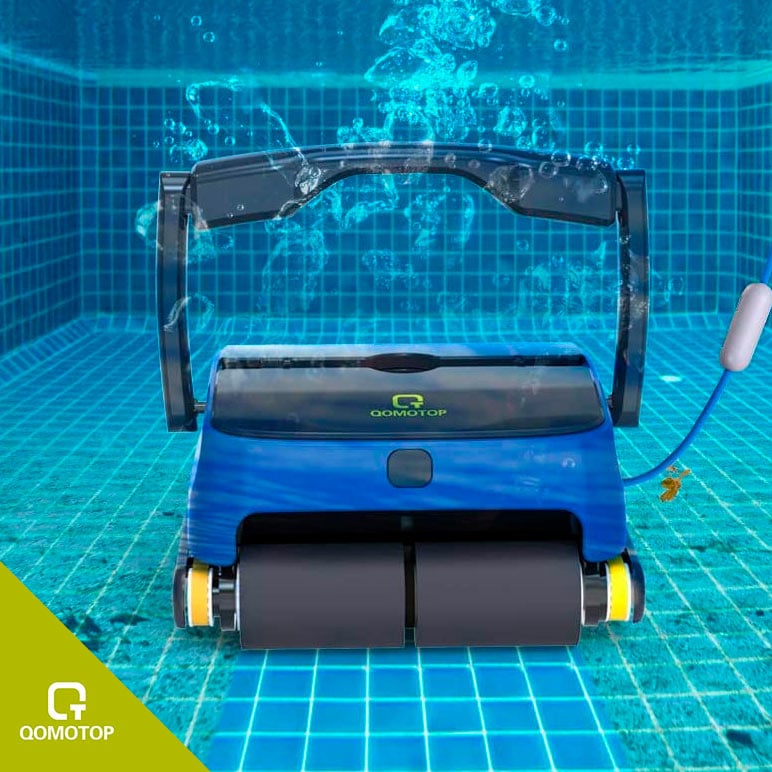 OT QOMOTOP Automatic Pool Cleaner
You'd be hard-pressed to find a pool cleaner that does its job quite as thoroughly as the OT Automatic Pool Cleaner. It uses four sponge brushes to clean the walls, and the floor as this robotic cleaner makes it rounds. The spongy nature of these brushes increases the machine's grip on the pool's walls ensuring everything is scrubbed down. This moving power results from the two in-built motors responsible for this cleaner's suction power. 
Once dirt and debris are captured, it is stored in 2 large filter baskets that are removable for cleaning. Its filter system has a nominal cleaning value of 180 µm, capable of filtering even the most ultra-fine of dust particles. Furthermore, this machine uses computer technology to set your desired cleaning cycle from the three that are available; these are the 1, 2, or 3 hours. Regardless of the cycle it is on; this cleaner will clean in all directions.
What We Like…
Cleans the pool walls and floor well
Easy to use
The debris baskets are easy to remove and clean
Using the control unit, you can set the cleaning cycle you want
Also good for in ground pools
What Could Be Better…
Its user manual is a bit shallow
The belt is prone to breaking
#5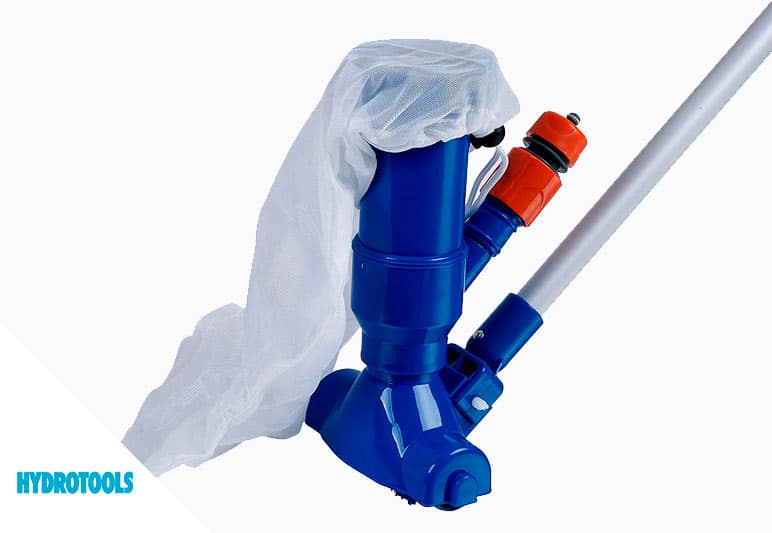 Hydrotools Venturi Above Ground Pool & Spa Vacuum
One of the most affordable cleaners on the list, the Hydrotools Venturi Small Pool Vacuum, is used to clean kiddie pools, spas, and discount above-ground pools. It can be hooked to any garden hose readily and cleans your pool using the venture method of vacuuming. This cleaner connects easily to any regular telescopic swimming pool pole, or it could be used with the included five pieces pole. 
The collection bag can be removed and either cleaned or replaced with a newer bag for easier disposal of vacuumed dirt and debris. Accompanying this cleaner is a user manual that makes it simple to use, assemble, and disassemble the device. While it may seem a little less powerful than some cleaners in this listing, you shouldn't be worried; it'll take around 30 minutes to clean the bottom of a 20,000-gallon swimming pool.
What We Like…
It is small; thus, moving around with it isn't cumbersome
It is powered using the hose water, so no use for batteries
Its suction power is great
What Could Be Better…
The instructions could have been clearer
Doesn't do much when it comes to fine dust particles
Best for small pools and spas so not best suited for full sized pools – but this is by design, so it's not really a "con"
---
2021 Best Vacuum for Above Ground Pools Guide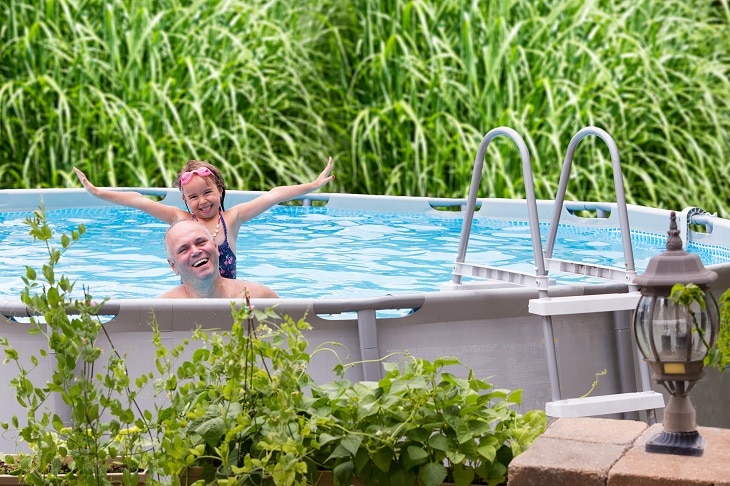 So, you want to buy a vacuum cleaner for your above-ground pool. You've come to the right place.
There are a couple of features and considerations you'll need to take into account before you make that purchase. You can then use this information to help you compare the various reviews and models. This approach creates an easy path to finding the device that best suits you and your above-ground pool.
Let's get started, shall we?
First, know the types of Pool Vacuums
Before you can even begin picking out a model/device, you will first need to identify the type of above-ground pool vacuum the device falls under. This knowledge will help you narrow down your options so that you're not overwhelmed. The various types are as given below.
Pressure Side Pool Cleaners
Pressure pool vacuums have a unique take when it comes to maintaining your pool's cleanliness. They work by floating in the middle of your pool and creating a low-pressure zone. This results in a suction-like effect that pulls in the pool water through the filter. Debris and dirt are captured in this way.
Some models of this type will require the use of a booster pump. This is for the sole purpose of increasing the suction-like ability (they increase the pressure) for optimized cleaning. This model is primarily used in large above-ground pools, which tend to have more debris and thus require more cleaning and hence more pressure.
This method and its associated devices tend to use a lot of power; they have a higher running cost than both the suction and robotic vacuums. Usually, this is because this type requires a lot of pressure, which translates into more power and cost; however, these figures tend to be even higher with the second pump connected. These cleaners are also the most cumbersome of the three to use.
Robotic Pool Cleaners
These robotic pool vacuums have some level of autonomy to them. They have above-ground pool cleaning objectives and will adequately clean your cove and vinyl floor. Its tiny motors work hard to scrub the tiles and suck up dirt found.
Inside these cleaners are filter bags that ensure this machine is self-contained in everything except its power source. Without the need to link it to your pool filtration system, just connect it to a power source and insert it into the pool for the desired time. 
These bad boys ensure above-ground pool cleaning is as easy and as time-effective as possible. They are also easy on your pool's filter system as they don't use it for their cleaning capabilities. Besides, for even finer cleaning, most robotic pool vacuum cleaners have their cleaning outperforming filtration systems. In the long term, they are more cost-effective to use.
Suction Pool Cleaners
Suction pool cleaners are linked to the filtration system of your pool. It works by having its vacuuming head move around the pool, cleaning up dirt and debris. This is done by having the pump's energy flowing through the cleaner, creating a vibration that helps the vacuum head navigate. 
There is a revised version of this suction pool cleaner. You can use a unique patented design that only requires you to attach the vacuum hose to the pool's skimmer with everything else automated. As long as the filter is on and running, this above-ground pool cleaner will gradually make its way around the entire pool floor. 
Suction pool cleaners are used for small to averagely-sized pools. They are cheaper on a short-term basis to operate when compared to the robotic type. This cleaner is also easy to use and set up, plus it takes less time to do its job when compared to traditional cleaning methods. This type's few disadvantages are that they increase wear and tear on the filter pump, and they can't access every corner of your swimming pool.
---
Power consumed equals money consumed
Your expenses when it comes to above-ground pool vacuums are a function of power consumed and running time. Managing these factors to suit your financial might is very important. For instance, considering the robotic cleaners use sophisticated electronics that run on equally complex software and do all your cleaning, all with a typical rating of about 180 watts, this is pretty impressive.
The suction-based cleaner tends to have lower power ratings. However, the catch here is that they do the job at reduced power efficiency. So you will need to look at all the models you're interested in and assess which uses lower electricity amounts with decent working efficiency. In the specification section of the vacuum cleaner, you will find the power consumption rating given.
Another area where you need to check on when it comes to power is the size of the pool being maintained. You will need to double-check the pool size recommended for your cleaner on the packaging before committing yourself financially; try to get a device with a little more power than your requirement. Using an underpowered unit will leave some areas unclean; these spots will spread debris to the rest of the pool.
---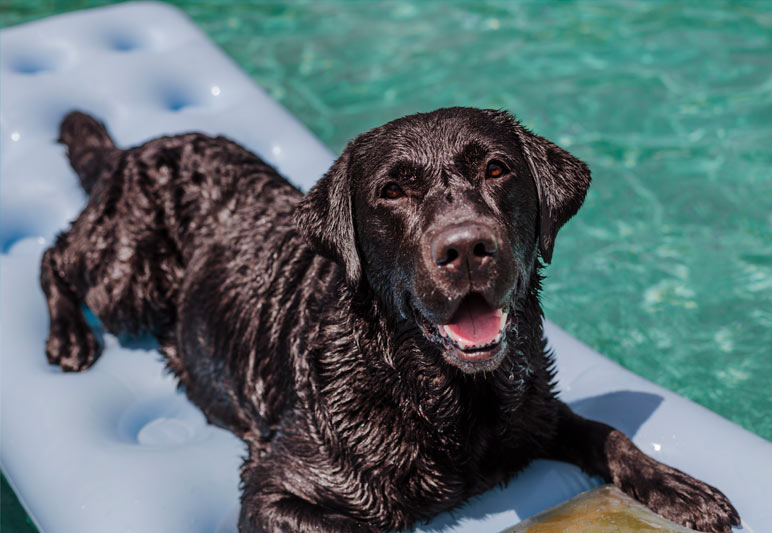 Good above-ground pool cleaners have good filtration systems
Ordinary pool cleaners use bags to collect the debris and dirt found. Recent developments in pool-cleaning technology have made it possible to use cartridges instead of these debris bags. Not only is it more efficient, but it also does the job with 60 percent less noise vis-à-vis typical pool vacuum cleaners. 
You should be on the lookout for pool cleaners that boast having micro-filters. These machines help you manage debris, fine particles, and algae effectively. You should note that not all models come with these kinds of filters. Therefore it is imperative you look for more information about these devices from the specification section of the manufacturer's website.
---
Look for any special features
While it is not a unique feature per se, having the right/wrong length of cable will affect how effectively you can clean the pool. It literally limits the area your cleaner can influence. Use a longer cable that has the right amount of flexibility as twisting and excessive stretching can result in a burst hose. 
Some devices have scanners that assess cleaning patterns and coverage that make for the most efficient cleaning. Having done so, it adjusts/readjusts accordingly. Another feature a proper above-pool cleaner comes with is a brush to scrub loose any stubborn debris. Finally, you will need to invest in a company whose customer care service is responsive just in case of any queries with your device.
---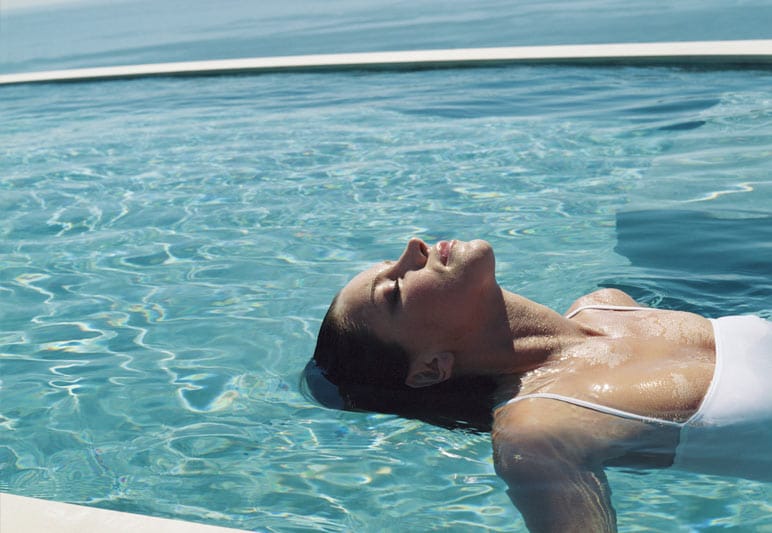 Think long-term
Purchasing a quality product is the first step in having a device that will go the distance with you. It is not a big stretch to think of cheaper options as having been made from subpar materials. Such devices will not stand the test of time. After all, a brilliant guy once said that you get what you pay for.
Most pool vacuums have warranties that last for a year or longer. It goes without saying that a machine with a longer warranty is better. If you want to extend your cleaner's lifespan, you will need to go through the user manual to have an idea of the best ways to clean and regularly maintain your pool vacuum.
---
How easy is it to Use?
The best pool vacuums are those that just need to be unboxed, connected, and then dropped into the pool. One of the easiest types to set up is the robotic pool vacuum. It is a legit plug-and-play solution. All you need to do is connect it to a power source. 
Installing a suction pool vacuum is also light work. Connecting hoses to the pump and getting it working takes around ten minutes. All that remains is dropping it into the water, turning it on, and letting it do its magic. 
Pressure pool vacuums are the ones a little complicated to install. There are actually two ways of connecting it. The simple method has a low-pressure model using the return line for debris elimination. This is not the typical case as most units will require a specialized cleaner line and the introduction of a second booster pump. It's recommended to employ the use of a professional for this kind of installation.
---
Vacuuming an above ground pool
You will need to vacuum up your pool to make it swimmable. Nobody wants to murk around in filth. Cleaning your pool clears it of leaves, dust particles, and any small insects.
How often should you vacuum your pool? A general rule of thumb is to do "spot cleaning" at least once a week. Full on vacuuming and cleaning should also be done once a week if you are using a manual vacuum. If you are using a more powerful automatic cleaning system, you can go every other week but no less than once a month.
Here's how to go about cleaning your pool if you're doing it manually.
Vacuuming an above ground pool is a methodical process. You will first connect the telescoping pole to your vacuum cleaner. Ensure you push the vacuum hose's end onto the head until you hear a click as it gets into place. Insert the vacuum head into the pool such that the handle sticks out of the water, with the head resting on the pool's bottom. 
Prime the hose after feeding it into the pool. Turn the pool filter off and an automatic chlorinator if you have one. After doing this, connect to the skimmer basket of the vacuum hose. Turn the filter back on. However, until you've done cleaning the pool, leave the automatic chlorinator off. Leave the mechanism run for about one and a half minutes. 
Vacuuming the above ground pool is a matter of handling the handle and moving the vacuum head around with it. You will need to carry out this sweep along the floor and walls to clean those areas. Do it slowly to ensure every piece of debris is captured. 
Turn the filter off. After the vacuuming, uninstall the adapter to the skimmer basket. Next, remove the vacuum, hose, pole, and head from the pool. Store them as instructed in the manual. Ensure to clean the basket removing debris you encounter. Finally, finish up by turning on the automatic chlorinator and the pool filter.
---
Conclusion and Frequently Asked Questions
You've already seen the best above ground pool cleaners available and gone through the necessary factors to keep in mind when making your purchase. What's next, then? Just make sure to use the knowledge acquired from the guide to narrow down your options. Do all this while making sure to stick to your budget, and you'll soon have a clean pool in no time at all.
Have a lovely swim.
How to vacuum above ground pool?
An automatic cleaner will clean your pool autonomously after setting the cleaning cycle and turning the device on. If you're doing the vacuuming manually, then use the procedure as described in the guide.
How to use above ground pool vacuum?
Using your above ground pool vacuum properly is all about following the prescribed instructions. Follow the user manual that came with the device or look for the correct procedure on the official site.
What is the best above ground pool vacuum?
The best above ground pool is the one that satisfies all the needs of the buyer. You will need to carry out the proper research to find a product that does all you require from it. If you need help, make sure you check out our reviews!
Spread the love and share this post, please.