For some of us, getting a cleaning or organizational product as a present is the last thing we would want. But for clean freaks, neat fanatics and obsessive declutters, gifts like these would certainly bring a smile to their face!
But if you are wondering — what do you get a neat freak? — we're here to help.
Whether your loved one is a true germaphobe or just likes things clean and orderly, we scoured the internet for some unique gifts you may not have thought of. From UVC light products that are clinically proven to kill germs, bacteria and even Coronavirus on surfaces, to products that make folding laundry or mopping floors easier, we've got some fantastic gift ideas for you.
We even think you may want one or two of them for yourself! As a matter of fact, we consider many of the items on this list "must have" gadgets for anyone wants a bit more "clean" or organization in their life.
In addition to these interesting gift ideas for clean freaks, if you are looking for a more traditional cleaning product to give as a gift (or for yourself), you can also check out our best spot cleaner, best vacuum cleaner, and best carpet cleaner reviews.
So, instead of getting them a gift basket filled with cleaning products (which they would probably love too), surprise them with one of these Clean Freaks approved unique cleaning gifts!
Related: Books Every Clean Freak or Declutter Would Love to Read (coming soon)
---
Clean Freaks Approved — Must Have Gadgets for 2021!
For those of you in a hurry, here's a sneak peek at the our must have gadgets for anyone who wants more clean and less clutter in their life. Give them as a gift, or buy one for yourself!
By the way, if you are on a budget or just need a small gift, we also included a bonus list of our top picks for under $20. You'll find it further down.
Now let's learn more about why these items are all Clean Freaks approved.
#1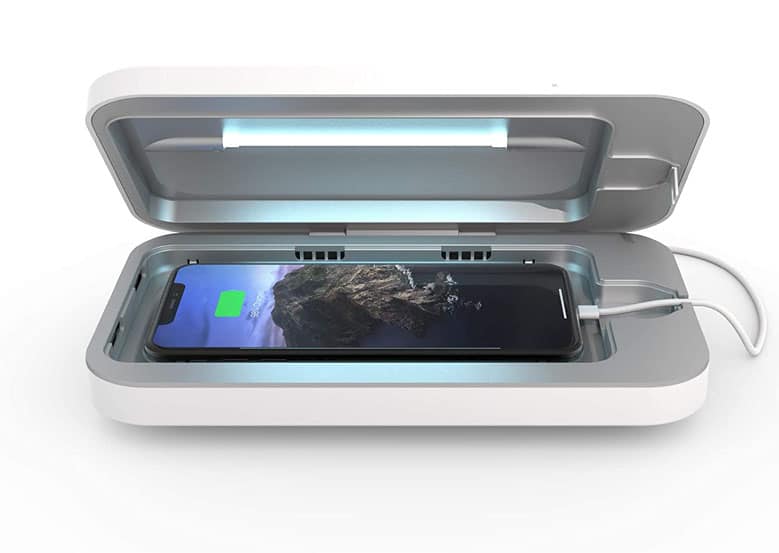 Perfect for Germaphobes – UV Phone Sanitizer Box
PhoneSoap 3 Clinically Proven UV Smartphone Sanitizer & Charger – 5 Color Choices
Did you know that cell phone has 18x more bacteria than a public restroom? Eww! As seen on Shark Tank, PhoneSoap's powerful UV-C light is totally safe for electronics and has been clinically proven to kill 99.99% of germs. It kills microorganisms that hide in crevices where cleaning wipes can't reach. And what's even better is you can use to sterilize and defect other items too — as long as it fits. Plus you can charge your phone at the same time.
#2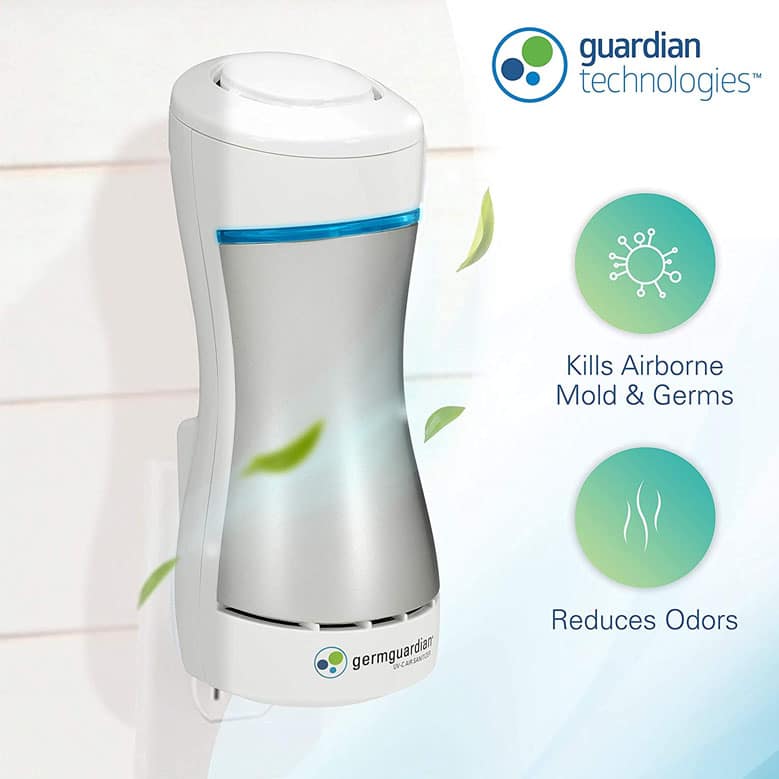 Great for People With Allergies or Pets – Air Purifier
Germ Guardian Pluggable Air Purifier & Sanitizer – Eliminates Germs and Mold with UV-C Light
The Germ Guardian provides cleaner air and helps reduce airborne germs and reduce household odors caused by bacteria, pets, and cooking fumes. The compact design makes it perfect for the kitchen, laundry room, bathroom, bedrooms, or anywhere you want cleaner, fresher smelling air. The Germ Guardian uses UV-C light helps kill airborne viruses such as influenza, staph, and rhinovirus as well as Titanium Dioxide to eliminate odors. It's also a great gift for pet owners.
#3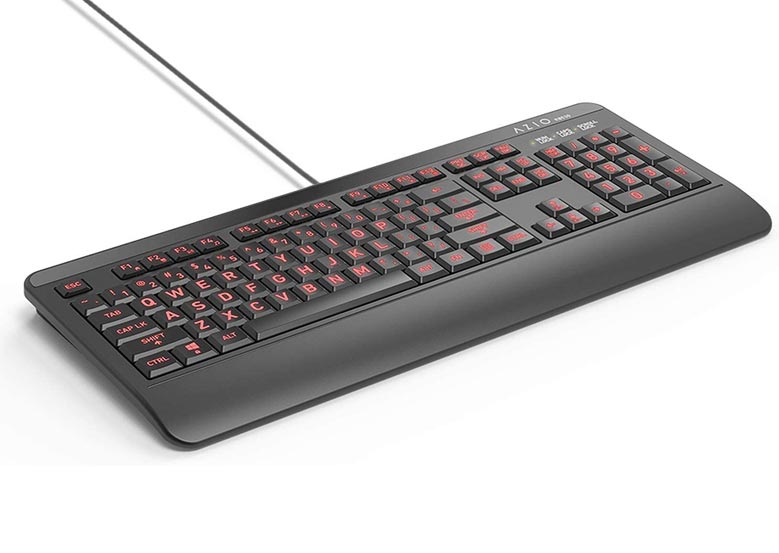 Great for PC Users – Anitimicrobial Washable Keyboard
Azio KB530 LED USB Waterproof Washable Keyboard with Antimicrobial Protection
If you have a clean freak in your life who works at the computer, they will love this keyboard. Not only does the IP66 rated waterproof keyboard design protect the keyboard from spills, but it's also completely washable. Yes, you heard us — you can submerse this keyboard in water for a deep cleaning. On top of that, it's treated with a silver-based antimicrobial powder to prevent the growth of harmful bacteria and build-up of germs. The washable keyboard features large print on the keys and LED backlights in 3 different colors.
NOTE – We also recommend the IP68 Sealed DSI Waterproof Keyboard with Built-in Touchpad and the Logitech Washable Wired Keyboard.
#4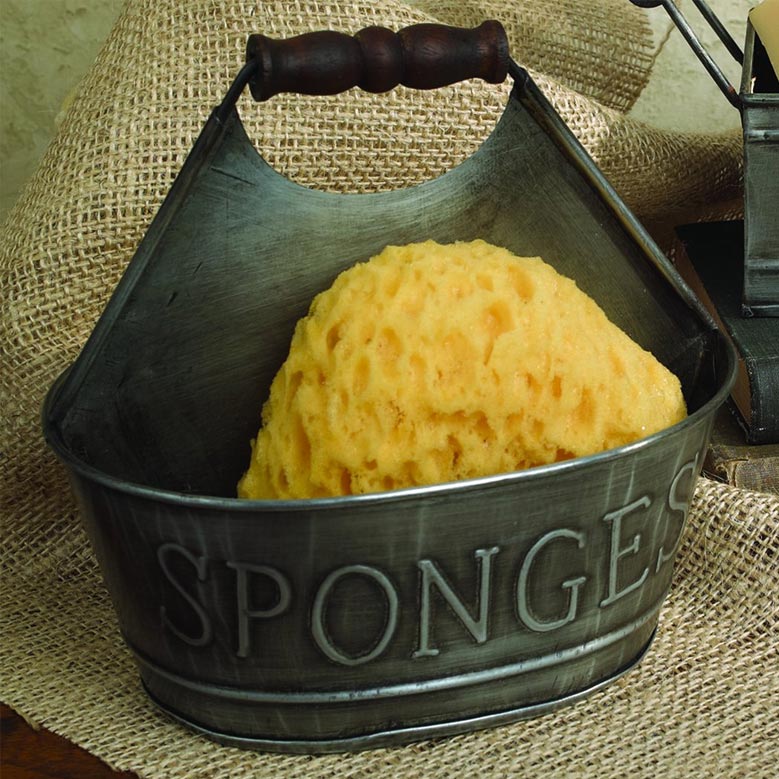 Great For Bathroom Or Kitchen – Vintage Sponge Holder
Vintage Lil' Sponge Holder from the Country House Collection
This beautiful and rustic holder from The Country House Collection is a great way to keep a natural sponge or loofa in the bathroom. Measuring 7.25″ long by 7″ tall by 5″ wide, it's also big enough to hold a kitchen sponge and dish soap.  It is made of metal with the word "SPONGES" stamped on it. The wooden handle is an nice touch, making it perfect for country, farmhouse or eclectic décor.
#5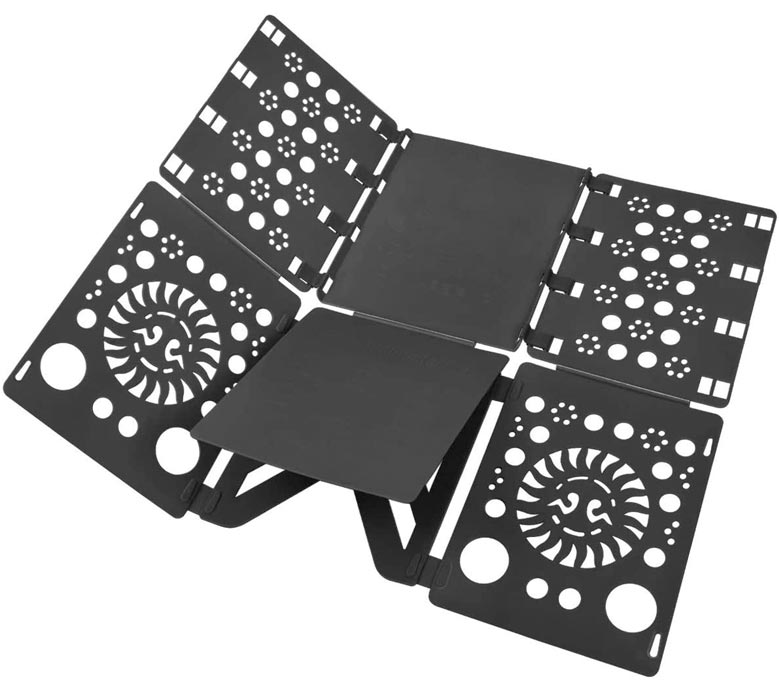 For The Organizer In Your Life – Clothes Folder
BoxLegend V2 Clothes Folding Board for Shirts, Pants, Towels and More
The neat freak in your life will not only love how easy this laundry folder from BoxLegend is easy to use, but they'll also love how organized and uniform the folded laundry will look! In just a few seconds this handy dandy tool will fold t-shirts, long sleeve shirts, pajamas, pants and more. It can even handle thick towels. You may even want to pick one up for yourself!
#6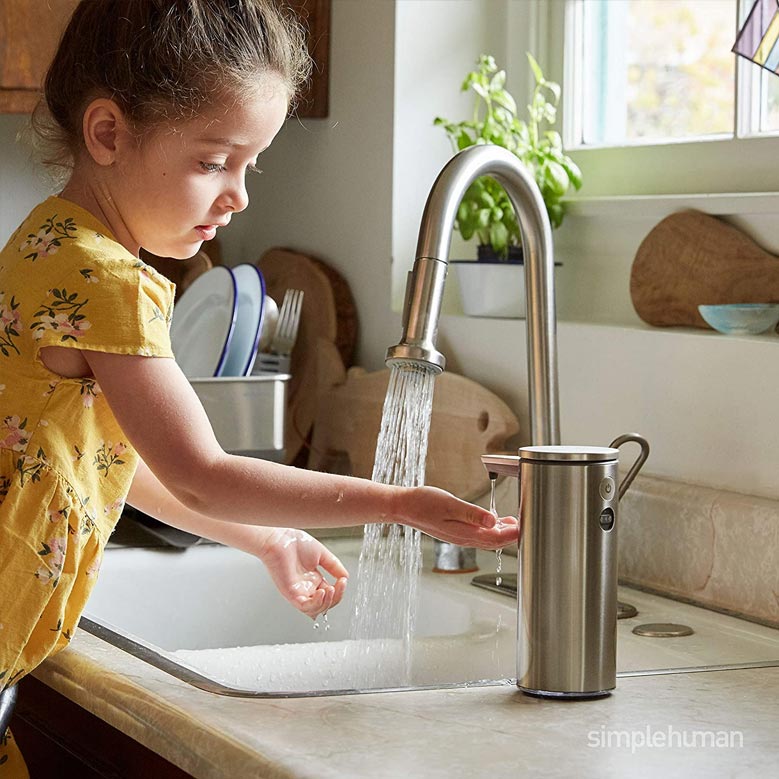 Great For Neat Freaks – Touch Free Soap Dispenser
simplehuman Touch-Free Liquid Soap Pump Dispenser – 5 Stylish Colors, Battery or Rechargeable
This touch free soap dispenser ensures no germs or smudges are left behind. Its intelligent design allows you to control how much soap is dispensed simply by how close you hold your hand from the spout. It also has a silicone valve that creates a seal to prevent messy drips on your counter. With stylish 5 colors, its perfect for any bathroom or kitchen. You can also choose between 9-ounce dispenser with rechargeable internal battery or an 8-ounce battery operated soap pump.
#7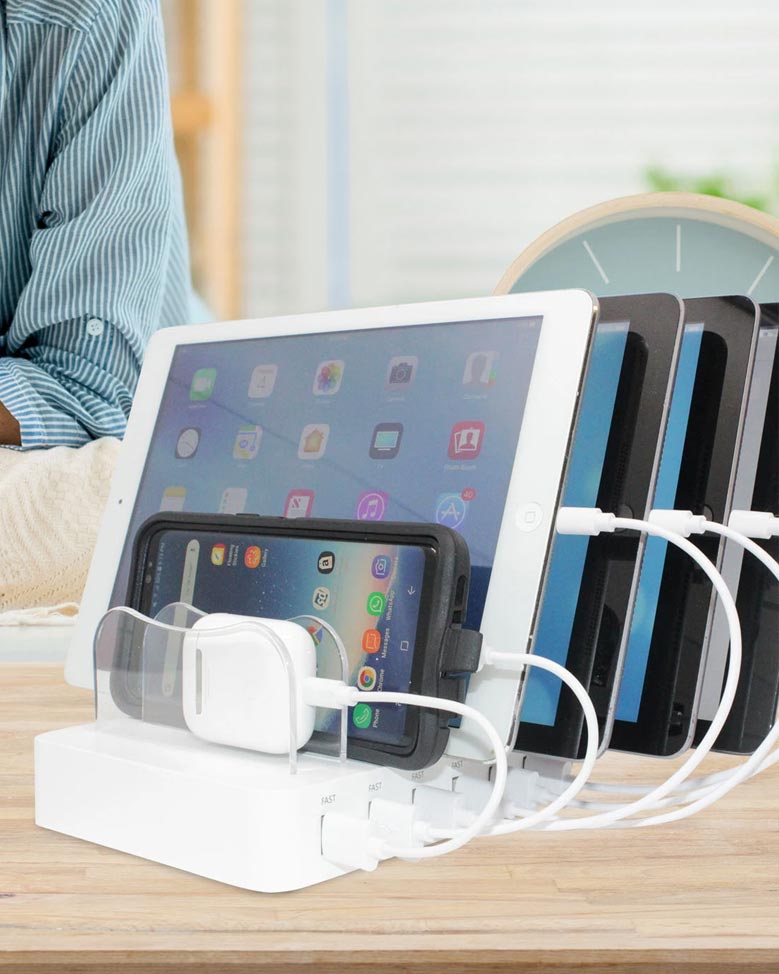 Perfect for Organizing – Multiple Device Charging Station
Hercules Tuff Charging Station with 6 USB Fast Ports for Cell Phones, Tablets, & Electronics
This multiple device charging station is one compact and simple unit that can end the utter chaos of organizing and charging your personal electronics. It features six 6 2.4-amps ports that charge cell phones and tablets up to 80% faster than other chargers with less than 2.0-amps. As for safety, you can rest peacefully because it's ETL, FCC, CE and RoHs certified.
This model comes with 2 Apple, 2 Micro USB and 2 Type C cables making it compatible with a wide variety of devices. However, if you need different options, Hercules Tuff has other fast charging stations to choose from. Don't just charge, organize!
#8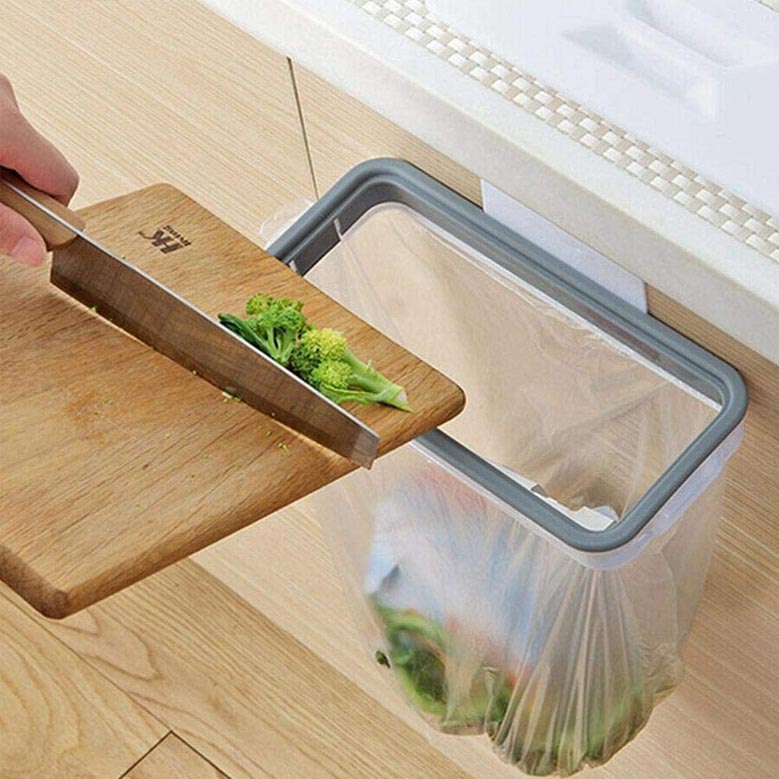 Make Kitchen Clean up Easy – Hanging Scraps Bag
Odisen Hanging Trash Bag Holder with Lid for Kitchen Scraps – Environmentally Friendly Plastic
For the utmost convenience in the kitchen, simply hang this portable trash bag holder on a lower cabinet — not screws required, plus it's portable. It's also a great way to repurpose all those plastic grocery bags, but it works with any bags. This garbage bag hanger with lid is made from is made of environmentally friendly ABS plastic and can hold up to 10 pounds of trash. It also the perfect size for small spaces like RVs.
#9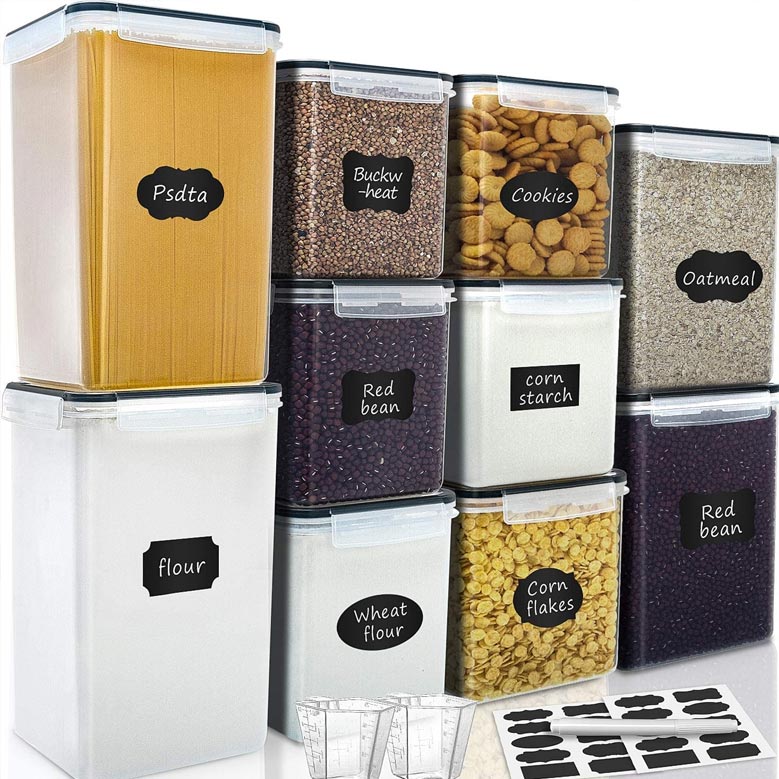 Kitchen & Pantry Organization – Storange Containers
Verones BPA-Free Plastic Airtight Food Storage Containers – 10 Containers with Labels
This airtight food storage container set comes with 10 containers of 3 different sizes, making it a must-have for kitchen or pantry organization. It includes 2 extra-large, 2 tall and 6 medium see-through containers plus 2 measuring cups, 20 decorative labels and a marker.  Made of BPA free food grade material, they are dishwasher safe, making them super easy to clean. They feature side-locking lids to keep air and moisture out, ensuring that foods stay fresh longer.
#10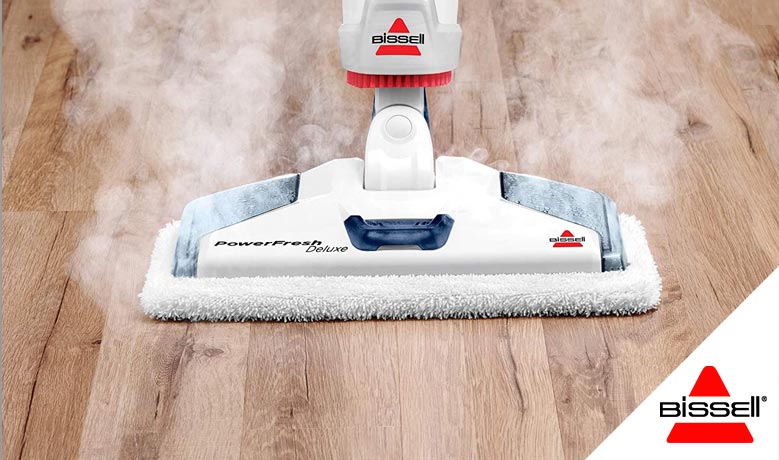 Makes Mopping Floors Easy – Bissell Powerfresh Deluxe
Bissell Powerfresh Deluxe Steam Mop – Floor Steamer for Tiles, Linoleum and Hard Woods
Whether you're loved one is a clean freak or thinks mopping floors is a drag, they will love the Bissell Powerfresh Deluxe! Not only does it make washing floors a breeze, but it will also sanitize floors to eliminate up to 99.9% of bacteria and germs without the need of harsh chemicals. And for those tough, sticky hard to get messes, it has a built-in spot boost brush. It has adjustable steam settings making it safe for just about all floor types including sealed hardwood, ceramic, linoleum, tile, granite, and marble floors. You can also add Bissell fragrance disks for a for a burst of freshness while you steam clean.
#11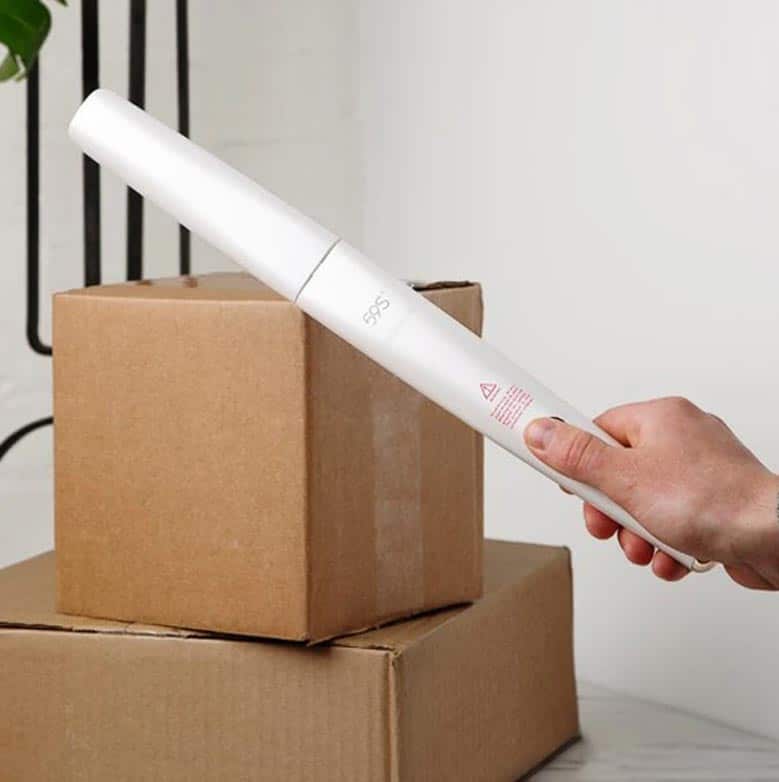 Great For Travel, Gym, & More – UVC Sanitizer Wand
EPA Registered Portable UV Light Sanitizer Wand – Disinfector Kills 99% of Germs Viruses & Bacteria
There are a lot of UV light sanitizers on the market, so it can be hard to decide which to get. This particular Portable Ultraviolet Disinfection Sterilizer is registered with the EPA and FCC, has the CE Mark Certification, and is RoHS Compliant.
Powered by 20 UVC LED lights (ultraviolet-C), the 100% Ozone Free Handheld Chargeable UVC Disinfection Wand has been clinically proven to disinfect and eliminate up to 99.9% of germs, viruses, and bacteria. And yes, studies show that UVC light can effectively kill SARS-CoV-2 or other coronaviruses in liquids, on surfaces, or in the air. This portable UV light disinfecting wand is lightweight and portable, making it super convenient for home use and on the go.
Bonus – Low Cost Gifts and Stocking Stuffers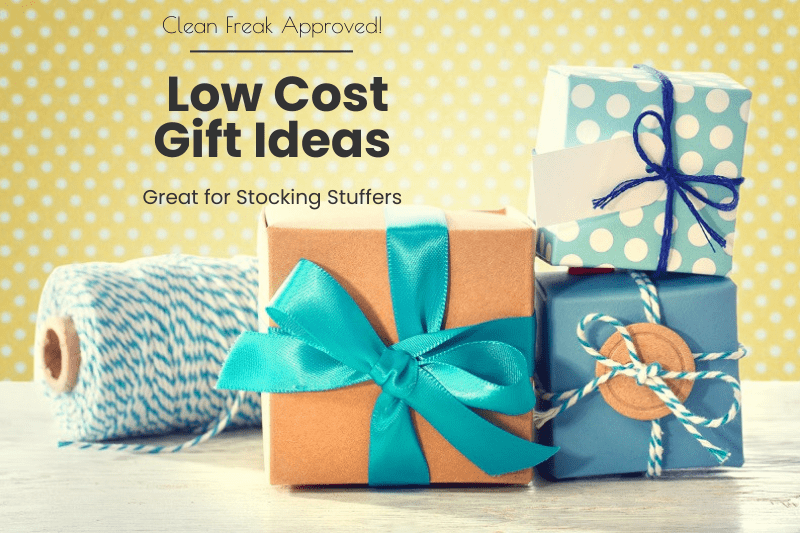 Do you need a small gift that won't cost a lot? Just about all of these gifts are under $20!
So there you have it! If you're looking to buy a gift for a cleaning fanatic or organization lover, we think any one of these will be a great choice to add to their collection.