Spread the love and share this post, please.
Overview
The Shark APEX is one of the most advanced upright vacuums released in by Shark brand. Unmatched versatility, high performance on many surfaces, low noise are just a few benefits of Shark APEX. This vacuum is available in different models, with a variety of features depending upon your needs.
Then we have the Shark Rotator, one of Shark's legendary vacuum cleaner lines, remaining as the top seller for years. Shark Rotator give strong suction power, versatility and a full set of additional tools allowing you to clean from ceiling to under furniture. Like the APEX, there are different models of Shark Rotator vacuums with different technologies.
In general, the Shark Rotator has cheaper price and super long warranty time (up to 7 years on specific models), but it really depends upon which models you are looking at. In some cases the retail price is about the same.
Shark APEX vs Rotator – What is the difference?
When it comes to Shark APEX and Shark Rotator vacuums, it is important to make sure that you are comparing similar vacuums, to make sure that it is and "apples to apples" comparison.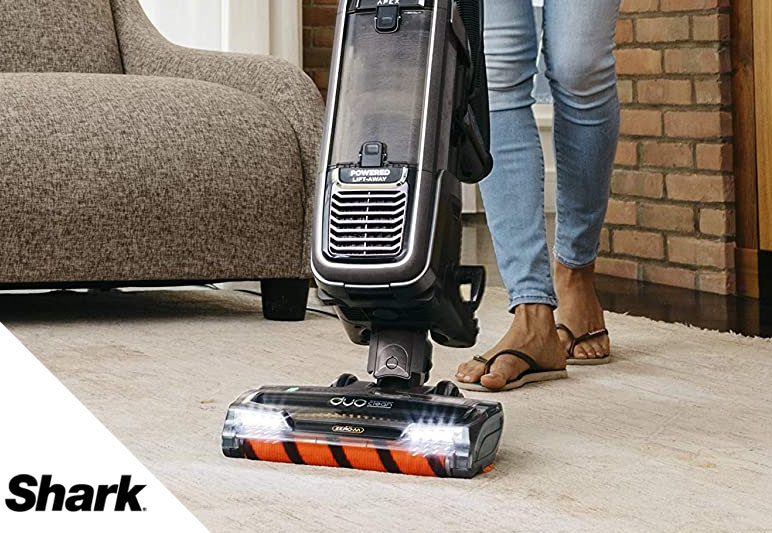 For example, it would not make sense to compare a Shark APEX stick vacuum with a Shark Rotator upright vacuum, or vice versa. It also would not be a fair comparison if you compared a high end model from one line with the top of the line model from the other.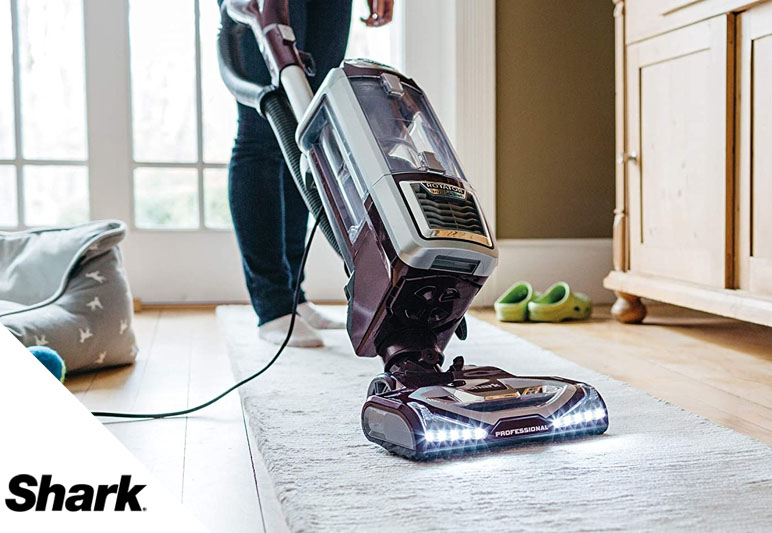 For this reason, we are going to take a look at one of the most advanced models from each line, namely the Shark APEX Duoclean Upright Vacuum with Zero-M and the Shark Rotator Powered Lift-Away TruePet Upright Vacuum.
We will compare the key features and benefits of each of these Shark vacs, to help you decide which is the better one for you. For more information, we also have separate reviews for each of these Shark upright vacuums.
---
Comparison Chart Shark APEX AZ1002 vs Rotator NV752
| | | |
| --- | --- | --- |
|   | Shark APEX AZ1002 | Shark Rotator NV752 |
| Dimension | 11.2 x 12.2 x 46 inches | 13.2 x 11.9 x 45 inches |
| Weight | 16 lbs | 15.4 bs |
| Max suction power | Around 300 AW | 270 AW |
| Operating radius | 30 ft | 30 ft |
| Dust bin size | 1.5 dry quarts | 1.5 dry quarts |
| Filter | HEPA Anti-allergen complete sealed technology | HEPAAnti-allergen complete sealed technology |
| Bag/ Bagless | bagless | bagless |
| Powered Lift-Away canister | yes | yes |
| Duoclean cleaner bar | yes | no |
| APEX (active glide) | yes | no |
| Noise reduction | yes | no |
| Zero-M (automatic hair removal) | yes | no |
| Surface | Hardfloor, carpets, above floors, stairs | Hardfloor, carpets, above floors, stairs |
| Warranty | 5 years 90-day money back | 5 years |
| Retail Price | About $400 |  About $400 |
| Accessories (varied depending on model number) | crevice toolpet multi-tooldeep-cleaning pet tool (motorized) | Hard Floor Hero, TruePet Mini Motorized Brush, Pet Multi-Tool, Crevice Tool  |
---
Performance
You can check live test of Shark APEX and Shark Rotator below
---
Side-by-side comparison
Price
Price-wise, at retail price, these vacuums cost about the same. However, from our research, we have found that the sale price for the NV752 is often lower because it is an older model and because it doesn't have as many advanced features as the Shark APEX AZ10002.
If your budget allows it, the APEX is a better choice, but if your budget is tight, the Rotator is still a highly rated vacuum and will do well if you don't need all the extras.
When we last checked, the Shark APEX Duoclean AZ10002 had a slight discount. Check for the current price below.
When we looked, the Shark Rotator True Pet NV752 was discounted at about $100 off. Check for the current price below.
Great suction power
Shark Rotator NV752 uses a motor of 1200 W which is expected to deliver up to 270 AW in real life. This suction power is the standard norm of an upright vacuum on the market. In reality, this model gives super strong airflow more than adequate.
Shark APEX AZ1001 applies a motor of 1350 W, this motor can deliver up to 300 AW (or so) in reality. When running 2 models on carpets, floors, they seem to have similar suction power.
Brush head design
Shark Rotator NV752 uses one roller with a couple of helix brushes to agitate, lift up and remove the dirt and hair. This brush head allows Shark Rotator NV752 to run fluffy on carpets and pick up dirt, pet hair, large debris amazingly. However, the brush head is not very efficient in cleaning fine dust on bare floors.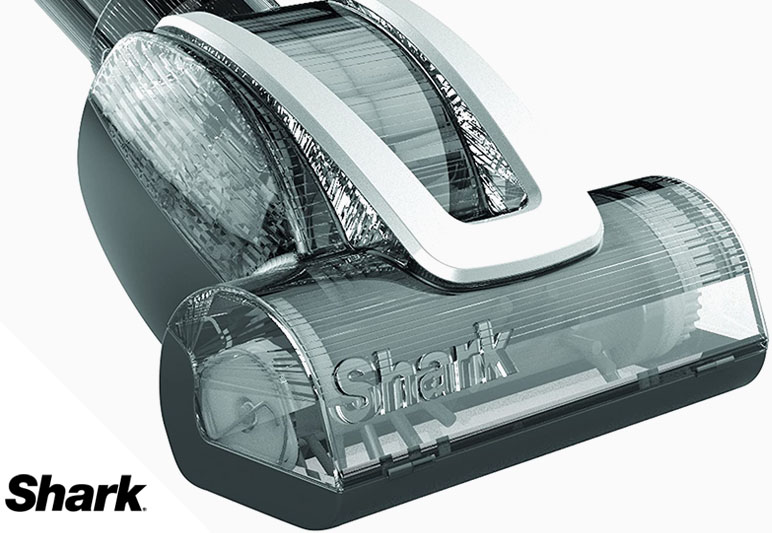 To compensate for this, Shark Rotator NV752 has an attachment called the hard floor Hero cleaner, which is designed to pick up and polish hard floors as if it is cleaned with a mop.
Both the cleaner head and the hard floor hero cleaner works very well for most types of floor surfaces. You just only need to change the cleaner head whenever needed.
Shark APEX AZ1001 uses Shark latest cleaner head design, combining the Duoclean technologies (2 rollers on one cleaner head) and Zero-M (a self-hair removal technology). This design helps the vacuum to clean both carpets and hard floors efficiently (so that you do not need a separate hard floor Hero cleaner head) and it is capable of removing short hair, carpet fibers on its own.
Cleaning capacity
Both models have the same dust bin size (1.5 dry quarts, about 1.4 Liters) and the same cord length. They are also featured with the powered Lift-Away canister, you can basically reach any corner, tight spaces, under furniture…
Best filtration system
Shark APEX and Shark Rotator models use anti-allergen sealed air system, HEPA filters to keep your air cleaner. They are recommended for users with breathing issues.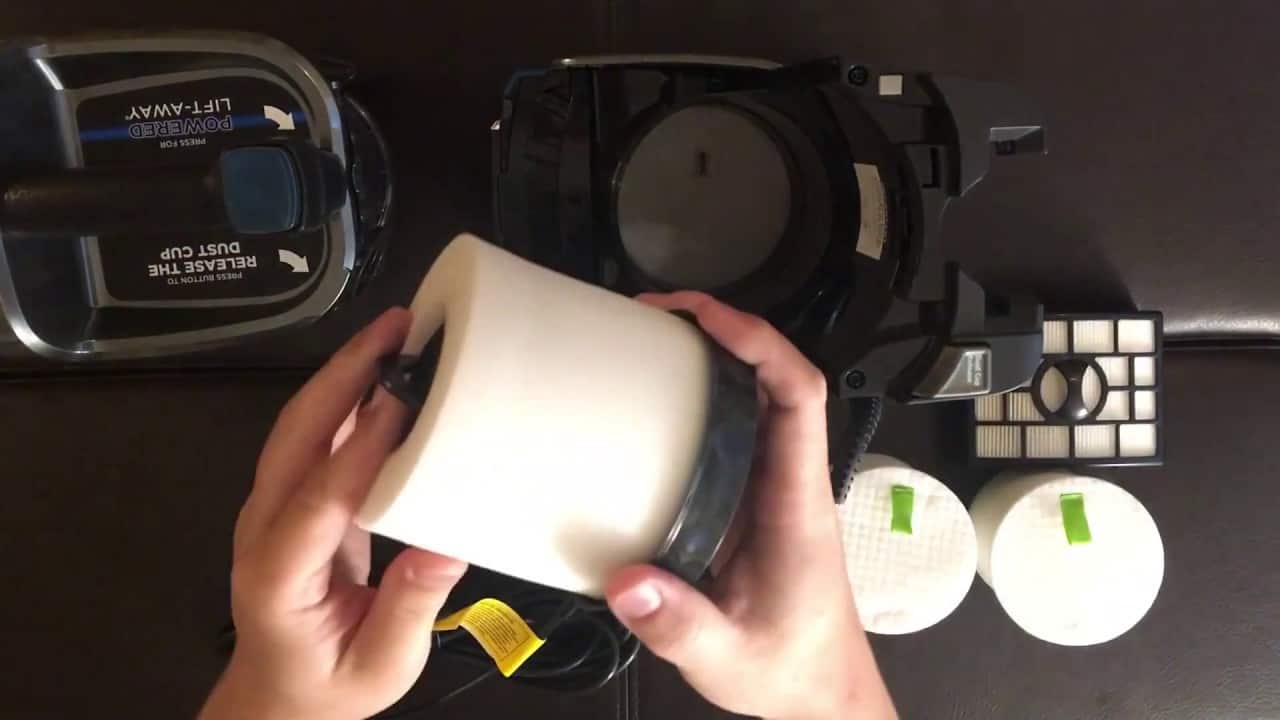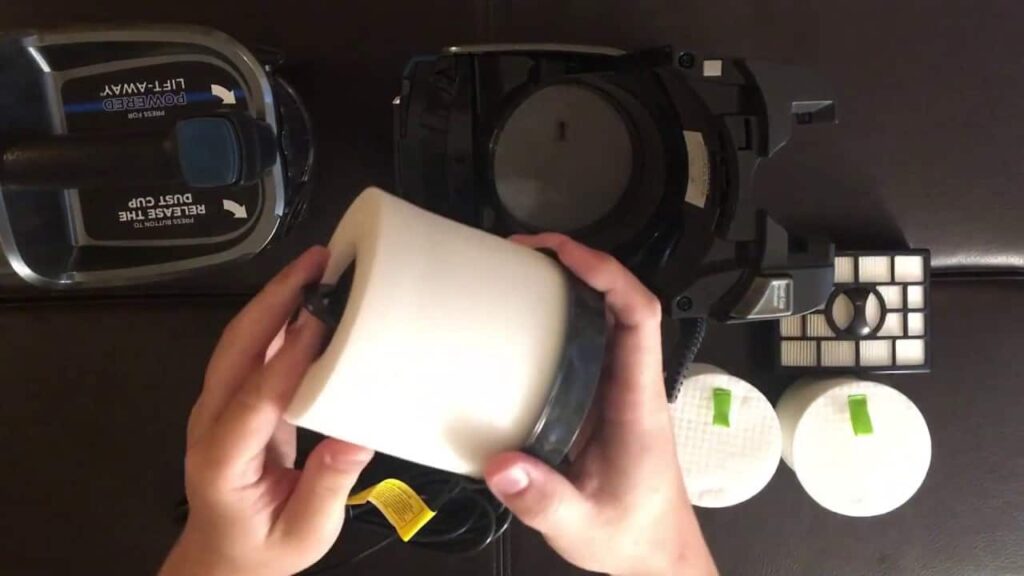 Shark APEX advantages compared to Shark Rotator
First, Shark APEX has Active glide technology, which allows the vacuum to move smoothly on carpets, rough surfaces.
Second, it features Duoclean with Zero-M technology on the brush bar, which is one of the best cleaner head on the market.
Third, it has noise reduction technology, making a soft, acoustic pitch only when running.
Fourth, it has a wider cleaning path so you can clean faster.
Last but not least, Shark APEX model has a better cyclone technology. Shark Rotator's cyclone technology can't really separate the fine dust from the mess, therefore it will go straight to the filter. You have to wash the HEPA filter more often.
Shark Rotator advantages
First, it is more affordable and it is possible to say Shark Rotator NV752 is one of the best units for the money. It is also one of the most popular upright vacuums today.
Second, it is lighter a little (around 15.4 lbs)
Third, even though it does not have Duoclean technology, the roller head, and the hard floor Hero attachment works very fine for most surfaces.
---
Compare Other Shark Vacuum Cleaners
Spread the love and share this post, please.