Spread the love and share this post, please.
Overview
If you are looking for an upright vacuum cleaner by Shark, you are most likely to come across the Shark APEX and Shark Navigator. These are some of the most popular Shark vacuums. However, which series is better for your home? This articles will explain the key difference between them.
As Shark APEX series and Shark Navigator series have many different of models (with different technologies), we are going to look at two of the most recent, most advanced upright vacuum of each series to compare side-by-side.
Therefore, we are comparing the Shark AP= EX Duoclean Upright Vacuum with Powered Lift-Away and Zero-M Anti-Hair Wrap and the Shark Navigator Upright Vacuum with Lift-Away and Zero-M Anti-Hair Wrap Technology. When you look at the names, they seem to have the same main features, but there are differences which we will discuss to help you decide which is right for your home and vacuuming needs.
For more information, we have also done separate reviews for each:
---
What is Shark Zero-M technology?
Zero-M technology refers to the new design of the brush bar. Before the introducing of this technology, the brush bar of an upright vacuum tends to suck up and wrap the hair around the bar, making it very dirty and even lose the suction. You have to remove the hair by hands (using scissors).
The Zero-M technology adds a few twists inside the bar, so it can remove the hair constantly. The brush bar stays clean and the suction power is ensured during the cleaning process.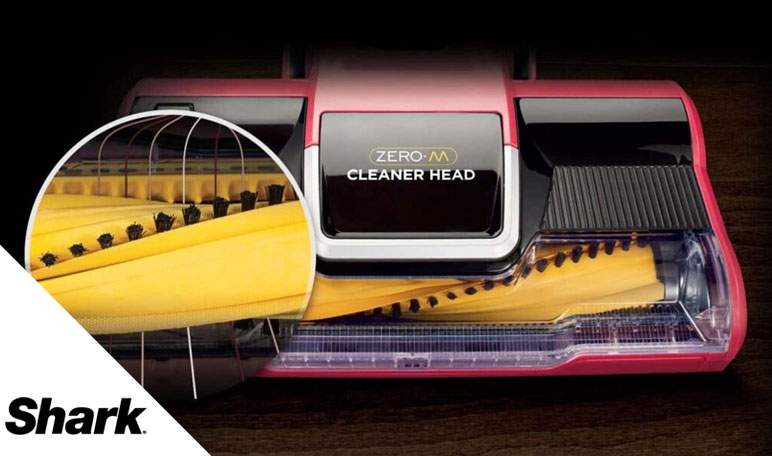 ---
Comparison chart of Shark AZ1002 vs ZU561
 
Shark Navigator with  Zero-M
Shark APEX Duoclean with Zero-M
Dimensions
12.7 x 10.7 x 30.7 inches
12 x 11.2 x 46 inches
Suction power
500 W
1350 W
Voltage
120 V, 60 Hz
120 V, 60 Hz
Dust bin capacity
2.2 dry quarts
1.5 dry quarts
Weight
13.4 lbs
16 lbs
Filtration system
Pre-and-post motor filters, HEPA and washable
Pre-and-post motor filters, HEPA and washableAnti-allergen sealed system
Tools (varied depending on models)
Hair removing tool
Powered pet brush
Crevice tool
Upholstery tool
Pet multi-tool
Crevice tool
Deep cleaning pet tool
Motorized pet tool
Swivel head cleaner
yes
yes
Lift-away canister
yes
Yes , powered type
Duoclean brush bar
no
yes
Noise reduction
no
yes
Cord length
25'
30'
Price
Under $200
Under $350
---
Side-by-side comparison
Performance
Before going into details, let's have a look at how Shark APEX Duoclean AZ1002 and Shark Navigator ZU 561 run in real life.
Suction power
This particular Shark APEX Duoclean model is one of the most powerful ones on the market. This model uses a motor of 1350W, which can give about 300 Air watts or so on the maximal level. With this suction power, Shark APEX can deal with challenging tasks such as cleaning thick pile carpets, pet hairs…
This Shark Navigator model uses a lower motor power of 800 W. This implies Shark Navigator has a low suction compared to Shark APEX. Recently, Shark Navigator has another model with a 1150W motor (Shark Navigator Zero-M Pet Pro – ZU62) which gives more suction than the previous one.
Cleaning capacity
Shark APEX duoclean has a dust bin size of 1.4 dry quarts whereas the navigator model has a more generous dust bin of 2.2 dry quarts. In fact, Shark Navigator series has the biggest dust bin among other series of Shark brand.
The big dust bin is useful for the home with larger areas. You do not need to empty the bin frequently.
Both series has transparent dust bin and easy-to-empty style allowing you to clean the bin effortlessly.
Filtration system
Shark APEX Duoclean and Shark Navigator models have the best filtration system, combining an anti-allergen sealed system with HEPA filters. This system will trap 99.9% dust and small particles (size down to 0.3 microns). If you have breathing issues, a vacuum with a HEPA filter is always recommended.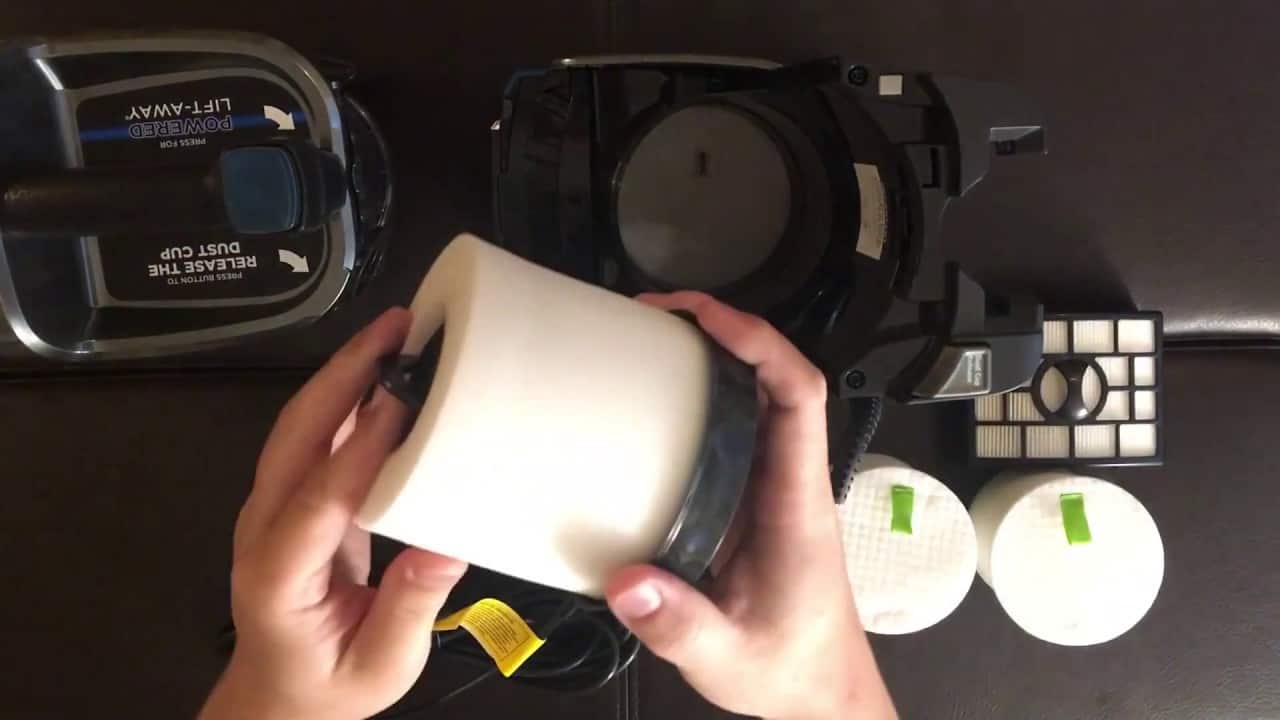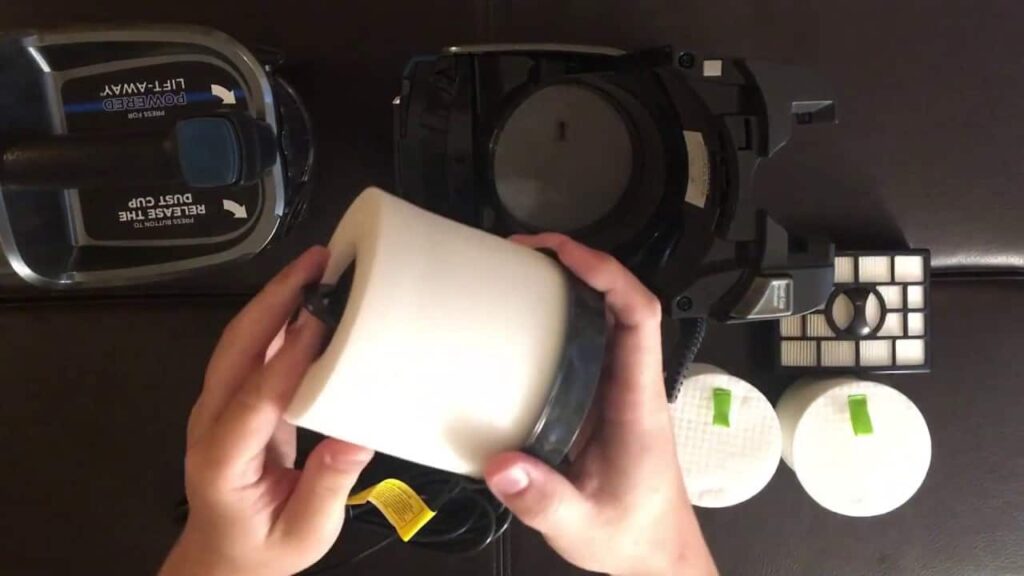 Lightweight
Shark Navigator model is famous as a super lightweight upright vacuum, which is just about 13.4 lbs. Shark APEX Duoclean is a little bit heavier but it is still considered as a lightweight unit (around 16 lbs).
Flexibility
Shark Navigator is a very lightweight machine and its cleaner head is swivel so that you can move around freely. The canister can be detached, allowing you to clean under the furniture easily.
The downside of Shark Navigator is that its cord and hose length is shorter than the norm (around 25 ft.) therefore you might have to prepare additional power outlets during cleaning.
Shark APEX Duoclean is a lightweight vacuum with advanced brush bar. The combination of a hard bristle and a soft-roller (Duoclean technology) allows this unit to clean, polish the floors better than Shark Navigator.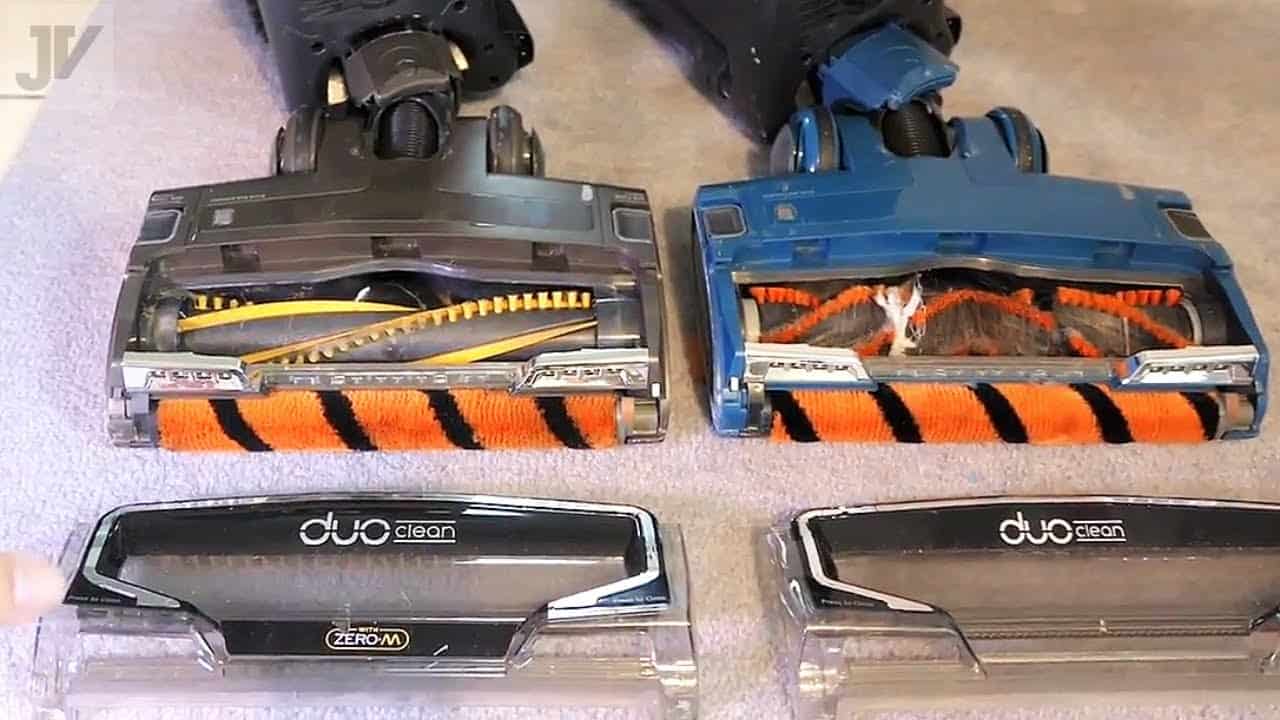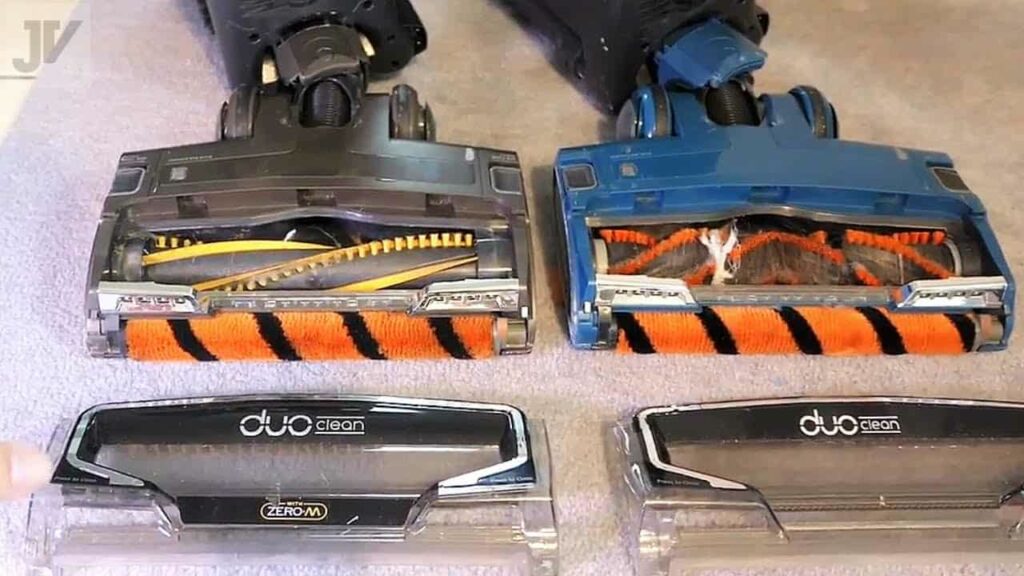 Shark APEX Duoclean has a longer cord, standard dust bin, swivel head, and powered-lift away canister, make it more efficient and flexible than the counterpart.
You should also notice, Shark APEX has a standard brush cleaning path (11'') while Shark Navigator has a smaller cleaning path (around 9.5'').
Both models have Zero-M technology, which is expected to remove the hair itself. In fact, they are quite efficient for short hairs. When dealing with long hairs like human hair or Golden Retriever, you still have to remove the hair manually after cleaning for a while.
Noise level
A key difference between the 2 models is the noise level. Shark APEX Duoclean is quiet during cleaning, its noise level is under 70 dB.
Shark Navigator has a standard noise level of an upright vacuum, which is about 83 dB during use.
---
Verdict
The Shark Navigator is a good option for those who are seeking for a high-rating, high-performance vacuum cleaner at a low price. By the way, if you are on a tight budget, the predecessor model Shark Navigator NV356E is actually one of Shark's best selling vacuum cleaners and costs even less.
With the refresh model by adding Zero-M technology, the new Shark Navigator with Zero-M receives positive feedback from a lot of users. Apart from its high flexibility and usability, its price is also very attractive.
The remarkable downside is the cord and hose length. If it is not a big trouble to you, it is definitely a great upright vacuum for general uses.
Shark APEX Duoclean is one of Shark's most advanced upright vacuums. Beside similar benefits to Shark Navigator, this model is more efficient for cleaning fine dust, thick carpet and under furniture areas. Besides, it is a quiet vacuum which will never bother your pets or parents.
This model is pricey which is more than 2-fold of Shark Navigator because of all the additional features and because it is newer model.
---
Alternative models
Spread the love and share this post, please.