Spread the love and share this post, please.
Overview
If you are shopping for a vacuum cleaner, it is likely the debate between Dyson vs Shark debate has come to mind. Which brand is better for you?
Let's explore the real deal by examining the most advanced models to help you decide whether you want to get a vacuum cleaner from Dyson or Shark.
We all know Shark vacuum cleaners are all have high ratings and many are known for being lightweight and allergen friendly. But then again, Dyson vacuum cleaners deliver super suction power and most of their models are certified as being friendly to asthma person.
So how do you decide?
Both Shark and Dyson have a wide array of products from cordless vacuums, upright vacuum, canister vacuum, stick vacuum, and robot vacuum.
While the robot vacuum industry is dominated by IRobot and Ecovacs, Shark is renowned for its ergonomic upright series, such as Shark APEX Duoclean, Shark Navigator, Shark Rotator…
Recently, the Shark APEX Duoclean with Zero-M technology has become a phenomenal choice, whose brush roll is incorporated with a continuous hair removal system, allowing the vacuum to perform better without being clogged.
Dyson also announced their newest model called the Dyson V11 Vacuum Cleaner, which has several variations and is the successor of Dyson V10. The Dyson V11, brings you an ultimate experience of a cordless vac that can run up to 60 minutes (Eco mode) with bigger dust bin and this model applies the sensor technology (Dynamic Load sensor technology) to control the brush speed and change the motor power automatically to adapt to floor types.
In this comparison between Shark and Dyson, we will delve into some of the most advanced models from each brand to see the benefits, features, pricing and customer feedback.
It will give you a better understanding of both brands and to have a better consideration before buying a vacuum cleaner in 2021.
Related
---
Shark vs Dyson Cordless Vacuum Comparison
Shark most advanced cordless vacuum model is Shark ION F80 Multiflex stick
Dyson most advanced cordless model is Dyson V11
Comparison chart Shark ION F80 vs Dyson 11
Shark ION F80
Dyson V11
Dimension
13.4 × 10.2 x 45.9 inches
9.8 x 10.3 x 50.6 inches
Power Voltage
25.2V / 300W / 9.5A
 
Suction power
38 CFM (Ion Boost mode) / 24 CFM (Ion Power mode) = 100 AW
185 AW
Run time
Max 80 minutes
Min 20 minutes
Max 60 minutes
Min 10 minutes
Battery
Lithium-ion 
Lithium-ion
charging time
3.5 hours
4.5 hours
Surface type
Hard floors, carpets, furniture, above floors
Hard floors, carpets, furniture, above floors
Dust bin size
0.32 liters
0.76 liters
Weight
7.8 lbs
6.68 lbs
Filtration
Pre-motor + Post-motor
 
Noise
N/a
Eco mode: 66 dBAuto mode: 68 dBBoost mode: 72 dB 
Ergonomic value
A lots of tools
Removable battery
Duoclean and Multiflex technology 
A lots of tools
Sensor technology to adapt to the floor types
3 cleaning modes
HEPA filter
Accessories
8″ Crevice Tool
Upholstery Tool
MultiFLEX® Under-Appliance Wand  
Double Charging Dock with Cord  
Anti-Allergen Dust Brush   
Extension wand
Nickel torque drive cleaning head
Mini motorized tool
Combination tool
Crevice tool
Mini soft dusting brush
Stubborn dirt dust
Docking station
Warranty
5 years
5 years
Price
under 300 range
under 700 range
Performance
Before jumping into comparison between Shark ION F80 and Dyson V11, you can review 2 models performance in photo/ video below
Suction power – Dyson V11 has 2-fold power
Shark ION F80 has 2-speed settings.
You can use the low suction mode for hard floors, hand-vac use which can reach up to 70 AW to pick up dust, small particles. At this low power mode, Shark ION F80 can run up to 80 minutes (each battery pack can last for 40 minutes).
Whenever you need more power for picking food messes, pet messes or debris, you can activate the high suction mode, which can reach up to over 100 AW. At this mode, the vacuum can run for 20 minutes.
Dyson V11, on the other hands, can peak up to 185 AW with its boost mode (around 10 minutes) or you can adjust the suction power in Eco mode so that the vac can run for about 60 minutes.
An interesting feature of Dyson V11 battery is that it has a power gauge to show exactly the remained power.
Verdict
Dyson cordless models are famous for suction power. Dyson V11 has about 2-fold suction power than Shark ION F80.
You can consider the "dirtiness" of your home to decide which model is more suitable.
In general, a standard cordless vacuum suction capacity is about 100 AW, you might not need up to 180 AW unless you are constantly facing with large debris scattered on the floors.
Dust bin capacity
Shark ION F80 has a small dustbin (around 0.32 liters) and Dyson V11 has a much bigger dustbin (0.76 liters).
Generally speaking, you have to empty the dustbin of Shark ION F80 after cleaning 1-2 mid-size room. With Dyson V11, you can clean the whole apartment and empty the dustbin just once.
Filtration system
Shark ION F80 uses multiple filters to store the dust and allergens. Dyson V11 uses HEPA filters which can keep 99.9% of allergens size down to 0.3 microns.
Dyson cordless models are famous as being friendly for people with allergies and breathing issues.
Weight
Shark ION F80 is a little bit weighty compared to Dyson V11. However, because Dyson V11 has increased the dust bin size and added extra parts, this model weight is higher than Dyson V8 and V10 a lot (Dyson V11: 6.68 lbs vs Dyson V10: 5.8 lbs)
When using as an upright stick, you will not feel much different about the weight of both models. However, when using as a hand-vac Dyson V11 has more ergonomic benefits than Shark model.
Versatility
Shark ION F80 can transform into an upright, a hand vac and a stick vac. This model has an Under-appliance wand and it can bend 180 degrees, making very easy to clean under furniture where are casual cordless stick can struggle.
Apart from being flexible, Shark ION F80 has the best brush roller design – the Duoclean brushroll. It is a combination of a soft-roller with a hard bristle to pick up both fine dust and larger stuff at the same time.
Importantly, Shark ION F80 battery is removable. You can use one pack and charge another pack for constant running.
Dyson V11 can also work as an upright, a hand vac and a stick. This model has a larger dust bin, therefore, it poses more benefits when using as a full-size upright function.
Dyson V11 uses sensors to detect the floor resistance, hence adjust the motor power accordingly. You can also adjust the suction power manually with 3 modes.
This version has a bunch of accessories (7-8 tools depending on the version). However, Dyson V11 does not have the soft-roller head, which can be a miss because this soft-roller head works extremely well for hardwood floors, laminate…
Storage
Because Shark ION F80 can bend 180 degrees, it can stand up on its own. Dyson model has a wall mounting dock for storage.
Upgrading
You can easily upgrade Shark ION F80 with the Truepet accessories to have more convenience, especially if you have a lot of hair on the floors, sofa…
As Dyson V11 is the ultimate model with a full set of accessories, you can't upgrade this model.
Price value
Shark ION F80 price is in the mid-range at about the same price as the Dyson V10 Motorhead. In contrast, the Dyson V11 price is pretty expensive, and could cost as much as $700 depending upon the model you get. It is one of the most expensive cordless vacs these days.
---
Shark vs Dyson Upright vacuum comparison
For this comparison we will be looking at the Shark APEX Duoclean with zero-M AZ1001 and the Dyson Ball Animal 2 upright vacuum cleaners.
Comparison chart Shark APEX AZ1001 vs Dyson Ball Animal 2
 
Shark APEX Duoclean with zero-M AZ1001 
Dyson Ball Animal 2 
Dimension
11.2 x 12.2 x 46 inches
15.4 x 13.4 x 42.4 inches
Weight
16 lbs
17.42 lbs
Max suction power
Around 300 AW
275 AW
Operating radius
30 ft
50 ft
Dust bin size
1.5 dry quarts
0.5 Gal
Filter
HEPA Anti-allergen complete sealed technology
HEPA
Bag/ Bagless
bagless
bagless
Special feature
Shark APEX combinesDuoClean
Zero-M
Powered Lift-Away technologies
Cyclonic Technology
Easy Empty dirt container
Washable Filter
Self Adjusting Cleaner Head
Surface
Hardfloor, carpets, above floors, stairs
Hardfloor, carpets, above floors, stairs
Warranty
5 years
90-day money back*
5 years
Price
 
 
Accessories (varied depending on model number)
crevice tool
pet multi-tool
deep-cleaning pet tool(motorized)
Stair Tool
Combination Tool
Tangle-Free Turbine tool
Multi Angle Brush
Instant High Reach wand
Motorized brush
Combination accessory tool
Flexible hose
Performance
You can review the live test of Shark APEX Duoclean with Zero-M and Dyson Ball Animal 2 on 2 video belows
Suction power
Shark APEX Duoclean with Zero-M uses a motor rating of 1150W, which can deliver around 300 AW (or a little bit less than this).
Dyson Ball Animal 2 suction power peaks at 270 AW.
Both models are recognized as the most powerful suction models on the market. It is capable of giving sufficient suction for bare floors and even high pile carpets.
Great brush roller system
Shark APEX Duoclean model applies the most efficient, useful brush roller design: A duoclean system combines both a soft roller and a hard bristle together so that it can pick up both fine dust, hair bunnies or large debris.
Besides, the Zero – M technology is a real deal, allowing the brush system to cut the hair on its own. It is a rare vacuum cleaner with such a self-hair removal technology.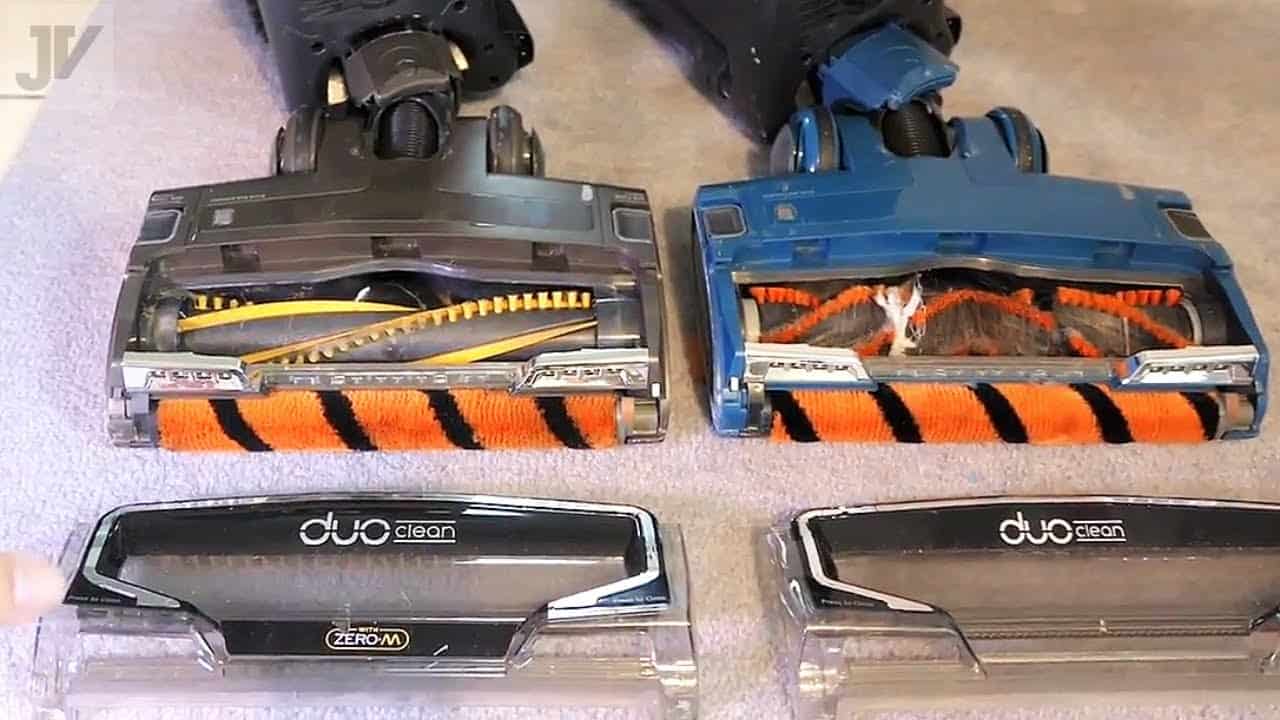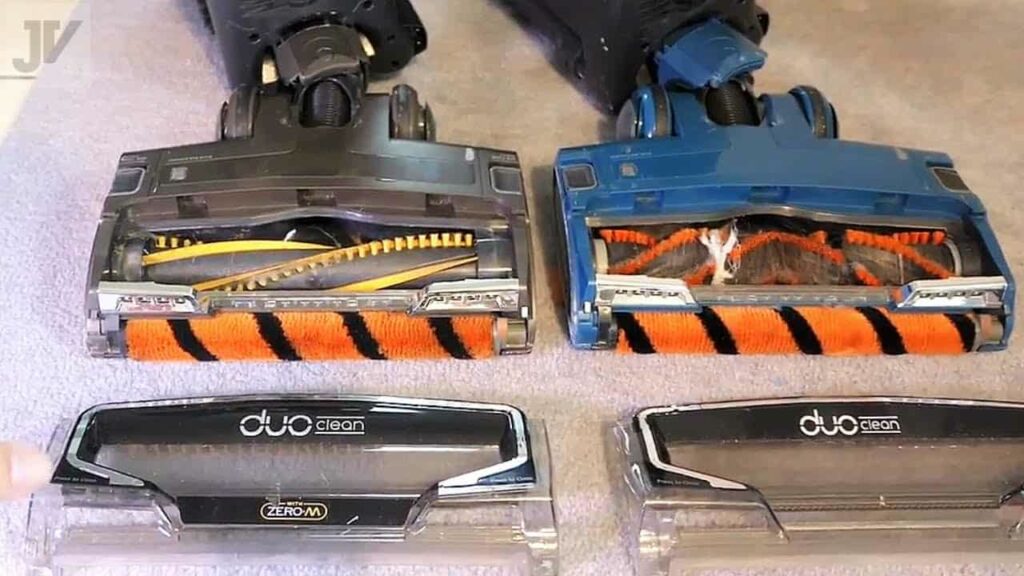 Dyson Ball Animal 2 applies self-adjusting technology on the cleaner head. This technology ensures the vacuum will never lose suction when it transverses from bare floors to carpets, rugs.
Dyson model does not have self-hair removal feature on the main cleaner head, however, you can use the tangle-free turbine tool (included in the package) to pick up hairs and pet messes.
This turbine tool is extremely useful for picking hair on stairs, upholstery surfaces. However, because the cleaning path of the turbine tool is small (around 6'') you might have to spend a lot of time to use this tool for floor cleaning purpose.
Extremely great filtration system on both models
Both Shark APEX Duoclean and Dyson Animal Ball 2 have the greatest filtration system by using a HEPA filter and a sealed filtration system. Both models are highly recommended for allergy sufferers, asthma person.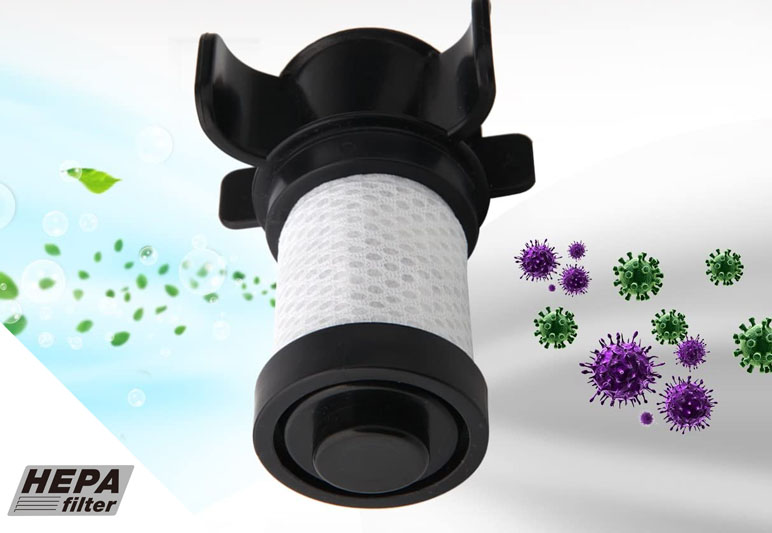 Comparable dust bin capacity
Shark APEX Duoclean has a 1.5 dry quarts (about 1.4 Liters) dust bin with an easy-to-empty mechanism.
Dyson Animal Ball 2 uses a little bigger dust bin (0.5 Gal, or approximately 1.8 Liters).  Both models are bagless, you do not have to spend money on buying the bag for maintenance.
Lightweight
Both models are considered as lightweight vacuum, although Shark model is a little bit lighter (16 lbs. Vs 17.42 lbs) but it will not make a huge difference when using.
Exclusive benefits
Shark APEX Duoclean model has 3 special features:
Powered- lift away canister – This feature allows the vacuum can work when the canister is detached. You can put the canister on the caddy for maneuvering around. It is flexible for the home with a lot of corners, under furniture areas
APEX – This feature helps the vacuum to move freely on carpet surfaces.
Noise reduction – One of the best parts of Shark APEX Duoclean is the low noise when running. This model uses acoustic noise layers to keep the noise level down to under 70 dB.
Dyson Ball Animal 2 is solid construction and you won't have much change to adjust the vacuum. This model can work seamlessly on bare floors and carpets because it automatically adjusts the cleaner head. The only thing you can do is to turn the brush on and off.
Downside
Shark APEX Duoclean with Zero -M has a shorter cord and smaller dust bin than Dyson model.
Dyson Ball Animal 2 has a higher noise level (up to 83 dB).
Accessories
Shark APEX Duoclean with Zero -M is a new series with several models. Depending on the models, you can get different accessories. For example
AZ1000W – A 12-inch crevice tool, and pet multi-tool
AZ1002 – A 12-inch crevice tool, deep-cleaning pet tool(motorized), and a pet multi-tool
AZ1002BRN – 12-inch crevice tool, a motorized pet tool, and a pet multi-tool
Dyson Ball Animal 2 has a bunch of tools. Depending on the sellers you may get
Stair Tool
Combination Tool
Tangle-Free Turbine tool Multi-Angle Brush
Instant High Reach Wand
Motorized brush
Combination accessory tool
Flexible Hose
Price
Both models are expensive. Even Dyson Ball Animal 2 has been on the market for several years, its price has remained pretty constant. Shark APEX Duoclean with Zero- M is a bit less expensive. Both models are what you would consider top of the line vacuum cleaners.
Spread the love and share this post, please.