Spread the love and share this post, please.
Overview
The HOOVER® ONEPWR™ FloorMate JET™ cordless hard floor cleaner is a completely new cleaning machine, featuring the capacity to vacuum and wash the floor at the same time, therefore, it will save a lot of time instead of using a traditional vacuum and a floor mop.
Let us discover the benefits of Hoover Onepwr floormate cordless cleaner.
---
Main Benefits
Home cleaning can be tedious and time- consuming. Especially if you have a lot of pets at home, cleaning pet messes can be the most anxious task. To help pet lovers save time and efforts, many brands have recently developed new cleaning tools that incorporate multiple steps into one unit.
For instance the Shark VACMOP Pro Cordless Vacuum Mop is a suction and spray mopping vacuum made for hard floors only. In contrast, the BISSELL CrossWave Floor and Carpet Cleaner with Wet-Dry Vacuum is a 2-in-1 vacuum for both floors and carpets.
And then we have the Floormate Jet, one of Hoover's latest ONEPWR appliances which combines a cordless hard floor vac and a mop into one powerful cleaning machine. When shopping for this vacuum, you may come across different models number such as BH55210 and BH55210A. Don't let it confuse you, they are the same device – the letter at the end just denotes the marketplace where it is sold.
This unit has all of the benefits of a cordless vacuum like a lightweight (around 11.42 lbs.), steerable control, Li-on battery for long-lasting and fades free performance.
Besides, the kit has 2 small water tanks and a spraying nozzle for adding more detergents to the pet messes, stains….which resembles a carpet cleaner.
You can use Hoover Floormate Jet Cordless for hard floors, laminates and area rugs. If you have to clean the floors on a daily basis, this unit will definitely save a lot of times so that you can do more thing meaningful in life.
Related Reviews
---
Highlighting features
Cordless, vacuum and wash the floor in one step
Clean hard surfaces, tile, laminate, area rugs
Clean pet messes (wet and dry messes)
Clean tough stain with a spraying nozzle
2 water tank – easy for cleaning the machine after use
Led light dashboard – sleek design
Powered by ONEPWR Li-ion, therefore, you can use this battery pack for other related products of Hoover.
2-year warranty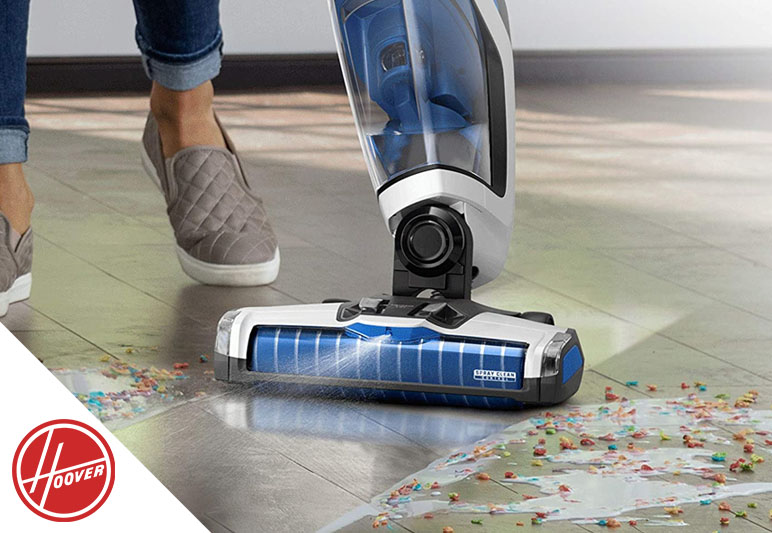 ---
Specifications
Model Name & Number
Hoover ONEPWR™ FloorMate JET™ BH55210/BH55210A
Dimension
N/a
Battery
Li-ion 20V
Charging time
3.5 hrs
Detergent capacity
22 Oz.
Dirty water tank
11 Oz.
Filtration
washable
Weight
11.42 lbs
Surface types
Sealed hard floors, area rugs
Accessories
FloorMate JET™ONEPWR™
3.0 Ah Lithium-Ion Battery
ONEPWR™ Charger
Multi-surface Brushroll
Gentle Brushroll
Storage Tray
Measuring Cup
8oz Hard Floor Solution
---
Performance of Hoover Floormate Jet Cordless BH55210
Efficient running time
Hoover does not mention the run-time of Hoover Floormate Jet BH55210, however it uses the same battery pack (20V, 3.0 Ah Li-ion battery) with Hoover cordless blade, we expect this model can run over 30 minutes on average.
The total charging time is around 3.5 hours or less.
Vacuum and wash in 1 step
Clean and wash in one step Hoover Floormate Jet cordless BH55210 is the ability to clean and wash sealed floors in one step. You don't need to vacuum and mop the floors so it can reduce your cleaning time to a half. The brush head cleaning pad is microfiber type, it will give the floor a polish look.
Apart from washing the floor, there is a spraying nozzle allowing you to tackle the pet stains and messes either dry or liquid.
ONEPWR battery pack
The unit uses a 3.0 ONEPWR battery pack which is removable and interchangeable with other models.
---
Pros and cons
What We Like…
Efficient cleaning and time saving.
Lightweight and cordless.
Suitable for pet owners and home with a lot of spillages.
What Could Be Better…
Cleans spillages, fluids very well but it poses difficulty when cleaning dry cereals.
If you have a lot of floors to clean, this may not be the most efficient option.
Spread the love and share this post, please.