Spread the love and share this post, please.
Overview
Bissell SpotClean ProHeat® Portable Carpet Cleaner is a portable carpet cleaner version belongs to Bissell SpotClean spot cleaner series.
The SpotClean Proheat 2459 is an older model, but you can still find it from time to time at online retailers. It was been replaced with newer SpotClean models including:
They all have slim profile and a lot of additional tools for cleaning stains, corners, hard-to-reach areas. They also have similarities with both the Little Green Multi-Purpose Spot Cleaner and the Little Green Proheat portable carpet and upholstery cleaner (this latter one has been discontinued, but you often find it as overstock or renewed).
The SpotClean 2459 model uses heatwave technology to keep the water warm during cleaning cycles. Therefore, the best way to clean stains with Spotclean Proheat is that you should use warm water to optimize cleaning results.
Bissell Spotclean Proheat 2459 is somewhat similar with Hoover Spotless FH11300PC regarding of the machine design, water tank and motor type. Hoover Spotless is a bit cheaper and it has auto-hose cleaning feature therefore if you are thinking of a slim body portable carpet cleaner, you might weigh the benefits of the heatwave technology (Bissell model) versus price and auto hose cleaning technology (Hoover).
When shopping for a portable spot cleaner from Bissell, many people also consider the newer SpotBot Handsfree carpet and upholstery cleaner because they love the automatic cleaning function.
Related Articles
---
Coupon
Currently, Bissell Spotclean Proheat 2459 does not have coupon. Because it is an older, discontinued model, it can be hard to find.
---
SpecificationS
| | |
| --- | --- |
| Model name | SpotClean ProHeat Portable Carpet Cleaner 2459 |
| General specifications |   |
| Dimension | 10 x 14 x 14 inches |
| Weight | 9.2 lbs |
| Cleaning surface | Carpet, Low Pile Carpet, Pet Beds, Stairs, Upholstery |
| Cleaning performance |   |
| Motor power | 3.0 Amps |
| Brush type | N/a |
| Cleaning path width |   |
| Heater | No |
| Heatwave technology | Yes |
| Edge cleaning | Yes |
| Hose length | 4.5' |
| Cord length | 15' |
| Water tank size | 37 oz |
| Ease of use |   |
| Brush on/off | No |
| 2 Cleaning mode | No |
| Carry handle | Yes |
| Special tools | 3'' Tough Stain Tool, Stain Trapper tool, Spraying Crevice Tool |
| Color | Titanium |
| Similar models |   |
| Warranty | 2 Year Limited |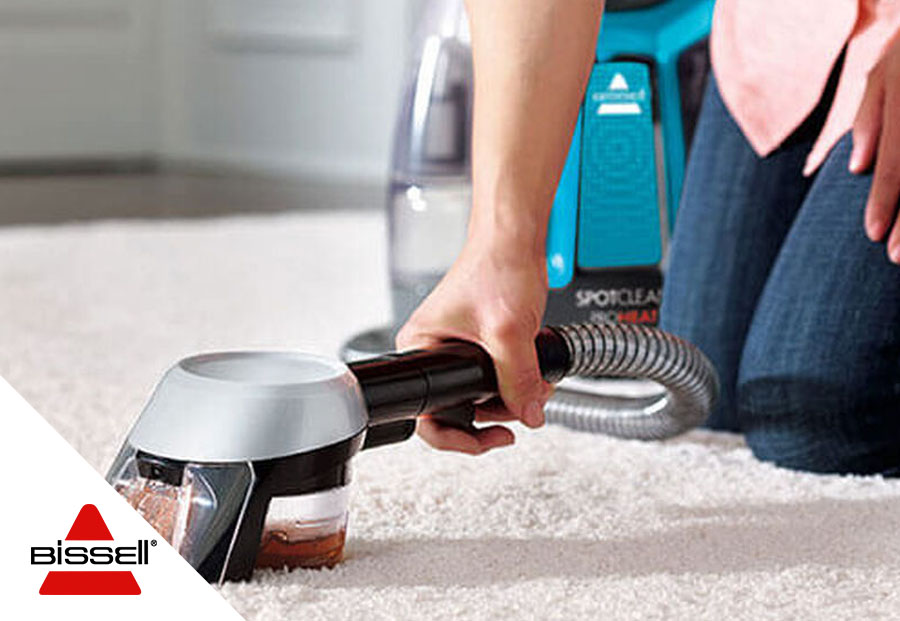 ---
Pros and cons of bissell SPOTCLEAN PROHEAT 2459
What We Like…
Low price, lightweight and slim body so you can use it in small spaces (auto).
Easy to use and a lot of tools.
What Could Be Better…
Moderate suction power.
Discontinued by Bissell, so may be a bit harder to find replacement parts.
---
Replacement parts
Clean Tank with Cap for SpotClean Carpet Cleaners Part: 1606553
Clean Tank Cap for SpotClean Portable Carpet Cleaner Part: 1616063
Clean Water Tank Rubber Seal for SpotClean Carpet Cleaners Part: 1600028
SpotClean Collection Tank with Air Stack Part: 1606554
Spread the love and share this post, please.