Spread the love and share this post, please.
We all love our furry pets, but let's face it, sometimes they make messes that we don't appreciate. When it comes to finding the best pet urine cleaner for cleaning your carpets, it's not just about getting rid of what you can see. Pet stains, as well as human vomit, urine and blood, all contain proteins which can remain behind after you have done all the hard work.
Even if you manage to get rid of the surface stain, the proteins are still there causing odors once the smell of the cleaning product is gone. Especially on warm, humid days. And what's worse, even if your nose can't detect the smell, cats and dogs have a keen sense of smell. This means they will often return back to the scene of the crime, to do their business once again. This creates a viscous circle and a habit that is hard to break, especially if you are trying to train a young puppy or kitten.
The best carpet cleaners for old pet urine are Resolve, Rocco & Roxie, and Nature's Miracle due to the potent cleaning formula. Moreover, with handy-dandy use and safe for your pets, Hoover, Bubba's Rowdy Friend, and Angry Orange will be preferred solutions.
Enter the hero of the day… Specially formulated enzymatic and chemical cleaners designed specifically for eliminating the root cause of pet odors. If this is all new to you, further down in our buying guide, we talk about the difference between the two and why you would choose one over the other.
You May Also Like:
---
Top Pet Stain and Odor Cleaner Brand Price Comparison
Before we get to our featured pet urine stain cleaning products, let's first take a quick peek at the different products these brands offer, and see how they compare pricewise. Since Amazon is a good indicator of average price across the internet (plus they often have great sales), we used their current prices for our comparison.
For our reviews, we currently have three of the top pet cleaning product brands, but we also have some honorable mentions in the next section. We are working on gathering our research on those too!
---
Best pet Urine cleaner for Carpets reviews 2020
It is seems like there are new brands popping up almost daily, so finding a cleaning solution that will do what it says — get rid of pet odors forever — can seem like a formidable task. For this reason, we chose to focus on brands that have been around for a while and who back their reputations on their products.
However, in addition to our featured brands, we want to give a shout out to a few others.
We are still in the process of completing our own research on these brands, and will get back to you with our review soon, but in the meantime, since they are highly recommended by pet owners, they may also be worth your consideration.
Okay, so now it's time to take a look at our top picks for cleaning pet stains and eliminating odors.
---
Rocco & Roxie Professional Strength Stain and Odor Eliminator Review
Our number one recommended enzymatic cleaner for old urine is Rocco & Roxie Professional Strength Stain & Odor Eliminator. When handling pet accidents, you need to act quickly. This spray is designed for treating pet stains and organic messes around the house, not only limited to the carpet. You can basically use the Rocco & Roxie sprayer on any surfaces such as ceramic, laminate, upholstery.
We like this cleaner because it is very gentle and causes no harm to users, pets, and kids. The product has no hazardous substances like oxidative cleaners (Clo), and it has no color. Rocco & Roxie sprayer is certified by CRI (Carpet and Rug Institute).
About the performance, Rocco & Roxie sprayer can remove the old stains, old urines, and bad odor amazingly. If you have pets (especially male dogs), this sprayer is a life-saver. To achieve the best results, you also need to be aware that, you must let the cleaning formula sit on the stains for at least 1 hour. The longer time is needed if the stain is big and heavy. 
Another great thing when choosing this product is that, if your stains are not gone away, the brand will refund the money to you. With all of the benefits and great performances, it's no wonder Rocco & Roxie products are the number one choice of pet owners and homeowners around the USA.
---
Bubba's Super Strength Cleaner and Pet Odor Eliminator Review
Another enzyme cleaner you may be interested in is Bubba's Rowdy Friends Super Strength Commercial Enzyme Cleaner (aka The Terminator). This cleaner is a great deal because of its performance and large volume. You can also get this in a smaller size spray bottle.
If Rocco & Roxie sprayer is our recommendation for homes with small pets, Bubba's enzyme cleaner is the best option if you have larger animals, laundry shops, big apartments. Apart from the big volume at the same price compared to other brands, Bubba's enzyme cleaner's most important characteristic is the capacity to maintain its effectiveness over time. 
As you may know, the enzyme cleaner is basically made up of dormant bacteria and their enzymes. Therefore, after opening the bottle for a while, the dormant bacteria may die gradually. Bubba's enzyme cleaner ensures this product will be active and effective even after a long time. You can get your stains away or get your money back if the product is not effective.
Similar to other enzyme cleaners, you can use this Bubba's Pet Stain and Odor Terminator for a wide application on organic stains and messes like urine, blood, vomit, sweat, poop, and so on. Last but not least, this cleaning formula is also certified by CRI. And they also offer a money-back guarantee!
---
Woolite Advanced Pet Stain & Odor Remover + Sanitize Review
Our recommended chemical pet urine cleaner is the Woolite Advanced Pet Stain & Odor Remover + Sanitize. This product effective and kills 99. 9% of bacteria on soft surfaces. It also sanitizes. Bissell endorses this pet stain carpet cleaner, plus it's a brand known for quality.
Instead of waiting for hours to get the urine removed, you can use Woolite Advanced Pet to clean, sanitize, and deodorize in one easy step. This product works quickly to get rid of stains, urine smell, and dirt, but it may not be as effective at eliminating odor on old or deep down pet urine.
It is an ideal pet Stain Remover of pet urine stains as well as other organic stains and smells on your carpet.
A chemical cleaner's best benefit is removing organic stains and very effective on other types of stains like grass, make-up, food grease, vegetable oil, coffee, cola, tea, and motor oil.  Thanks to the effectiveness and time-saving, this product is top-rated for hotels, cafe shops, beauty shops where you have to keep everything clean and shiny all the time.
As mentioned, when using the chemical cleaning solution, you have to test a small area first to see if it does not discolor the surface.  You may also want to check out the Woolite InstaClean Pet with Brush Head Cleaner.
---
How to choose the best carpet cleaner for pet urine – utimate Buying Guide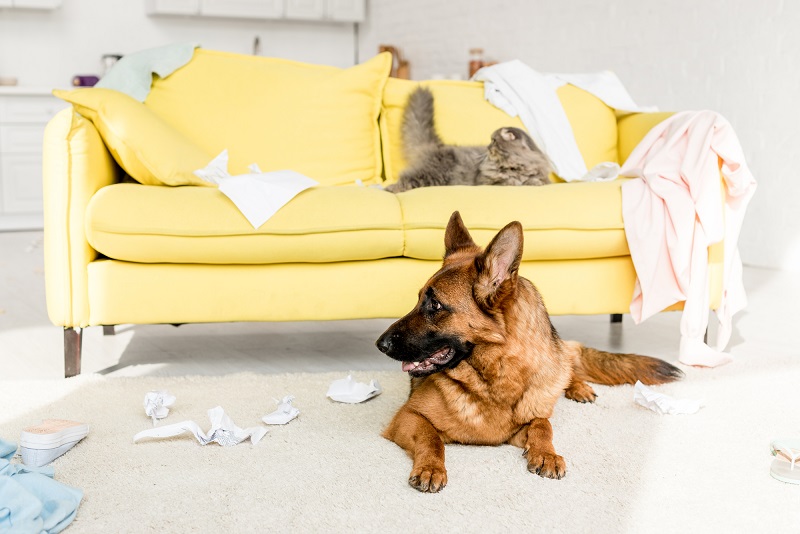 Now that we covered our favorite pet urine and pet stain cleaning solutions let's talk about why you need a special cleaner for pet odors in the first place.
Why Old pet urine is Difficult to clean using regular formulas
All of us are aware that old pet urine and stains are tough to clean. The first reason is that once the urine is set in the carpet fibers for a duration, it attaches to the fibers and cannot be removed by casual cleaners like detergents or carpet cleaning solutions.
The old pet urine (ammonia crystals) needs a special chemical substance to break down the fibers' molecular connection. There are a few commercial substances available for cleaning old urines thanks to oxidative reactions or enzymatic reactions.
Types of Carpet Cleaning Solutions for Pet Urine
While you could technically use any carpet cleaner to get rid of the visible stain, to ensure that the odor is gone forever, you need something that breaks down the proteins. There are two types of pet odor eliminators for cleaning carpets.
Oxidative (Chemical) Carpet Cleaner
This cleaning formula uses a strong oxidative substance to break down the urine molecules. Often called oxy pet urine carpet cleaner, this type of chemical cleaning formula effectively gets rid of pet stains and does a decent job of getting rid of the smell if it's not really old.
However, it can also discolor your carpet and ruin organic carpet types like Kashmir, wool, and oriental rugs. Before using the chemical formula for removing old urine and old stains, you have to test on a small area to see if the carpet cleaner is safe for cleaning. 
Depending upon the pet stain solution's make, you may need to keep children and pets off the carpet until it is dry. And make sure it is well rinsed. Read the labels carefully.
Enzymatic Carpet Cleaner
The organic-based cleaning formula, the enzymatic carpet cleaners are a trending cleaner in recent years regarding the safety of personal use and environmental ethic. This cleaning formula uses dormant bacteria capable of digesting the urine. When the dormant bacteria meet the urine, they will become active, consume the urine, and finally remove the odor.
Both types of carpet cleaning formulas are prevalent and affordable—however, the use and benefits are not the same. Chemical carpet cleaners are often cheaper, more popular, fast, and effective. Most synthetic carpets are suitable for this type of cleaner. 
How to choose between chemical cleaner vs enzymatic cleaner
The drawback of chemical carpet cleaners is that they may not be environmental-friendly, are not suitable for organic materials, and extremely hazardous if swallowed.
The enzymatic carpet cleaner is environmental-friendly, safe for users, and effective too. However, it will take a long time for the bacteria to work on the urine and stains.
Clean organic stains, urine, pet mess that are relatively new
Clean inorganic stains, grease, food stains, motor oil
Need something to quickly get rid of the actual stain
Clean organic stains, urine, human stains and want
Want an environmentally friendly product that eliminates odor causing proteins
Have time for the formula to sit on the stain and do its work
BEST CARPET CLEANER FOR OLD PET URINE FAQS: FREQUENTLY ASKED QUESTIONS
What is the best carpet cleaner for old pet stains?
A good carpet cleaner for old pet stains should combine an odor eliminator and a pet stain remover ability. Better yet, it should have a good scent that leaves the carpet smelling fresh. Check out our review to find the right carpet cleaner to use to remove old pet stains.
How do you get old dog urine out of carpet without vinegar?
When removing old pet stains from your carpet, you need to be careful. Using a strong cleaning agent may damage your carpet. To be safe, start by sprinkling baking soda on it then proceed with your cleaning.
How do you get old pet urine stains out of carpet?
In a cup of warm water, add a tablespoon of your pet cleaning detergent and white vinegar. Using a sponge, dip it into the solution and blot the carpet gently. Repeat the gentle blotting until the stain disappears.
---
Spread the love and share this post, please.