Overview
The Housmile Automatic Robot Vacuum Cleaner is one of the cheapest robot vacuum cleaners available. The current model number, robot vacuum 3071C was developed by Housmile and released around 2015.
Although the brand is not very popular in robot industry, Housmile does offer a handheld UV Vacuum Cleaner with Advanced HEPA filtration that has been well received by users. It is perfect for picking up allergens, dust mites and bed bugs from furniture and mattresses.
Watch the live test of Housmile robot in the video below
Back to Housmile robot vacuum 3071C, it has a similar construction with Deeobot N79 (the most popular robot on the market when it was first released).
The unit is featured by long run time (up to 90 minutes), 2 working modes for the small room and big room, low noise, advanced infrared sensors for detecting obstacles and HEPA style filter. The unit is backed by Housmile for 12 months warranty.
On the downside, as expected, this unit does not have the wifi connection and other advanced features like scheduled cleaning, auto recharge feature. These features are only found in robotic vacuum cleaners at higher price range (about 250 bucks above).
Another negative about this particular robot vac is that users report that the performance is not great on thicker carpets.
---
Should you buy Housmile robot vacuum in 2020?
The Housmile robot vacuum is efficient for general cleaning tasks, but the dust bin is quite small so it will have to be emptied quite frequently. If your home not very large or you just want a robot vacuum for quick cleaning without the need of smart features, then it could save you money.
However, over the years, more well known brands have been able to not only improve upon technologies but also get the costs down. If you need a low price yet more powerful model, we highly recommend you to consider options from other brands such as the Shark ION Robot Vac, Eufy Robovac and iRobot Roomba.
Related Reviews
---
Technologies and benefits of Housmile Robotic Vacuum Cleaner 3071C
Construction
The Housmile Robotic Vacuum Cleaner 3071C has a circular shape which is 8.9 x 8.9 x 2.4 in. If you notice this unit is more compact than Ecovacs (13 x 13 x 3.1 in – Deebot N79 model) or ILIFE (11.8 x 11.8 x 3 in – V3S model) and it is also lighter than these units (only 2.6 lbs). However, it still has throughout performance by using similar motor power (1000 Pa power) and long run time (up to 130 minutes runtime).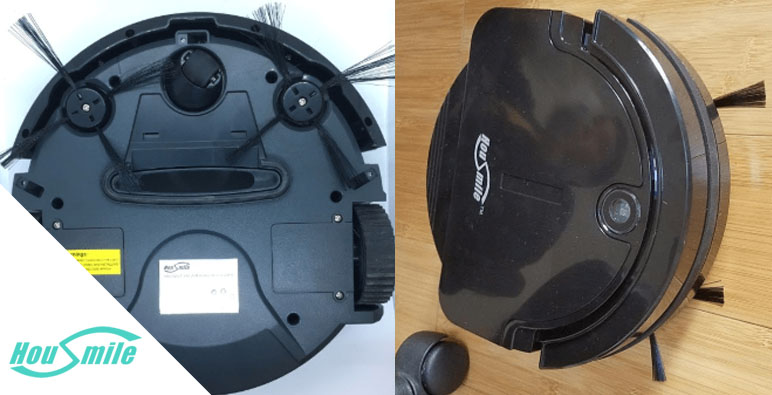 Efficient motor power
As mentioned, this unit uses a motor 1000 Pa which is similar to many robot vacuums from other brands.
3 stage cleaning
The Housmile Robotic Vacuum Cleaner 3071C sweep, vacuum and filter the dust and keep it inside the machine. You should also notice the fact that this robot vacuum does not have the brush at the bottom, therefore, it is recommended for cleaning hard floors and low pile carpet only
Transverse from one floor to another easily
The unit can climb with an angle of 15 degrees without losing suction
Powerful battery
This unit has a 2600 mAh battery for working up to 1.5 hours
Advanced infrared sensors
The improved sensors allow this unit it identify the obstacles when working
User-friendly
The unit can be controlled by a single press button, therefore, it can be a nice gift to seniors
HEPA style filter
HEPA filter will trap up to 99% of dust and allergens inside
30-day refund and 1-year warranty
30 days' refund unconditionally for every purchase from Housmile and 12 months of warranty from the brand
---
Specifications of Housmile Robotic Vacuum Cleaner 3071C
Side Brush: 2 Brushes
Model: 3071C
Frequency: AC 50/60Hz
Power Rating: 10W
Charging Time: 3-5hours
Filter: Advanced HEPA Filtration
The box includes: Housmile Robotic Vacuum Cleaner, User Manual, Adapter, Side Brush, Screw, Screwdriver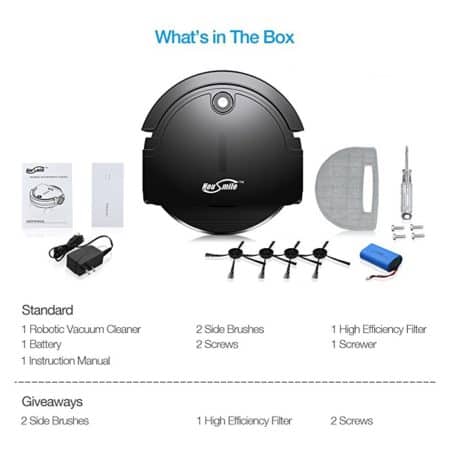 ---
Pros and cons of Housmile Robotic Vacuum Cleaner 3071C
What We Like…
a low price robot vacuum cleaner that works.
It is easy to use, incredibly cheap, strong suction power and long run time.
It is a basic unit at entry level but has a cheaper price than many brands.
What Could Be Better…
This robot vacuum cleaner does not have wifi, it does not have brushroll at the bottom, therefore, it can't clean medium pile carpets.
the unit is a bit small therefore you can expect the dustbin is smaller than rivals, therefore, it is suitable for small apartments mostly.
---
Performance of Housmile 3071C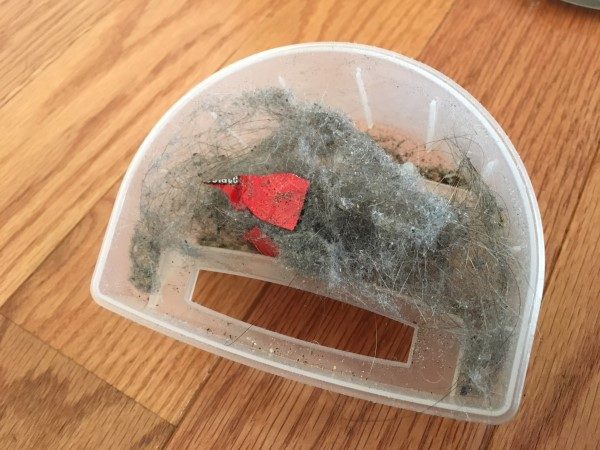 ---
Recommendation
The Housmile Robotic Vacuum Cleaner 3071C can be a nice gift for parents, seniors as it is very easy to use and does not have complex features that may confuse some old persons. The unit is cheap and reliable for cleaning the hard floor and thin carpets. It has low noise level and convenient for cleaning after use.
Against for users who need to clean medium pile carpets or the big house. If you are looking for an upline model, you then Deebot N79 or Roomba 690 can be a good replacement.
---
FAQs and troubleshooting of Housmile Robotic Vacuum Cleaner 3071C
Coming soon