Overview
The Bissell Pet Hair Eraser® upright vacuum, model 1650A, is one of the best-rated vacuum cleaners for human and pet hair cleaning.
It features a tangle-free brushroll (so that you do not need to worry the brush head will be clogged by long hair any longer), a strong motor power (8.5 amps rating) a smart sealed allergen system to capture the dust and allergens, a built-in odor management filter, a swivel head and a XL dust cup (1.5 Liters).
This unit has a good price with 5 years warranty.
The downside of this unit, it does not have LED lights on the brushroll and also it does not have variable suction control.
Other models in the Bissel Pet Hair Eraser series include:
Let's check for the technologies and benefits of this particular Bissell Pet Hair Eraser upright vacuum to see if it fits to your cleaning demands.
Performance of Bissell Pet Hair Eraser upright vacuum 1650A
---
Technologies and benefits of this Bissell Pet Hair Eraser upright vacuum 1650A
Construction
This is a full-size upright corded vacuum cleaner designed for pet owners. The machine is optimized for removing pet hairs from carpets, rugs and keep the smell and allergens inside the machine by using a new smart sealed allergen system for air filtration.
Powerful Suction
Bissell Pet Hair Eraser upright vacuum 1650A uses a good motor with 8.5 amps rating, combined with multi-cyclonic technology to deliver a great suction power on hard floor and carpets.
The other great benefit of the cyclonic technology is that it makes emptying the canister super easy, saving you time and steps. The internal spooling system actually "wraps up" any hair for easy removal and disposal.
Brush Head
The brushroll of the 1650A Pet Hair Eraser upright vacuum is designed for picking up pet hair and cleaning multiple surfaces. It is a tangle-free type and this is the important features that differentiate this model with the rest.
There are hundreds of upright units with similar construction but only a few models have tangle-free brushroll.
When vacuuming pet hair, long hair, the upright vacuums tend to pick up the hair a wrap around the brushroll and it causes a big trouble (the machine will stop working and you have to use scissors to remove hairs by hand).
The tangle-free brushroll will have your time and machine quality as it won't stop even you pick up long hairs, husky hair in huge amount.
The brushroll height is adjustable with 5 settings, allowing you to vacuum form bare floors to high pile carpets.
Besides, brushroll on/off is a nice addition because you can shut off the brushroll and use the machine with suction only to clean luxurious, thick carpets like shag, frieze.
NOTE: Since the creation of this video, Shark has come out with Zero-M technology which does an excellent job on long human hair and pet fur!.
Smart sealed allergen system plus odor filter
This model has applied a sealed allergen system plus odor filter to capture dust and dirt inside. This model use micro-filtration which is a great feature. Although this is not a true HEPA filter (but it is equal to the HEPA standards), it does a great job for containing contaminants so they are not released back into the air.
Ergonomic design
This model has the swivel head, LEDs on the crevice tool for revealing hidden dirt spot, a Cyclonic Pet Hair Spooling System for a Hands-Free Empty of the dust bin, edge-to-edge cleaning, instantly released hose and a 30 foot long power cord.
---
Specifications of Bissell Pet Hair Eraser 1650A

Vacuum
| | |
| --- | --- |
| Model name | Bissell Pet Hair Eraser 1650A |
| General specifications |   |
| Dimension | 13.5 x 12.4 x 46.8 inches |
| Weight | 18 lbs |
| Cleaning surface | Bare Floors, Carpet, Low Pile Carpet, Stairs, Upholstery, Hard Floors |
| Cleaning performance |   |
| Motor power | 8.5 amps |
| Brush type | Tangle-Free |
| Cleaning path width | 12'' |
| Heater | No |
| Heatwave technology | No |
| Edge cleaning | Yes |
| Hose length | 8' |
| Cord length | 30' |
| Bag Type | Bagless |
| Dirt Cup Capacity | 1.5 L |
| Filtration | SmartSeal Allergen System (HEPA) |
| Cleaning System | Multi-Cyclonic |
| Surface Height Settings | 5 |
| Ease of use |   |
| Brush on/off | Yes |
| Variable Suction Control | No |
| Automatic Cord Rewind | No |
| Carry handle | Yes |
| Easy Empty Dirt Cup | Yes |
| Swivel Head | Yes |
| Soft Bumper | Yes |
| Special tools | Combination Dusting Brush/Upholstery Tool, Crevice Tool, Pet TurboEraser Tool |
| Color | Multicolor |
| Warranty | 5 year limited |
---
Pros and cons of bissell 1650a
PROS
Bissell Pet Hair Eraser upright vacuum 1650A is very popular for users with pets home.
The model cleans extremely well pet hair, long hair, girl hair on both hardwood floors and carpets.
The brushroll is tangle-free and still clean after finishing your cleaning time, height-adjustable and capable of turn on/ shut off.
The dust cup is big and has smart empty feature, the HEPA filtration makes it a friendly unit for asthma person and users with allergies.
Moreover, this unit noise level is quite low compared with other upright models and it is backed by 5 years warranty. Such a great deal.
CONS
The model does not have LED lights on the brush head like Shark Navigator and Hoover REACT.
Although it is an optional feature if this model has such design, it would be a perfect choice at this mid-price range.
---
Recommendations of Bissell Pet Hair Eraser upright vacuum 1650A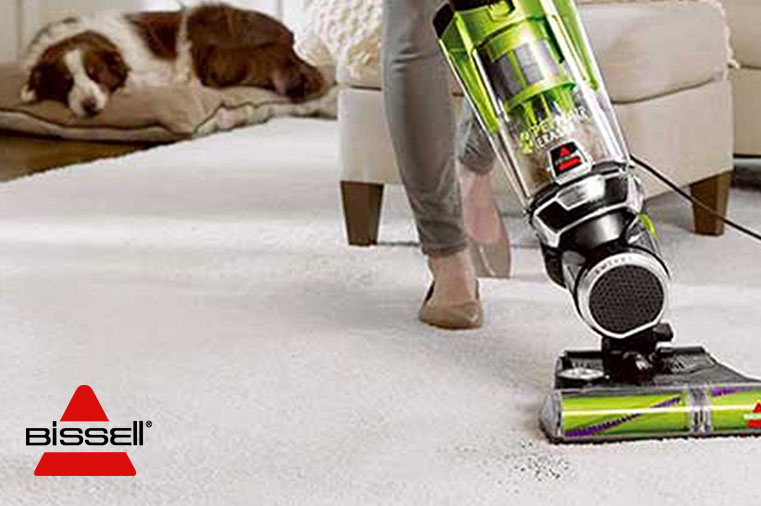 Recommended for the home with dogs, cats and girl hair. The model has a good rating from consumers for its performance especially dealing with hair related troubles.
Against for users who are looking for a lightweight upright unit, as this model is about 18 lbs. Another great upright vacuum cleaner for pet hair is the Shark Navigator Lift-Away Professional NV356E which is a lighter and has similar cleaning performance (suitable for pet hair cleaning, high pile carpet cleaning).
---
FAQs & troubleshooting of Bissell Pet Hair Eraser upright vacuum 1650A
Coming Soon