Spread the love and share this post, please.
Overview
The Roborock E25 Robot Vacuum is a low price vacuum cleaner with advanced technologies. This robot vacuum uses a motor of 1800 Pa, a battery of 2600 mAh to generate enormous suction power.
One of the greatest benefits of Roborock E25 is the path cleaning mode. The path cleaning mode is very efficient and predictable more than random cleaning mode used by most of the entry-level robot vacuum.
This is one of Roborock's older models, so it is harder to find, but you can often get it a good price compared to newer robot vacuums. However, it is up to you decide whether it makes more sense to go for one of Roborock's robot vacuums with more upgraded technologies.
Key values
The Roborock E25 has a lot of key features of a high-end model such as automatically recharge and resume working, 6 cleaning mode, the long run time (up to 100 minutes), auto boost on carpets, mopping feature, App control.
On the downsides, Roborock E25 does not support map saving like high-end models. This feature helps the robot to perform more efficiently, and the users can have better customization (set virtual walls, choose area cleaning and more)
At a retail price of around 300 dollars, Roborock E25 and its sibling model (Roborock E20) are a worthy investment for cleaning large apartments.
---
Should you buy Roborock E25 in 2021?
When it first came out with the price of around 300 dollars, Roborock E25 had the strongest configuration and it is incorporated with advanced features (path cleaning, automatic resume, carpet boost). The robot has the wet-mopping feature and HEPA filter suitable for a lot of cleaning tasks.
Since then the price varies, depending upon the seller. If you can find it at a good deal, it's worth getting. However, if you are paying the full retail price, there are newer models you may want to consider first such as the Roborock S5 Robot Vacuum and Mop.
Apart from Roborock, if you are looking for a wet mopping robot that cleans hard floors and vacuums carpets, you can also consider other brands such as the Deebot Wet Mopping Robot Vacuums, ILIFE V5s Pro 2-in-1 Mopping Robot Vacuum and the Coredy R580 Wet Mopping Robot Vacuum Cleaner.
Related Reviews
---
Technologies and benefits of Roborock E25
Construction of Roborock E25
Roborock E25 is a circular shaped robot with a large body. This model is measured by 13.8 x 13.8 x 3.6 in. Because the wheels of Roborock E25 is bigger than most of the others, it can climb up to 0.8 in (others can only climb up to 0.65 in). This is a nice feature helping the robot to transverse nicely from floors to carpets.
The robot uses a motor of 1800 Pa to generate suction. On bare floors, its normal suction power is 850 Pa. On low pile carpets, it can generate suction power up to 1200 Pa. When dealing with high pile carpets, it will automatically increase suction power up to 1800 Pa.
The dust bin of Roborock E25 is very generous. It has a 640 mL dust bin and uses HEPA filters for capturing dust, allergens. Roborock E25 can clean for an area up to 1600 sq ft per charge.
If you have hardwood floors, Roborock E25 can vacuum and mop the floor at the same time. The robot is wifi connected and can be controlled by Mi-home App. You can schedule, start and stop cleaning, check for the robot and accessories status and more on the App.
With a strong configuration beyond any model in the field, Roborock E25 is suitable for large apartments, home with pets, home covered by carpets, users with allergies.
13 different types of sensors – efficient cleaning
Roborock E25 uses dual-gyro system and motion tracking sensors for navigation. The robot runs in straight lines which is very efficient and energy saving. The path cleaning feature is exclusive to high-end robots (price higher than 500 dollars), Roborock E25 is a rare model to have such feature.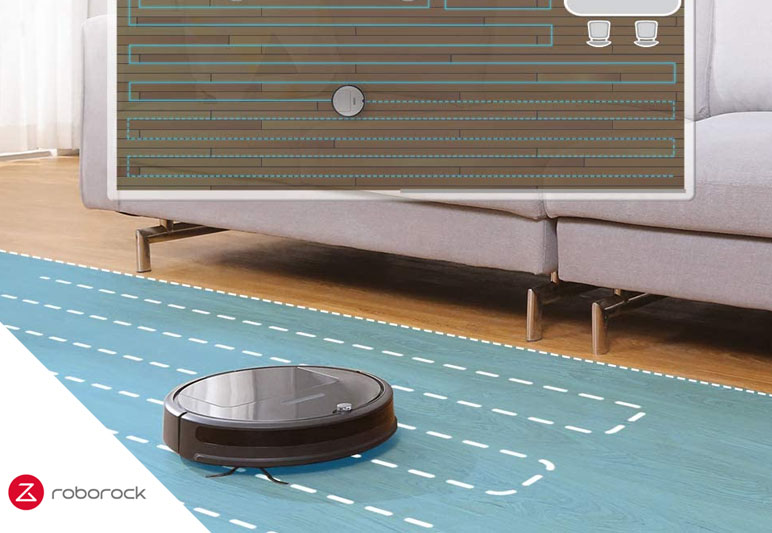 Apart from that, Roborock E25 still has a wide array of sensors for avoiding falls, anti-collision, self-charging and resuming. There are no dirt-detect sensors like Roomba model found in Roborock E25.
1800 Pa motor – Powerful suction
Roborock E25 is beneficial for homes with carpeted floors because the unit can give massive suction up to 1800 Pa. When cleaning bare floors, the robot uses a nominal power of 850 Pa which is quite similar to other models.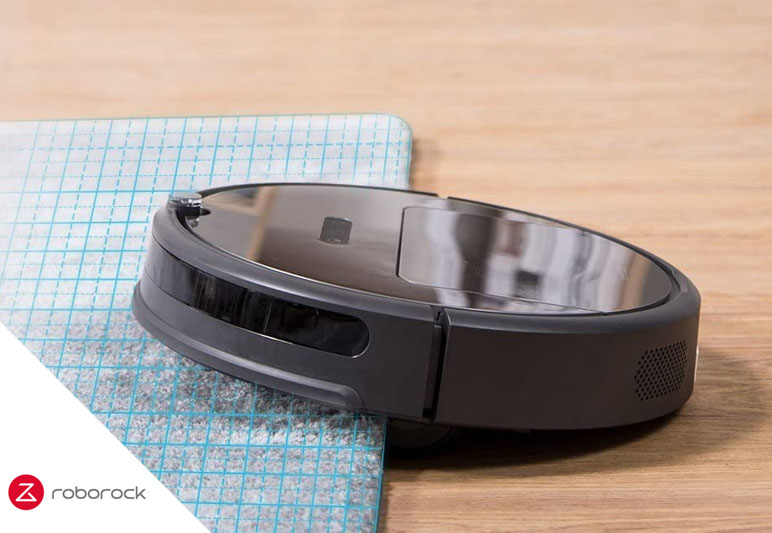 If your home is covered by carpets and there are a lot of pet hairs, dust on large debris, Roborock E25 is a great companion.
Vacuum and mop feature- useful for hard floors
The robot has a microfiber pad and a small water reservoir for polishing hardwood floors, laminate floors after vacuuming.
Wifi connection – a must have feature for busy person
On the Mi home App, you can ask the robot to start, stop, schedule, customize, charge, spot clean, check accessory status, and more. Roborock E25 is Alexa compatible too. You should remember to check the wifi because Roborock E25 requires 2.4 GHz wifi to work.
2600 mAh battery – standard battery design
Roborock E25 uses a 2600 mAh Lithium battery and it is replaceable. However, currently, there is no separate sold by Roborock. The brand said they may prepare the battery in the next few months.
Currently, if you need to replace the battery of Roborock E25, you may have to buy from other brands that are compatible with this model.
---
Pros and cons of Roborock E25
What We Like…
Very affordable.
The dustbin is the biggest one.
The sucking power is also the strongest one, regardless of price point.
Silent mode.
Quiet running.
Long run time, great for large areas.
What Could Be Better…
The brush can trap pet hairs.
Magnetic strips for mopping not included (sold separately).
The battery replacement part is not available at the moment.
---
Performance of Roborock E25
In the video below, you can see the live test of Roborock E25. It has a very soft bumping when encountering obstacles. The robot noise level is very quiet. When moving from tiles to laminate, it moves softly.
Although Roborock E25 has a high profile (3.6 in), it still navigates under kitchen cabinets perfectly.
Dust, pet hair collected on the floors after cleaning
---
Roborock E25 FAQS
Spread the love and share this post, please.