Spread the love and share this post, please.
Overview
If you were to ask The Clean Freaks, the biggest difference between the Bissell 2X 1986 and the 2X 2007, we would say it's that ProHeat 2X® Revolution® Pet Pro Carpet Cleaner (2007) and its sister the ProHeat 2X® Revolution® Pet Deluxe Carpet Cleaner (2007P) are no longer offered by Bissell.
Other retired models include the ProHeat 15506, 15481, 15507, 15501 and 20079 — all being replaced with newer, upgraded version.
The Bissell Proheat 2X Pet 1986 is one of the most popular carpet cleaner for pet owners from the Bissell brand. This model is an upgraded version from Bissell successful Proheat 1548 (and if you're interested, we also done a comparison between these two models). Isn't that nice of us?
The current models in the 2X® Revolution series include:
However, for those of you who either own the 2007 and are considering an upgrade, or found one of the leftover models and want to know the difference before buying it, that's what we're here for.
Bissell Proheat 2X Pet Pro 2007 was a variation of the Bissell 1986.
You can check how Bissell Proheat 1986 cleans the carpet in this real test
Besides availability, let's check the main difference between Bissell ProHeat shampooer model 1986 vs model 2007 to see the pro and cons.
---
Similarity between bissell proheat 1986 vs 2007
Both models have the same design (upright carpet cleaner), 2 cleaning modes, strong motor of 6.8 amps, 1 Gallon water tank, the head has 12 rows of rotating brush for active scrubbing the carpets, rugs. Both models have 5 years warranty from Bissell.
---
Difference between Bissell proheat 1986 vs 2007
Bissell Proheat 2X 1986 has a shorter hose. The hose length of this unit is 8 ft., while the Proheat Pet Pro 2007 hose length is 10 ft, therefore it can be a bit more useful for those who need to reach far.
Bissell Proheat 2X 1986 has fewer tools. Actually, this model has 2 tools (Pet tool and stain tool). The Proheat Pet Pro 2007 has 4 tools (the above 2 tools plus a 3-in-1 stair tool and a stain trapper tool- a small cup attached to the pet tool's side to store pet hair ).
Bissell Proheat 2X 1986 is more popular. This unit is distributed widely on many outlets, online marketplaces such as Amazon, Lowes, Wallmart… The Proheat Pet Pro 2007 is currently distributed via Bisell website.
Bissell Proheat 2X 1986 is cheaper. This model has a more breathable price than the Proheat Pet Pro 2007.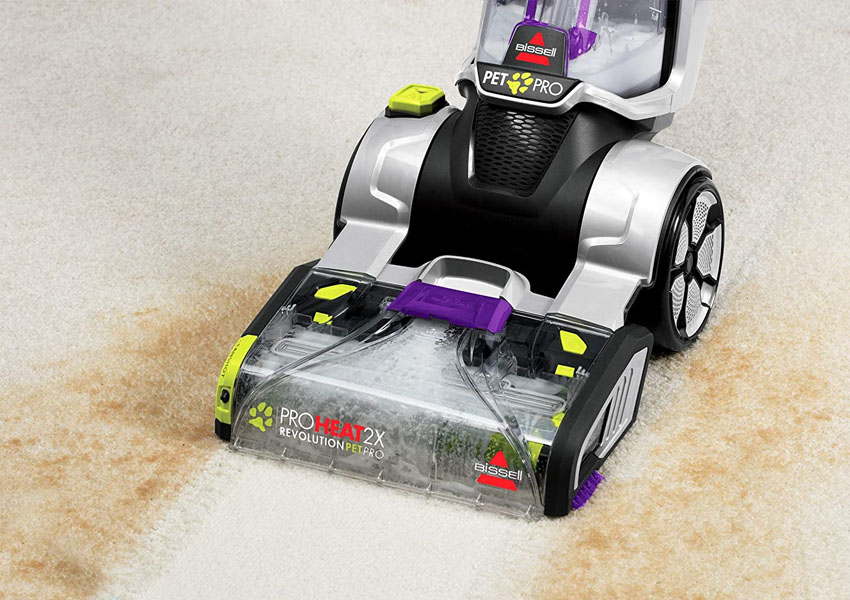 ---
Should you buy Bissell Proheat 2X 1986 or 2007
If you are looking for an effective carpet cleaner with long durability, Bissell Proheat 2X series is definitely worthy to consider. All of the models are in high-quality and get very high-rating from thousands of consumers.
If you can find it, the Bissell shampooer model 2007 is more suitable if you deal with spillages, heavy stains and urine thanks to the stain trapper tool.
However, you can confidently to pick the model 1986 to achieve similar cleaning results, combined with stain pre-treating step.
Spread the love and share this post, please.