Overview
The iRobot Roomba 890 Wi-Fi Connected Robot Vacuum is a mid-level robot vacuum cleaner, which is the upgraded line of Roomba 600s series. The robot can be scheduled to clean one time per day, up to 7 days per week.
First, in Roomba 890, iRobot has added newer, more advanced sensor technologies to improve navigation and dirt detection. As a result, Roomba 890 can clean the floor better with less missed spots like entry-level robots.
Stronger, more capacity
Another major change in Roomba 890 is the use of stronger motor power. Roomba 890 uses a standard motor power of 1000 Pa to deliver suction power.
When comparing with Roomba 600s series, the Roomba 890 model can offer up to 5X power to lift finer particles and larger debris without difficulty.
Third, Roomba 890 has a super generous dust bin (750 mL), it is the biggest dust bin capacity among all of Roomba 600s, 700s, 800s, and 900s.
HEPA style filter
When the dust bin is full, the robot will alert to you automatically. The filtration system of Roomba 890 is also improved with the use of the HEPA style filter. This model is very friendly for pet owners and allergy sufferers.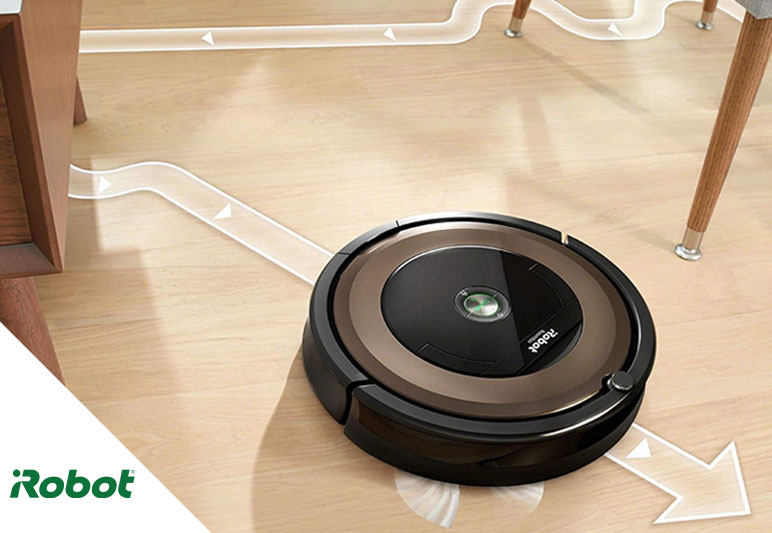 You can control Roomba 890 with the buttons of the top of the machine, or via Apps (Alexa Voice and Google Assistant compatible).
Less hair tangling
Last but not least, Roomba 890 uses brushless extractors instead of traditional brushes to reduce hair tangling issue.
On the downsides, Roomba 890 still misses some spots during cleaning because this model still uses infrared sensors.
Besides, Roomba 890 is not very efficient for high-pile carpets and it does not have mapping technology to remember the floor plan.
---
Should you buy Roomba 890 in 2021?
Roomba 890 has a decent price and a great performance for larger areas. The unit reduces the manual works like emptying the dust bin frequently, removing the wrapped hair and it cleans amazingly hard floors and low-to-mid pile carpets. If you have allergies, Roomba 890 is a nice model to consider.
When talking about the price versus the benefits, Roomba 890 is a bit expensive because this model does not have mapping technology. Moreover, the motor power is 1000 Pa only, which is weaker than competitors like Roborock or Eufy.
More importantly, the 800 series is no longer the latest technology from iRobot and has since been replaced by the 900 series, I Series and the S Series robotic vacuums. While you can still find the Roomba 890 (and often on sale on sites like Amazon), we recommend comparing it with newer Roombas first.
Over time, iRobot has been able do develop newer technologies at either the same price range, or only a little bit more. Unless of course you are talking about their advanced models — those will definitely require a bigger investment.
For example, the iRobot Roomba i7 Wi-Fi Connected Robot Vacuum with Smart Mapping costs around $500 — the same as the original retail price of the 890.
Additionally, Roborock is another brand that offers quality robot vacuums in the $400 to $500 price range (as well as basic models for less and advanced robot vacs for more). In our opinion, they are definitely worth considering.
---
Technologies and benefits of Roomba 890
Construction – a bigger body with generous dust bin
Roomba 890 has a classic circular shaped designed, measured by 13.9 x 13.9 x 3.6 in. If you compare the dimension of Roomba 890 with its siblings, Roomba 890 is a little bit bigger but the height is still the same.
The bigger width allows the robot to have a generous dust bin up to 750 mL, sufficient for cleaning large areas. The dust, pet hair and allergies are trapped inside this bin by a HEPA filter to keep the air cleans.
The uses of a 1000 Pa motor gives more suction power for Roomba 890. It has 5X power compared to Roomba 600s. While this motor is adequate, many competitors have applied stronger motor to their robot vacuum.
For example,
Robovac 30C, a robot vacuum at lower price range uses 1500 Pa motor
Roborock E35, a robot vacuum cleaner at lower price range uses a 2000 Pa motor
Thankfully, the motor power is not everything. Roomba 890 is equipped with a full array of newer sensors and technologies to clean better
Brushless extractor – reduce hair tangling issue
One of the greatest benefits of Roomba 890 is the new brush design. While other brands still use hard bristle brushes for extracting the dust and debris, Roomba 890 has been innovated with a rubber brushless extractor couple. The new design engages on multiple surfaces easily and reduces hair wrapping issue significantly.
Advanced dirt detect sensors – 2nd generation, more efficient
The dirt-detect sensors of Roomba 890 is another great feature that other models do not have.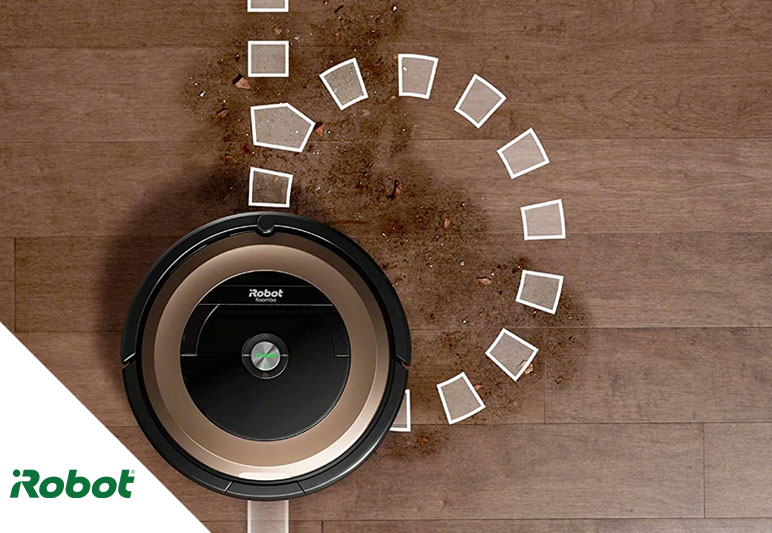 The dirt detect sensors (2nd genie) will identify dirty, high traffic area zone by both acoustic and optical signals to automatically concentrate cleaning. A lot of competitors do not use this technology for concentrated cleaning.
Besides these improvements (stronger motor, advanced sensors, bigger dust bin, HEPA filter, brushless extractors), Roomba 890 remains a lot of benefits inherited from previous models.
Wifi connection – hands-free control
Roomba 890 can be controlled by the button on the machine, or via iRobot App. It is also Alexa voice and Google Assistant enabled.
Long run time – 90 minutes
This robot vacuum uses 1800 mAh battery for up to 90 minutes before automatically docking and recharging. The battery of Roomba 890 is similar to Roomba 690.
What's in the Box:
iRobot Roomba 890
Home Base Charging Station
Line Cord
1 Dual Mode Virtual Wall Barrier (2AA Batteries included)
1 Extra Filter
Owner's Guide and Documentation Package
---
Specifications
| robot feature | Roomba 890 |
| --- | --- |
| Mapping / Path planning  | no |
| Automatically Docks and Recharges  | yes |
| Noise Level  | 68 db (Quieter than 14% of robots) |
| LCD Display  | no |
| Side Brushes (one or two)  | 1 pcs |
| Voice Prompts  | yes |
| Suction Power  | 1000 Pa (Stronger than 65% of robots) |
| Сleaning Area  | < 100 m2 |
| Home Size  | small |
| Cleaning Modes  | auto, spot cleaning |
| Dustbin Capacity  | 750 ml |
| Barrier-cross Height  | 0.63 in / 16 mm |
| HEPA Filter  | yes |
| Сarpet Floor Types  | low-pile, medium-pile |
| Bare Floor Types  | tile, hardwood, laminate, linoleum |
| Battery Capacity  | 1800 mAh |
| Runtime  | 90 min |
| Charging Time  | 120 min |
| Scheduling  | yes |
| IR Remote Control  | no |
| Wi-Fi / Smartphone App  | yes |
| Amazon Alexa Support  | yes |
| Google Assistant Support  | yes |
| Virtual Wall  | yes |
| Carpet Boost  | no |
| Anti-drop / Cliff Sensor  | yes |
| Dirt Detect  | yes |
| Full Bin Indicator  | yes |
| Robot Weight  | 8.40 lbs  |
| Robot Width  | 13.90 in  |
| Robot Height  | 3.60 in  |
| In the box  | side brushes, dual mode virtual wall barrier & batteries, extra HEPA Filter, dock station, manual |
| Warranty  | 12 months |
Roomba 890 replacement parts
Replacement AeroForce High-Efficiency Filters For Roomba
Roomba 800 and 900 Series Replenishment Kit
Tangle-Free Debris Extractor Set For Roomba 800 and 900 Series
Roomba 1800 Lithium Ion Battery
Dual Mode Virtual Wall Barrier
---
Pros and cons of Roomba 890
What We Like…
Easy to use and to control, schedule with 7 days in advance.
Large dust bin 750 mL, HEPA filter works extremely well to capture invisible dust.
Quiet when running and long run time.
What Could Be Better…
No mapping feature.
Still expensive compared to competitors.
Missed spots still happens.
---
Performance of Roomba 890
In the video you can see how Roomba 890 navigates around the floor.
---
FAQs and troubleshooting of Roomba 890
Coming Soon
What is the difference between 890 and 891 models?
Both the Roomba 890 and the 891 is the same robot. The only difference is that the 890 comes with a virtual wall and an additional filter and the 891 does not.
What is the difference between 890 and 895 models?
The 890 and 895 would use all the same parts and have the same features. The number of accessories that come in the box such as Virtual Walls or extra filters may vary.
What is the difference between the 690 and the next bigger on 890?
All 600 series have traditional brushes, while the 800 series have brush-less rubber rollers. The rollers are lower-maintenance but some users report do not pick up hair as well as traditional brush. The x90 is latest releases adding WIFI/smartphone interface.
What is the difference between 890 and 895 models?
Roomba 890 and 895 use the same parts and have the same features. The number of accessories that come in the box such as Virtual Walls or extra filters may vary.
Further reading: