Overview
The Roomba® 614 Robot Vacuum is iRobot's most basic robot vacuum and it it is often one of the first considerations when talking about the low-price robot vacuum cleaner.
Although there are quite a lot of competitors in the low price range, iRobot Roomba 614 remains as one of the top choices due to the brand value and the efficient performance for general uses.
---
Should you buy Roomba 614 in 2020?
If you are looking for an inexpensive robot vacuum to clean an apartment without the need of advanced benefits, Roomba 614 can be a nice option to consider. This robotic vacuum is part of iRobot's 600 series.
We also recommend you to have a look at Roomba 675 Robot Vacuum, the upgraded version of Roomba 614 to get more benefits. Both models are at the same price range but Roomba 675 is wifi-connected and it has a dual mode virtual boundary.
Besides iRobot Roomba vacs, there are a few more great entry level robot vacuum cleaner brands with products in a similar price range (or lower) to consider, such as the Coredy Robot Vacuum Cleaner, eufy BoostIQ RoboVac 11S, GOOVI 1600PA Robotic Vacuum Cleaner, and the ILIFE V3s Pro Robot Vacuum Cleaner.
Related Reviews – Compare Roomba Vacuum Models
---
Coupon for Roomba 614
Currently, Roomba 614 robot vac has a good discount. When we last looked, you can also get $50 off instantly via the Amazon Rewards Visa Card (conditions apply). You can check out the latest Amazon price below.
---
Technologies and benefits of Roomba 614
Construction
Roomba 614 has a circular shaped design, measured by 17 x 18 x 5 inches. This model uses a 600 Pa motor to generate suction. The dust bin of Roomba 614 is about 300 mL. The filter is AeroVac type and it uses a remote to control and schedule the cleaning process.
To start cleaning, you can manually press the CLEAN button on the top of the robot, or to use the remote to ask the robot to clean. This robot does not have a wifi connection. You cannot give commands via smartphone app like Roomba 690 model.
A moderate motor power
The Roomba 614 uses a motor of 600 Pa. This motor can deliver a relatively weak suction power, especially in recent years, most of the robot vacuum cleaners use a motor of 1000 Pa up to 1500 Pa.
The suction of Roomba 614 is somehow weaker than competitors. However, it is still efficient for picking up dirt, dust, and hairs on the hard floors and low pile carpets.
When dealing with long hair, high pile carpets, Roomba 614 becomes inefficient and it can get tangled.
Dirt detect sensor – 1st generation
The acoustic sensors detect the noise and automatically force the Roomba 614 to work harder when dealing with pet foods, litters, large debris or high traffic areas. This sensor technology makes the robot clean efficiently.
The Roomba 614 uses infrared sensors to detect the floor surfaces and the surrounding environment. This type of sensors is applied widely by many brands such as Ecovacs and Eufy.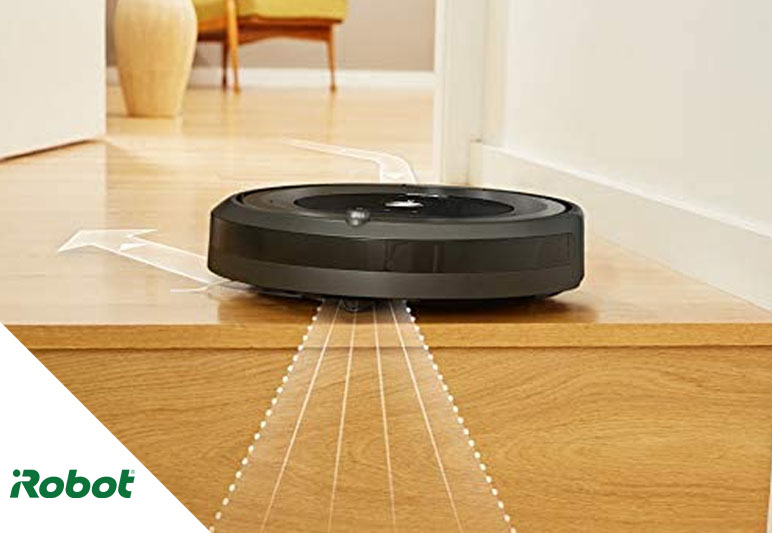 The infrared sensors are just adequate for the robot to clean hard floors and rooms with less furniture. However, when there is a lot of furniture inside the room, the sensors become insufficient because the robot can get lost and never find its way back to the dock.
This is the common issue of entry-level robot vacuum which uses infrared sensors.
Li-ion battery 1800 mAh
The use of Li-Ion battery on Roomba 614 allows the unit to run up to 90 minutes on hard floors. The robot has automatically recharge feature too. The total charging time of Roomba 614 is just 120 minutes which is shorter than most of the competitors.
For instance,
Deebot N79s takes up to 3-4 hours for recharging
Eufy Robovac 11s takes 5-6 hours for recharging.
The shorter charging time is, the robot can resume working faster.
The Li-ion battery 1800 mAh is used on many models including Roomba 614, 615, 640, 652, 665, 670, 671, 675, 677, 680, 685, 690, 695, 801, 805, 850, 860, 877, 890, 891, and 895.
Dual Multi-Surface Brushes
Roomba 614 uses classic brushes called dual multi-surface brushes. This couple of brush works great on various floor surfaces from hardwood, tile to low pile carpets. Because the hair can be wrapped around the brushes, you should regularly remove hairs with scissors to get the best performance.
Inside the package
iRobot Roomba 614
Home Base Charging Station
Line Cord
1 Extra Filter
1 Flat Cleaning Tool
Owners Guide and Documentation Package
---
Specifications of Roomba 614
Mapping / Path planning 
no
Automatically Docks and Recharges 
yes  
Noise Level 
N/A
LCD Display 
no
Side Brushes (one or two) 
1  pcs
Voice Prompts 
yes  
Suction Power 
600  Pa  
Сleaning Area 
Home Size 
small
Cleaning Modes 
auto, spot cleaning
Dustbin Capacity 
N/A
Wet Mopping 
no
Barrier-cross Height 
N/A
HEPA Filter 
no
Washable Filter
no
Сarpet Floor Types 
low-pile, medium-pile
Bare Floor Types 
hardwood, marble, vynil, tile, laminate, linoleum
Battery Capacity 
1800  mAh
Runtime 
90  min  
Charging Time 
120  min
Rated Power (Watts)
33  W
Scheduling 
yes  
IR Remote Control 
no
Wi-Fi / Smartphone App 
no
Amazon Alexa Support 
no
Google Assistant Support 
no
Virtual Wall 
no
Carpet Boost 
no
Anti-drop / Cliff Sensor 
yes  
Dirt Detect 
no
Full Bin Indicator 
no
Robot Weight 
7.50  lbs  
Robot Width 
13.39  in  
Robot Height 
3.66  in
In the box 
charging dock
extra filter
manufacturer's warranty
owner's guide and documentation package
cleaning tool
Warranty 
12  months
---
Pros and cons of Roomba 614
What We Like…
Easy to use – using Roomba 614 is very straight forward. You just only need to press a button.
Cleans effectively – Roomba 614 cleans a variety of surfaces from bare floors to low pile carpets. Although the dust bin is small, this robot can cover up to 2000 sq ft per cleaning cycle.
Cleans under furniture – the low profile (under 3.5 in) allows the unit to navigate under tables and chairs. When cleaning under the sofa or bedding Roomba 614 can get stuck because it cannot find its way back.
Long run time and fast charge time – 90 minutes run time and only 120 minute charge time.
What Could Be Better…
Noisy – Roomba 614 noise level can peak up to 68 dB, which is higher than many competitors. Eufy 11S noise level, for instance, is just around 55 dB.
Misses spots – any robot cleaner uses infrared sensors tends to have this issue.
Small debris bin – 300 mL dust bin capacity is a little bit small. The upgraded version of Roomba 614, Roomba 690 has a 600 mL dust bin.
Clogs easily – the brushes can get tangled.
---
Roomba 614 maintenance
You should do regular maintenance to keep the Roomba 614 at optimal condition. As guided by iRobot, you can follow this schedule for cleaning, replacing filters, brushes.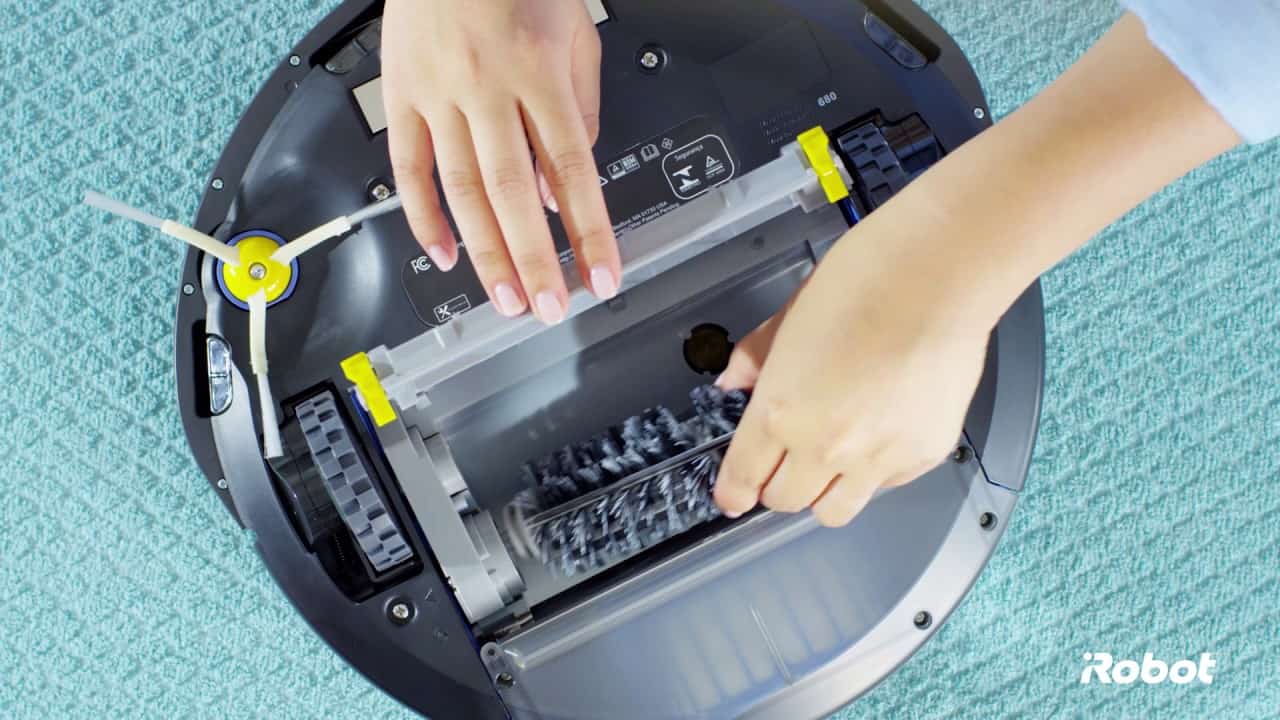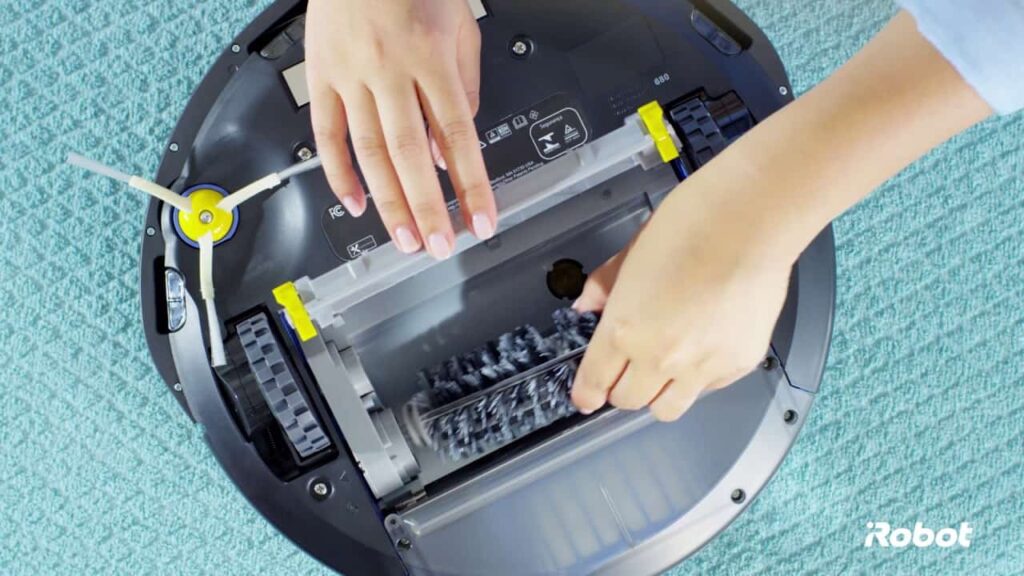 Cleaning frequency of Roomba 614
bin: one per week
filter: 1 -2 times per week
brushes: one per week
caster wheel: 2 per month
cliff sensors, charge contacts, side brush: one per month
Replacement frequency of Roomba 614
filter: after 2 months
brushes: every year
caster wheel: every year
battery: after 200-300 cleaning cycles.
---
Performance of Roomba 614
Watch the video below to see Roomba 614 cleans tile floors. The robot cleans the edge nicely and it does not get stuck when moving under table legs, chair legs.
---
FAQs and troubleshooting of Roomba 614
Coming Soon
how does the 614 differ from the 690
Besides the price what is the difference between the 650 vs 614.
What is the difference between Roomba 614 and 650?
what is the biggest difference between the models Roomba 614, 690, 890, 960 and 980?